Fantasy Football 2012: 5 Running Backs Who Will Crash and Burn in 2012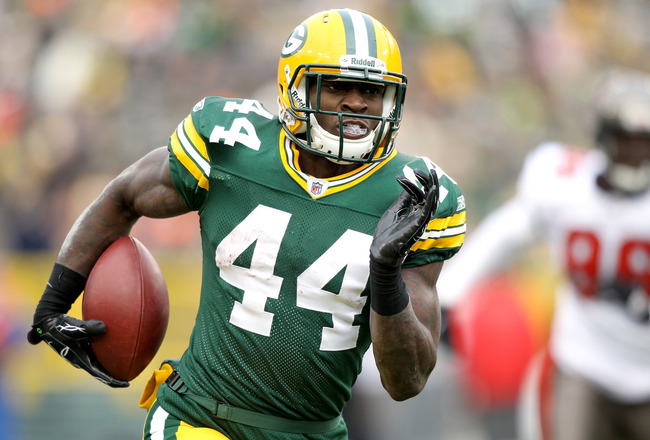 Matthew Stockman/Getty Images
Running back has become an increasingly more difficult position to draft in fantasy football.
With backfield-by-committees, the influx of passing offenses and the overall devaluation of the position, what was once a sure-fire fantasy producer has become more of a toss-up for a lot of clubs. It's also a position that features the most injury risks.
In the following slides, we break down five running backs who you should avoid in your 2012 fantasy draft. These guys look ready to crash and burn this season.
James Starks, Packers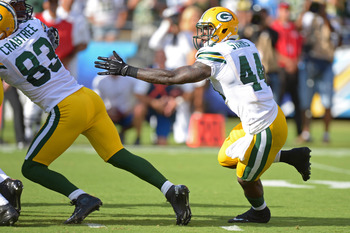 Jake Roth-US PRESSWIRE
On 80-90 percent of NFL teams, Starks is nothing more than a second or third back fighting for a roster spot. In Green Bay, he's been the best back available over the last 20 or so games.
Starks is still very limited as a runner, and his inability to stay healthy makes him the riskiest of fantasy bets. The 26-year-old has dealt with shoulder, hamstring, knee, ankle and toe injuries since his final year at the University of Buffalo.
In just two NFL seasons, Starks has missed a whopping 16 regular season games.
A turf toe injury is currently holding Starks out of Packers camp, which has given veteran Cedric Benson a golden opportunity to steal the job. Starks probably isn't even a lock to make the Packers roster right now.
Avoid him at all costs in 2012.
Isaac Redman, Steelers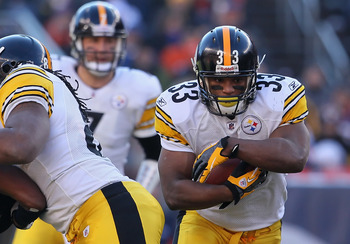 Jeff Gross/Getty Images
Isaac Redman is getting far too much love in early fantasy drafts.
While he is likely to get the majority of the early-season carries in Pittsburgh, Redman has been limited with both hip and groin injuries in Steelers camp. In his absence, young backs Jonathan Dwyer and Chris Rainey have looked plenty capable of stealing carries in two preseason games.
Don't forget about the return of Rashard Mendenhall. Once he's back—and the Steelers have already brought him off the PUP list—the carries are going to be even more split. I wouldn't take the risk on any of the Steelers' backs.
Beanie Wells, Cardinals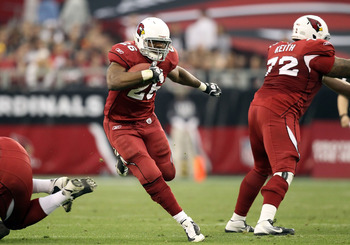 Christian Petersen/Getty Images
The Arizona Cardinals' backfield situation is a tale of two players going in opposite directions.
While second-year back Ryan Williams has continued his comeback from a 2011 preseason knee injury, Wells is still struggling to get back to 100 percent after arthroscopic knee surgery back in January.
Wells, who has dealt with injuries in each of the last two seasons, is still favoring the repaired knee. He'll make his preseason debut this week.
Meanwhile, Williams has looked like the more explosive player in Cardinals training camp. If you're going to take either guy, you might want to lean Williams' way.
Felix Jones, Cowboys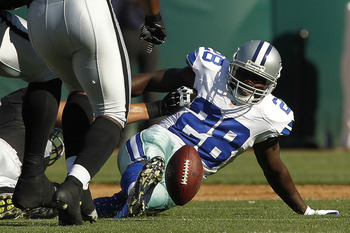 Cary Emondson-US PRESSWIRE
The days of Felix Jones being the Cowboys starting running back are over, with DeMarco Murray confidently taking full control over the last 12 months. However, even in a secondary, handcuff-type role, Jones isn't worth your gamble.
Jones is still injury-prone, and reports out of Dallas camp have continually said he's struggling and missing his old "burst."
From Todd Archer of ESPN Dallas:
...that Jones burst has been missing for a lot of camp. You haven't seen that 'wow' run from Felix yet. He's dropped two passes in two preseason games. He had a drop in the first San Diego practice. He failed the conditioning test entering camp and after Saturday's game against the Chargers, coach Jason Garrett said he felt Jones was still working his way back into shape. He had an involved shoulder surgery after last season, so maybe there's some uneasiness there. But this can't be the way Jones wanted to enter a contract year.
Jones was a decent fantasy back when his home-run ability was intact. Therefore, until he gets back to being that guy, I'm not sure you should waste a pick on him to start 2012.
LeGarrette Blount, Buccaneers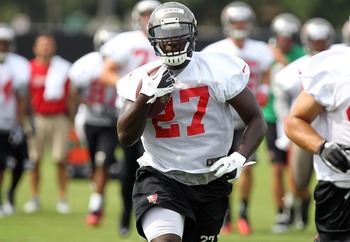 Kim Klement-US PRESSWIRE
Blount may open the 2012 season splitting carries somewhat evenly with rookie Doug Martin, but that's simply not going to last.
Martin has been the superior back in camp and preseason games, and Blount—like he's shown time and again in his NFL career—got banged up (groin) early in the Bucs' second preseason game.
The flaws in Blount's game are painfully obvious. He struggles in the passing game, both as a receiver and blocker, and his effectiveness converting in short-yardage situations is pitiful for a man his size.
By the second or third week, expect nothing more than 5-10 touches a week for Blount.
Keep Reading