10 Struggling 2012 MLB Draftees Who Should Have Played College Ball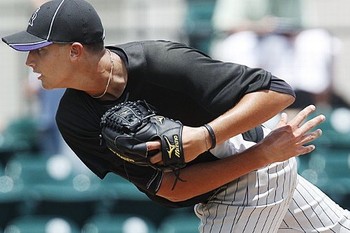 Zach Eflin // Courtesy of ESPN.com
Despite the spending constraints imposed on each organization by the new collective bargaining agreement, fewer prospects honored their college commitment than expected. In fact, due to the accelerated July 13 signing deadline, most players signed within a few weeks of their selection.
For a majority of the early draft picks, it seemed as though signing quickly and beginning their respective professional careers was a no-brainer. However, for those players who slid out of bonus-baby territory, the decision to sign and forego a big-time college scholarship was far more difficult.
Here's a look at numerous draft picks selected within the first 10 rounds who may have benefited from attending college.
Steve Bean, C, St. Louis Cardinals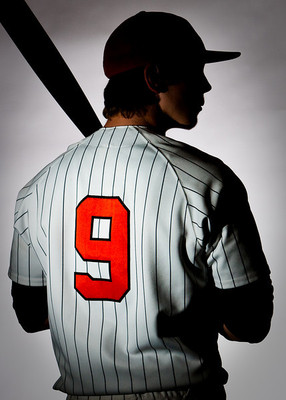 Courtesy of therockwallnews.com
Drafted: 1.5 (No. 59)
2012 Stats (SS, R-GCL): .184/.315/.264, 8 XBH, 11 RBI, 42 K/23 BB (37 G)
Although he's enjoyed a few hot streaks here and there, Bean's lack of production is a disappointment. A left-handed hitter with fairly advanced plate discipline, he hits too many groundouts and has some kinks to iron out in his bat path and point of contact.
Bean's defense has been impressive this season, as he's thrown out 38 percent (16-of-43) of attempted basestealers.
Zach Eflin, RHP, San Diego Padres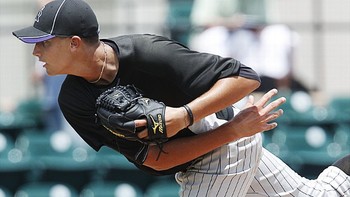 Courtesy of ESPN.com
Drafted: 1.5 (No. 33)
2012 Stats (R-AZL): 0-1, 7 IP, 7.71 ERA, .300 BAA, 4 K/3 BB (4 G; 3 GS)
After enduring a minor arm injury last spring and missing most of the season, Eflin was still selected in the supplemental first round. The right-hander appeared in only four games before coming down with mononucleosis, and he has since been shut down for the rest of the season by the Padres.
Spencer Edwards, SS, Tampa Bay Rays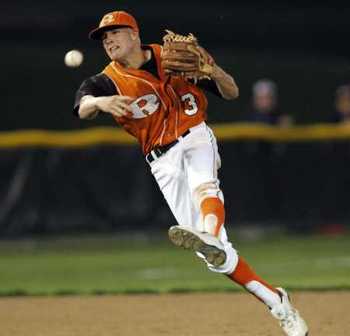 Courtesy of tampabay.com
2012 Stats (R-GCL): .192/.234/.292, 8 XBH, 7 SB, 38 K/5 BB (31 G)
Hailing from the same high school as Steve Bean, Edwards has also struggled in his rookie-level professional debut. He's impressed both on the basepaths and at shortstop, but he lacks selectivity at the plate with only average bat speed.
His athleticism will still be there in a few years, so you wonder if developing an approach in college would have been beneficial.
Stryker Trahan, C, Arizona Diamondbacks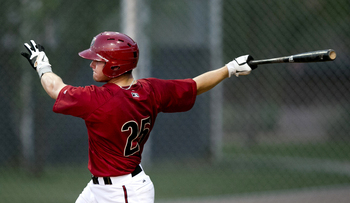 Courtesy of azcentral.com
Drafted: 1 (No. 27)
2012 Stats (R-AZL): .287/.435/.486, 16 XBH, 24 RBI, 6 SB, 41 K/37 BB (42 G)
Although Trahan has enjoyed one of the more productive debuts of 2012 first rounders, projecting his future as a catcher offers the highest ceiling. However, his all-around skill set behind the plate is raw—to say the least.
Appearing in 34 games at the position, Trahan has committed 10 errors, allowed 15 passed balls and thrown out just 20 percent (12-of-59) of basestealers.
Joe DeCarlo, 3B, Seattle Mariners
Courtesy of philly.com
Drafted: 2 (No. 64)
2012 Stats (R-AZL): .235/.348/.380, 16 XBH, 27 RBI, 43 K/23 BB (47 G)
Undersized at 5'10", 205 pounds, there remains little to project with DeCarlo. He has some pop and decent plate discipline, but he's a base-clogger with minimal range at third base. Furthermore, with a long swing, it'll be interesting to see how he adjusts to the increase in velocity at higher levels.
Tanner Rahier, 3B, Cincinnati Reds
Courtesy of mydesert.com
Drafted: 2 (No. 78)
2012 Stats (R-AZL): .190/.271/.299, 11 XBH, 29 RBI, 40 K/21 BB (46 G)
A thickly built but athletic infielder, there were more questions about his defense than his bat heading into the draft. While his defense has been shaky as expected, his lack of production has been a greater disappointment. He's not afraid to draw a walk, but his inconsistent bat path has led to a paltry 8.7-percent line-drive rate.
Jamie Jarmon, OF, Texas Rangers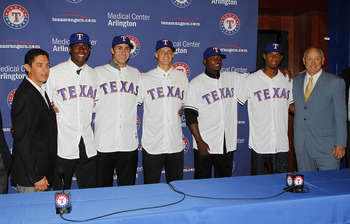 Rick Yeatts/Getty Images
Drafted: 2 (No. 88)
2012 Stats (R-AZL): .179/.314/.222, 3 XBH, 5 SB, 38 K/18 BB (34 G)
Hailing from Delaware, the 6'3", 205-pound outfielder is a work-in-progress in all facets of the game. Despite possessing above-average raw power, Jarmon is the type of hitter who's constantly adjusting and readjusting his swing—it seems to be his way of compensating for an inability to track and hit decent off-speed pitches.
Avery Romero, IF, Miami Marlins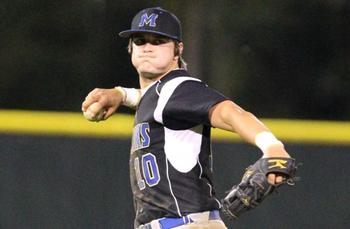 Courtesy of staugustine.com
Drafted: 3 (No. 104)
2012 Stats (R-GCL): .204/.292/.319, 7 XBH, 19 K/9 BB (31 G)
In my opinion, Romero was one of the best pure hitters of all the high-school players selected in the draft. I still believe that, but it seems it may take him longer than anticipated to adjust to professional pitching. Perhaps a career as a Florida Gator would have been more beneficial to his development as a hitter.
A lot of Romero's potential is based on his ability to play excellent defense at shortstop, second and third base.
Justin Black, OF, Atlanta Braves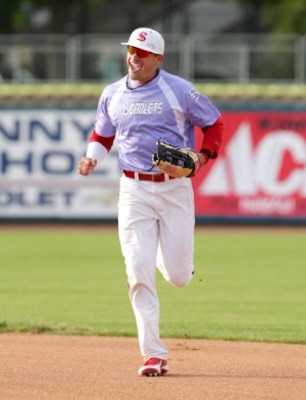 Courtesy of billingsgazette.com
Drafted: 4 (No. 149)
2012 Stats (R-GCL): .194/.303/.274, 5 XBH, 51 K/18 BB (39 G)
A 19-year-old at the time of the draft, Black would have been a draft-eligible sophomore had he attended Nebraska. Coming from Montana, a state where high-school baseball doesn't exist, he's understandably raw. However, his impressive speed and athleticism suggests that his baseball skills will gradually catch up.
But he struggles against quality pitching—something that's evidenced by his 51 strikeouts in 39 games. Black will need as much time and experience as possible to develop at the plate.
Nathan Mikolas, 1B, New York Yankees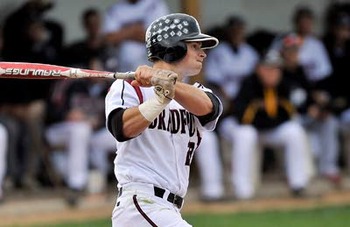 Courtesy of kenoshanews.com
Drafted: 3 (No. 124)
2012 Stats (R-GCL): .160/.299/.198, 1 XBH, 33 K/10 BB (29 G)
A left-handed hitting first baseman, Mikolas was regarded as one of the best under-the-radar high-school hitters, projecting to have an above-average hit tool and average power. Granted, it's a small sample, but he's flashed neither in his professional debut.
Mikolas has somewhat of an uppercut swing that causes him to catch the bottom half of the baseball far too often. In 29 games this season, he's hitting more infield pop-ups (17.8 percent) than line drives (13.3 percent).
Keep Reading