Why Andrew Luck Is Light Years Ahead of Most Rookie Quarterbacks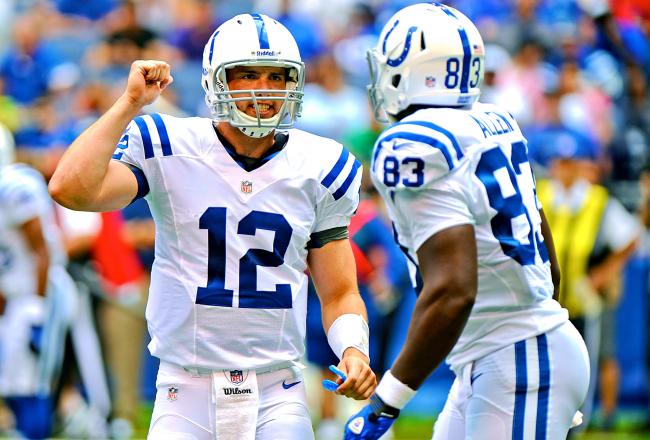 Andrew Luck is a rookie quarterback. He's got the broad grin of a rookie, the wiry frame of a rookie, the rookie mistakes of a rookie and the inconsistent stat lines of a rookie. In his preseason debut against the St. Louis Rams, he looked invincible; against the Pittsburgh Steelers this weekend, his stats were...well, vincible.
Luck is blessed with great physical talent. He's tall, tough, strong, strong-armed, throws an accurate, catchable ball and—oh yes—is a phenomenal athlete. It shouldn't be a surprise that he's shown flashes early; most great college quarterbacks with all the physical talent in the world showed flashes before flopping.
But Luck is light years ahead of most rookie quarterbacks. Many aspects of his game, and his approach to the game, make him look like a craggy veteran. Luck does some of "the little things" better than many longtime starters.
In a single possession against the Steelers, Luck displayed several of these traits while engineering an impressive scoring drive.
"The Drive," First Quarter of a Preseason Game Edition
Okay, so the following clip won't conjure up "The Drive"—John Elway's legendary AFC Championship Game-winning comeback series. But the veteran savvy and can't-be-taught fundamentals Luck displays in the fourth drive of this game are years ahead of his time:
Mental Resilience
The previous drive ended with Luck throwing a pick-six to Ike Taylor. This drive starts with the Indianapolis Colts down 14-0, the Pittsburgh crowd howling and the Steeler defense smelling blood. On the first play, LaMarr Woodley comes off the edge unblocked. Luck takes a stab at getting off a pass but ends up wisely taking the sack.
This puts Luck in an untenable situation: 2nd-and-15, with a murderous defense drawing the noose tight. So what does he do? His job.
Luck gets help from offensive coordinator Bruce Arians. Arians attacks the defense with an effective trips bunch: rookie wideout LaVon Brazill runs a fly route, rookie tight end Coby Fleener flies down the seam, and veteran Reggie Wayne runs a medium crossing route behind them: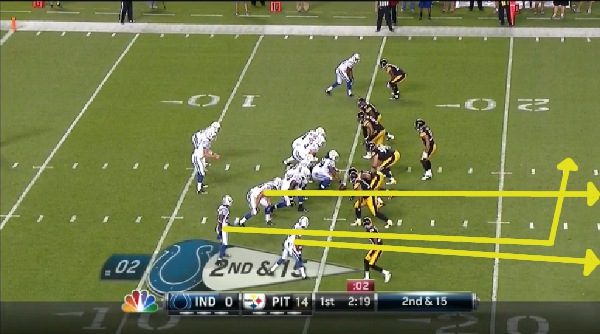 Amazingly, Luck doesn't lock onto Wayne, the safe option. Luck instead takes a long look at Brazill. Luck may be contemplating going deep here, but he may also have been looking off the safeties.
Either way, once Brazill and Fleener have drawn the coverage downfield, he fires to Wayne dragging behind. Suddenly, the impossible task of 2nd-and-15 is now a much more convert-able 3rd-and-6.
On 3rd-and-6, Arians sets him up with the same formation, or quite similar: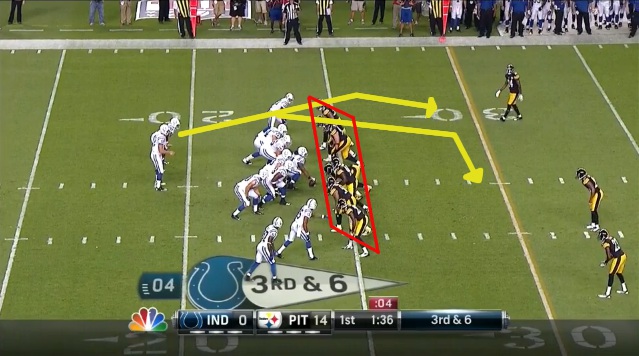 The Steelers make no attempt to disguise their plans: There are seven black hats lined up at the line of scrimmage, and six of them will rush. The Colts' line handles it well, and rookies T.Y. Hilton and Dwayne Allen both attack the same open space behind the Blitzburgh attack. Luck quickly and easily finds Allen to convert the first down that seemed impossible two plays before.
Effective Athleticism
Luck is blessed with elite speed and agility. But he's using his athleticism not to chew up yards as a ball-carrier, but to elude the rush, buy time and make plays downfield with his arm.
On the next play, legendary Steelers defensive coordinator Dick LeBeau turns it up to 11: a trademark zone blitz out of an unusual 2-4-5, with linebackers Lawrence Timmons and Chris Carter dropping into zones on the right side of the defense, while Woodley, inside linebacker Larry Foote and cornerback Chris Cortez blitz from the left side.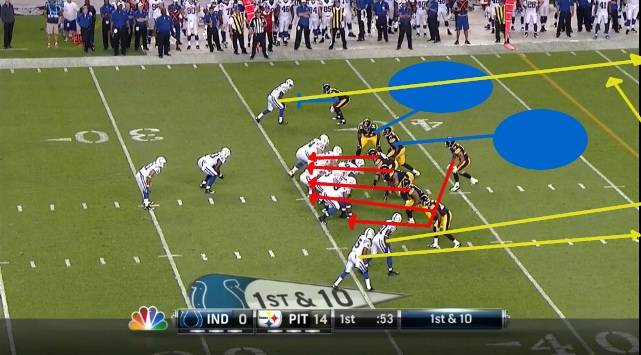 Luck shows incredible pocket awareness here. He manages to complete the designed play-action and full dropback before the blitz gets to him, but he immediately plants off his back foot and gets forward.
Luck slices through all the blitzers with a quick turn of speed and a couple quarter-wiggles—but throughout he crucially keeps his eyes up, reading the developing play. He sees Wayne breaking for the open space behind the short zones Timmons and Carter have set down in. He immediately fires across his body, on-target, to the open Wayne for a first down.
As impressive as his takeoff and scramble here is, his poise, confidence and understanding are 10 times so.
Aggressiveness
At the college level, many quarterbacks at elite programs are conditioned to not make mistakes. When a single mistake can result in a single loss that can scrap a national championship season, top quarterbacks are often conditioned to look for the safe option.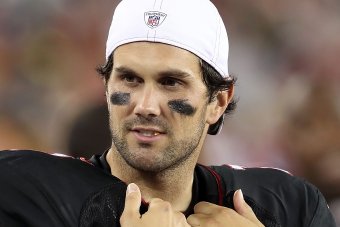 Christian Petersen/Getty Images
But this can be fatal to the development of a pro quarterback: Former USC standout Matt Leinart never broke his checkdown habit, so he never became an effective starter for Arizona.
According to Sports Illustrated's Peter King, when then-rookie Matthew Stafford won his first game as a Detroit Lion—the first win in 20 tries for the hard-luck franchise—the first thing his head coach Jim Schwartz said after was "Don't you ever go conservative on me."
Luck has gotten similar coaching.
After converting the second first down of the drive, the Steelers pulled back on the blitz. They sent only Carter, and everyone else dropped back into coverage.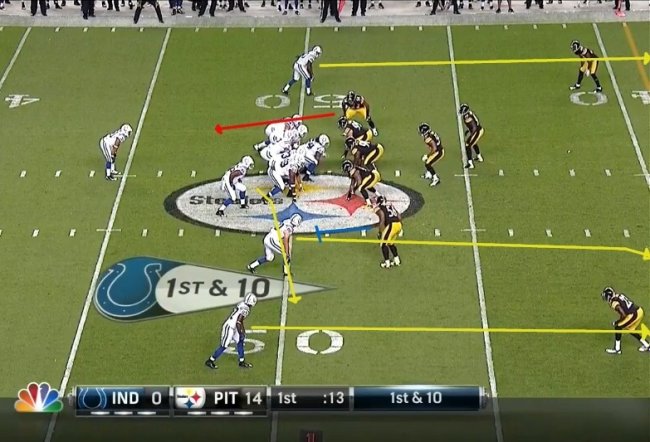 For the Colts, Wayne, Hilton and Fleener all streaked toward the end zone. After staying in to chip, rookie tight end Dominique Jones releases into the flat—but Luck never looks for an outlet.
Luck stands tall in the pocket, scans downfield and never once hesitates. He finds Fleener in a soft spot between zones, steps up and delivers the ball with accuracy and zip. As he does...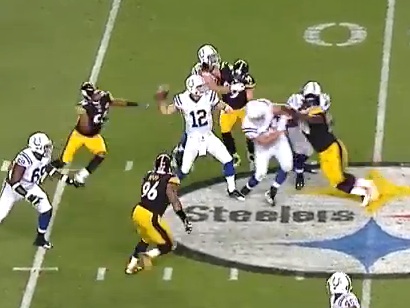 ...all four rushers are each just a step away.
The result is a critical 24-yard gain on 1st-and-10, ending the first quarter just 25 yards from pay dirt.
Touch
Does Andrew Luck look like the real deal?
After a couple of runs by Donald Brown, Luck and the Colts found themselves on the Pittsburgh 3-yard line. The play call was not an unusual one for 1st-and-goal: a fade route toward the far corner. However, the choice to throw that fade to 5'9" rookie Hilton, working against 6'2" veteran corner Taylor, is a little unusual.
Luck's throw is far from perfect; it's too close to the goal line and turns Hilton around to his other shoulder. Predictably, Taylor gets the better of Hilton; the wideout just can't get free to adjust to the pass. The error in locating the pass here is as much an issue of timing, repetition and rapport with his receiver.
But what's nice to see is the light touch and good spiral Luck puts on the ball, especially after the zip we saw on the previous strike to Fleener. Being able to vary the speed and touch of passes is an absolute must to be effective in the NFL; Luck shows here that he can.
Aura
If you aren't a fan of superstition, mystical talk or the commentator stylings of John Madden, you probably won't like this paragraph. But the way Luck carries himself, the way he runs the huddle, the way he calls his audibles, his obvious effort and apparent ease in a leadership role just screams out that he's the real deal.
When you combine his physical tools, mental toughness, intelligent athleticism and aggressiveness with his ability to throw every pass with that no-doubt-about-it aura, you can't help but believe that Luck is light years ahead of most rookie NFL quarterbacks.
This article is
What is the duplicate article?
Why is this article offensive?
Where is this article plagiarized from?
Why is this article poorly edited?