Madden 13: Ray Lewis and Paul Rudd Star in Series of Hilarious Ads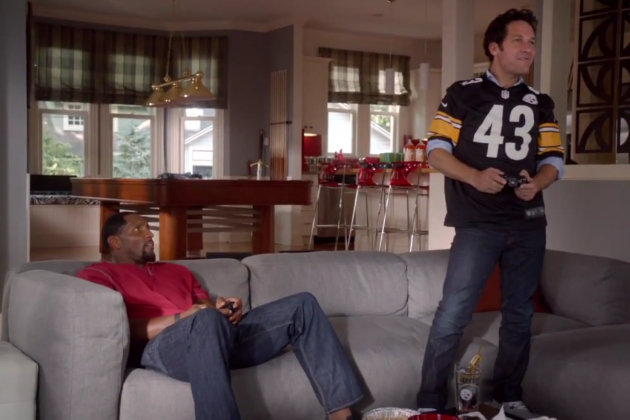 Photo via EASPORTS/Youtube
Ray Lewis is one of the most feared linebackers in all of the NFL, but for the newest series of EA Sports Madden 13 commercials, titled "Madden Forever," the Baltimore Ravens captain exposes his comedic side.
Lewis is accompanied by the always funny, Paul Rudd (Role Models, Knocked up, I Love You Man). Rudd's genuine awkwardness, accompanied by Lewis' stone face and intimidating presence is the perfect equation for an odd couple.
This is not the first time EA Sports has teamed up with celebrities to promote a product. For the developer's FIFA series they have used the likes of Hope Solo, Seth Meyers, Tim Lincecum, Landon Donovan and Steve Nash.
Lets take a look at these awesome ads.
Begin Slideshow

»
One commercial recaps the lifelong friendship of Lewis and Rudd. They talk about their careers as young thespians, in the production of I am Rappaport, and Ray even admits that Paul was the person who taught him his patented "squirrel dance."
Rudd also takes credit for the creation of krumping. Who would have known?
This video shows the intense rivalry that Rudd and Lewis talked about in the previous video.
Rudd tells Lewis, "You should study this and take it to Harbaugh."
And we all have a friend like Rudd who we play video games with. They whine, whine and whine, but then make a play and bark like a hungry parrot for hours.
Rudd also demonstrates that the Kinect feature on the Xbox 360 version of Madden may not be all beneficial, yelling "SPIKE!" as Lewis is running a third-and-goal play.
Ray Lewis may be known as one of the best trash talkers on the field, but it looks like Rudd has his number in the stick jockey arena.
Rewind can be a great feature, but not when it is used like this!
In what may be the best of the series, Rudd sports the jersey of Troy Polamalu. Lewis looks appalled as Rudd begins to recite the lyrics to the breakout single by Wiz Khalifa, Black and Yellow.
It would have been great to be on the set for these commercials. Rudd talking that much trash to Lewis and getting away with it is laughable.
EA Sports really hit the nail on the head with this series of commercials, even though they likely won't need any additional hype for big sales of the game.
Madden NFL 13 hits shelves on August 28th.