Top Fantasy Football Players 2012: 8 Players Who Will Decide Your Season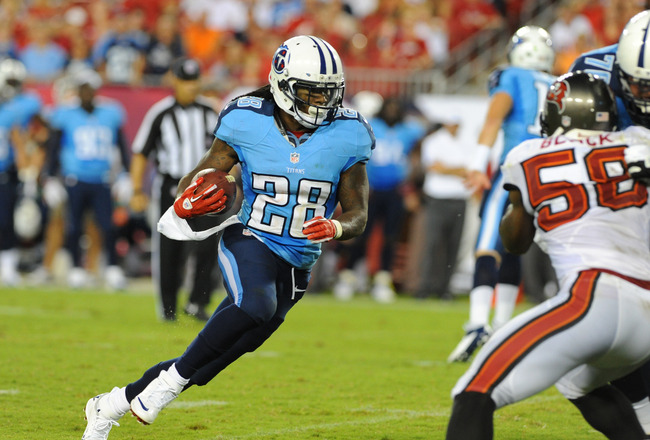 Al Messerschmidt/Getty Images
Fantasy football is just starting up, which means that it is the best time of the year.
People will be given their chance to prove their football knowledge, pick a few sleepers and, most importantly, show up their friends.
Despite the insane amount of research some put into their fantasy draft, there are always a few top players who scare you. This article will go through those players who have underperformed, are often injured or are simply a bit worrisome to draft.
Chris Johnson, RB, Tennessee Titans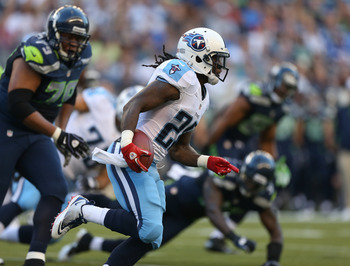 Otto Greule Jr/Getty Images
Since Chris Johnson's 2,006-yard season in 2009 in which he managed 14 touchdowns, fantasy owners have been frustrated by the 26-year-old running back.
He has the potential to be great, as made obvious by that season, but has seen a steady drop in production over the last two years.
Last season was easily his worst, as he rushed for only 1,047 yards and four touchdowns, both statistics much worse than his rookie season.
The worry is that Johnson has looked passive through long stretches of last year, often going down too easily while seeming to give up short gains in an ill-fated attempt at breaking a long run.
While I definitely won't be drafting Chris Johnson in the first round (like last year), he should have a good year, especially with a full summer of training camp under his belt as well as a better passing game to back him.
People should probably drop the huge expectations that rushing for over 2,000 yards brought.
LeSean McCoy, RB, Philadelphia Eagles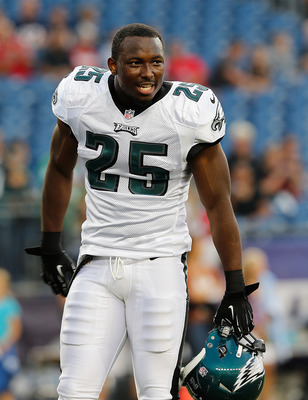 Jim Rogash/Getty Images
In my league's fantasy draft last season, I was shocked to see LeSean McCoy go in the first round but, boy, did he prove that to be a good decision.
While McCoy's 1,309 rushing yards weren't anything too special, his 17 touchdowns were very nice to every one of his fantasy owners.
McCoy is currently ranked second for running backs on Yahoo!'s fantasy football page, right behind Ray Rice. Because of McCoy's impressive season last year, he will likely be a mainstay in the first round of drafts.
Unfortunately, there is no way that McCoy will be able to replicate what he did last season.
This year the team will likely go more through the air, especially with DeSean Jackson's contract dispute settled. While McCoy will have a good year, and likely be a top-five running back, his play this year will not warrant a top-10 pick.
Darrius Heyward-Bey, WR, Oakland Raiders
This pick is more of a sleeper choice than an already established player.
Last season, Heyward-Bey hauled in 64 receptions for 975 yards and four touchdowns. While those numbers aren't outstanding, they are solid and will allow fantasy owners to snag him in the later rounds.
This season, Heyward-Bey should get better for two reasons. First, Carson Palmer will hopefully be more comfortable in the Oakland offense, which will allow Heyward-Bey more chances at the ball.
Secondly, DHB has only been in the league for four years, which shows often if you watch him play. Another year and another offseason should give Heyward-Bey the chance to work on some of his issues, namely that he drops the ball way too much.
Look for DHB to go for over 1,000 yards receiving this year while adding a few touchdowns to his total.
Rob Gronkowski, TE, New England Patriots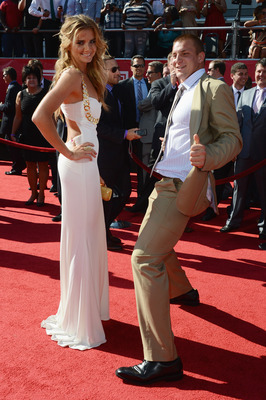 Frazer Harrison/Getty Images
This season is perhaps the first that fantasy owners have been recommended to grab a tight end in the first or second round. Rob Gronkowski, however, warrants that pick.
Gronkowski had an amazing season last year, catching 90 balls for 1,327 yards and a whopping 17 touchdowns.
For that season, Rob managed to snag the record for most touchdowns by a tight end in a season and most receiving yards by a tight end in a season, while becoming the first tight end to lead the league in receiving touchdowns for a full year.
Besides that, Gronk is also only 23 years old and has shown no reason to believe that he can't do it again. While teams will try and plan their whole defenses around his presence, he is simply an unstoppable matchup problem.
Gronkowski will have another great season next year and will definitely warrant being chosen anywhere after the fifth pick.
Darren McFadden, RB, Oakland Raiders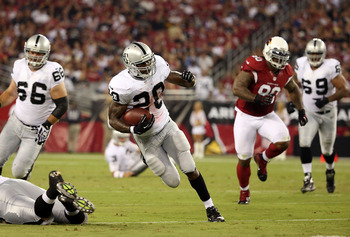 Christian Petersen/Getty Images
Darren McFadden has been labeled the scariest thing to fantasy owners: injury-prone.
McFadden has yet to play a full NFL season after missing three, four, three and nine games over his first four seasons, respectively.
In his limited playing time over the last two seasons, however, McFadden has been very impressive. Two years ago, McFadden rushed for 1,157 yards and seven touchdowns, while adding 507 yards receiving in only 13 games.
Last season, he was on pace for over 1,400 yards rushing with nine touchdowns and 350 yards receiving, but ended up missing nine games due to a lingering injury.
The point is Darren McFadden is incredibly talented, but the injury issues have to scare anybody. If a fantasy owner is able to get him cheap, then they should take the limited risk. At this point, however, McFadden is simply not worth a high draft pick.
Cam Newton, QB, Carolina Panthers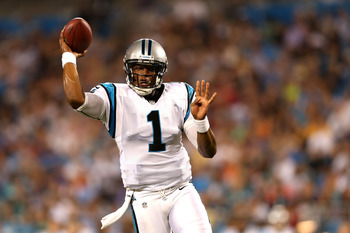 Streeter Lecka/Getty Images
Cam Newton wowed every NFL fan last season, especially those who believed he wasn't talented enough as a passer to make it.
Cam threw for 4,051 yards and 21 touchdowns while adding 706 yards rushing and a crazy 14 touchdowns.
It's hard to predict how Cam will do this year, however, because there are a few factors going into it. First, a lot of critics like to point out that teams will be able to plan more for Newton's unique style after a full season. It is true that his play dropped off after the first half of the year, so that is something to consider.
The other side of that is that he threw 17 interceptions last year, which is something he will almost certainly be able to cut down on.
What will likely happen is those two will balance themselves out and Newton will have a similar season as last year. He probably won't put up quite as many points, but should still be considered a top fantasy quarterback.
Kenny Britt, WR, Tennessee Titans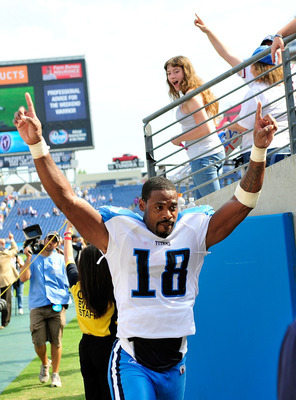 Grant Halverson/Getty Images
Another scary fantasy player makes the list in Kenny Britt.
Britt had over 700 receiving yards in his first two seasons, before tearing his ACL and MCL three games into last season.
Before the injury, Britt looked pretty dang good. He had 17 receptions for 289 yards and three touchdowns. If he had played a full season at that level, he would have ended up with 1,541 yards and 16 touchdowns.
The problem with Britt is twofold. First is the obvious injury worry. Kenny is still injured and is only hoping to be back for the opening game of the season and has stated that it is not a guaranteed thing at all.
Second on the list of worries is Britt's trouble with the law. For some head-scratching reason, Britt was charged with a DUI on an army base this offseason. That easily has to make the list for top boneheaded mistakes made by an athlete.
Britt will likely face a suspension this season, as this is not his first run-in with the law. If a fantasy owner is willing to wait for him and gets a good price, then he could prove worthwhile.
DeSean Jackson, WR, Philadelphia Eagles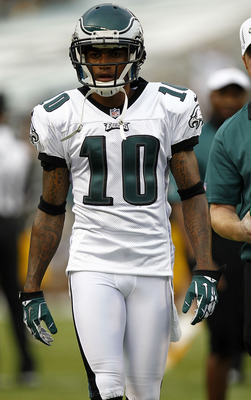 Jeff Zelevansky/Getty Images
DeSean Jackson is worrisome only because a fantasy owner must worry if his head is screwed on the right way any given day.
The volatile Jackson admitted to ESPN's Lisa Salters that he didn't give his full effort last season due to a contract dispute.
While his contract has been settled, there is no reason to believe that he cannot find another thing to complain about. Perhaps it'll be a lack of touches or a dispute with someone on the coaching staff.
Either way, DeSean is an ultra-talented player who can put up big numbers. He is just a big risk, especially since his starting quarterback is 32 years old and has only played a complete season once in his 11 seasons in the league.
For those reasons, I would be hesitant with Jackson. According to ESPN, however, DeSean has not been going until the sixth round in fantasy drafts, which makes him very worth the risk.
Keep Reading