Report Card Grades for Every NFL Team's Rookie Class After Preseason Week 2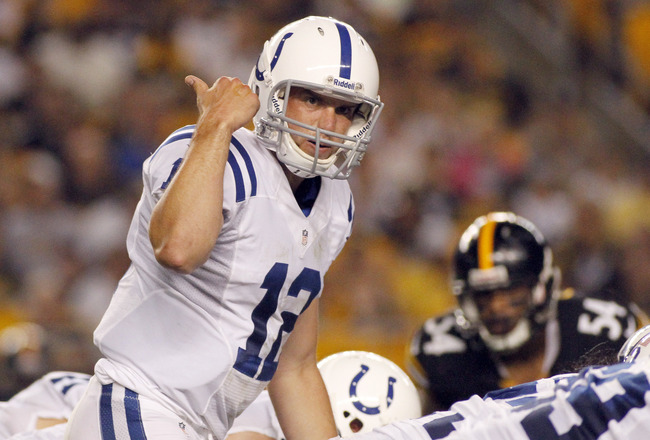 Justin K. Aller/Getty Images
The most exciting part of the NFL preseason—for me, at least—is watching the rookies. These are the guys we haven't seen on an NFL field yet, and every game is a glimpse at a potential future or lack thereof.
Sure, it's still early, but already we can begin to formulate some idea of how draft classes are going to turn out. Of course, many of them will be completely wrong, but that's to be expected.
How well did your team do drafting in 2012? Here's grades for all 32 teams thus far in the preseason.
New England Patriots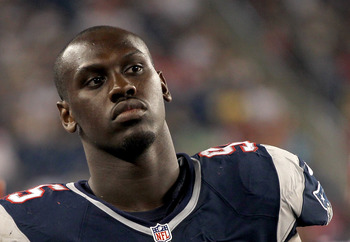 Jim Rogash/Getty Images
So far, Chandler Jones has looked like a bit of a freak. The Syracuse product is already starting, and he's making quite the impression. He's dominating frequently.
Fellow first-round pick Dont'a Hightower is also starting along the defensive front seven. Hightower hasn't earned quite the reviews Jones has, but he has impressed nonetheless.
With Jake Bequette and Tavon Wilson also flashing, New England looks to have some immediate contributors out of its draft class. That's a good start.
Grade: B+
New York Jets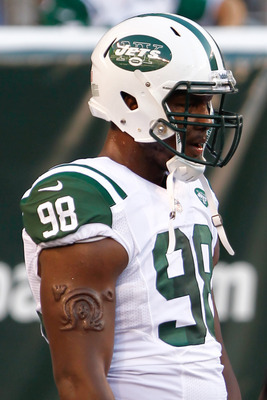 Debby Wong-US PRESSWIRE
Quinton Coples has earned both praise and scorn in his first NFL preseason. He has been criticized for his practice habits at time, but he's also dominated on the field.
Second-round pick Stephen Hill appears slated to start at wide receiver, and as a high-upside, raw player, that's a great sign. He still has a ton of potential.
Demario Davis has also impressed, and seventh-round safety Antonio Allen has been brilliant in the preseason. This draft class has a lot of potential.
Grade: A-
Miami Dolphins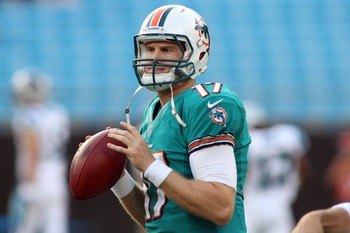 Jeremy Brevard-US PRESSWIRE
No. 8 overall pick Ryan Tannehill will be Miami's starting quarterback in 2012. That's a great start for Tannehill and the Dolphins.
The rest of the draft class, however, hasn't been so excellent. Second-round pick Jonathan Martin has struggled, and Lamar Miller's the only one who has shown much.
A franchise quarterback is a huge piece, but the lack of contribution from Miami's other rookies is disappointing.
Grade: C-
Buffalo Bills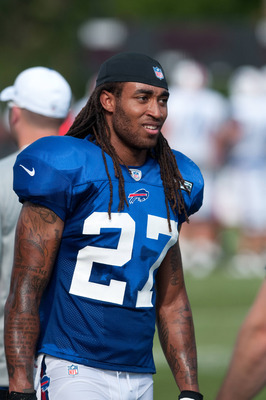 Mark Konezny-US PRESSWIRE
Stephon Gilmore is already Buffalo's top cornerback, and despite some early struggles, No. 41 overall pick Cordy Glenn will be starting at left tackle. That's getting something out of your early picks.
T.J. Graham should contribute at wide receiver, as well. Nigel Bradham has also risen up the depth chart and could receive some playing time.
It remains to be seen how good these guys will be, but they are at least getting on the field and playing.
Grade: B
New York Giants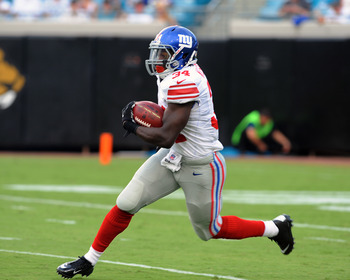 Al Messerschmidt/Getty Images
Though he won't be starting, David Wilson looks to contribute in 2012 as a change-of-pace running back. His speed and explosiveness will add a new dimension to New York's offense.
Likewise, Rueben Randle should see the field often. He won't put up staggering numbers, but he will contribute.
Most of the Giants' other picks were upside or depth selections. They won't be doing much in 2012, as rookies should've expected in being drafted to the defending Super Bowl champions.
Grade: C+
Washington Redskins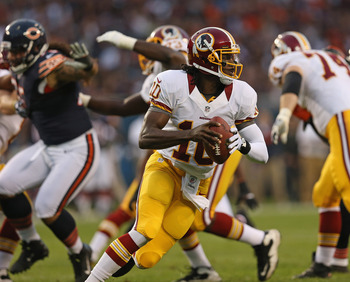 Jonathan Daniel/Getty Images
The Washington Redskins' 2012 draft class is essentially Robert Griffin III. Thus far, Griffin has struggled against pressure, which was a problem of his in college too.
As of yet, no other Redskins rookies are expected to see significant playing time. This isn't necessarily an indictment, given Washington's lack of early draft picks, but it isn't good either. Kirk Cousins has looked good as a backup quarterback, though.
However, the simple fact remains that the evaluation of Washington's draft class depends solely on Griffin's success.
Grade: C+
Dallas Cowboys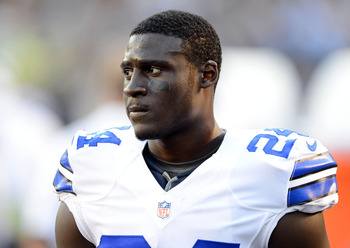 Christopher Hanewinckel-US PRESSWIRE
When the Cowboys traded up for Morris Claiborne, it was expected that the No. 6 overall pick would start.
Claiborne probably still will start, but he's had some injury problems and hasn't quite met expectations thus far.
No other Dallas rookies are really expected to contribute much. The team bet on Claiborne, and now the LSU product needs to live up to his draft status.
Grade: C+
Philadelphia Eagles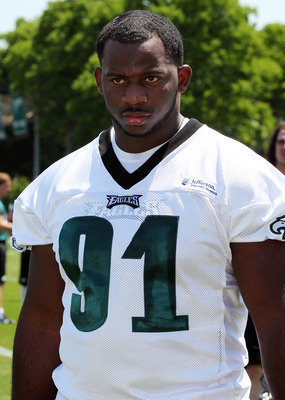 Rich Schultz/Getty Images
First-round DT Fletcher Cox seems likely to start, and second-round LB Mychal Kendricks will join him. Two picks, two starters—not bad.
Both Cox and Kendricks have impressed in their roles, and third-round QB Nick Foles has also shown flashes of brilliance. He may actually be Philadelphia's backup behind Michael Vick.
Vinny Curry has impressed at defensive end, and Brandon Boykin may have a shot at the Eagles' nickelback job. It's safe to say that Philadelphia may have found a few players.
Grade: A
Indianapolis Colts
Justin K. Aller/Getty Images
Andrew Luck has looked simply fantastic. Everything that he has done so far makes the Colts look brilliant for making the easy pick.
Coby Fleener has had his ups and downs, but Dwayne Allen has looked solid. Outside of Luck, none of the Colts rookies is looking like a superstar, but some look like they can contribute.
The key here is Luck. If he plays as well as he has so far, Indianapolis will look back on the 2012 draft with a smile.
Grade: B+
Jacksonville Jaguars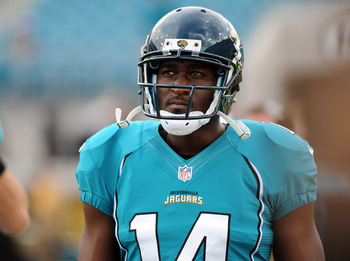 Melina Vastola-US PRESSWIRE
The Jaguars' first three draft picks are starting. Granted, one of those players is a punter.
Justin Blackmon has impressed since joining Jacksonville, and Andre Branch has flashed the ability that made him a high-upside second-round pick.
No one outside of the team's first three picks is expected to contribute much in 2012. The team's first two picks are looking good, but the others are lagging behind.
Grade: C
Houston Texans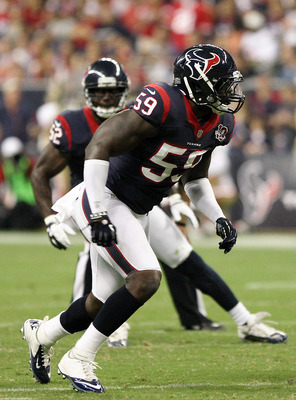 Troy Taormina-US PRESSWIRE
Whitney Mercilus has drawn praise for his excellent play, but the Texans' other rookies aren't standing out.
Mercilus flashes explosiveness and has good pass-rush skills. Houston's talent at outside linebacker may limit his playing time, though.
After Mercilus, third-round pick DeVier Posey has struggled, not catching a ball in his first two preseason games. Keshawn Martin has stood out some, however.
Though Mercilus has impressed, no one else has joined him as a standout. The lack of depth here hurts the team's grade.
Grade: C-
Tennessee Titans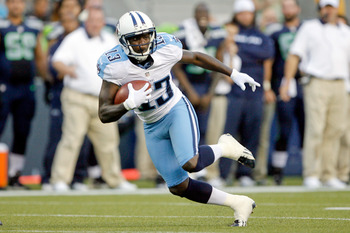 Joe Nicholson-US PRESSWIRE
Kendall Wright, the No. 21 overall pick, has quickly stepped in for Kenny Britt as Tennessee's primary wide receiver. Second-round pick Zach Brown may soon be starting at outside linebacker.
Third-round DT Mike Martin is third on the team's depth chart, and he should see plenty of playing time as a rookie. Three rookie Titans should contribute in 2012.
There isn't a ton of star power here, but Tennessee has three early contributors and potentially above-average starters.
Grade: A-
San Francisco 49ers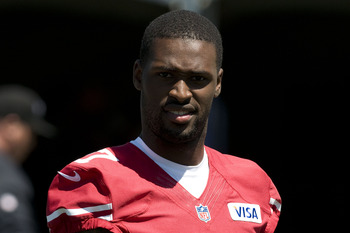 Ed Szczepanski-US PRESSWIRE
Not a single rookie 49er is currently in line to start or even contribute very much. LaMichael James is closest, though he isn't one of San Francisco's top two running backs.
First-round pick A.J. Jenkins has struggled, and though he could still be good in the future, he hasn't shown many good signs so far.
As of now, San Francisco's draft class looks pretty bleak. There isn't a whole lot of upside.
Grade: D
Arizona Cardinals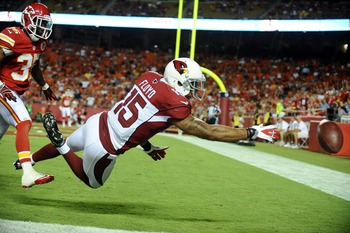 John Rieger-US PRESSWIRE
Not even No. 13 overall pick Michael Floyd is starting for the Cardinals. Floyd has struggled in the preseason and hasn't done much to earn a starting position.
Floyd's fellow rookies haven't done much better, though Justin Bethel is apparently a kick-blocking demon. Bobby Massie has perhaps the best chance of playing time following Levi Brown's season-ending injury.
Senio Kelemete has shown that he is raw but talented, which was expected. As of now, Arizona's rookies simply aren't showing a whole lot, though. There is some potential, but it is deeply covered by rawness.
Grade: D+
Seattle Seahawks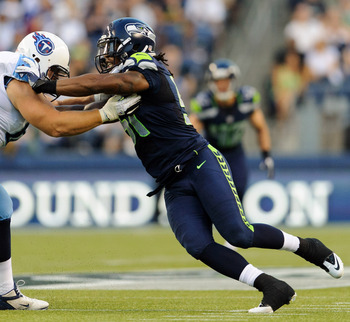 Steven Bisig-US PRESSWIRE
Surprise first-round pick Bruce Irvin hasn't lit the world on fire yet, but a few other Seattle rookies have stepped up. Despite switching positions from defensive line, J.R. Sweezy is working with the first team at guard.
LB Bobby Wagner is also starting, and Robert Turbin looks to get some playing time in the offensive backfield. The Seahawks should have four rookies see significant action.
Russell Wilson is surprisingly still competing with Matt Flynn, and he could be the team's quarterback in the near future.
If Irvin starts to come around, this class has the makings of a potentially excellent group. That might be a big if, though.
Grade: B
St. Louis Rams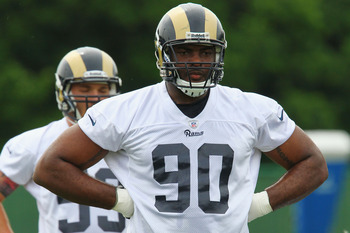 Dilip Vishwanat/Getty Images
After trading back twice in the first round, the Rams ended up with quite a few draft picks. First-round defensive tackle Michael Brockers has shown some flashes, and several other rookies will contribute.
Despite being a bit raw, Brian Quick will see plenty of playing time at wide receiver. Janoris Jenkins fell due to off-the-field issues, but he is starting and playing well for St. Louis.
Isaiah Pead will also see time spelling Steven Jackson. All these players have significant upside, and they are already contributing. This could be a great draft class.
Grade: A-
Cleveland Browns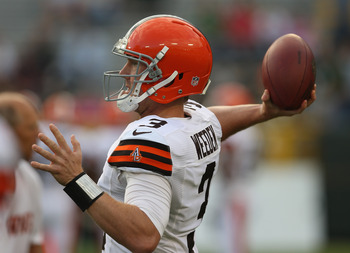 Jonathan Daniel/Getty Images
Despite Trent Richardson suffering a knee injury, Cleveland's rookie class is looking great. QB Brandon Weeden easily won the job from Colt McCoy, and Mitchell Schwartz also won his competition at right tackle.
LB James-Michael Johnson will start the season, and Trevin Wade will see time at cornerback. DT John Hughes could start due to injuries. Cleveland has a plethora of rookies ready to contribute.
Richardson should return from his injury and play at a high level. The other rookies may not dominate like he does, but they shouldn't be awful either.
Grade: A
Baltimore Ravens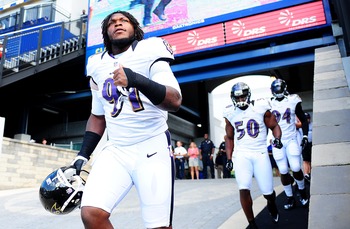 Evan Habeeb-US PRESSWIRE
Right now, it seems that Courtney Upshaw is the only Ravens rookie who will seriously contribute as a rookie, though Bernard Pierce could see some time spelling Ray Rice.
Upshaw won't be dynamic, but he should offer solid play. In the event of injury, Kelechi Osemele could step in nearly anywhere along the offensive line.
Baltimore added some potential in the draft, but the team's overall talent level keeps many of the new players from busting through right away.
Grade: B
Cincinnati Bengals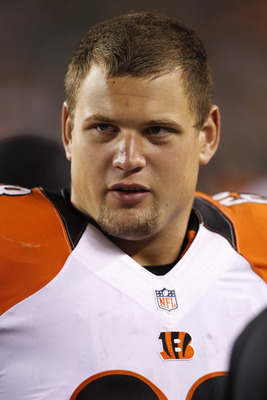 Frank Victores-US PRESSWIRE
The Bengals' draft class received high praise, but for the moment, only one rookie is starting. Kevin Zeitler is starting at right guard, but he has struggled in the team's first two preseason games.
Dre Kirkpatrick has largely been inactive due to injury. Rookies Devon Still, Marvin Jones, Mohamed Sanu and Vontaze Burfict seem likely to earn playing time.
This draft class has a ton of potential, and several rookies will contribute immediately. Only the team's two first-round picks' lack of success is disappointing.
Grade: B+
Pittsburgh Steelers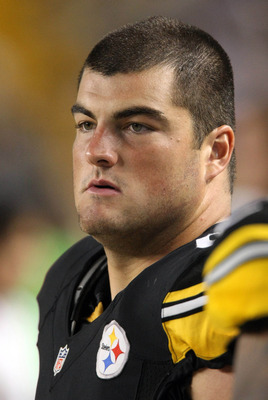 Jason Bridge-US PRESSWIRE
In 2012, the Steelers will start two rookie offensive linemen. Mike Adams has disappointed some, but he will likely be the team's starting left tackle. And as expected, David DeCastro will man the right guard position.
Adams may not be great, but he has a ton of potential moving forward. DeCastro will probably be great. Alameda Ta'amu will serve as Pittsburgh's backup nose tackle and should get on the field spelling Steve McLendon until Casey Hampton is ready to return.
Other players like Chris Rainey and Sean Spence offer long-term value, as well as immediate returns. There is upside and depth in this class to go along with the rookie contributors.
Grade: A-
New Orleans Saints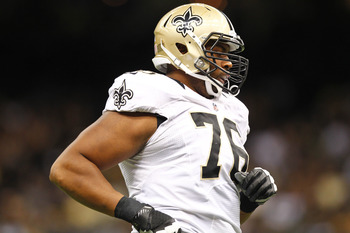 Derick E. Hingle-US PRESSWIRE
Because of the Mark Ingram trade and Bountygate repercussions, the Saints didn't pick until the third round. Akiem Hicks has flashed the ability that made him a third-round selection, and he could see some playing time in 2012.
Though Marcel Jones has impressed, he will serve as a backup for the Saints. Nick Toon could contribute at wide receiver if he can stay healthy.
The Saints didn't have many early picks in 2012, but they added some potential players. There is no guarantee of success, though, and none of the players appear likely be great.
Grade: C
Atlanta Falcons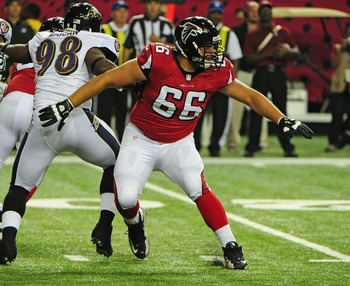 Scott Cunningham/Getty Images
It doesn't look like Atlanta will get much out of its rookies in 2012. Because they traded their 2012 first-round pick to acquire Julio Jones, the Falcons didn't pick until the second round.
In that round, Atlanta selected Peter Konz, who appears to have lost the right guard position battle. No other rookie Falcon is close to winning a starting spot.
In fact, not only are no rookies close to starting, but they really aren't even close to contributing. Atlanta is essentially playing without rookies in 2012.
That doesn't mean there isn't still some potential in the class, though.
Grade: D-
Carolina Panthers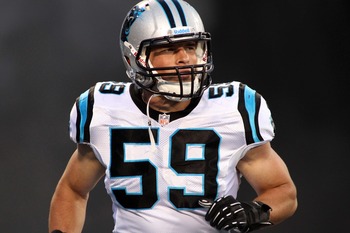 Jeremy Brevard-US PRESSWIRE
Luke Kuechly has exceeded the high expectations set for him. The Boston College product has flown around the field, making play after play.
Second-round guard Amini Silatolu is playing surprisingly well for a player with no Division I football experience. No other rookies seem likely to start for the Panthers.
CB Josh Norman could see some playing time, though he probably won't start. The first two picks here are looking good, but the draft is more questionable at the bottom.
Grade: C+
Tampa Bay Buccaneers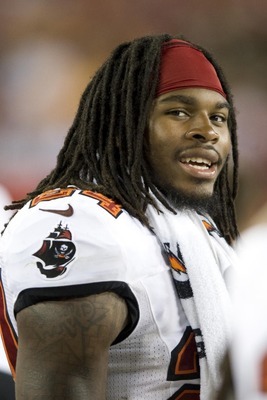 Jeff Griffith-US PRESSWIRE
Come Week 1, the Buccaneers will likely be starting three rookies. Doug Martin should get the bulk of the carries at running back, and No. 7 overall pick Mark Barron will start at safety. LB Lavonte David will also start.
These three players all have the ability to be great at their positions.
There isn't a ton more talent in the draft class, but those three could easily make up for it. It remains to be seen just how talented the trio is.
Grade: B
San Diego Chargers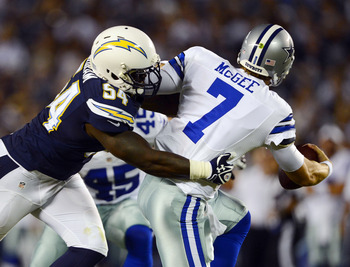 Christopher Hanewinckel-US PRESSWIRE
Melvin Ingram has shocked nearly everyone with his excellent play. He has excelled defending the run, rushing the passer and playing in coverage.
Second- and third-round picks Kendall Reyes and Brandon Taylor aren't yet starting but should frequently see the field. The two will likely be starting in a year.
The Chargers added some more potential in Ladarius Green and David Molk. Edwin Baker could also develop into a role player. This is a potentially dynamic class.
Grade: B+
Kansas City Chiefs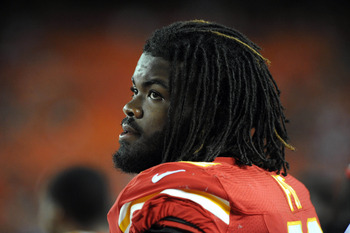 John Rieger-US PRESSWIRE
As of now, no Kansas City rookies are starting. Dontari Poe may be third at nose tackle, and Jeff Allen is backing up Ryan Lilja at guard.
However, the Chiefs' draft class still offers long-term value. Poe and Allen should develop into good starters, and Devon Wylie is already seeing playing time at wide receiver.
It may take time for this class to find its worth, but it should happen eventually. Unfortunately, Kansas City could use the help now.
Grade: C+
Oakland Raiders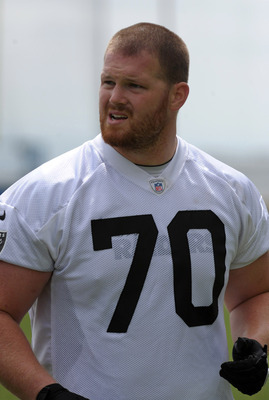 Kirby Lee-US PRESSWIRE
Because they did not pick until the last pick of the third round, Oakland could have a hard time getting too much out of this class. Fourth-round pick Miles Burris is currently starting, though.
In time, Tony Bergstrom will likely start at guard, as well. Unfortunately for Oakland, the lack of picks here ruined any chances the team had at a true impact draft.
There isn't much upside or probability here. It's hard to say whether any of these players will make it at all, and it's nearly impossible to predict any of them becoming stars.
Grade: D-
Denver Broncos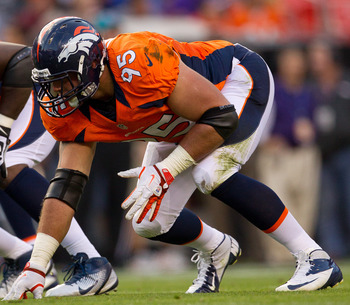 Justin Edmonds/Getty Images
After trading back twice, the Broncos were left without a first-round pick. Derek Wolfe has dominated at defensive tackle thus far, but the team's other picks haven't gone quite as well.
Ronnie Hillman is a bit of a disappointment thus far, but he still has potential as a playmaking running back. QB Brock Osweiler was drafted as a high-upside guy, as well.
So far, Wolfe is the only rookie really contributing for Denver. Others could in time, but that is unpredictable.
Grade: C-
Detroit Lions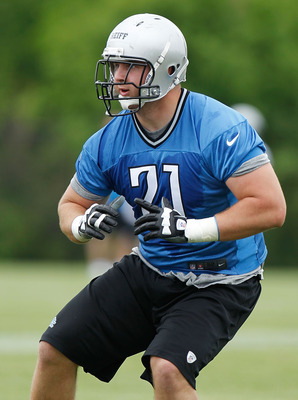 Gregory Shamus/Getty Images
Riley Reiff was expected to supplant either Jeff Backus or Gosder Cherilus, but he is currently working as a backup. Fortunately, Detroit has other rookies who are doing a better job of impressing.
CB Bill Bentley has been excellent in the preseason and could see serious playing time in 2012. WR Ryan Broyles should also see the field often.
Eventually, Reiff will start at tackle, and the Lions have other rookies to complement him across the roster. This class could be good, but it probably won't be great.
Grade: B-
Green Bay Packers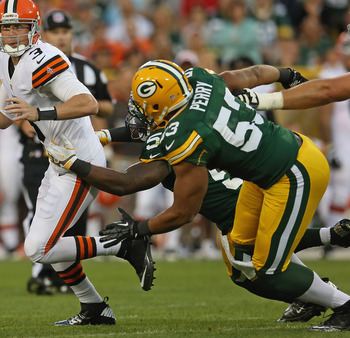 Jonathan Daniel/Getty Images
First-round pick Nick Perry is starting at outside linebacker opposite Clay Matthews. He could, in time, be a special player. Second-round pick Jerel Worthy will rotate in at defensive end.
CB Casey Hayward has impressed and worked his way up the depth chart. He will be on the field in many passing situations. Jerron McMillian should also see playing time.
Green Bay already has several rookies contributing on an extremely talented roster. With time, these players could develop into key pieces.
Grade: B+
Chicago Bears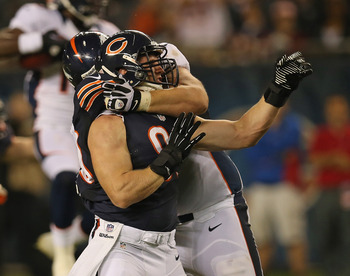 Jonathan Daniel/Getty Images
The Bears' first two picks—Shea McClellin and Alshon Jeffery—will be seeing plenty of playing time. McClellin will rotate in on passing downs, and Jeffery will rarely be off the field.
Jeffery has earned praise for his play and catching ability throughout training camp and the preseason. Brandon Hardin has also turned some heads, and he could be the team's starting safety by the season's end.
McClellin and Jeffery should both offer significant contributions as rookies, and both have Pro Bowl potential down the line. If any other rookies can contribute, that's icing on the cake.
Grade: B+
Minnesota Vikings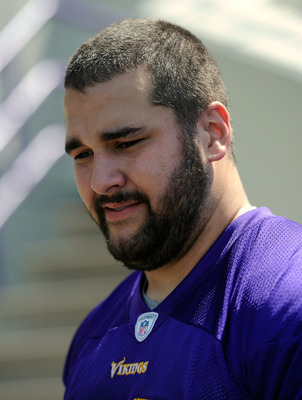 Hannah Foslien/Getty Images
No. 4 overall pick Matt Kalil will be manning Minnesota's left tackle position. In all likelihood, he will do an excellent job there. First-round safety Harrison Smith seems likely to start as well.
CB Josh Robinson could eventually earn playing time, but he's buried on the depth chart at the moment. Seventh-round LB Audie Cole has shocked many with his play, as he picked up two pick-sixes on back-to-back defensive plays.
Cole could end up contributing for the Vikings along with Kalil, Smith and Robinson. This unit has some immediate contributors, but there isn't a ton of upside after Kalil. Most of the Vikings' rookies will be average starters at best.
Grade: C+
Keep Reading