Ian Kinsler and More American League Players Who Need to Have a Big Week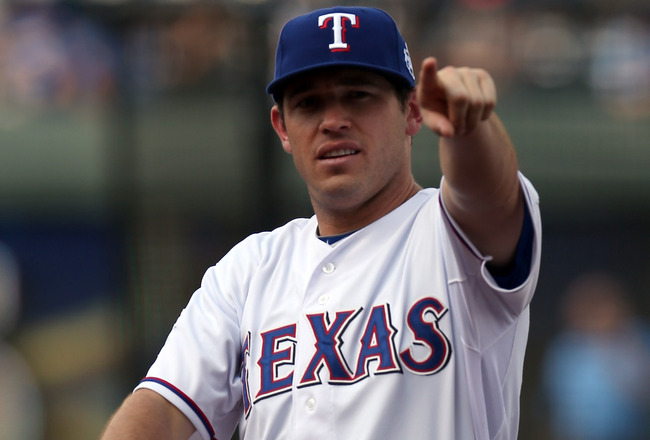 Jonathan Daniel/Getty Images
When he's right, Texas Rangers second baseman Ian Kinsler is one of the best all-around players in baseball. He runs, he fields and he most certainly hits.
Kinsler is right more often than not. But right now, he's all sorts of wrong.
The dog days of August may be getting to Kinsler a little bit, as he's slipped into a brutal slump over the last week or so. He's been piling up oh-fers, with hits coming few and far between.
The pressure is on Kinsler to snap out of it this week, but he's by no means the only player in the American League who needs to make the most of the next seven days. Here's a look at him and a few other American Leaguers who need to come through with big performances.
Note: All stats come from Baseball-Reference.com unless otherwise noted.
Gavin Floyd, SP, Chicago White Sox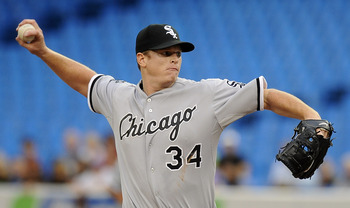 Brad White/Getty Images
You just never know with Gavin Floyd. He's capable of stringing together goose eggs for seven or eight innings when he takes the mound, but he can also look like a walking, throwing illustration of the word "mediocre."
That's the kind of mode Floyd has been in in August to this point. He has yet to lose this month, but he's given up 23 hits, six walks and 11 earned runs in 18.1 innings for an ERA of 5.40. After going three straight starts without allowing a home run to close out July, he's given one homer in each start he's made in August.
After a total of 22 starts so far this season, Floyd finds himself sitting on a 9-9 record, a 4.43 ERA and a 1.38 WHIP. The word "mediocre" once again comes to mind.
The White Sox can ill afford to see the mediocre version of Floyd out on the mound this week. They just got swept by the Kansas City Royals over the weekend, and now they come home to play the New York Yankees and the surging Seattle Mariners.
Floyd will get to face both the Yanks and the M's, as he's slated to start on Monday night against Freddy Garcia and again on Sunday against Kevin Millwood.
It could be worse. He could be facing Hiroki Kuroda and Felix Hernandez. Additionally, Floyd tends to pitch well at home, where he has a 7-3 record in 13 starts.
Still, things could very well go awry in Floyd's two starts. The White Sox really can't have that happen, seeing as how the Detroit Tigers are only 1.5 games out of first and the White Sox are looking at a seven-game road trip through Baltimore and Detroit after their six-game homestand runs out.
It will be up to Floyd to start and finish the homestand on a positive note. Fingers crossed.
Adam Jones, CF, Baltimore Orioles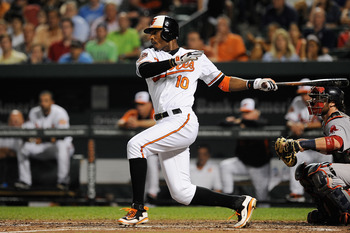 Patrick McDermott/Getty Images
Adam Jones looked like a legitimate AL MVP candidate earlier in the season, but skeptics pointed out that he was hitting home runs at a rate that couldn't possibly continue.
Turns out they were right. Jones' home run stroke has gone missing in the last few weeks. His last home run came on July 27 against Oakland.
It's not just his home run stroke that has gone missing. It's been mostly singles for Jones in the last couple weeks, as he has just one extra-base hit (a double) since August 9. Even singles have been hard to come by recently, as Jones collected just four hits in 23 at-bats last week.
The Orioles are playing good baseball anyway, but they're going to need Jones to rediscover his power stroke this week. They have a couple three-game series lined up against the Texas Rangers and Toronto Blue Jays.
These would be the same Rangers and Blue Jays that are two of the top offensive teams in the American League, of course. The Rangers lead the AL in runs scored, batting average and on-base percentage. The Blue Jays trail only the Yankees in home runs.
Knowing the state of the Orioles' starting pitching these days (and indeed, all season), it's a good bet that the Orioles are going to need to score a few more runs than usual in order to win ballgames this week.
That's where Jones fits into the equation. When he's swinging the bat well, Baltimore's lineup is all the more dangerous.
Ian Kinsler, 2B, Texas Rangers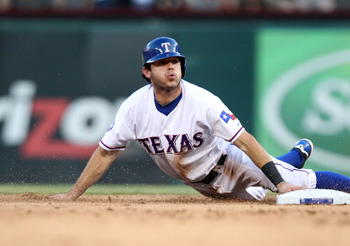 Layne Murdoch/Getty Images
Like I said in the opening, Ian Kinsler is all kinds of awesome when he's playing well. We're talking about a guy who posted nearly the same WAR as Ryan Braun in 2011, according to FanGraphs.
Kinsler hasn't been the same player this season, and he certainly hasn't been the same player recently. Dating back to August 8, he's just three for his last 39. That's a batting average of .077.
Ron Washington tried to do Kinsler a favor by giving him a mental health day last Thursday against the Yankees, with the hope being that a day off would get Kinsler going again.
Not so much. Kinsler returned to collect one hit in 12 at-bats in Toronto over the weekend.
The bright side is that Kinsler's double on Sunday snapped an 0-for-21 skid. In fact, each of his last three hits have been doubles. It's not much, but things would look far bleaker for him if the only hits he could muster these days were infield singles.
Even still, it goes without saying that the Rangers need Kinsler to pick it up. Their offense has been hit or miss in the last couple weeks, and you can rest assured that Kinsler's slump has been a played a part in that. Texas' lineup is as deep as they come, but it's only capable of doing so much when its leadoff hitter isn't himself.
Since Washington probably isn't about to move Kinsler down in the order, the only solution here is for Kinsler to start hitting again.
Alex Rios, RF, Chicago White Sox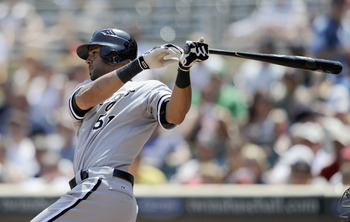 Hannah Foslien/Getty Images
Alex Rios featured prominently in my list of American Leaguers having awesome seasons under the radar, and for good reason. He could end up with 25 homers and 25 stolen bases this season, and very few people outside of Chicago seem to care.
Or maybe people have just been expecting Rios to plummet back to earth all this time. If so, well, I applaud the people. That's exactly what's happened to Rios in recent days.
Outside of his big three-run homer in Toronto, Rios did not have a very good week last week. He collected just two hits in 30 at-bats, which equates to a batting average of .067.
He went 0-for-12 over the weekend in Kansas City. Coincidentally, the White Sox were swept.
The White Sox can't afford to see Rios' slump continue. They're going to need as much help as they can get in order to score a series victory against the Yankees, keepers of the AL's best record at 72-49.
It's easy to underestimate the Mariners, but they've won five straight and seven of eight, and their pitching staff is as hot as any staff in baseball right now.
It seems like there's always at least one White Sox hitter in a nasty slump at any given moment. Right now, that would be Rios.
What's concerning is that he's been the club's most consistent hitter all season. He picked a hell of a time to stop hitting.
Ervin Santana, SP, Los Angeles Angels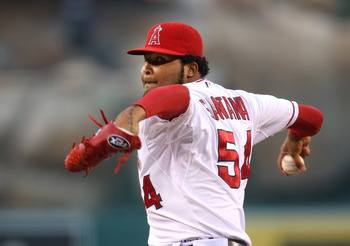 Stephen Dunn/Getty Images
Ervin Santana pitched very well when he took the mound last Wednesday, tossing seven innings of one-run ball with four strikeouts.
However, you have to take that last performance for what it's worth. It did, after all, come against the Cleveland Indians, who are just 10-26 since the All-Star break.
Things won't be so easy for Santana this week. He's slated to make two starts, one in Boston against the Red Sox and another in Detroit against the Tigers.
The Red Sox are a mess of a baseball team, but they can still swing the bats pretty well. They rank third in MLB in runs scored and fifth in team slugging percentage.
The Tigers, meanwhile, are fifth in baseball in runs scored in August, and Miguel Cabrera and Prince Fielder are both as hot as can be. They've combined for 20 home runs since the All-Star break, and both of them have OPS's over 1.000 since the break.
So, the Angels had better hope that Santana's performance against the Indians was a confidence-builder, because the last thing they need right now is for Santana to go back to pitching like he was before.
How bad was he pitching before, you ask?
He had an ERA of 7.32 in his previous eight starts leading up to his victory against Cleveland.
So yeah, pretty bad.
A Few More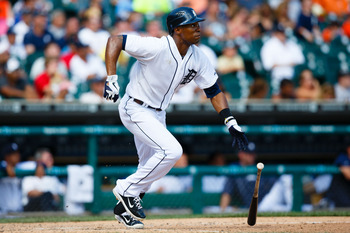 Austin Jackson
Rick Osentoski-US PRESSWIRE
Freddy Garcia, SP, New York Yankees
He's pitched well since taking over for Andy Pettitte in the Yankees' rotation. The Yankees will be looking for more of the same in the two starts Garcia will make this week against the White Sox and the Indians.
Jeremy Hellickson, SP, Tampa Bay Rays
Hellickson was the losing pitcher in Felix Hernandez's perfect game last week, but he definitely held his own. He only allowed one run in seven innings. He'll start against Kansas City and Oakland this week as the Rays look to stay hot.
Austin Jackson, CF, Detroit Tigers
Jackson has been scuffling a little bit since the All-Star break, but he enters this week off back-to-back two-hit games. Maybe that will get him going.
Ubaldo Jimenez, SP, Cleveland Indians
The Indians are basically just looking to salvage as much dignity as they possibly can at this point. Jimenez will lead the charge this week with starts against Seattle and New York.
Brandon McCarthy, SP, Oakland A's
McCarthy has pitched well since his return from the DL. He'll try to help the A's stay hot with starts against Minnesota and Tampa Bay this week.
Brett Myers, RP, Chicago White Sox
He got pounded for four earned runs his last time out on Saturday. He'll be looking to bounce back this week.
Ricky Romero, SP, Toronto Blue Jays
After pitching well in two previous starts, Romero was hammered again his last time out against the White Sox. He'll be looking to avoid that fate in starts against Detroit and Baltimore this week.
Max Scherzer, SP, Detroit Tigers
Scherzer was dominant his last time out, striking out 10 in seven shutout innings. The Tigers will gladly take more of that in his starts against the Blue Jays and Angels this week.
If you want to talk baseball, hit me up on Twitter.
Keep Reading