10 NFL Players No Longer Under the Radar Thanks to Monster Preseasons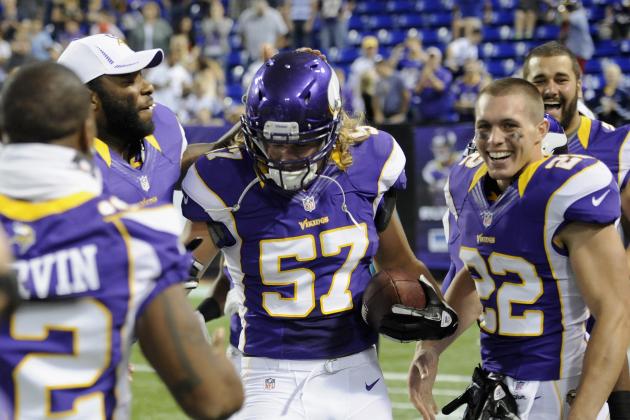 Hannah Foslien/Getty Images

Every NFL preseason, some players come out of the woodwork who look like they could be headed for stardom. It is inevitable that out of roughly 2,880 players currently on NFL training camp rosters, there will be a small percentage of unknown players that have an outstanding camp.
New York Giants wide receiver Victor Cruz is an example of a player who came out of obscurity in the preseason to look like a stud, but then he actually followed up his play in the preseason by doing the same thing in the regular season as well. Yet there are far too many examples of training camp stars who faded into obscurity when it really mattered.
So, who are the players formerly under the radar who are turning heads with a monster preseason in 2012? By monster preseason, we are talking about a big effort in a preseason game that allowed that player to grab the spotlight, as opposed to having a steady but rather unspectacular training camp.
Maybe they were an undrafted rookie free agent. Maybe they came out of a Division II or Division III school. Maybe they were a backup in college who never really got the chance to be a starter, but had the talent to play. They just needed a chance. Perhaps they were injured for most of 2011 and were overlooked at the draft as a result.
For this presentation, we are open to players on offense or defense. For somebody to be under the radar, we are going to eliminate the players drafted in the first two rounds of the 2012 draft. No way that any of them are under the radar.
This isn't intended for fantasy football purposes. We just want to focus on lesser-known players who have done a solid job of making a name for themselves due to their play and, as a result of some big performances, now have a chance to survive final cuts and make a NFL roster.
Begin Slideshow

»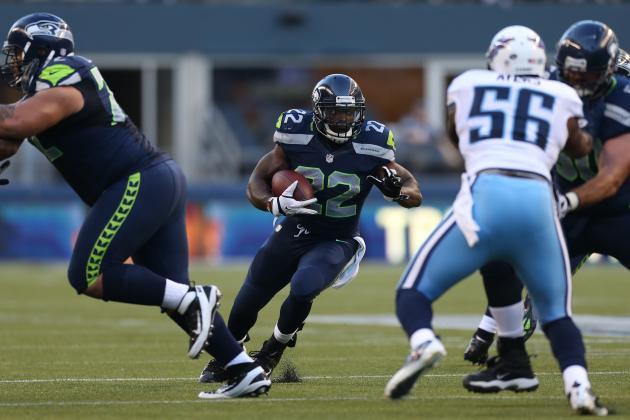 Otto Greule Jr/Getty Images

Coming into preseason play Saturday night, Seattle Seahawks running back Robert Turbin was ranked No. 5 in the NFL with 151 rushing yards. Turbin has been averaging 4.4 yards per carry so far in the preseason.
Turbin wound up replacing starter Marshawn Lynch against the Kansas City Chiefs. Turbin was playing against the Chiefs' No. 1 defensive unit and wound up totaling 93 yards and one touchdown.
He has clearly moved into the ranks of the top two running backs in Seattle, and if Lynch gets suspended, or injuries keep him out of action, head coach Pete Carroll will not hesitate to start Turbin.
Peter King from Sports Illustrated tweeted that Turbin was the best Seahawks rookie in training camp this year:
Seahawk thoughts 3: Most impressive rookie: 4th-rd RB Robert Turbin, who may be needed early+often if Lynch is whacked by NFL for DUI.
It looks like the Seahawks' draft class is due to get a higher grade based on the play of Turbin and fellow rookie Russell Wilson.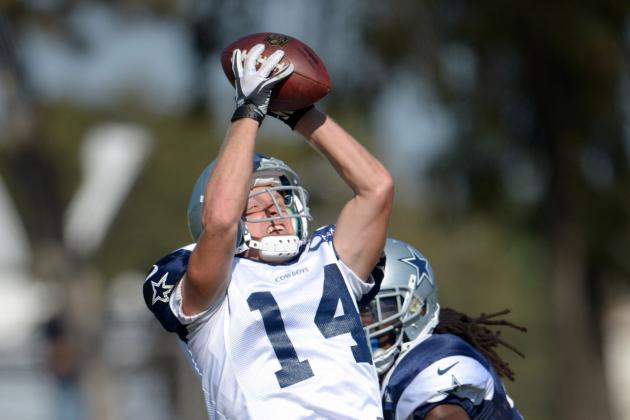 Kirby Lee-US PRESSWIRE

Cole Beasley was an undrafted rookie free agent out of SMU who took a chance and tried out for the Dallas Cowboys. Beasley was ready to quit the game and walked out of Cowboys camp, only to have a change of heart and return to the team.
Then he turned in a monster game by coming up with seven catches for 104 yards versus the San Diego Chargers. That continued the trend of Beasley making plays and probably gives him a realistic chance at being considered for the Cowboys' final wide receiver spot.
Beasley might wind up beating out Danny Coale, who was drafted in the fifth-round but has not been able to stay on the field enough, giving Beasley the opportunity he needed to try to seize the job.
Patrick Smith/Getty Images

Baltimore Ravens kicker Justin Tucker boomed a 50-yard field goal that looked like it would be good from 55-57 yards out in the Ravens preseason game against the Detroit Lions.The Ravens home crowd let out a huge Bronx cheer after the kick.
Field goal kickers in Baltimore have to be a hot topic, especially since the Ravens lost out on a chance to tie the AFC Championship game last year when Billy Cundiff missed a kick that would have sent the game into overtime.
Cundiff has been a reliable kicker for the most part, but that crucial miss has been difficult to overcome. After Tucker outpeformed him in training camp, the Ravens cut Cundiff on Sunday.
So far in the 2012 preseason games, Tucker has gone 5-for-5 on field goal chances and has converted both of his kicks that were longer than 50 yards out. That is money. No wonder the Ravens are moving forward with him as their kicker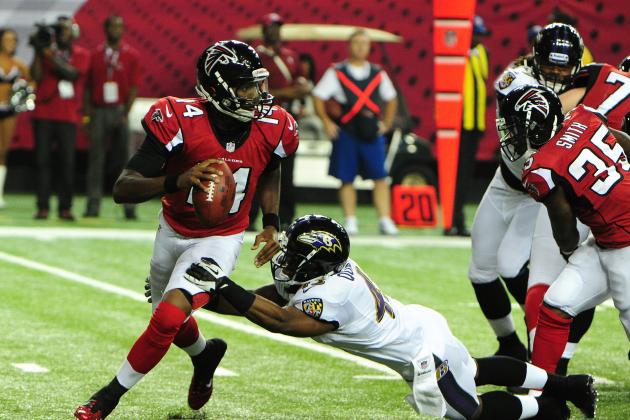 Scott Cunningham/Getty Images

If you want to check out the current 2012 NFL preseason statistics at NFL.com, you might be surprised to see that out of all the NFL quarterbacks, the No. 14 ranked quarterback for passing yardage in the league is Atlanta Falcons quarterback Dominique Davis.
Who exactly is Dominique Davis? Good question. Davis started out at Boston College and eventually transferred to East Carolina. He went undrafted in the 2012 NFL draft and signed on with the Falcons. Based on the way he has played in training camp and the preseason, the Falcons are trying to figure out if Davis has jumped ahead of John Parker Wilson to become the backup QB to Matt Ryan.
Another possibility is that the Falcons could decide to keep three quarterbacks rather than risk losing Davis to another team if they put him on the practice squad. Against Cincinnati, Davis completed 10 of 18 passes for 121 yards and a touchdown.
Keep an eye out for Davis in the Falcons' final preseason game to see what he can do with his final opportunity to convince the Atlanta coaching staff that he belongs on the team.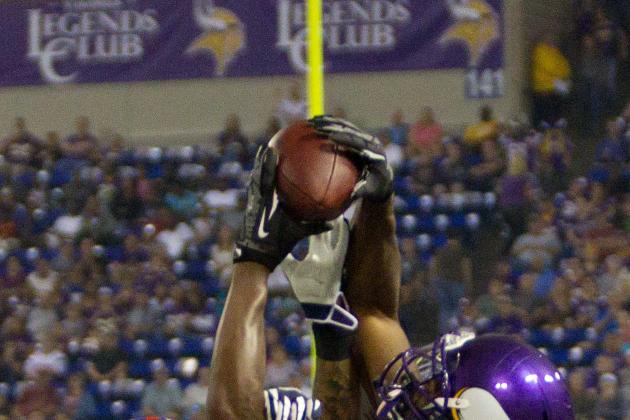 Brad Rempel-US PRESSWIRE

Buffalo Bills cornerback Ron Brooks didn't get many headlines in college football. At LSU, Brooks had the misfortune of playing behind the likes of Patrick Peterson, Morris Claiborne and Tyrann Mathieu, so he was forced to excel on special teams and wait for his opportunity. He only started three games at LSU.
The Bills scouted him enough to know that he was talented and were delighted to draft Brooks with the No. 124 overall pick in the 2012 NFL draft.
What has Brooks done so far in training camp and in the preseason? After two preseason games, Brooks was tied for the lead in the NFL with four deflected passes. Brooks is tied with four other players for that honor. He also intercepted a pass in the preseason opener against the Washington Redskins.
Brooks looks like a lock to make the Bills team. He will play on special teams and could also see some action in the secondary or either nickel or dime packages. He is athletic and can play either in the slot or on the outside, depending on where the Bills need him to play.
Sometimes you don't have to excel in college to make it into the NFL. Brooks is living proof of that.
By the way, Brooks is the player the Bills wound up drafting with the draft pick they acquired when they traded Lee Evans to the Baltimore Ravens last year. If Brooks has as solid a career in Buffalo as Evans did, then it will be quite a find for the Bills organization.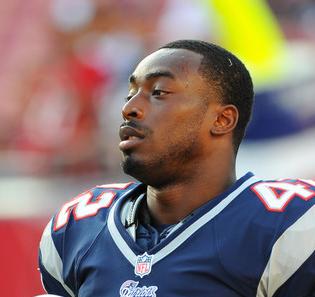 Source: http://www.zimbio.com/pictures/IpGh_4wveL_/New+England+Patriots+v+Tampa+Bay+Buccaneers/OZgYj2v1lUy/Jeff+Demps
Jeff Demps hasn't had a monster game yet, so technically he shouldn't be on this presentation.
But he clearly qualifies as being under the radar around the NFL, since while the rest of the 2012 NFL draft class was going through the scouting combines, draft, OTAs, mini-camp and then training camp, Demps was training for the 2012 Olympic Games in London as a member of the USA track team.
Now that the Olympics have ended, Demps decided to return to football and signed on as an undrafted rookie free agent with the New England Patriots. In the Patriots' last game, Demps gained 41 yards on three carries, even though he really doesn't even know what he is doing yet. Just imagine how scary he will be when he starts to learn the playbook and where he is supposed to go.
Just what the Patriots need, another explosive weapon for their offense.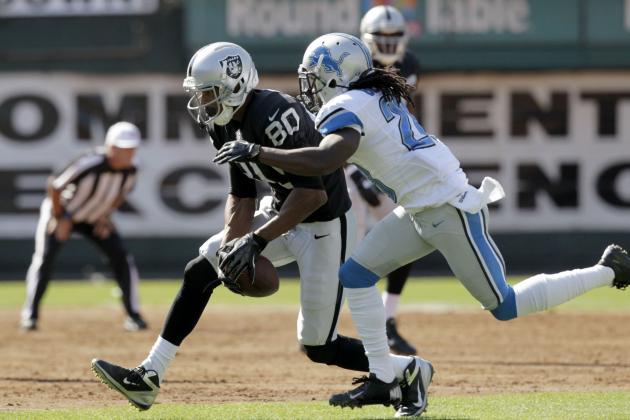 Cary Emondson-US PRESSWIRE

Oakland Raiders wide receivers Rod Streater and Juron Criner both took a major step toward trying to secure a spot on the final roster by coming up with a big game against the Detroit Lions.
Streater had five catches for 57 yards, while Criner had two catches for 115 yards, with each catch going for a touchdown. That qualifies as a monster game.
Criner was drafted in the fifth round by the Raiders in the 2012 draft, while Streater was an undrafted rookie free agent. Coming into the Detroit game, Streater had made 13 receptions for 109 yards.
The Raiders have some interesting depth at wide receiver with Darrius Heyward-Bey, Denarius Moore and Jacoby Ford. It will be interesting to see how many receivers the Raiders decide to keep on the final roster, but if Streater and Criner can follow up with another big game at Seattle next Thursday, that might seal the deal for the young receivers.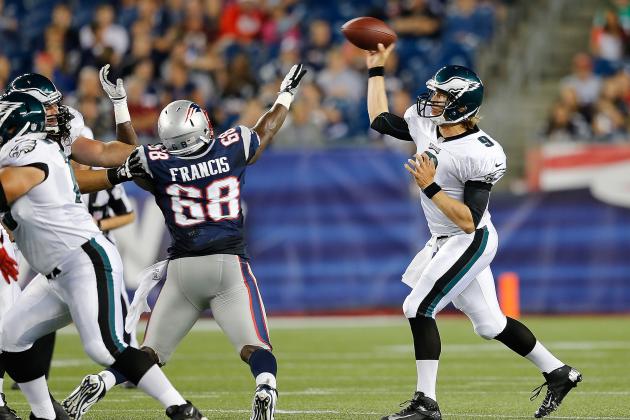 Jim Rogash/Getty Images

How long will veteran quarterback Michael Vick be out with his bruised ribs? If he can't start in Week 1, who will take over the Eagles' offense? With veterans Mike Kafka and Trent Edwards around, who would have guessed that it could be Nick Foles?
While all of the attention was going to Andrew Luck and Robert Griffin III, there wasn't that much of a reaction when the Eagles drafted Foles with the No. 88 overall draft pick in the third round of the 2012 NFL draft. The lack of major reaction means that Foles was safely under the radar.
But as of preseason play entering Saturday night, Foles was ranked as the No. 3 overall QB in the NFL, with a passer rating of 112.2. He had completed 36 of 57 passes for 507 yards, six touchdowns and two interceptions. He is averaging 8.9 yards per pass and played very well against the Browns' No. 1 defensive unit on Friday night.
Foles appears to be very composed and looks like he is having fun on the field. With as many times as Michael Vick gets banged up in the course of the season, Foles might be seeing quite a bit of action this year.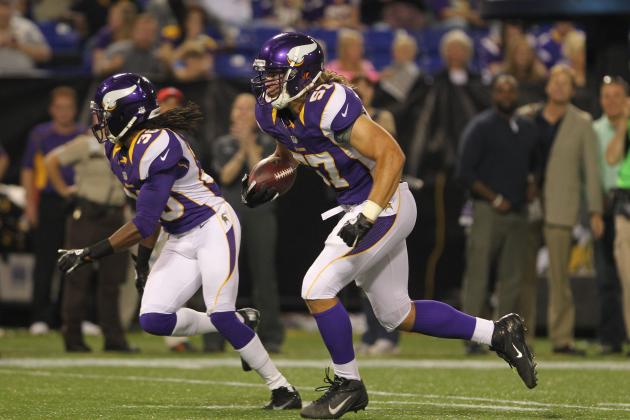 Brace Hemmelgarn-US PRESSWIRE
Audie Cole en route to a pick-six
How often is a seventh-round linebacker the star of a preseason game? Well, that was the reality of the situation when seventh-round linebacker Audie Cole wound up not returning just one, but two interceptions for touchdowns within a minute against the Buffalo Bills.
The consecutive touchdowns by Cole blew open the game and are making the Vikings sit up and take notice that Cole can be a playmaker. He intercepted the passes off of Tyler Thigpen and Brad Smith.
The question is, did his play earn him a starting job, or does it simply mean that he made the final roster? As long as Cole makes the team, I don't think you will hear him complain very much. The odds of a player making the final roster when you are the No. 210 pick aren't very promising.
At the very least, Cole will probably need to play on special teams initially, but he looks like he is ready to take on more responsibilities.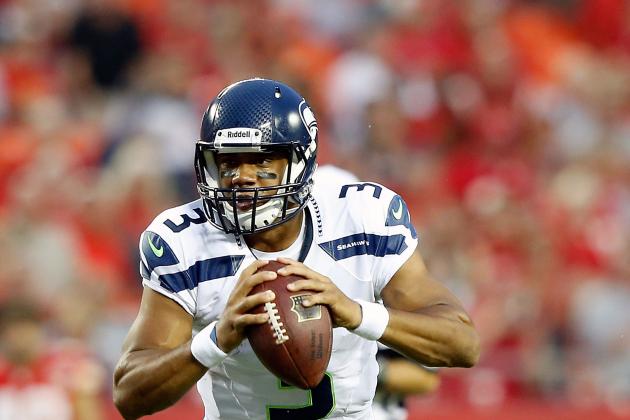 Jamie Squire/Getty Images
Will Russell Wilson be the Seahawks starting QB?
Seattle Seahawks rookie quarterback Russell Wilson has been taking the opportunity that head coach Pete Carroll gave him and running with it, literally. When Carroll announced that he would open up the Seahawks' starting quarterback job to three candidates (Matt Flynn, Tarvaris Jackson and rookie Russell Wilson), there were a lot of snickers from NFL analysts.
But who is laughing now? Coming into action on Saturday evening, August 25, Wilson is the No. 1 ranked quarterback in the NFL, leading with a QB Passer Rating of 119.4. Wilson has completed 35 of 52 passes for 464 yards, five touchdown passes and only one interception. He is throwing the ball down the field, as he is averaging 8.9 yards per attempt, which is excellent.
If that isn't enough, Wilson is also ranked as the No. 5 rusher in the NFL so far in preseason action, as he has gained 150 yards on 10 rushes, averaging an outstanding 15.0 yards per rush.
We don't know if Carroll will start Wilson in Week 1, but one thing is for sure. Wilson has made Tarvaris Jackson expendable. Wilson was playing against the Chiefs' No. 1 defensive unit Friday night and played like he belonged on the field.
Thanks for checking out the presentation.