8 AL East Pitchers New York Yankees Must Light Up to Hold onto Division Lead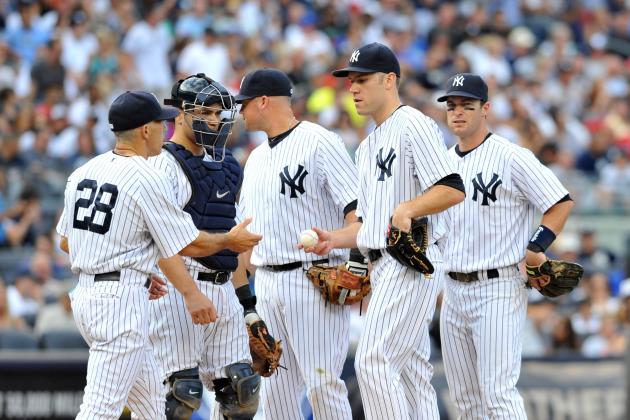 Jason Szenes/Getty Images

The American League East is viewed today as the most competitive division in all of Major League Baseball. Currently, the New York Yankees hold the division lead by four games ahead of Tampa Bay. But don't worry Baltimore fans, the O's are still in the mix just six games behind NY.
If the Yankees want to hold on to their lead, they're going to have to bring out the bats and light up some of the following opposing pitchers.
Begin Slideshow

»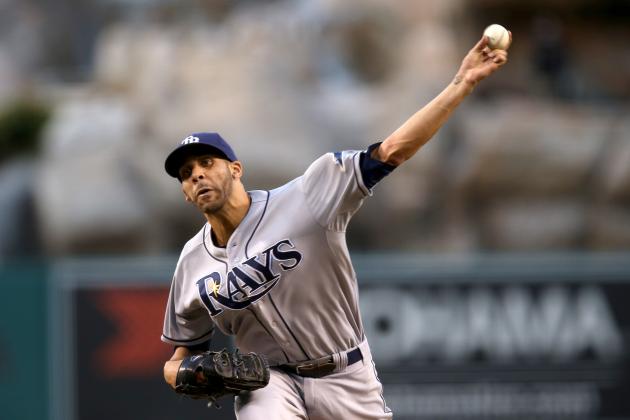 Stephen Dunn/Getty Images
David Price is pitching gem after gem this season.
If the Yankees want to hold their division lead, they're going to have to light up Tampa Bay Rays pitcher David Price—you know, the Cy Young favorite?
Price is pitching phenomenally this season; he has the most wins in the AL East at 16-4. Price also has the lowest ERA in the AL with 2.39. This season, he's struck out 159 batters, bringing his career number of strikeouts to 679.
According to ESPN.com's batter vs. pitching stats, New York has a .246 batting average against Price. However, as a team, the Yankees have 338 at-bats, and they've struck out 66 times. They have managed to get 83 hits off the starting pitcher, but only 13 of those hits have been home runs.
However, Derek Jeter has David Price's number; he's batting .292 with an OBP of .382. In most outings, the Yankee captain has gotten the best of Price—remember, his 3,000th hit was a homer against the pitcher.
Nick Swisher has also gotten the best of Price—he's hitting .375 in 32 at-bats. What has helped Swisher is his incredible plate discipline. He's drawn nine walks against the Rays' starting pitcher.
New York has two series remaining against Tampa: three games at Yankee Stadium and three at Tropicana Field. With the Rays on the Bombers' heels, they need to cushion their lead with every chance, and it's highly likely they'll see Price in one—maybe two—of those upcoming games.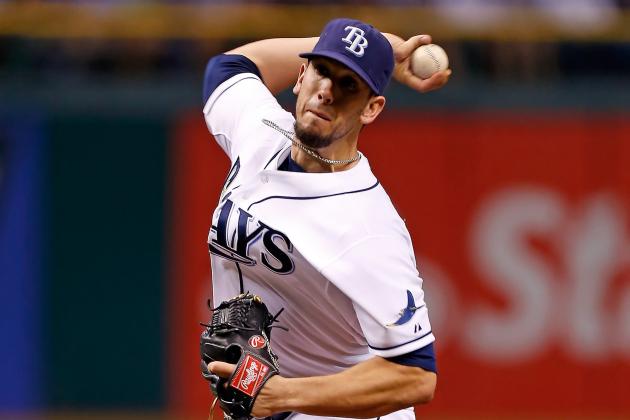 J. Meric/Getty Images
If the Yankees want to maintain a lead, it starts with knocking Shields out early.
Tampa Bay's James Shields isn't having a career year, but he's someone the Yankees need to watch out for when they square off in the upcoming weeks. Shields has a record of 11-7, and his ERA is 4.03—not Shields-like.
New York is batting .253 against Shields; they've recorded 127 hits and 19 home runs. Like David Price, James Shields plays a critical role in Tampa Bay and their playoff hopes, but the Yankees hope to light up the pitcher in their next meeting.
If there's one guy that enjoys James Shields coming to town, it's Robinson Cano. The Yankees' second baseman is batting .426 in his career against the Rays' pitcher. Incorporated into that average are Cano's nine extra-base hits.
It's clear that Robby will be a key player in this matchup if New York wants to maintain that AL East lead.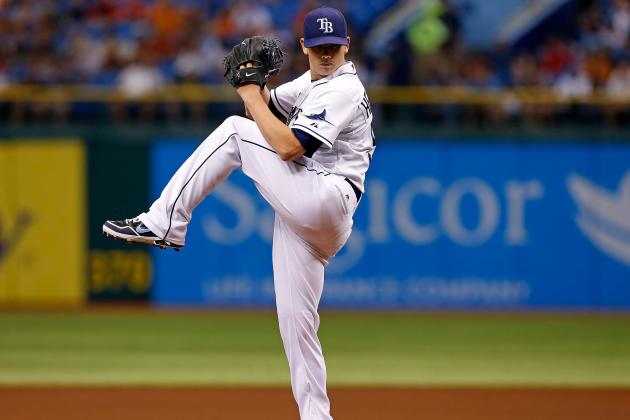 J. Meric/Getty Images
The middle-of-the-rotation guy Jeremy Hellickson is pitching great for the Rays.
Why not list the whole starting rotation of the Rays?
This season, Jeremy Hellickson has started 22 games, and he's sitting at 7-8 with a 3.39 ERA. However, those numbers aren't as intimidating as the ones he has put up against the Bronx Bombers.
Hellickson has given New York the most trouble thus far. The Yankees are only hitting .197 against the starting pitcher, and Jeremy's struck out 23, but he's also walked 15.
Mark Teixeira has had the most success against this Rays pitcher. He's had 16 at-bats with six hits and three doubles.
If the Yankees want to win and stay ahead of the pack, Tex is going to have to lead the way on this one.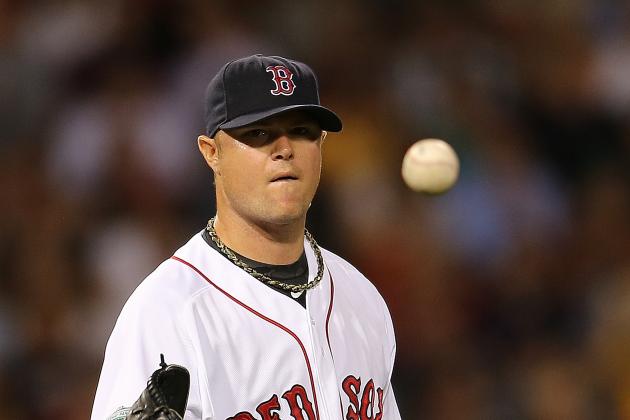 Jim Rogash/Getty Images
Contrary to most beliefs, Lester is the pitcher giving Boston quality start after quality start.
Jon Lester is having a rough season with the Boston Red Sox this year; he's got a 5.03 ERA and is 7-10. These aren't the numbers baseball fans are used to seeing from the normally dominant Lester.
The last three years against the Yankees have been just as rough for the starting pitcher. His ERA against the Bronx Bombers is 4.42 with a record of 6-3. He's given up over a hit an inning against New York: Lester has pitched 73.1 innings serving up 74 hits to New York.
If there's one Bomber that likes Lester taking the mound against the Yankees, it's Nick Swisher. The Yankee right fielder is hitting .317 in his career against Jon Lester. He's homered twice, while also managing to get 13 hits off the opposing Red Sox pitcher.
While Boston is not currently in the playoff picture, they could still hurt New York by winning the remaining two series.
If New York plans on padding that American League lead, they have to make the most of the opportunities that Lester and the Sox present.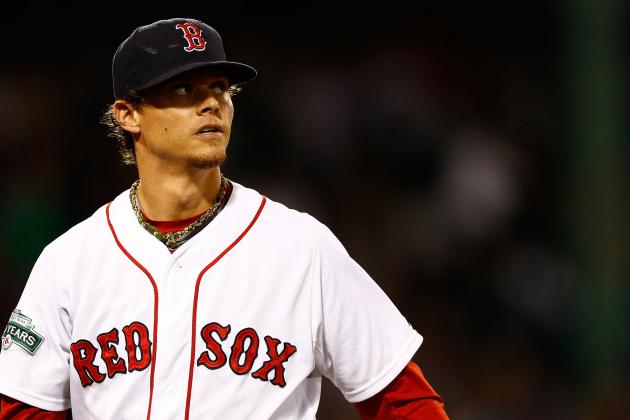 Jared Wickerham/Getty Images
Buccholz ranks 20th in the AL in ERA with a 4.19.
Clay Buchholz leads the Red Sox in wins (11) and ERA (4.19). The right-hander is a dangerous pitcher, and he's making a statement. Buchholz is 11-3, and his last loss came to Tampa Bay on July 14.
Tampa's a deadly team, but their lineup has been plagued by injuries and isn't as deadly as the Yankees...even with Alex Rodriguez out. However, the last time Buchholz threw against the Yankees, A-Rod was in the lineup, and Rodriguez went 2-5 with 2 RBI.
In his career against Clay Buchholz, Rodriguez is batting .409. His OBP is .458—the highest among Yankees with at least 10 at-bats.
If New York is going to stay in first place, Rodriguez needs to come back healthy and fast. He's a major contributor against Buchholz and the Red Sox.
The kind of production he gives New York against Buchholz cannot be accounted for elsewhere, and it gives the Yankees the edge in holding onto the division lead.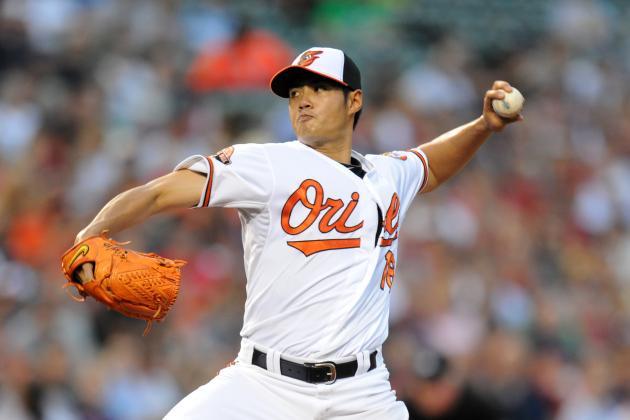 Mitchell Layton/Getty Images
The Orioles have dominated behind starting pitcher Wei-Yin Chen.
Two years ago, if you told me the Yankees were having trouble scoring runs off an Orioles pitcher, I'd probably laugh—that's not the case anymore.
Wei-Yin Chen is clearly the Orioles' ace. He's thrown 151 innings for the O's this season, and he's managed a reasonable 12 wins with an ERA of 3.87—both bests for Baltimore this season.
In the two games he's started against New York, Chen is 1-0 with a 2.84 ERA. Although he's only gone 12.2 innings against the Bombers, he's someone that New York has to tag when he starts against them.
Both Derek Jeter and Robinson Cano have hurt Chen the most when he's taken the mound. They each have two hits, but Jeter has a homer against the O's pitcher.
With two series still unaccounted for, Yankee fans must hope that New York comes at Chen and the O's full force, especially with Baltimore only sitting four games behind the Yankees.
Gregory Shamus/Getty Images
Not considered an ace, but New York must light up Tommy Hunter with all they've got.
Tommy Hunter has started 19 games this season, and his ERA of 5.49 is something that New York hopes to increase when they square off with Baltimore again. Hunter is more of a fly-ball pitcher, and that's what has hurt him—he's given up 29 home runs this season because of it.
If there's one Yankee that looks forward to seeing Tommy Hunter on the mound, it's Ichiro Suzuki. The outfielder is 8-24 against Hunter with three doubles. New York will need Ichiro to bring his A-game when they square off with Baltimore in the Bronx on August 31.
While Hunter's season numbers aren't impressive, he's a starting pitcher for the O's, and they're still chasing New York for a playoff spot. You can bet the Bombers will see more of Hunter, and they must rope the starter.
If the Yankees want to keep that American League lead, it starts with beating out opponents in their division, especially the ones tailing them in September.
Brad White/Getty Images
Romero is a great pitcher, but his numbers don't show it until you see what he's done against the Yankees.
Ricky Romero plays for a Toronto team that's been riddled with injuries, but he still should worry Yankees' fans—the left-hander can deal!
Don't be fooled by his 5.61 ERA or the fact that he hasn't won a game in the last two months.
As a Yankee fan, you can look at this from two angles. His upcoming start against New York next week will result in him being tagged for numerous runs and another loss, or he'll end the slump with a gem against the Bombers.
The last time he pitched against NY came a little more than a week ago. He served up three runs, but only two of which were earned. If Toronto's bats had woken up, there would've been a chance Romero picked up that win. However, in his two career starts against the Yankees, Romero holds a 5.54 ERA to go with his 0-2 record.
However, Ichiro Suzuki loves it when the lefty takes the mound. Suzuki is batting an incredible .364 against the Blue Jays' lefty.
If New York wants to make their way to the playoffs by placing first in the AL East, it starts with taking advantage of opponents you've had previous success against.
Considering the year Romero is having, New York should treat those games as must wins to cushion their lead and put themselves in an unreachable place.