Matt Kemp and the Biggest Letdowns of the 2012 Fantasy Baseball Season
It's been a rough year for Eric Hosmer.
Hannah Foslien/Getty Images
These MLB players glistened from head to toe with promise when you drafted them in your fantasy baseball league, but they have failed to deliver.
For every Mike Trout and Stephen Strasburg that meets or exceeds the hype, there are a few young talents who can't live up to the gigantic buildup. Eric Hosmer and Brett Lawrie started the season as fantasy darlings but have now become goats in the eyes of their disappointed owners.
The following players entered drafts as breakout candidates with the potential to bear value well beyond their draft costs, but it turns out owners actually spent too much to acquire their services.
Here are some of the biggest fantasy baseball letdowns of the 2012 season.
Matt Kemp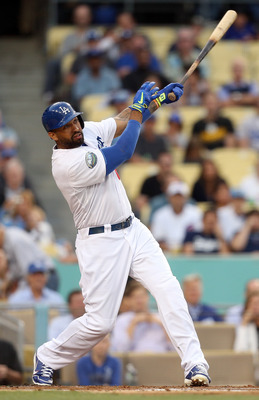 Josh Hedges/Getty Images
While on the field, Matt Kemp's season has been anything but a letdown. Unfortunately, a hamstring injury prevented the baseball world from witnessing a truly special year.
Having played in 71 games, Kemp is hitting .333/.402/.596 with 17 homers, 51 RBI, 55 runs and seven stolen bases. Owners could not ask for more production, but they can still feel a bit short-changed, since their top pick missed a considerable chunk of time.
Kemp's remarkable start left his owners grinning in anticipation of another MVP-caliber season from the 27-year-old. He hit .417 and smashed 12 homers through April, but his power disappeared in May before the Dodgers placed Kemp on the disabled list.
The hamstring also limited Kemp's base-stealing prowess. After stealing 40 bases last year, the Dodgers superstar predicted a 50/50 season, as more realistic fantasy players hoped for 30/30. He has yet to hit double digits in steals.
Now at full strength, Kemp is beginning to show the speed that made him a fruitful fantasy weapon. He has swiped four bags in August and looks poised to return as a five-category monster in the waning weeks of 2012.
But just imagine what could have been if Kemp had never gotten hurt.
Eric Hosmer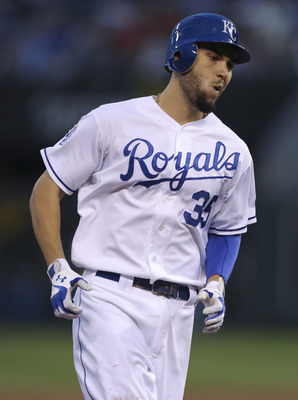 Ed Zurga/Getty Images
Can somebody remind Eric Hosmer that he's supposed to be the next Joey Votto?
Following an inspiring rookie campaign during which he registered 19 home runs and 11 steals through 128 games, Hosmer seemed destined for stardom. Drafters anxiously reached for the 22-year-old in hopes of a breakout season.
Instead, he is hitting .235 with 11 homers and a .364 slugging percentage. The Royals first baseman has fizzled from a slugger with superstar upside to a guy owners cannot trust in their starting lineups.
There is, however, reason to expect a bounce back. Hosmer has suffered from a .260 BABIP, so his average should rise as his misfortune turns around. Would his sophomore season seem nearly as bad if he were hitting near the .250s?
Hopefully, Hosmer's career will resemble NBC's hit drama Friday Night Lights, whose promising first season was derailed by a bizarre, out-of-place storyline in Season 2. The show recovered for three more years of quality television.
Hosmer should bounce back as well, but his career should last more than five seasons, since NBC can't cancel him.
If the trading deadline has not yet passed, now is the perfect time to acquire Hosmer at a discount in a keeper or dynasty league. And if you play in one of the 36 percent of Yahoo! leagues in which he is available, Hosmer is worth a speculative add.
Brett Lawrie
Otto Greule Jr/Getty Images
Not every letdown needs to be catastrophic to disappoint.
For instance, I saw The Campaign last week. A comedy with Will Ferrell and Zach Galifinakis mocking the insanity of election campaigns? That sounds like a potential instant classic! Sign me up.
Unfortunately, it was just decent, as most of the good jokes were already spoiled in the trailers.
Brett Lawrie's season has been equivalent to The Campaign. It's solid and has had its moments, but it's nothing special considering its vast potential.
Lawrie—who is currently on the disabled list due to a strained left oblique—is batting .282 with nine homers and 13 steals. Not awful, but those numbers fall way short of lofty expectations created by a dazzling debut.
In 43 games last year, Lawrie slugged .580 with nine homers and seven steals. He needed 100 games to match the home-run total in 2012, and he has already been caught stealing eight times after only getting thrown out once the previous season.
Maybe we all placed too much stock into a small sample size and established a ceiling that Lawrie could not have realistically reached. Then again, it would be just as foolish to write off the 22-year-old after 10 games of okay production.
Like Hosmer, Lawrie is a guy owners should try to stash in keeper and dynasty leagues.
Tommy Hanson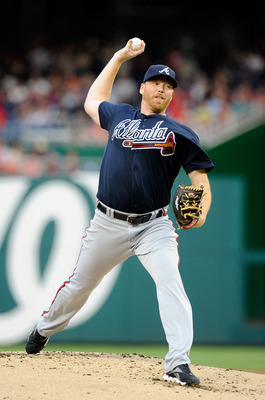 Greg Fiume/Getty Images
One of these days, Tommy Hanson will harness his talents and emerge as a premium ace. Keep saying it.
It was supposed to happen last year, but injuries derailed his season, limiting Hanson to only 130 innings. It was supposed to happen this year, but Hanson is instead heading toward a career-worst season.
In 132.2 innings pitched, Hanson has posted a mediocre 4.27 ERA and an ugly 1.44 WHIP. His strikeout rate has dropped to 8.07, and he walks an average of 3.80 batters per nine innings.
Not exactly the type of development the Atlanta Braves envisioned for the 25-year-old righty.
His .307 BABIP explains part of his struggles. Hanson's WHIP stayed steady at 1.18 in his first year and 1.17 through each of the following two seasons, so the sudden spike to 1.44 likely won't last.
However, Hanson has had a propensity for disastrous outings throughout his career. Prolonged stretches of production are ruined by eight-run outings that have prevented him from achieving elite status.
Hanson should pitch better in the final six weeks and could make for an intriguing value in 2013 drafts, but the ace discussion needs to be put on hold for a while.
Anibal Sanchez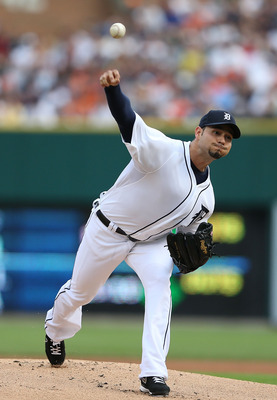 Leon Halip/Getty Images
Anibal Sanchez had all the makings of a draft-day steal.
Despite winning only eight games in 2011, Sanchez struck out 202 batters and recorded a 3.35 FIP. It appeared that he was coming at a major bargain in drafts this season—a claim that he supported with a 2.56 ERA through the end of May.
Then it all fell apart. Sanchez allowed 23 earned runs during a disastrous June before the Miami Marlins traded him to the Detroit Tigers.
The American League has not treated the 28-year-old kindly. In four starts since the trade, Sanchez has posted a 7.97 ERA and a 2.11 WHIP to balloon his season ERA and WHIP to 4.52 and 1.38, respectively.
Sanchez has again received bad luck in the win column; the righty has claimed only six victories, despite his fast start.
Keep in mind the 3.87 FIP and .325 BABIP before writing Sanchez off. His decreased strikeout rate—which is still above average, at 7.83—along with the transition to the AL won't help, but Sanchez can still pitch viably for some fantasy squads.
Ubaldo Jimenez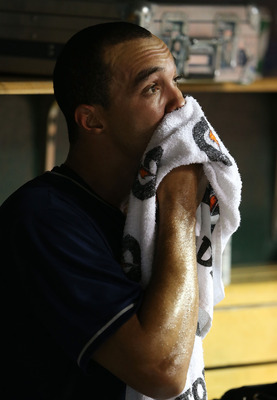 Leon Halip/Getty Images
The discounted draft price for Ubaldo Jimenez was too tempting to resist, so I mistakenly thought I stole the former ace.
His magical first half in 2010 seemed too good to be true, but his 2011 season looked worse than it actually was. Despite a 4.68 ERA, he pitched to a solid 3.67 FIP. His strand rate was low at 65 percent and his BABIP stood high at .314. His 2.31 K/BB also ratio stayed nearly identical to that of his breakout campaign.
With all these signs pointing to a bounce-back season, I drafted him when I got the chance.
As it turns out, I threw a pick down the drain.
Jimenez has been awful this season, and there's no number in the world to defend his shortcomings.
If you thought last year was bad, wait until you see his 5.59 ERA and 1.62 WHIP this season. Not only is his strikeout rate down to 7.53, but he's walked 80 batters in 143.1 innings, too. Now we're approaching Oliver Perez territory.
Sorry, there's no silver lining here. Drop Jimenez and laugh at the poor fool picking him up that's about get his heart stomped to pieces.
Keep Reading