Chicago Bears: What to Watch for Tonight Against Redskins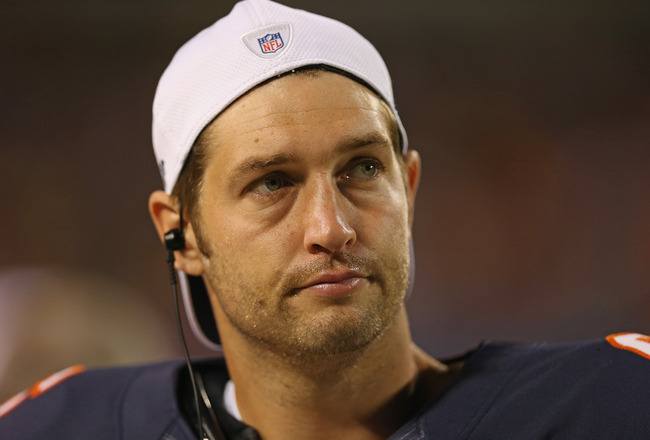 Jonathan Daniel/Getty Images
The Chicago Bears will be at home tonight in another preseason game that is drawing national attention, but for the other team.
Last week, the focus was on Peyton Manning and his return to the NFL with his new team, the Denver Broncos. This week, the focus is on RGIII, and how late he will play into the game against the first team of the opposing Chicago Bears.
With so much attention on opposing teams, it may be easy to overlook some things that are going on right here in Chicago—things that could affect the 2012 season entirely.
Here are some things to look for tonight from the Chicago Bears—things that may not be national news like RGIII or Peyton Manning, but things that are just as important for Chicago Bears fans.
Watch for the Offensive Line Deep into the Game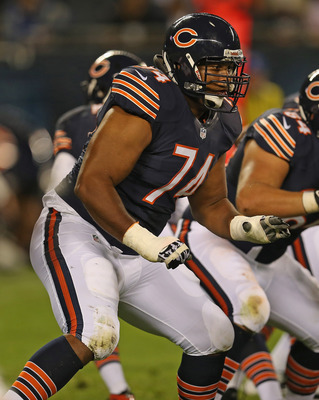 Jonathan Daniel/Getty Images
It's no secret that offensive coordinator Mike Tice was unhappy with the play of some of his offensive linemen in the Bears loss to the Broncos on August 9th. Fans were left wondering what was going on when starting left tackle J'Marcus Webb was left in to play into the fourth quarter, playing 41 of the 49 snaps overall.
Later, Tice let everyone know why.
"I felt Chris had a solid game. I didn't feel like the other player was up to par, as far as the standards we're trying to set to protect our quarterback" said Tice in a press conference this week via ESPN.
Chris is none other than Chris Williams, former first-round pick and current left tackle for the Bears. The "other player" that was mentioned by Tice was J'Marcus Webb, who did not impress Tice in the first game that they played.
In tonight's game, look for the offensive line to stay out there for a while, getting all the reps that Tice feels like they need to be ready for the opener on September 9th against the Indianapolis Colts.
Watch for the First Cutler/Marshall Connections in a Game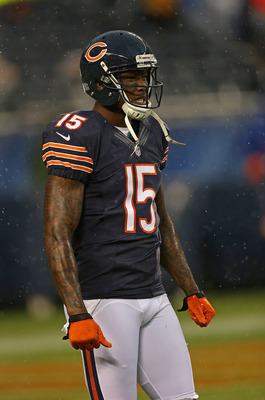 Jonathan Daniel/Getty Images
Starting quarterback Jay Cutler didn't get a chance to play in Thursday's opener, and fans noticed.
Since the Chicago Bears acquired Brandon Marshall this offseason, all that him and Cutler have been talking about in the media is how happy the two are to be reunited and playing together once again, and the offensive scheme that was designed around the one they succeeded so well at in Denver.
However, Cutler did not play a single snap in the game against Denver, leaving fans waiting another week to see Marshall and Cutler light up the field and amaze us all.
It may be a bit rusty getting things going, seeing as how this is Cutler's first game since last season, but look for some big passes to Marshall from Cutler in the first few drives, just to show the fans a glimpse of what they have going on this season on offense.
Watch the Play of the Linebackers Throughout the Game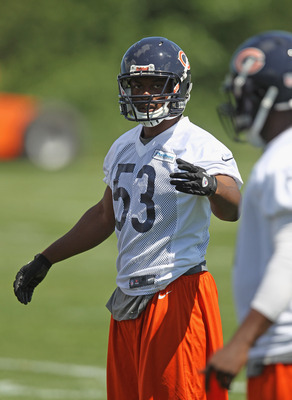 Jonathan Daniel/Getty Images
This week has been a rough one for the Chicago Bears defense, especially the linebackers.
News came out that eight-time Pro-Bowler Brian Urlacher had undergone arthroscopic knee surgery to clean up his knee which was not healing right after choosing to rehab it during the offseason (via The Washington Post).
Then, even more news came out, reveling that Urlacher may have had the surgery done at the end of the season as well, and possibly even another one done this spring. Urlacher, however, has adamantly denied these reports, and tried to downplay the surgery saying "It was a very minor surgery and there's only a couple of stitches in there. That's about it" (via CBS Sports).

Whether it was minor or not, it means that other linebackers are going to have to step up and play with the first team, and many players are going to be rotated in and out consistently throughout the game. Look for players like Geno Hayes and Nick Roach to step up and show what they have, and try to separate themselves from the rest of the pack of players at their position.
Look for Shea McClellin to Continue His Development and Growth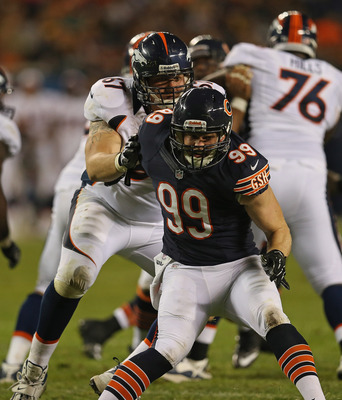 Jonathan Daniel/Getty Images
Throughout all of training camp, questions arose about first-round draft pick Shea McClellin. He seemed small and over-matched in multiple practices early on in camp.
However, last week he seemed completely different.
McClellin had an amazing game, getting into the backfield and using his speed to burst off the line and move past offensive linemen on the Denver Broncos, even getting a sack on former Chicago Bear Caleb Hanie.
And, that was all without star defensive end Julius Peppers on the other end.
With Peppers expected to play tonight, look for more focus on the offensive line to be brought to him, meaning McClellin is left with fewer obstacles between himself and the backfield.
Look for Shea McClellin to continue his growth and development tonight, and keep getting better to prove that he deserved to go in the first round of the draft this year.
Keep Reading

Chicago Bears: Like this team?