Fantasy Football: 5 Most Shocking and Unlikely Moments in the Past 5 Years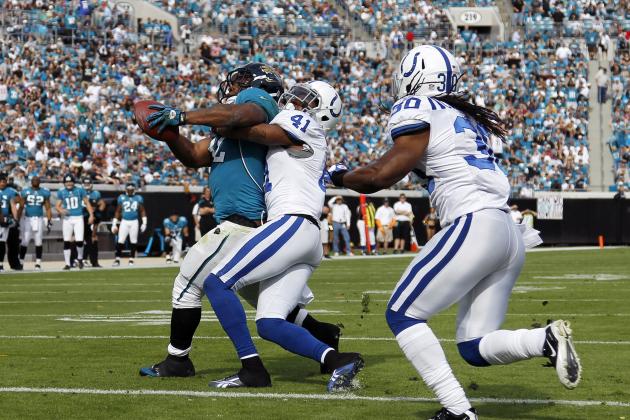 Joe Robbins/Getty Images

Fantasy football is like any other sport, art or science. There are elements of luck and skill alike, although hardcore enthusiasts would tend to believe there is more of the latter.
We believe that there are "sure things" like "Aaron Rodgers shredding the Patriots secondary" and "Chris Johnson can't possibly rush for less 50 yards...again."
But occasionally, over the last couple of years, we've seen some truly crazy things happen. Yeah, the Week 10 Michael Turner injury is devastating, but that can be rationalized by the fact that he was getting 25 carries a game, and it was bound to happen.
But there are moments that just nobody could see coming that have probably at some point derailed your fantasy season, or at the very least cost you an important game.
Here are five of the most memorable, unlikely and craziest moments in the last five years that have affected fantasy owners.
Begin Slideshow

»
Maurice Jones-Drew had the entire New York Jets secondary beat.
He ran past the 10 to the 5, all the way down to the 1-yard line...and took a knee.
The Jets needed to get the ball back to try to have one last chance to win the game, but instead of taking six, MJD kneeled, and the Jags managed clock by kneeling twice and having Josh Scobee kick a field goal to win the game.
I imagine there were more than a few owners out there who could have used six more points, or even one, or a fraction of a point from their star back to win their matchup. Instead, MJD robbed them of those points, but at least he apologized to his owners afterwards.
This was a game that occurred in Week 11, a very, very crucial time during your fantasy season.
If you had DeSean Jackson, you likely spent a fourth-round pick on him. Chances are you didn't have someone else to play.
So you would play him against a fellow NFC East rival New York Giants, whose defense boasted a great front seven but had a somewhat questionable secondary. Naturally, you're absolutely ecstatic when Vick goes downfield, hooking up with D-Jax for a 50-yard grab.
Unfortunately, DeSean does something stupid (as usual) and flips the ball at one of the Giants coaches, drawing an unsportsmanlike penalty.
This was fine for fantasy purposes, right? It was 15 yards against the Eagles, but these were tacked on as penalty yards and therefore had nothing to do with fantasy, resulting in 50 yards for your team, and 35 net yards for the Eagles.
Except for the fact that the Giants had also committed a penalty, too. The penalties then ended up offsetting, and the play didn't end up counting.
(Warning: Video NSFW)
I tried to avoid injuries, but this one was felt across the globe.
Coming off his almost-perfect season, 50 touchdown passes and absolutely historic fantasy season, Tom Brady went in the top five of fantasy drafts all across America, Canada, Cambodia, England, China and...you get the point.
Injuries happen. Some are injuries due to over-usage (most running back injuries), some are freak accidents, some are minor.
There is no way anyone could have seen Tom Brady getting blindsided and getting his knee obliterated by Bernard Pollard like this.
Like injuries, random breakouts happen all the time. But we need to consider the timing of this breakout.
Jerome Harrison's historic, 286-yard, three-touchdown game happened in Week 15, when many unsuspecting victims were playing against him in the fantasy semifinals.
He followed it up with 148 and another score in Week 16, and heaven forbid your league played Week 17—he had another 147 total yards with yet another score.
Yes, many people benefited from this breakout—and many others had to get their jaws fixed because it dropped on the ground way too hard after someone told them, "Jerome Harrison ruined your fantasy season."
This remains one of the most perplexing and craziest rulings of all time.
It only happened in Week 1, but imagine the above clip happened, and you're happy that Megatron's four-point fantasy day is now a 13-point one, and you just narrowly edged out in your season opener.
Or did you? Official NFL ruling dictated that although both feet were down well within bounds, he technically let go of the ball before he needed to "maintain possession," although he was so very obviously in possession of the ball.
Coupled with the fact that it was simply a sensational catch in the first place, this kind of stuff drives fantasy owners everywhere crazy.