NL Cy Young Award Rankings: Watch Out, Johnny Cueto; Here Comes Clayton Kershaw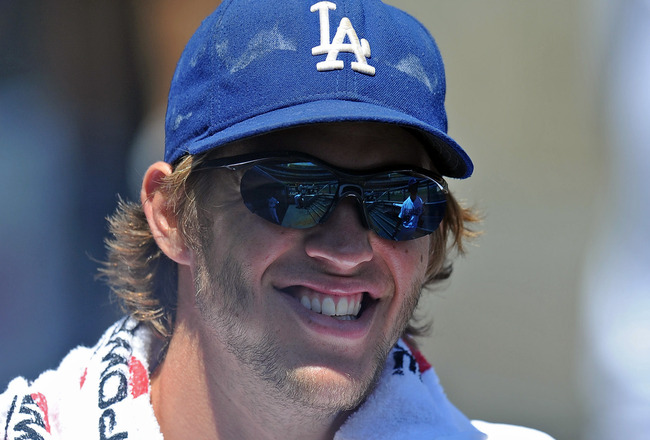 Can Clayton Kershaw win a second consecutive Cy Young Award?
Jayne Kamin-Oncea-US PRESSWIRE
The race for the National League Cy Young Award continues to be the closest and most exciting of the six major awards handed out to players for their regular-season achievements.
It's not just that the competition is close among the five leading contenders for the award, but the depth of suitable candidates is also extremely impressive. Between our top five and honorable mentions, we'll list eight pitchers in our weekly rankings.
But every week, someone mentions one or two pitchers that he or she feels was snubbed from the list, and we all probably overlook at least another two or three. These rankings could go 10 to 12 deep.
Yet we cut it off at five (while cheating a bit with the honorable mentions) because five is a nice, solid number. Plus, we just have to get on with the rest of our day.
Last week, we asked if Aroldis Chapman and/or Craig Kimbrel should get any Cy Young Award consideration because there seems to be a groundswell of support for them among the national media. However, no one picked up the cause in the comments. So maybe that confirms the underlying belief that this is a starting pitcher's award.
So, here are the best five starting pitchers contending for the NL Cy Young Award in our view. Please leave your suggestions and responses in the comments (or shout at me @iancass on Twitter). Your feedback can influence this list each week.
All the statistics mentioned here are current as of Aug. 16.
Honorable Mentions
Beck Diefenbach-US PRESSWIRE
Madison Bumgarner, San Francisco Giants
Who is the best pitcher in the Giants' starting rotation this season? Matt Cain looked like the Cy Young Award front-runner at one point, and he's hardly pitched himself out of consideration. (Ryan Vogelsong is a contender as well.)
But at the moment, Bumgarner is just a touch better. It's close, very close. Bumgarner has a 2.97 ERA to Cain's 2.99. His 1.01 WHIP (walk and hits per innings pitched) is a shade above Cain's 1.03. Opposing batters are hitting .221 against Bumgarner, while Cain's opponents' batting average is .226.
Since the All-Star break, Bumgarner has allowed more than two earned runs only once in seven starts. If he maintains his current performance, his rates of 7.4 hits and 1.8 walks per nine innings would be the lowest of his three full major league seasons.
Cole Hamels, Philadelphia Phillies
No National League pitcher had a better week than Hamels, who pitched two consecutive shutouts. He's one of five NL pitchers to throw two shutouts this season.
In his past three starts, the Phillies left-hander has allowed three runs (two earned) over 25 innings. He gave up 19 hits while striking out 20 batters and walking only two.
Hamels' 2.91 ERA is tied for the sixth-best in the NL. His 1.11 WHIP ranks fifth among the league's starting pitchers. Opposing batters are hitting .233 against him. Hamels is doing all of this while giving the Phillies workhorse innings, throwing 163.2 frames, the fourth-highest total in the NL.
Baseball-Reference's WAR views Hamels very favorably, rating him as the third-best pitcher in the NL at 3.7 wins above replacement.
Jordan Zimmermann, Washington Nationals
Why Zimmermann over Cain? Cain leads Zimmerman in WHIP, opponents' batting average, strikeouts, hits allowed and innings pitched.
Yet Zimmermann leads the NL with a 2.38 ERA. That's only one number, of course, but it's an eye-opening one. Zimmermann's league-leading ERA helps him stand out in a starting rotation with Stephen Strasburg and Gio Gonzalez, which is pretty impressive.
In his two starts since last week's rankings, Zimmermann allowed two runs in 11.2 innings with 11 hits, two walks and 15 strikeouts. Yes, one of those outings was against the Houston Astros. But in the other, he faced the Giants, who have scored the second-most runs in the NL since the All-Star break.
Can Zimmermann shut down another strong offense when he pitches against the Braves in his next start?
5. Stephen Strasburg, Washington Nationals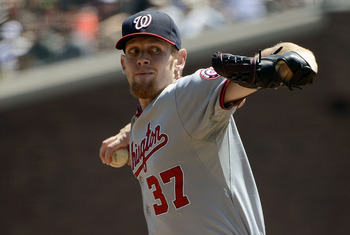 Thearon W. Henderson/Getty Images
Last week: No. 4.
Hey, have you heard that the Washington Nationals are putting an innings limit on Stephen Strasburg and plan to shut him down in September? Oh, you have? How about during the past hour? Did you hear about it then?
Strasburg's impending shutdown is one of the biggest stories in baseball right now. Fans and media can't bring themselves to believe that the Nats will put their best pitcher on the shelf when they have a chance to win the World Series. (One of my friends was so indignant about it that I actually began to argue the other side of the argument, general manager Mike Rizzo's point of view. And it drove me kind of crazy.)
Perhaps the biggest reason Strasburg's innings total is an issue when discussing the Cy Young Award is because pitching 180 innings will likely eliminate him from consideration. As ESPN.com's Keith Law pointed out (Insider access required), no starting pitcher has ever won the Cy Young Award with fewer than 200 innings in a season that wasn't shortened by a strike.
One of the most compelling numbers for Strasburg was his strikeout total. But with 173 strikeouts, he now trails R.A. Dickey in that category by two. Strasburg still has the highest strikeout rate among starting pitchers in the majors at 11.2 Ks per nine innings.
4. Gio Gonzalez, Washington Nationals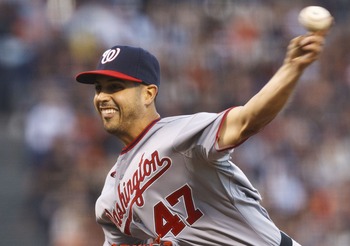 Jason O. Watson/Getty Images
Last week: No. 2.
It's back-to-back Nationals in our rankings this week.
Gio Gonzalez continues to put up dominating numbers this season. He leads NL pitchers with a .210 opponents' batting average. He also has the best rate of hits per nine innings in the majors, allowing an average of 6.9 per game.
Walks are still a problem for Gonzalez. With 56, he has the sixth-highest total among NL starting pitchers. But his rate of 3.4 per nine innings is the lowest in his career, and Gonzalez is allowing so few hits that he has a 1.14 WHIP, the eighth-best mark in the league.
In addition, Gonzalez has the lowest home run rate in baseball, giving up just seven in 147.2 innings (or 0.4 homers per nine).
At this point, however, other starting pitchers are overtaking Gonzalez in strikeouts, ERA and WHIP. That's pushing him down a notch on this list—a trend that might continue over the final two months of the season.
3. R.A. Dickey, New York Mets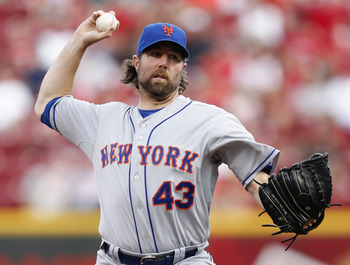 Joe Robbins/Getty Images
Last week: No. 3.
R.A. Dickey's most recent outing on Aug. 15 was a pretty rough one, physically and emotionally.
First, the Cincinnati Reds rocked him for five runs and 10 hits over six innings. Three of those hits were home runs, as Dickey's knuckleball floated a bit too much at times. That resulted in some deep fly balls, which will get any pitcher in trouble at Great American Ball Park.
Making matters worse was the umpiring crew's curious decision to make Dickey remove two bracelets that he's worn on his left wrist all season long. The bracelets, as reported by The Star-Ledger's Andy McCullough, were made by his two daughters and given to him before he climbed Mount Kilimanjaro during the offseason.
Despite the hits and the distractions, Dickey still racked up nine strikeouts in the ballgame. That pushed him into the NL lead in that category with 175. His rate of 9.4 Ks per nine innings ranks fourth in the league.
Dickey also has the NL's fifth-best ERA among starting pitchers at 2.89. His 1.04 WHIP is the fourth-best mark in the league, along with his .225 opponents' batting average.
2. Clayton Kershaw, Los Angeles Dodgers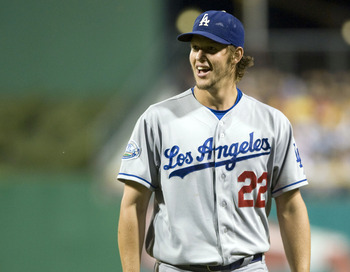 Vincent Pugliese-US PRESSWIRE
Last week: No. 5.
You can almost hear Vin Scully say, "And here comes Clayton Kershaw" as the season heads into the stretch run.
The defending NL Cy Young Award winner is making a late charge for a second consecutive trophy.
As I've written in previous editions of these rankings, consistency was the main obstacle between Kershaw and serious consideration for the award this season. However, Kershaw appears to have finally found his comfort zone and is pitching his best baseball of the year.
In his past four starts, the Dodgers left-hander has allowed a total of six earned runs over 30.1 innings. During that span, he's given up 17 hits while striking out 29 batters and walking four.
Kershaw leads the NL in innings pitched with 170.2. With 165 strikeouts, he ranks third in the league. His strikeout rate of 8.7 per nine innings is almost a full strikeout less than last season, but in almost every other category, Kershaw is putting up virtually the same numbers as he did last year.
His 1.01 WHIP is tied for the league lead, and his .213 opponents' batting average is the second-best among NL starting pitchers. Throw in a 2.90 ERA that ranks fifth in the league, and you have a pitcher who could very well be No. 1 in our rankings next week.
1. Johnny Cueto, Cincinnati Reds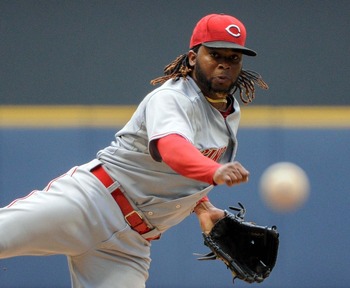 Benny Sieu-US PRESSWIRE
Last week: No. 1.
Holding onto the top spot in our NL Cy Young Award rankings for the second week in a row is the Cincinnati Reds right-hander, who seems to be getting better each week.
In his most recent outing on Aug. 12, Johnny Cueto threw eight scoreless innings while allowing only three hits in a 3-0 win over the Chicago Cubs. That dropped Cueto's ERA to 2.45, the second-best mark in the NL, behind Jordan Zimmermann.
The Cubs have scored the fewest runs in baseball, so perhaps they don't provide the best competition for Cueto to be judged against. Yet isn't that exactly the sort of team that Cueto should shut out if he's one of the league's elite pitchers?
Both FanGraphs and Baseball-Reference view Cueto favorably in WAR.
FanGraphs has him rated as the second-best pitcher in the NL at 4.1 wins above replacement, just a shade below Clayton Kershaw's 4.2. Baseball-Reference, however, has Cueto leading the league by a larger margin. His 5.2 wins above replacement give him a significant lead over Zimmermann's 4.5.
Perhaps the most impressive number for Cueto this season is the eight home runs he's allowed. For one thing, he pitches his home games at Great American Ballpark, one of the most hitter-friendly parks in the majors, according to ESPN.
With the Reds in the NL Central, Cueto also has to face two of the tougher lineups in the league with the St. Louis Cardinals and Milwaukee Brewers. (Of course, that means he also gets to face the Cubs and Houston Astros.)
Cueto versus Kershaw down the stretch would be a fascinating competition for the Cy Young Award. Kershaw is the prototypical strikeout stud, while Cueto pitches to contact and keeps the ball on the ground. Both are extremely effective, but it will be intriguing to see if Kershaw's classic profile is more appealing to award voters.
Follow @iancass on Twitter.
Keep Reading