Ranking Each Contender's Closer by Who You'd Trust Most in One-Game Playoff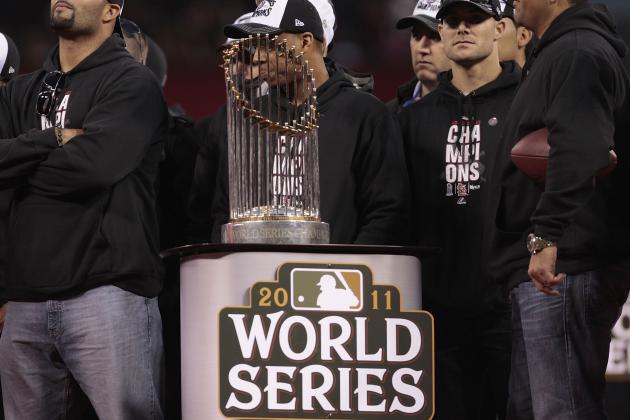 Whitney Curtis/Getty Images

With the MLB playoffs fast approaching, baseball fans can feel the moment in the air: in the last game of a playoff series, bottom of the ninth, a team calls upon their closer to trot out from the bullpen and send the team rocketing toward the championship.
It's a dream that many young baseball players have had, and—for a select few—it's a dream that can become a reality this fall.
But who's a contender and who's a pretender?
We're ranking each playoff contender's closer from worst to first. These are real contenders—meaning only teams more than three games away from a postseason berth aren't considered. And since all but the final playoff series are so short, the value of closing out just one game skyrockets in the postseason.
So who's got the juice? Read on…
Begin Slideshow

»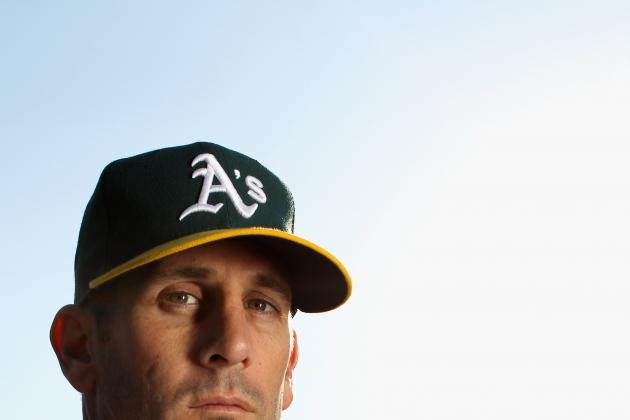 Ezra Shaw/Getty Images
Grant Balfour.
When the season opened, Ryan Cook was the setup man for Grant Balfour in Oakland. In May, Balfour lost the closer's role to Brian Fuentes. When Fuentes was traded to the Cardinals in June, Balfour remained the setup man and Ryan Cook stepped in as closer. Cook held the job solidly—until, after about a month and a half, he blew four out of five save opportunities. Since then, manager Bob Melvin has given the closer's role back to Balfour and demoted Cook back to setup man.
Sound convoluted? It is. No one has been able to consistently deliver for the A's from the pen this year, and Bob Melvin may not trust any of his guys to close out big games. That's bad news for the bubble-riding Oakland A's.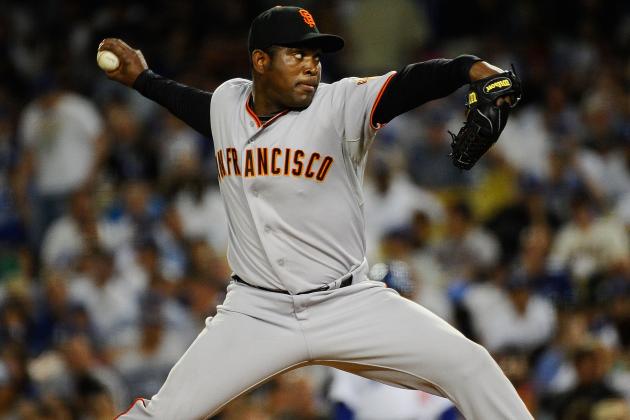 Kevork Djansezian/Getty Images
Santiago Casilla.
Casilla is a 32-year-old first-time closer on the Giants. His ERA is 3.40 and he's converted 24 of 30 save chances. That means he's blown six of his 30 opportunities.
Much has been made among sabermetricians of the "wins above replacement" stat. Well, Casilla more or less is that faceless replacement. In his nine-year career, his WAR has never swung farther than -0.6 or +1.5 over the course of a season. Ever.
Dennis Eckersley used to walk out and scare opposing hitters. He was dominant.
Casilla is not.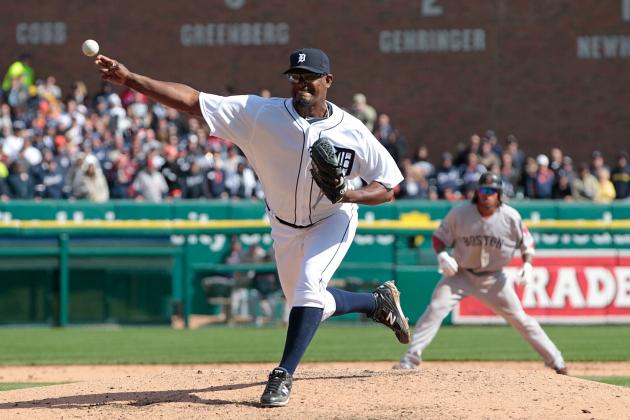 Leon Halip/Getty Images
Jose Valverde.
Valverde is a three-time All-Star and a three-time saves champion to boot. He's certainly got the experience, but he's failing to show the stuff he had last season. Check out the change in his numbers:
2011: 49 saves in 49 chances, a 2.24 ERA and 69 Ks in 72.1 IP.
2012: 22 saves in 26 chances, a 3.70 ERA with 36 K—and 21 BB—in 48.2 IP.
Valverde has a pedigree, so he isn't going to crumble. But the numbers don't lie: he's just not the lights-out closer he once was.
I wouldn't quiver in fear if I were Tigers manager Jim Leyland, and Valverde was going out to the mound to try to close the 9th for me. Then again, I wouldn't start popping the champagne early, either.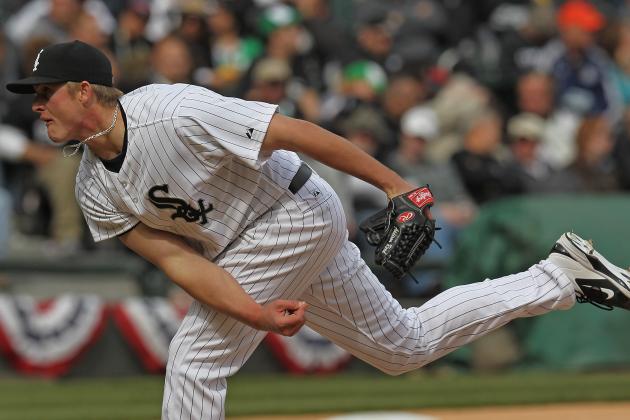 Jonathan Daniel/Getty Images
Addison Reed.
Reed's numbers this season don't inspire confidence in the south side of Chicago. 21 saves in 24 chances isn't bad, but an ERA pushing 4.00 is a problem.
Reed has some pitching power—42 Ks in 42.1 IP is just fine—but his WHIP is 1.23. Letting on multiple runners is not a good move in a high-pressure 9th inning. To top it all off, Reed is only 23—who knows if he has the psychological makeup needed to stand up tall in the postseason?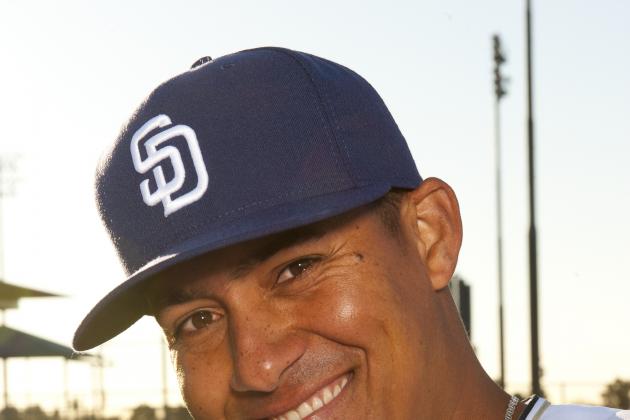 Rob Tringali/Getty Images
Ernesto Frieri showing off his four-seamer with his old squad.
They're closing by committee in Southern California. Lefty Scott Downs gets some chances and righty Ernesto Frieri—a midseason acquisition from San Diego—gets others.
Frieri's got good numbers: 14 saves in 15 chances, with seven holds and a whopping 79 K's in 48 IP, all tied to a 2.06 ERA. That's solid.
Downs has posted far less impressive stats: 24 Ks and 12 BBs in 35 IP, with a 2.57 ERA and three blown saves in 12 chances. That's not.
If manager Mike Scioscia can give the mantle to Frieri once and for all, the 9th inning will start to look scarier for the Angels' opponents. Until then, "closing" is a bit of a misnomer for this Halos team.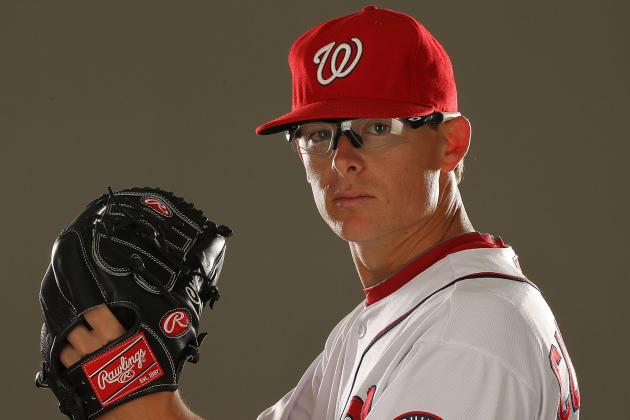 Al Bello/Getty Images
Tyler Clippard. What is it with closers and those funny glasses?
For a team some have argued possesses the best arms in the majors, they could use some help shoring up their closer role.
Last season, Clippard posted a 0.84 WHIP and a 1.83 ERA. He was only the setup man…but he still managed to blow seven saves.
This year both his WHIP and ERA numbers have jumped, and he's still slipping on occasion and failing to close out games.
The Nats are not a team accustomed to making the playoffs—they will need to count on everyone to stay tough and pull their weight. However, there's no denying that, among playoff contenders, the Nats have one of the softest closers out there. And with Stephen Strasburg potentially getting set to ride the pine, it's time for Clippard to find his old form.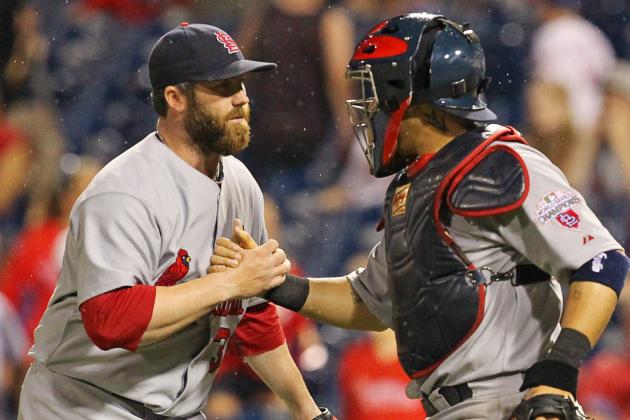 Hunter Martin/Getty Images
Jason Motte closes out another one.
Jason Motte may not be flashy, but he's been getting the job done for the Cardinals. After succeeding in the setup man role in 2011, Motte has been given the closer's job this season—and he has done passably well.
Motte's 0.92 WHIP and 2.52 ERA are both credible for a closer, and though Motte has failed to close on occasion—he has posted four blown saves in 31 opportunities—he's certainly done well enough to keep the Cardinals in the conversation.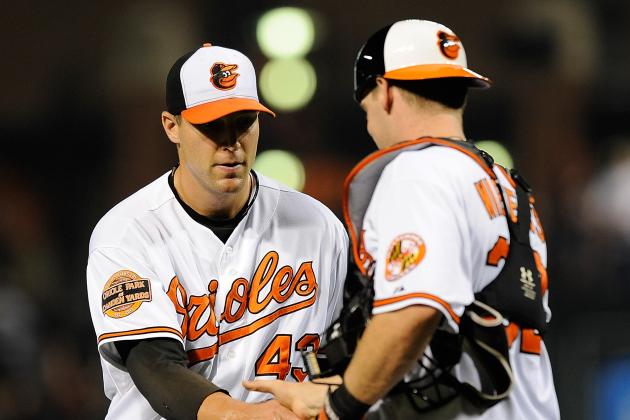 Patrick McDermott/Getty Images
Jim Johnson with catcher Matt Wieters.
For six years, Johnson was a career middle reliever with the Orioles. He was given the closer's role this year, and he has delivered with 35 saves in 38 chances.
Johnson has proven good at ending regular season games. However, his ERA is a rather lofty 3.26—not bad, but certainly not a dominant closer's number. And the fact that he's notched only 28 K's in 49 IP is none too impressive, either. The numbers hint Johnson might not have the stuff needed to reliably finish against the best of the best.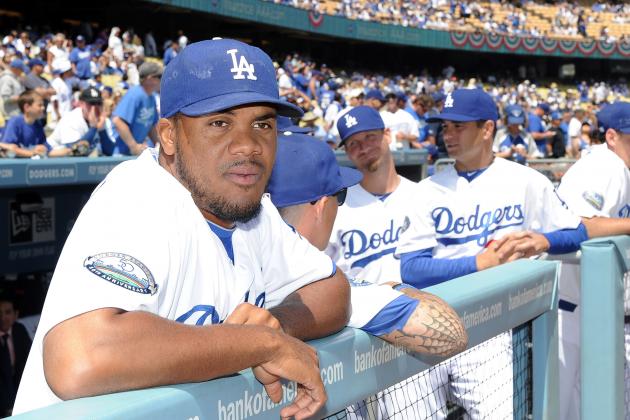 Harry How/Getty Images
Kenley Jansen in the Dodgers dugout.
A 24-year-old fireballer with dominant stuff, Jansen matured into the closer's role after spending the first month and a half of the season as a middle reliever.
He's got 81 Ks and 19 BB in 53.2 innings. That's great. His WHIP is 0.84 and his ERA is 1.84—those numbers are also phenomenal.
The only question mark with Jansen is that he's converted just 83 percent of his save opportunities—24 in 30 chances. Despite his obvious talent, blowing six saves in 30 chances doesn't translate to lights-out numbers.
Jansen pitches with power—there's no doubt about that. But this young hurler may not be fully developed yet.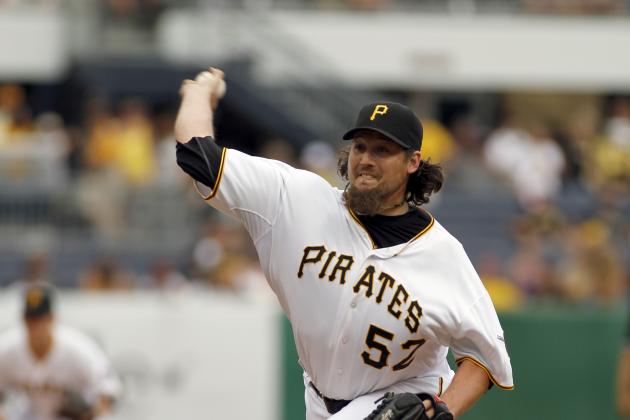 Justin K. Aller/Getty Images
Joel Hanrahan.
When Hanrahan put up career-best numbers in 2011—40 for 44 in save opportunities with an ERA of 1.83—in his first year as a closer, some dismissed his performance as a fluke. Now, Hanrahan has undeniably silenced his critics.
Hanrahan is 33 for 36 in save opportunities over the 2012 season to date, and he's posted an ERA of 2.62 with 54 Ks in 44.2 IP. However, his walk totals—22 through 47 games, as opposed to just 16 in 70 appearances last year—are a little higher than Bucs fans might like them to be.
Hanrahan pitched well, but does he have the accuracy to ensure that the Pirates can close out a close series?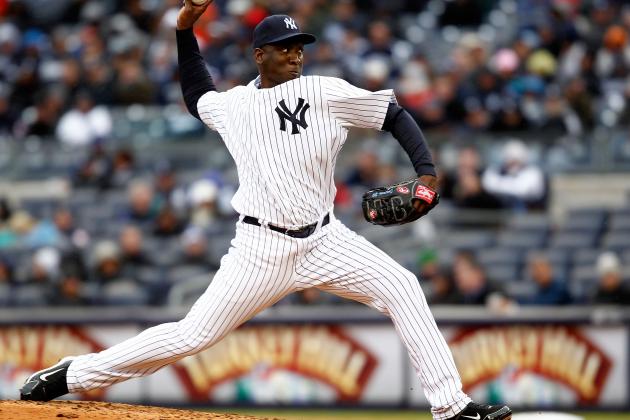 Jeff Zelevansky/Getty Images
Rafael Soriano.
It's no easy feat to step into the shoes of a legend, but that's what the Yankees have asked Rafael Soriano to do—and he has responded well.
After all-time saves leader Mariano Rivera went down early in the season with an ACL tear, Soriano—who put up good numbers as a closer with the '09 Braves and '10 Rays before joining the Yankees as Rivera's setup man last year—has done well. He has managed 29 saves in 31 opportunities to date, all while posting a 1.71 ERA and garnering 48 Ks in 47.1 IP.
The Yankees are always a threat to go deep in the playoffs, and, even though they'll all be missing Mariano Rivera in the Bronx, Soriano has proven that he's up to the challenge of taking the Bombers as far as they can go.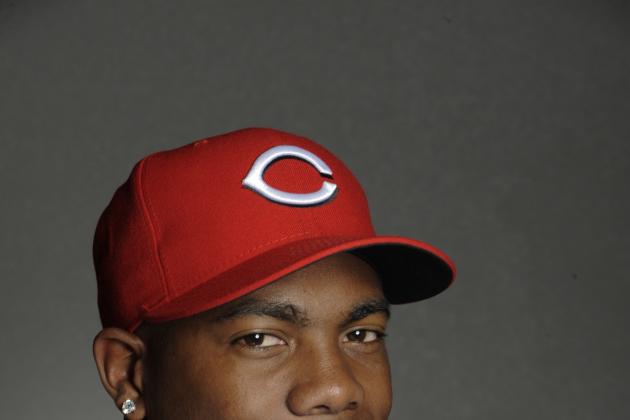 Rob Tringali/Getty Images
Aroldis Chapman flashes a rare smile.
The 2012 Reds find themselves back on top of the NL Central, and Aroldis Chapman's inspiring presence in their bullpen has been one big reason for their success.
The fireballing Cuban defector is putting up his best numbers to date in his third year in the bigs. His 106 Ks and just 14 BBs in 57 IP are numbers that are unmatched by anyone else in the league. His WHIP of 0.68 and ERA of 1.26 are also career bests, but they're no shock—Chapman's career WHIP is below 1.00 and his career ERA is below 2.50. Chapman can straight up play.
While Chapman has shown a few chinks in his armor—he has blown four of his 32 save opportunities—he's darn-near unhittable when he's at his best. If Chapman can keep his speed up through the end of the year—his fastball was clocked at over 105 MPH earlier this season—opposing hitters will need to watch out.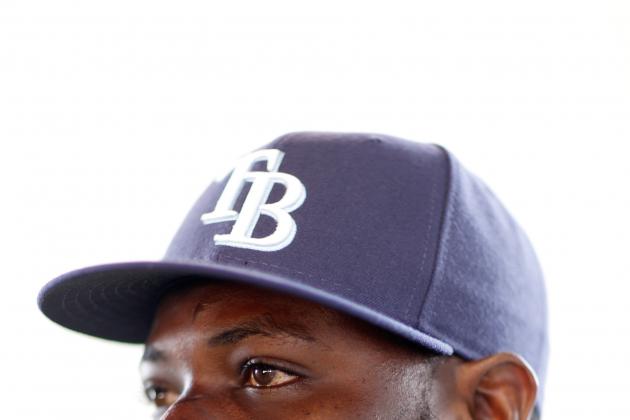 Jonathan Ferrey/Getty Images
Fernando Rodney.
Rodney is one of two older relievers who have settled in nicely this season. He was the closer for the Detroit Tigers in 2009; then he moved to the Angels and lost his spot because he couldn't keep his ERA below 4.00. Rodney rebounded and settled in Tampa Bay in the offseason, and now—at 35—he's having his best year ever. To date, Rodney has posted an ERA of 0.8, has 37 saves in 39 chances and he's notched 54 Ks in 55.2 IP for the Rays.
There is no doubt that Fernando Rodney is having a great year, and he has been dominant all season. He was even an All-Star. The only question keeping him from the top of this list is he has little postseason experience. When the going gets tough, who knows whether he'll be able to keep pitching so well?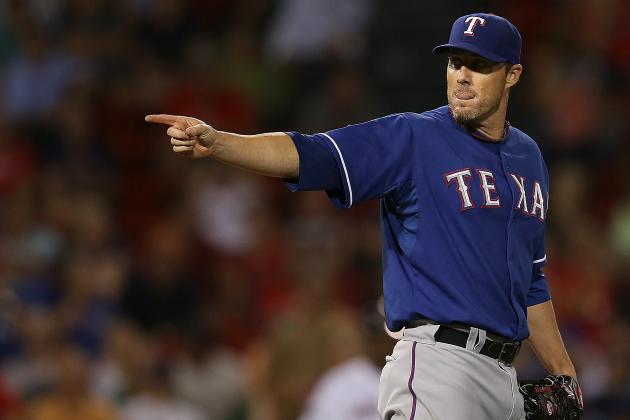 Jim Rogash/Getty Images
Joe Nathan.
What a year for Joe Nathan. If Fernando Rodney has done well, Joe Nathan has done even better.
At 37, Nathan is the oldest closer on any of the contending teams. Regardless of age, he's undeniably one of the best.
Some believed that Nathan would not be the lights-out closer he was in the 2000's with the Twins when he posted 246 saves over a six-season stretch that included two top-5 Cy Young ballots and a combined ERA of 1.87. Indeed, after he missed all of 2010 with an injury, Nathan had a poor 2011 and was released by the Twins outright.
The Rangers took a gamble on Nathan's recovery, and it paid off. So far Nathan has converted 23 saves in 24 chances for Texas, and his 54 Ks in 45.1 IP—with only eight BB—indicates that Nathan still knows how to control the late innings.
And the best of the bunch………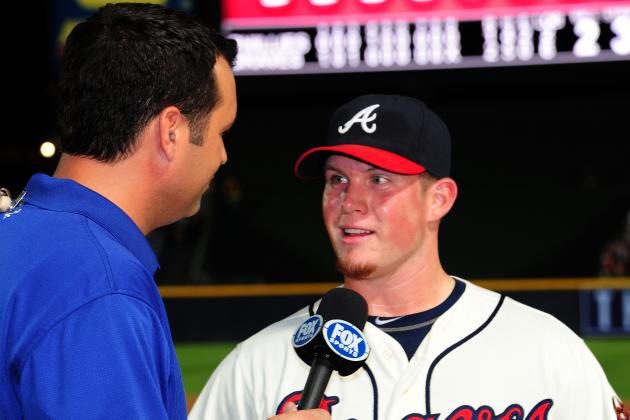 Scott Cunningham/Getty Images
Craig Kimbrel, how does it feel to be the best closer in the majors?
Though there is some stiff competition, it's fair to say Craig Kimbrel may be the best closer in the league.
After a breakout 2011 that saw him lead the league with 46 saves and claim Rookie of the Year honors, Kimbrel has only gotten better. His WHIP is an infinitesimal 0.66. His ERA is just 1.23. He's converted 31 of 33 save opportunities, all while notching up 77 Ks and just 11 BB in 44.0 innings of work.
Kimbrel is arguably the best closer in the game today, and the Braves—as they make a run for the top spot in the NL East—are lucky to have him.
Play ball.