NL MVP Rankings: Melky Cabrera's Suspension Adds Clarity to the Race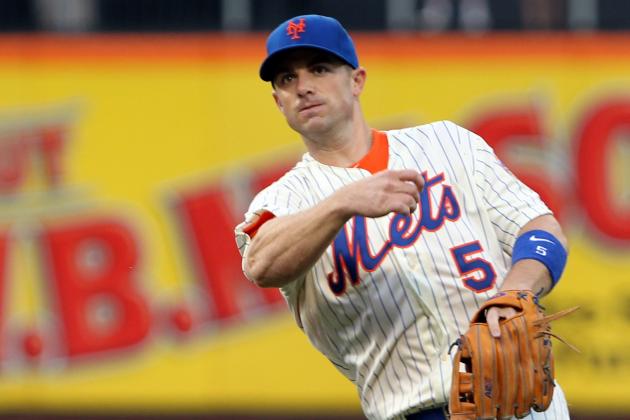 Anthony Gruppuso-US PRESSWIRE
David Wright's .941 OPS is fifth in the National League.
Unlike the past few weeks, there wasn't a breakout player whose offensive explosion pushed him into the top five of our National League MVP rankings.
But one player most certainly kicked himself out of consideration. San Francisco Giants outfielder Melky Cabrera is no longer part of the NL MVP discussion after testing positive for a performance-enhancing substance and drawing a 50-game suspension.
Cabrera probably wouldn't have won the NL MVP Award, especially with teammate Buster Posey emerging as a leading contender. But debating whether or not a player who didn't hit for much power could overtake the league's top sluggers would have been a fun argument to have had through the rest of the season.
Instead, we can argue about Joey Votto and his candidacy for the award despite his being out for a month with a knee injury. Votto last played on July 15. After suffering a setback in his recovery—requiring arthroscopic surgery to remove loose cartilage from his right knee—he'll be out even longer.
Your feedback is always welcome as we put the list together this week, so please leave your responses and suggestions in the comments. (You can also respond to me @iancass on Twitter.)
In the meantime, the following five players look like the current leading contenders for the NL MVP Award in our view.
All the statistics mentioned here are current as of Aug. 15.
Begin Slideshow

»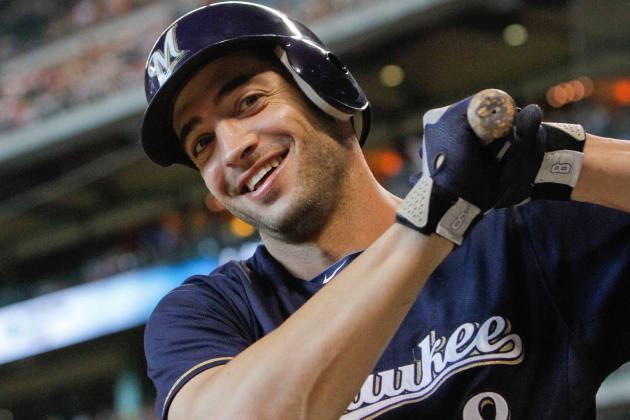 Brett Davis-US PRESSWIRE

Last Week: Unranked
After falling out of the top five last week (a move that was questioned by a few readers), Ryan Braun is back in our NL MVP rankings. He can probably thank Melky Cabrera for opening up a spot.
Braun leads the NL with 29 home runs and ranks fourth with 77 RBI. His .567 slugging percentage is the third highest in the league, while his .944 OPS places him fourth in that category among NL hitters.
The Milwaukee Brewers' fourth-place standing in the NL Central—18.5 games behind the Cincinnati Reds—doesn't help Braun's case. That will surely cost him a chance at winning a second consecutive NL MVP Award. But his numbers still warrant consideration.
Cabrera's PED suspension provides a reminder that Braun also tested positive for excessive testosterone during the offseason. He successfully appealed his suspension due to questions about how his urine sample was handled.
Unfortunately, that stain likely will have hurt Braun's candidacy among MVP voters, whether it's fair or not.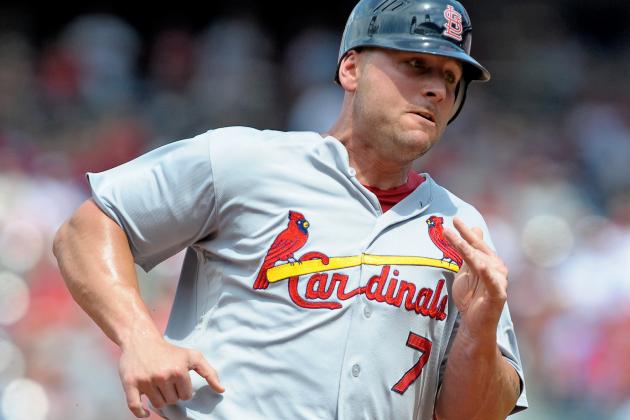 Eric Hartline-US PRESSWIRE

Last Week: No. 2
Do the St. Louis Cardinals have a true MVP candidate?
Matt Holliday is their best hitter, based on his numbers. But strong cases could also be made for teammates Carlos Beltran and Yadier Molina. All three players benefit from playing in such a strong lineup, preventing a standout from emerging.
Holliday is tied for fifth in the NL with 23 home runs, and his 81 RBI are the league's second-highest total. He also ranks among the top 10 NL batters with a .312 batting average, .392 on-base percentage and .539 slugging mark.
The Cardinals have played their way back into contention for a postseason bid, tying the Pittsburgh Pirates for second place in the NL Central and a wild-card playoff spot.
With the Cards in the playoff mix again, someone from the team will get MVP consideration. Right now, Holliday looks like the best candidate. But Beltran and Molina will surely take away some of his votes.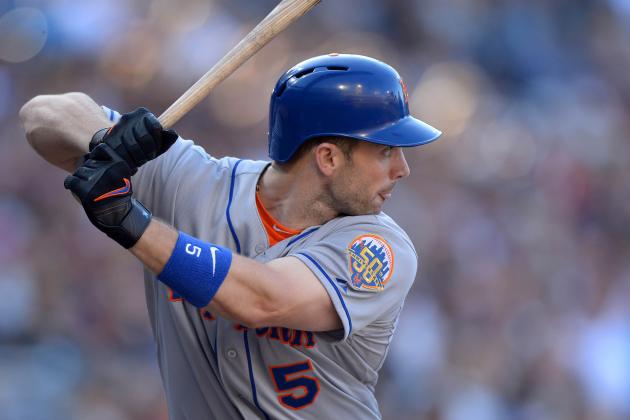 Jake Roth-US PRESSWIRE

Last Week: No. 3
With the New York Mets sliding down to a 55-62 record that places them 17.5 games behind the Washington Nationals in the NL East, David Wright's candidacy for MVP has taken a big hit.
Yet Wright is still putting up strong numbers that can't be ignored. His .321 batting average is sixth among NL batters. He ranks third in the league with a .412 on-base percentage. And his .941 OPS is the NL's fifth-best mark.
Where would the Mets be without Wright? Might they be the last-place team most expected them to be? Though Ike Davis has 20 home runs for the season, Wright is the team's most consistent offensive threat.
With the Mets out of contention, focus might begin to turn to Wright's contract status.
He has a $16 million option for 2013 that the Mets will surely pick up. But will the team keep him around for one more season while trying to work out a contract extension? Or would it be better for the Mets to trade him and get something in return, rather than lose him for nothing to free agency?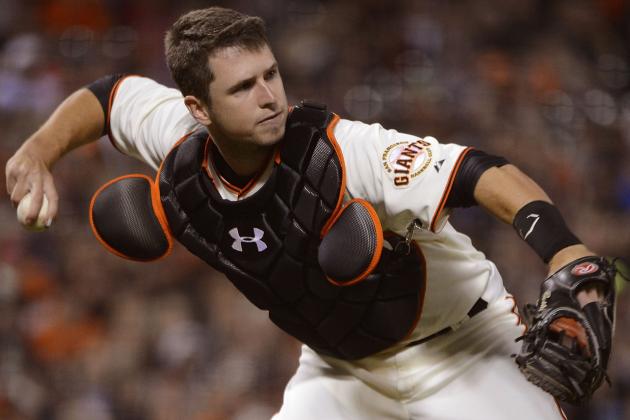 Thearon W. Henderson/Getty Images

Last Week: No. 5
If there was a legitimate argument as to who was the most valuable player in the Giants lineup, Melky Cabrera's 50-game PED suspension has taken care of it.
Buster Posey was probably already considered the better and more valuable hitter. But Cabrera's high batting average and hit totals were difficult to ignore.
However, Posey now becomes even more important to the Giants in their fierce duel with the Los Angeles Dodgers for the NL West title and a possible wild-card playoff spot.
Posey's .330 batting average is the fourth best among NL hitters, as is his .407 on-base percentage. He ranks fifth in the league with a .544 slugging percentage. But only two other NL players have higher OPSs than Posey's .950 mark.
With 19 home runs and 79 RBI, Posey leads the Giants in both of those categories. Though Pablo Sandoval and Hunter Pence are also strong offensive threats, Posey provides the big bat in the middle of the lineup that the Giants need.
Besides possibly helping to carry the Giants to a division title or wild-card bid, Posey's defense at catcher should also give him extra consideration when talking about how valuable a player is. Posey has allowed only one passed ball all season, the fewest among starting catchers in the majors.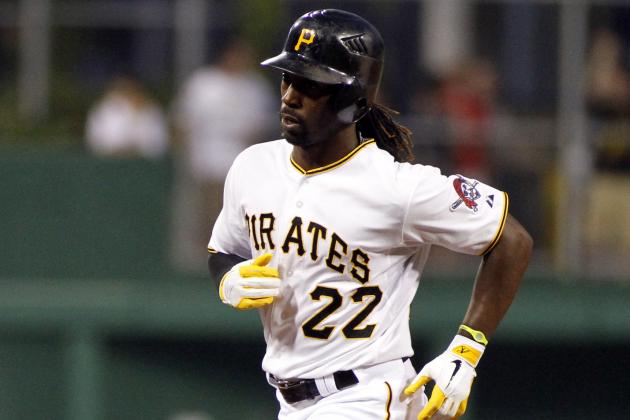 Justin K. Aller/Getty Images

Last Week: No. 1
Andrew McCutchen is still the champ in our NL MVP rankings.
The Pirates center fielder didn't have the best week since our last published set of rankings. In eight games, he batted 6-for-31 (.194) with a home run and three RBI. But he still leads the major leagues with a .358 batting average.
McCutchen might be the only player who can prevent the MLB from facing the awkward scenario of Melky Cabrera winning the NL batting title.
Cabrera finishes the season with a .346 batting average. He has 501 plate appearances, one short of the 502 necessary to qualify for the batting title. However, a quirky rule allows Cabrera to add as many hitless at-bats as he needs to get 502 PAs. Adding an 0-for-1 to his season totals still leaves him with a .346 average.
The MLB surely wants McCutchen (or Joey Votto, who has a .342 average) to finish with the best batting average, rather than face the possibility of putting a PED offender in the record books.
Of a more pressing concern to McCutchen is how his team is playing recently. The Pirates are 3-7 in their last 10 games, dropping them to seven games behind the Reds in the NL Central. That's allowed the Cardinals to tie them in the division and wild-card standings. If the playoffs once looked like a sure thing for the Pirates, it doesn't appear that way now.
Can McCutchen still win NL MVP honors if Pittsburgh doesn't make it to the postseason? Not getting a playoff bid probably cost Matt Kemp the award last season. But what if Posey doesn't get to the playoffs either? The two best players shouldn't be kept from consideration because their teams fell short of postseason play.
Ultimately, it will come down to the question of where the Pirates would be without McCutchen. The prevailing sentiment is that Pittsburgh wouldn't be anywhere near the NL Central or wild-card lead without him in the lineup.
Follow @iancass on Twitter