Tennessee Titans: A Way-Too-Early 2013 Mock Draft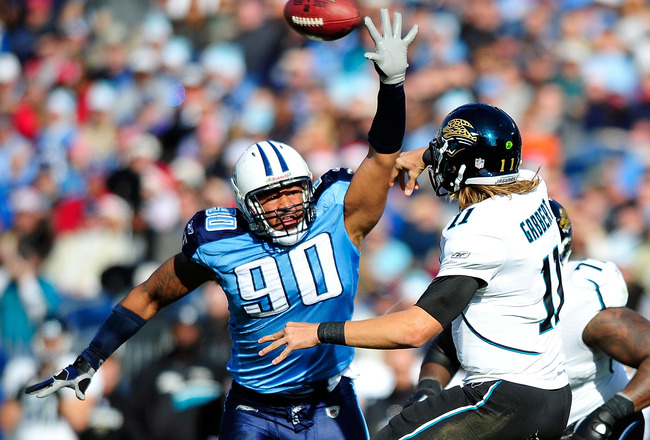 Grant Halverson/Getty Images
I know that the 2013 NFL Draft is eight months away and the season hasn't even started, but I've said it before and I'll say it again: Mock drafts are fun.
If Derrick Morgan doesn't have a great year in 2012, then Tennessee will clearly need more help at defensive end.
But that's not breaking news to anyone.
The other obvious weakness for the team is the interior offensive line.
The Titans picked up Steve Hutchinson to band-aid one guard position, but that won't be enough for very long.
So, given what we know the Titans need, it's possible to start thinking—even as early as this—about who the Titans might draft next spring.
Round 1: Jackson Jeffcoat, DE Texas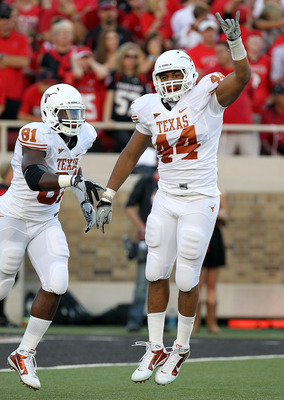 Ronald Martinez/Getty Images
Even though the Titans' pass rush looks much improved, they will still need a defensive end that can get to the quarterback consistently if Derrick Morgan doesn't have a breakout season.
I don't think the Titans will pick early enough to land Barkevious Mingo, the current top defensive end prospect, but they'll definitely be able to grab a very good one with 2013's deep, talented class.
Jackson Jeffcoat has prototypical measurements (6'5" and 250 lbs) and a proven track record. In 2011, he had a whopping 63 total tackles, including 17 tackles for loss, three passes broken up, eight sacks, and seven additional quarterback hurries.
Even if Morgan builds on his impressive games against the Buccaneers and Cardinals, the Titans will be considering a defensive end in the first round. Jeffcoat is a do-it-all kind of guy that the Titans will love.
Also, his father, Jim Jeffcoat, is a former Cowboy and a member of the 100 sack club, so his bloodlines are also immaculate.
Round 2: C Khaled Holmes, USC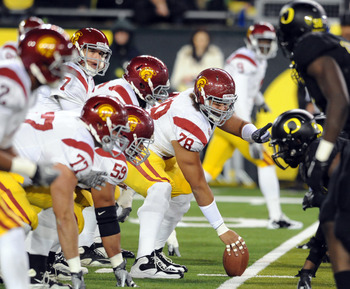 Steve Dykes/Getty Images
There is no way the Titans go another year without spending some high picks on interior linemen.
The team could stand an upgrade at right guard, where Leroy Harris is currently. He'll be a free agent in 2013. Steve Hutchinson is holding down the left side, but he's already past his prime and will need to be replaced soon.
But the most important area that needs attention is center. The Titans have had trouble at the position since 2008, and now with Eugene Amano out for the season, along with Fernando Velasco taking his spot, it's likely that the Titans will want someone new there in 2013.
Khaled Holmes is one of the top centers in the 2013 class at this point, and he'll probably be available in the early second round.
Holmes has been a great center for several years, and with Silas Redd now on USC's squad, Holmes will have plenty of opportunities to show off both his run and pass blocking skills and keep his draft stock high.
Round 3: RB Stepfan Taylor, Stanford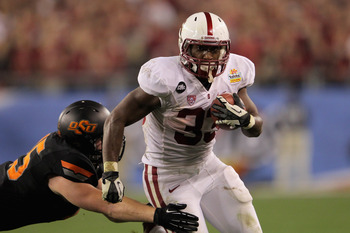 Doug Pensinger/Getty Images
Chris Johnson did well against the Buccaneers, but they aren't exactly fielding a top-10 defense this year. He's also looked pretty bad in his other two outings so far. Even if he does have a pretty good season, he'll be owed $9 million at the beginning of the 2013 season.
The Titans may decide that Johnson isn't worth that big of a hit to their salary cap. They may cut him, or use an early draft pick on a running back. If they go that route, one of the better second or third round prospects they could pick up for their needs would be Stepfan Taylor.
Taylor has the size of an every-down back at 208 lbs, and may be a little underrated since he played in the shadow of Andrew Luck. Even with Luck on his team, he put up some very impressive numbers, rushing for 1,330 yards and 10 touchdowns in 2011.
Stanford ought to have a down year in 2012, but I believe that Taylor will continue to do well as a rusher to keep the offense consistent. Were he needed, he'd be a great pickup in the third round.
Round 4: OG Larry Warford, Kentucky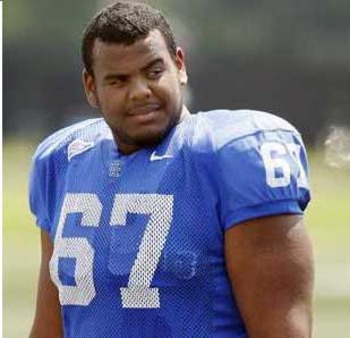 The Titans spend their second offensive lineman pick on Larry Warford, a big ole guard out of Kentucky.
As a freshman, Warford made the freshman All-SEC squad, and the second-team All-SEC squad in both 2010 and 2011, so he's got a pretty good résumé. He's also been on the watchlist for the Outland and Remington trophies as well, and will have one more shot at each in his senior season.
Warford is a big guard, measuring in at 6'3" and 343 lbs, and he uses that size when blocking. He's already got the power for the NFL, and if he can drop a few pounds, it ought to help out his quickness.
With his size, power, and quickness (for a 343 lb man), the Titans' offensive line corps should be able to refine him into a great right guard in no time.
Round 5: OLB Nico Johnson, Alabama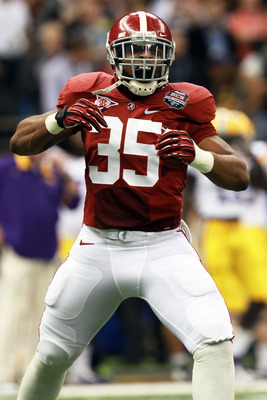 Ronald Martinez/Getty Images
This is the point in the draft where you start taking depth players, and that's what the Titans do here.
Other than Akeem Ayers, the Titans don't really have a strong-side linebacker available that can do what Ayers is supposed to. After Ayers, the biggest linebacker on the Titans' roster is rookie Zach Brown. If they plan on running many 3-4 packages, then that will be a problem.
So, with a late-round pick, they grab a consistent player who will be a solid backup in Nico Johnson.
Johnson has great size for a strong-side linebacker at 6'3" and 245 lbs. Plus, coming from an Alabama defensive squad is always considered a plus for NFL scouts.
In 2011, Johnson had a sack, three broken up passes, an interception and 6.5 tackles for loss. Now if he seizes the opportunity that the loss of Dont'a Hightower and Courtney Upshaw gave him, he could improve his draft stock infinitely. For now, he's a Day 3 guy who would fit pretty well with the Titans.
Round 7: WR Conner Vernon, Duke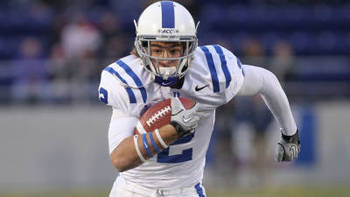 The Titans don't have a sixth round pick in 2013, since they traded it for Scott Solomon.
With Marc Mariani's recent injury, the Titans may want to pick a wide receiver or two late in the draft to replenish the back end of their depth chart.
Conner Vernon is the top wide receiver at his school, but unfortunately for Vernon, that school is Duke.
This means two things for him. One is that not many scouts will be looking at him during the regular season. And two is that he will likely spend a large part of his season getting shut down by the likes of Xavier Rhodes, Kyle Fuller, Rod Sweeting and Brandon McGee.
Still, Vernon could be a great, late pickup. At 6', 200 lbs, he's got great size for the NFL. Since he comes from a less scouted school, he could be better than his stats and team record would suggest.
Keep Reading

Tennessee Titans: Like this team?