Fantasy Football 2012: 5 Busts Being Drafted in 1st 2 Rounds
Rob Carr/Getty Images
He may hang his head in shame this fantasy campaign.
As we head into our fantasy drafts this season, we know that we will make some bad choices. Rarely does a preseason average draft position list end up looking anything like the scoring leaders at the end of the season.
So fantasy owners are committed to doing research, looking for warning signs on which elite players won't live up to the hype.
Well, look no further. Here are five players who are currently being taken in the first two rounds that you must avoid if you want to win a fantasy championship.
Begin Slideshow

»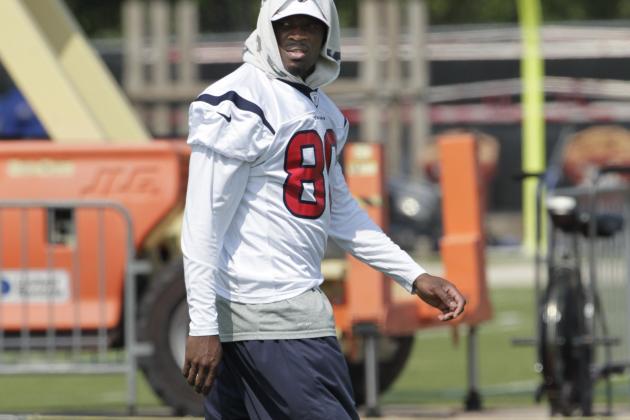 Bob Levey/Getty Images

I have never understood the appeal of this guy as a first-round pick. Ever. It makes no sense whatsoever. Yes, he's ultra-talented. Yes, he's up there with Calvin Johnson in terms of how uncoverable he is.
But he's played a full season just twice in the last five years and missed a dozen games combined in the past two seasons.
The Texans are the second-most run-heavy team in the NFL, keeping it on the ground 52 percent of the time.
Houston still doesn't have anything resembling a decent second receiver to draw defensive attention away from Johnson.
He has never had double-digit touchdowns in his career.
I understand the talent, but this guy has never done it before. I'm not trusting him with a top pick to do it now.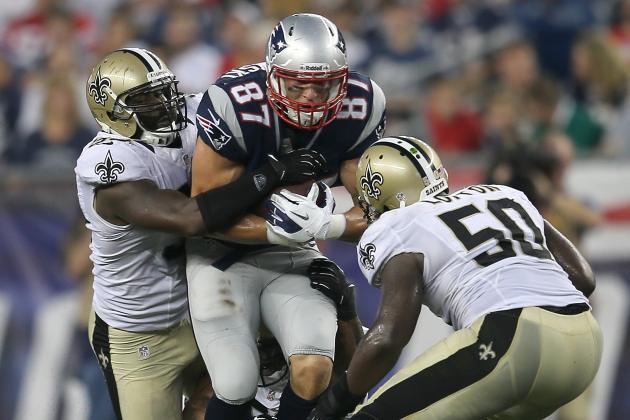 Jim Rogash/Getty Images

The Gronk had a great season last year. He had 90 catches, 18 total touchdowns and shattered every tight end scoring record fantasy has to offer.
But I don't expect an encore in 2012.
It's not even that from a historical perspective, repeating that type of production is near-impossible. Few players have ever caught that many touchdown passes.
I'm also concerned about how crowded the Patriots offense will be.
New England added Brandon Lloyd and Donte Stallworth this year. Both are definitely deep threats and will run mostly vertical routes to get their numbers.
Although there is a school of thought that designates the Patriots as a dink-and-dunk pass offense, Gronk was absolutely a downfield guy last season. He averaged 14.7 yards per reception, second among tight ends and just behind notable deep threats Andre Johnson and Darrius Heyward-Bey.
Lloyd and Stallworth are going to take away from the vertical post-routes Gronk runs. In the red zone, I still trust Gronk. But the Patriots may not need to operate near the goal line as much anymore when they're hitting home runs like they did in 2007.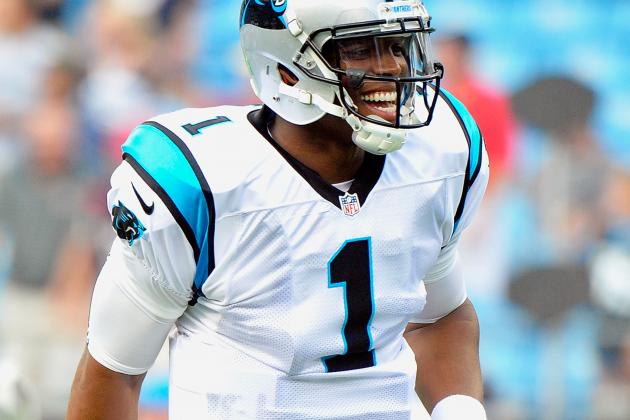 Grant Halverson/Getty Images

Cam Newton's value came from the fact that he had a whopping 14 rushing touchdowns last season. Yeah, he's a quarterback.
There are 13 instances in NFL history of a signal-caller rushing for more than seven scores in a season. Not once has he followed up the next year with more than five. The only two to rush for more than ten were Kordell Stewart and Daunte Culpepper. They finished with two and four, respectively, the next season.
If you're betting on Cam to repeat his production, you're counting on a bump in passing value. It could happen, given that he's had time to learn the playbook instead of sitting through a lockout.
But Carolina has committed roughly $80 million to running backs Jonathan Stewart and DeAngelo Williams and signed Mike Tolbert this offseason, giving every indication that all three are going to get work.
So we're banking on Cam bucking history and Carolina not really utilizing a significant chunk of its payroll. I can't take those chances.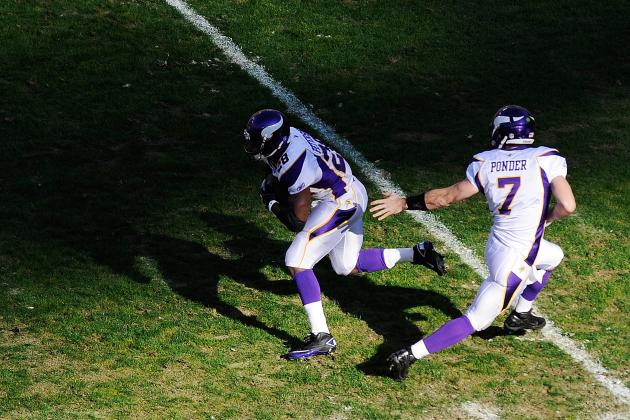 Patrick McDermott/Getty Images

It hurts to say this because there's no bigger fan of Adrian Peterson than me. I think his skills and talent put him up there with some of the greatest in the history of the league. If he wasn't on such a graveyard of a team, he'd put up some historic numbers.
But he's coming off a torn ACL, injured on Christmas Eve last season, no less. Again, the precedent for players coming back from an ACL are absolutely awful. Players who have torn their ACLs have rarely been able to return to their prior level of production.
It's simple, but true.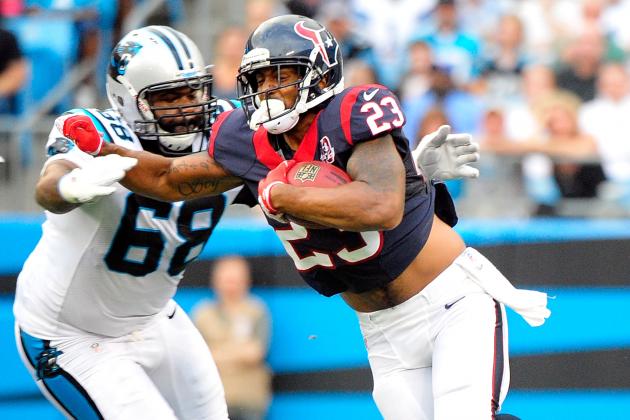 Grant Halverson/Getty Images

Whoa. This is a huge gut call, but hear me out on this one.
Arian Foster has had hamstring issues in the past. Hamstring issues are directly correlated to lack of nutrition or hydration while your body is under extreme duress such as, you know, being an NFL running back. I'm not a doctor or a sports nutritionist, but I've been an athlete and hamstrings are lingering, nagging injuries.
Foster is healthy now, but he decided to go vegan on us a month before training camp. There are obviously no reports that he looks terrible out of training camp and since he's Houston's star back, he's probably not doing much anyway. Plus, training camp reports can be unreliable.
Being a running back—a workhorse back, no less—is one of the most physically demanding jobs on the planet. To put your body through a change where it is not getting nutrition in the same way as before is a dicey situation. And if his nutrition suffers, the hamstring problems are likely to come back.
But none of that concerns me as much as Ben Tate, the guy Houston drafted before Foster broke out and became "the guy." Tate is an absolute monster and could be more talented than Foster in terms of physical skills.
If one thing or another happened and Tate ended up supplanting Foster, I wouldn't be surprised one bit.