3 NFL Teams Guaranteed to Tumble Down the Standings in 2012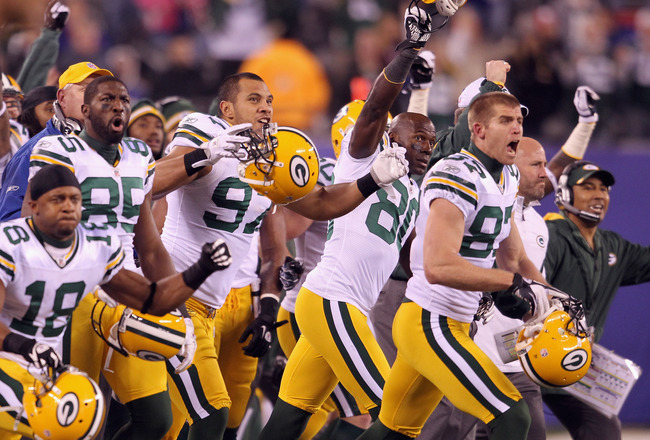 Nick Laham/Getty Images
An an NFL writer, the hardest thing to do is predict that an elite-level team will be worse in an upcoming season than they were the year before.
With a 10-plus win season fresh in everyone's minds, it's extremely difficult for many to mentally detach from the previous year and realize reaching double-digit wins isn't an easy task.
I use the word "tumble" because based on their 2011 records, the following teams will "tumble" down the standings. But as you read, you'll see I'm certainly not predicting them to experience seasons of overwhelming regression.
Green Bay Packers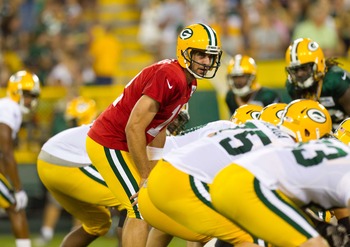 Jeff Hanisch-US PRESSWIRE
The Packers went 15-1 in 2011, and it's easy to understand rekindling the "magic" of a one-loss regular season is pretty challenging.
History also tells us Green Bay will have less than 15 wins in 2012.
Five teams other than the Packers have gone 15-1 or better in NFL history (1984 San Francisco 49ers, 1985 Chicago Bears, 1998 Minnesota Vikings, 2004 Pittsburgh Steelers and 2007 New England Patriots), and every team besides the 1986 Bears won 11 games or fewer the following season.
See.
What's interesting about the 2012 Packers is that they very well could be a much more balanced and complete team but finish with a worse record this year.
The defense couldn't get much worse than it was in 2011, and Nick Perry will at least add another skilled pass-rusher to a unit that amassed only 29 sacks last season.
Furthermore, the NFC North is as talented and deep as it's been in recent memory. The Chicago Bears acquired Brandon Marshall from the Dolphins. The Detroit Lions boast one of the most dynamic passing offenses in football and the best receiver in the game in Calvin Johnson.
An 11-to-12-win season for Green Bay should be deemed a success.
San Francisco 49ers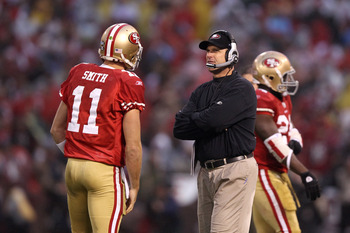 Ezra Shaw/Getty Images
It will be shocking if the San Francisco 49ers repeated their 2011 record of 13-3 in 2012.
Nothing against Jim Harbaugh's group—it's mighty talented—but a few personnel tweaks and trends lead me to believe they'll lose closer to five or six games this season.
Firstly, the 49ers gave the ball away 10 times last year (five fumbles, five interceptions), which tied the 2010 Patriots for the fewest giveaways in NFL history.
A feat not easily repeatable.
While San Fran added running backs Brandon Jacobs and LaMichael James in the offseason to bolster an already established, control-the-clock rushing attack, it did make an overt attempt to add more explosiveness to its offense by signing Mario Manningham and Randy Moss in free agency and using a first-round selection on Illinois wideout A.J. Jenkins.
Obviously, the 49ers won't instantly mimic the Saints' vertical passing game, but expect quarterback Alex Smith to throw it more than the 445 times he did in 2011, which likely will lead to more interceptions.
Now, an increase in fumbles and interceptions don't necessarily equate to more losses, but they surely don't help a team win football games.
Add in what should be a somewhat stronger division, and you'll realize 10 wins for the 2012 49ers is reasonable.
New Orleans Saints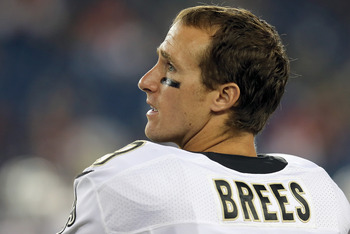 Jim Rogash/Getty Images
The New Orleans Saints, after a turbulent offseason, are the one of the more enigmatic teams heading into the 2012 NFL season.
Will they be lost without head coach Sean Payton, or does Drew Brees have enough of a grasp on the offensive scheme that he'll lead the team to another 13-3 season?
Let's start with history.
From this amazingly in-depth Grantland.com article by Bill Barnwell, I found this telling statistic:
During the era of the 16-game season, 32 teams have gone 13-3. In the year after their 13-3 record, those teams have averaged 9.3 wins. Not one has won 14 games the following year, and while three managed to hold on to their 13-3 record, nine weren't even able to produce a .500 season.
Clearly, that doesn't automatically mean the Saints are destined for a 9-7 campaign this year, but it should serve as a reminder as to how difficult it is to go 13-3 in the first place.
The NFC South should be more competitive with Cam Newton in his second season and the Falcons, being, well, the Falcons. It'll be hard for the Buccaneers to lose 10 straight games again, don't you think?
So, like the Packers and 49ers, winning between 10 and 11 games this season is much more logical for the Saints than another 13-win year.
Keep Reading