Identifying the Top Tools for Each Level of Minor League Baseball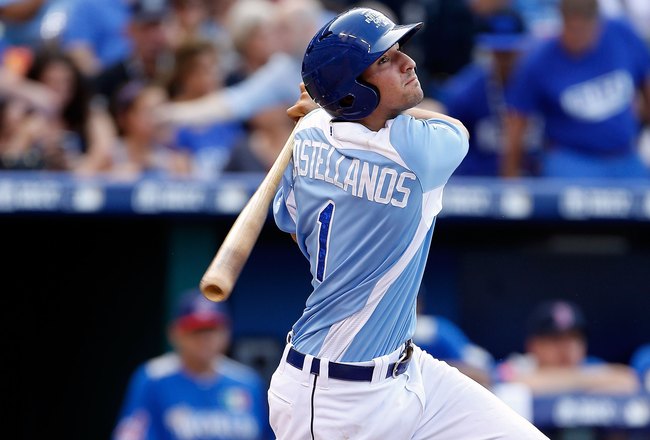 Jamie Squire/Getty Images
As we enter the home stretch of the minor league season, there's no better time than now to take a look at some of the top prospects from each individual level.
And as so many publications do, I decided it was time to break down each level from a tools perspective. Basically, which players tools are the most projectable and impressive relative to their peers and respective level(s).
For those players who have received promotions either within the minor leagues or to the majors, I included them in the level where it seemed more appropriate.
So, here is a look at the players with the top tools throughout the minor leagues. My rankings are derived from what I've seen both in person and video, from word of mouth and what I've read in various scouting reports. Due to the small sample size for prospects in either Class-A Short Season or Rookie leagues, they have been omitted from this list.
Triple-A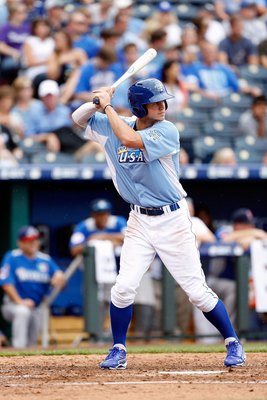 Jamie Squire/Getty Images
Top Position Prospect: Wil Myers (Royals)
Honorable Mention: Anthony Rizzo (Cubs), Adeiny Hechavarria (Blue Jays), Jedd Gyorko (Padres), Starling Marte (Pirates)
Best Hitter: Wil Myers
Top Power Hitter: Anthony Rizzo
Best Plate Discipline: Jake Elmore (Diamondbacks)
Best Speed: Anthony Gose
Top Pitching Prospect: Trevor Bauer (Diamondbacks)
Honorable Mention: Dan Straily (Athletics), Tyler Skaggs (Diamondbacks), Jake Odorizzi (Royals)
Best Fastball: Jose Ortega (Tigers)
Best Breaking Ball: Tyler Skaggs
Best Changeup: Dan Straily
Best Command: Tyler Cloyd (Phillies)
Best Relief Pitcher: Cory Burns (Padres)
Infield Arm: Adeiny Hechavarria
Outfield Arm: Moises Sierra (Blue Jays)
Best Defensive Catcher: Tim Federowicz (Dodgers)
Best Defensive MIF: Adeiny Hechavarria
Best Defensive CIF: Matt Dominguez (Astros)
Best Defensive OF: Anthony Gose
Double-A
Peter G. Aiken-US PRESSWIRE
Top Position Prospect: Oscar Taveras (Cardinals)
Honorable Mention: Jurickson Profar (Rangers), Mike Olt (Rangers), Manny Machado (Orioles)
Best Hitter: Oscar Taveras
Best Power Hitter: Mike Olt
Best Plate Discipline: Tyler Saladino (White Sox)
Best Speed: Gary Brown (Giants)
Top Pitching Prospect: Zack Wheeler (Mets)
Honorable Mention: Danny Hultzen (Mariners), Carlos Martinez (Cardinals), Taijuan Walker (Mariners)
Best Fastball: Zack Wheeler
Best Breaking Ball: Zack Wheeler
Best Changeup: Danny Hultzen
Best Command: Sean Gilmartin (Braves)
Best Reliever: Bruce Rondon (Tigers)
Infield Arm: Manny Machado
Outfield Arm: Bryce Brentz (Red Sox)
Best Defensive Catcher: Christian Bethancourt (Braves)
Best Defensive MIF: Jurickson Profar
Best Defensive CIF: Nolan Arenado (Rockies)
Best Defensive OF: Ryan LaMarre (Reds)
High-A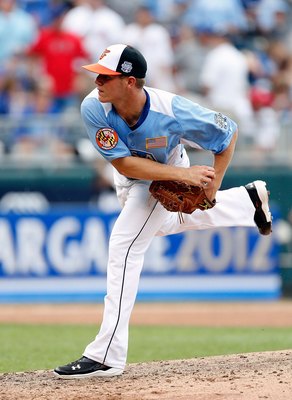 Jamie Squire/Getty Images
Top Position Prospect: Nick Castellanos (Tigers)
Honorable Mention: Jackie Bradley (Red Sox), Kaleb Cowart (Angels), Christian Yelich (Marlins), Billy Hamilton (Reds)
Best Hitter: Christian Yelich
Top Power Hitter: Trayce Thompson (White Sox)
Best Plate Discipline: Jackie Bradley
Best Speed: Billy Hamilton
Top Pitching Prospect: Dylan Bundy (Orioles)
Honorable Mention: Gerrit Cole (Pirates), Donn Roach (Padres), Jameson Taillon (Pirates), Cody Buckel (Rangers)
Best Fastball: Gerrit Cole (Pirates)
Best Breaking Ball: Cody Buckel (Rangers)
Best Changeup: Adam Morgan (Phillies)
Best Command: Kyle Hendricks (Cubs)
Best Relief Pitcher: Mark Montgomery (Yankees)
Infield Arm: Ronny Rodriguez (Indians)
Outfield Arm: Marcell Ozuna (Marlins)
Best Defensive Catcher: J.T. Realmuto (Marlins)
Best Defensive MIF: Joe Panik (Giants)
Best Defensive CIF: Cody Asche (Phillies)
Best Defensive OF: George Springer (Astros)
Low-A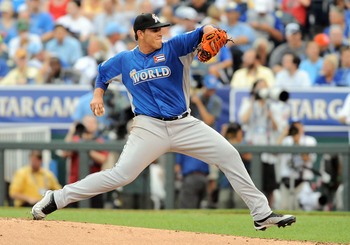 Denny Medley-US PRESSWIRE
Top Position Prospect: Alen Hanson (Pirates)
Honorable Mention: Tyler Austin (Yankees), Javier Baez (Cubs), Trevor Story (Rockies), Gregory Polanco (Pirates), Mason Williams (Yankees), Miguel Sano (Twins)
Best Hitter: Tyler Austin
Best Power Hitter: Miguel Sano
Best Plate Discipline: Matt Skole (Nationals)
Best Speed: Delino DeShields (Astros)
Top Pitching Prospect: Jose Fernandez (Marlins)
Honorable Mention: Archie Bradley, Alex Meyer (Nationals), Aaron Sanchez (Blue Jays), Justin Nicolino (Blue Jays), Adys Portillo (Padres), Michael Fulmer (Mets), Matt Barnes (Red Sox)
Best Fastball: Archie Bradley
Best Breaking Ball: Kyle Crick (Giants)
Best Changeup: Nick Tropeano (Astros)
Best Command: Jose Fernandez
Best Relief Pitcher: Cody Hall (Padres)
Infield Arm: Miguel Sano
Outfield Arm: Gregory Polanco
Best Defensive Catcher: Austin Hedges (Padres)
Best Defensive MIF: Francisco Lindor (Indians)
Best Defensive CIF: Sam Mende (Rockies)
Best Defensive OF: Mason Williams (Yankees)
Keep Reading