Full MLB Award Predictions at the Three-Quarter Pole of the Season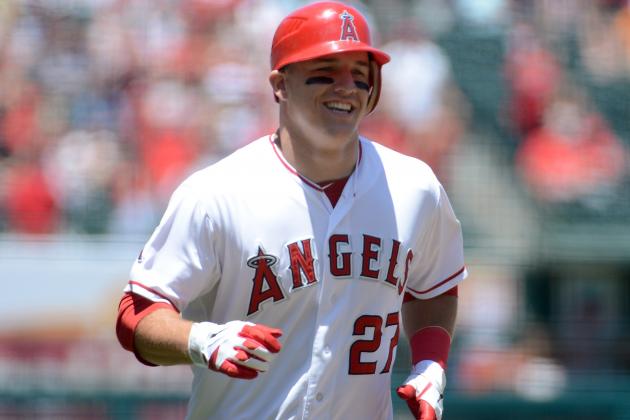 Harry How/Getty Images

We're three quarters of the way through the 2012 MLB season, and through all the twists and turns, the candidates for major awards are beginning to distinguish themselves from the rest of the pack.
Mike Trout has taken the MLB by storm, posting video game numbers and giving big-name AL players a run for their money at the MVP award.
So, who ya got?
Trout or Cabrera?
Verlander or Weaver?
McCutchen or Votto?
Here's who I have winning each major award at the three-quarter mark of the 2012 season.
*Please note that all information, stats and records were compiled before games started on Thursday, August 16th.
Begin Slideshow

»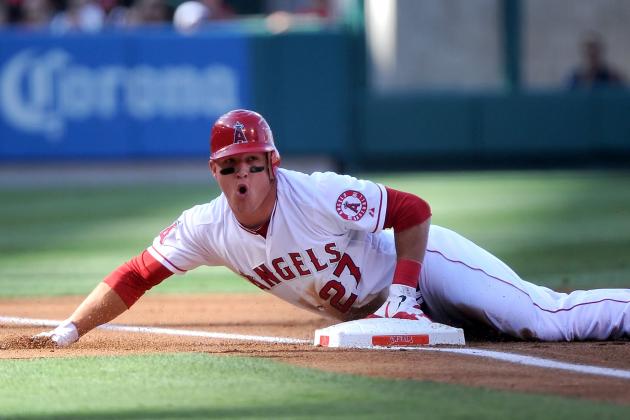 Lisa Blumenfeld/Getty Images

Miguel Cabrera fans are going to blow up the comment section of this article, but in the back of their minds they know as well as I do that Mike Trout is the MVP of the American League.
Trout leads the AL with a .340 average and has an astounding 22 home runs, 66 RBI and 38 stolen bases—a steals mark that leads all of baseball.
More importantly, he leads the MLB in runs, as well as WAR and wOBA, according to FanGraphs.
Oh, did I mention that he wasn't called up to the big leagues until April 28, meaning he missed nearly three weeks at the beginning of the season?
Also not to be overlooked is Trout's range and defensive ability in the outfield. Unless you've been living under a rock, you've probably heard about his insane, home run-robbing grabs this season.
The Los Angeles Angels were slumping until Trout was called up and injected some energy into their halos.
ESPN's Buster Olney shows just how good the 21-year-old's 2012 season can be, tweeting:
Mike Trout's current trajectory will take him to these numbers: 135 runs, 100 RBI, 32 homers, 55 SB, 194 hits, 58 walks. He has 1.010 OPS.

— Buster Olney (@Buster_ESPN) August 11, 2012
You can surely make the argument that Cabrera is a better hitter than Trout, but saying he has been a better overall player and has meant more to his team than Trout would be absurd.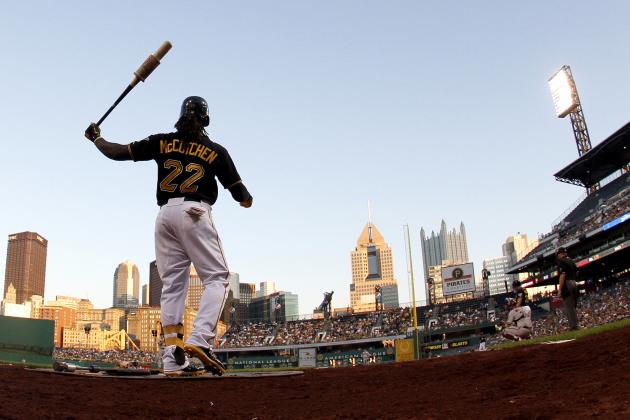 Justin K. Aller/Getty Images

Like Trout in the AL, Andrew McCutchen has been the most important player to his team in the National League.
McCutchen has put the Pittsburgh Pirates offense on his back yet again, leading the squad in average (.358), hits (152), home runs (24), RBI (72) and on-base percentage (.419).
McCutchen's batting average is the highest in baseball, and he has the second-most hits (152) and runs (82), only to Melky Cabrera, an admitted cheater (via ESPN).
During his MVP campaign this season, McCutchen leads the NL in WAR and is second to Joey Votto in wOBA, per FanGraphs.
The 25-year-old center fielder has his Pirates in prime position to snag a wild-card spot down the stretch and clinch a postseason berth for Pittsburgh for the first time since 1992.
McCutchen is no slouch on defense either, as he has made just one error in 112 games this season and sports a zone rating of 10.364, according to ESPN.
Sports Illustrated writer Cliff Corcoran mirrors my opinion on MVP picks, as you can see in his latest article.
Despite leading the MLB in on-base percentage and OPS, Votto has dropped considerably on the contender list due to injury. There's really no other NL player who is having the type of impact and season that McCutchen is for the Bucs.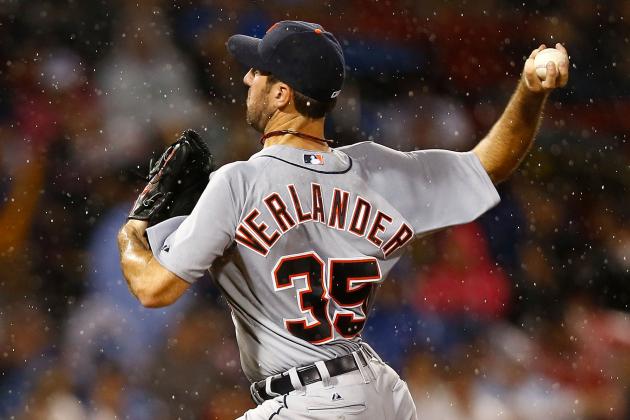 Jared Wickerham/Getty Images

Jered Weaver is having an MVP-type season, but Justin Verlander still deserves the AL Cy Young Award at this point.
Verlander ranks No. 2 in the AL in ERA (2.46) and WHIP (0.99) to Weaver, but he is second in the AL in innings pitched (175.2) to Felix Hernandez and is now tied for second with King Felix in strikeouts, with 174.
More importantly, Verlander has hurled six complete games—two more than the next-closest pitcher and the AL—and he boasts a 5.2 WAR, which is the best mark of any MLB pitcher, according to FanGraphs.
Verlander's 12 wins put him in the top six in the AL, and his FIP (2.86) is much lower than Weaver's 3.41.
After his perfect game against the Tampa Bay Rays on Wednesday, King Felix will certainly be factored into the conversation for the Cy Young Award, but there hasn't been a more dominant workhorse in the AL on the bump this season than Verlander.
Detroit Tigers play-by-play announcer Dan Dickerson sums up what Verlander has done against top offenses of late, tweeting:
Verlander has faced top 2 offenses in AL last two GS (NYY/Tex)...he's gone 15IP, allowed 1ER on 16H, 1BB/22K...VERY impressive...

— Dan Dickerson (@Dan_Dickerson) August 12, 2012
What more can you ask for against the best offenses in the MLB?
If he keeps pitching like this, Verlander is your AL CY Young winner.
Joe Robbins/Getty Images

First of all, let me tip my hat to Aroldis Chapman for his dominance this season, but he's not going to win the NL Cy Young Award.
If the greatest closer in the game (Mariano Rivera) has never won the award, there's no way Chapman gets it in 2012.
New York Mets knuckleballer R.A. Dickey has pitched out of his mind this season, to the tune of a 15-4 record with a 2.89 ERA and 1.04 WHIP.
He ranks No. 5 among NL hurlers in WAR (3.9), according to FanGraphs, but is tied for the league lead in wins. He also stands at No. 4 in WHIP and leads all NL pitchers in strikeouts with 175 in 168.1 innings pitched.
Dickey—who would become the first knuckleballer in MLB history to win the award—ranks No. 1 in complete games (four) and is tied for the league lead in shutouts (two).
It's going to come down to the wire for the Cy Young in the NL, but you can't tell me with a straight face that Dickey doesn't deserve the hardware.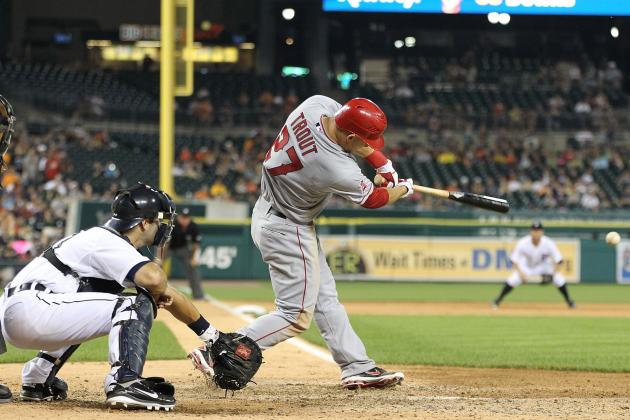 Leon Halip/Getty Images

If I selected Mike Trout as my AL MVP, he's obviously going to be my AL Rookie of the Year as well.
I don't think it's necessary to throw out all the same statistics and figures I did in Trout's MVP slide, so let's just agree that he is hands-down the best rookie in the entire league this season.
The only other two players who come to mind in the AL are pitchers Yu Darvish and Jarrod Parker, but neither of them stands a chance next to Trout.
Darvish has fared well in his first season in the MLB, but he walks an extremely unfavorable amount of hitters. He's currently tied for No. 2 in the AL in walks, with 79 in 140.2 innings pitched.
Parker has also been impressive in his rookie campaign, going 7-7 with a 3.71 ERA and 1.30 WHIP, but those statistics don't compare to those of Trout.
Trout undoubtedly has some competition in the AL MVP race with the likes of Cabrera, Robinson Cano, Josh Hamilton, Verlander and Chris Sale, but make no mistake about it—there is no competition for the AL ROY.
It's all Mike Trout.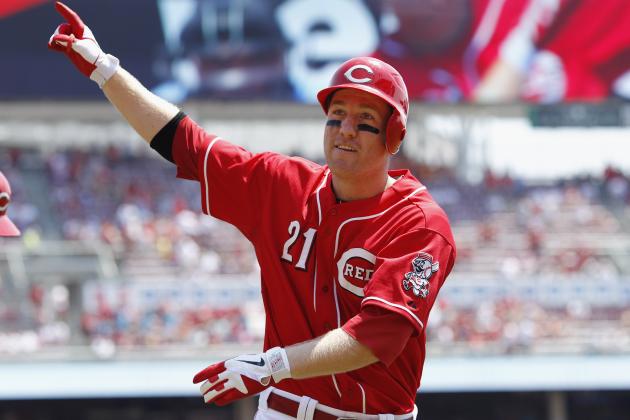 Joe Robbins/Getty Images

The combination of a Bryce Harper slump and a Joey Votto injury has led to the emergence of Cincinnati Reds 1B/3B Todd Frazier being mentioned in the NL Rookie of the Year talks (via CBS Sports).
Frazier has filled in admirably for Scott Rolen and the aforementioned Votto, hitting .286 with 15 homers, 49 RBI, 36 runs and a .343 on-base percentage.
Frazier has the highest WAR for a NL rookie hitter (2.3) as opposed to Harper's 1.5. Frazier also boasts a .372 wOBA, while Harper's is .316.
After hitting .282/.354/.472 at the All-Star break, Harper has come out of the gates hitting just .171/.257/.244, as opposed to Frazier, who has put up better numbers since the ASG than prior.
With the Reds sitting comfortably atop the NL Central, Frazier should gain some recognition from voters for his contributions to the Cincinnati squad.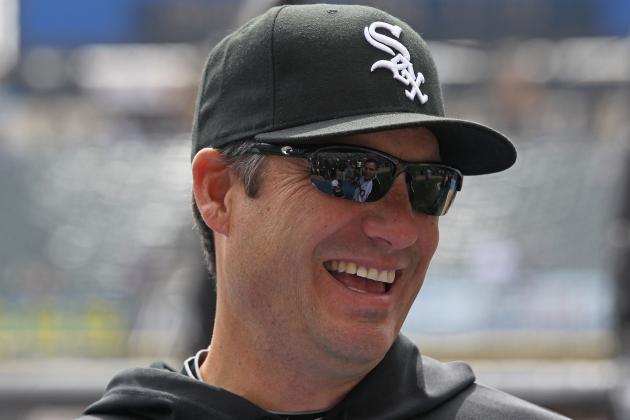 Jonathan Daniel/Getty Images

Six-time Gold Glove winner and first-year manager Robin Ventura has surprisingly managed the Chicago White Sox to the division lead in the AL Central, with a record of 64-52.
After the Detroit Tigers acquired Prince Fielder, I would have laughed in your face if you told me the White Sox would be ahead of the Tigers in the standings.
Well, who's laughing now?
All it took was a change of scenery and socks for Kevin Youkilis to get going, and Jake Peavy has looked like the Peavy of the early 2000s at times this season. Ventura is a big part of that success.
Ventura has gotten the best out of Peavy and All-Star Chris Sale on the mound, and his offense has seen a resurgence from A.J. Pierzynski and Adam Dunn.
Everything is clicking for the White Sox at the right time, and as we've seen in Boston (h/t ESPN), if you don't have the right manager, you're not going to win.
There are a handful of deserving managers in the AL, but none more than first-year manager Robin Ventura of the Chicago White Sox.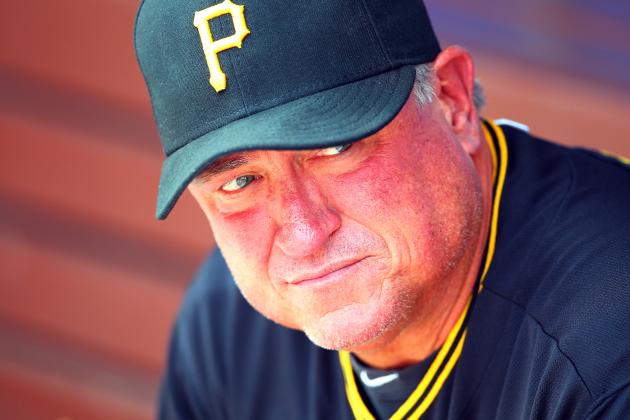 Rich Schultz/Getty Images

Clint Hurdle has done an excellent job of managing the Pittsburgh Pirates to an over-.500 record (64-53). He should win the NL Manager of the Year award as long as the Bucs remain above .500 at season's end.
A winning record would end a 19-year streak of losing seasons. If the Pirates are able to grab a wild-card spot, it would be their first playoff appearance since 1992 (not coincidentally, the last time they had a winning record).
If Pittsburgh suffers another epic collapse like that of 2011, I would expect Davey Johnson of the NL East-leading Washington Nationals to take home the hardware, but I'm sticking with the Pirates this season.
They have a much-improved starting rotation—thanks in large part to A.J. Burnett and James McDonald, and they have the potential NL MVP in Andrew McCutchen leading the way offensively.
Barring a total slide, you can expect Hurdle to win the NL Manager of the Year.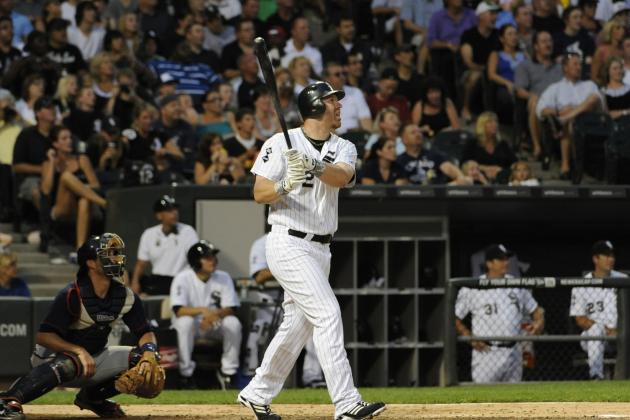 David Banks/Getty Images

After a disastrous 2011 season that saw him hit .159/.292/.277 with 11 home runs and 42 RBI in 122 games, Adam Dunn has turned it around for the surging Chicago White Sox, posting a .208 average with 34 homers and 81 RBI in 115 games.
While the average is still awful—Dunn has never hit for average, as he sports a career .241 mark—he has a legit shot at 40 home runs and 100 RBI with a little more than a month left in the season.
Prior to his dismal 2011 campaign, Dunn had strung together four straight seasons of at least 38 home runs and 100 RBI while playing for the Cincinnati Reds, Arizona Diamondbacks and Washington Nationals.
Dunn collected his 1,000th career RBI on August 13, to which the MLB Network tweeted:
Congratulations to Adam Dunn on his 1,000th RBI! Could he be the Comeback Player of the Year? Stay tuned to #MLBTonight for more updates.

— MLB Network (@MLBNetwork) August 14, 2012
Dunn's teammate Jake Peavy (9-8, 3.04 ERA, 1.06 WHIP) could also be considered in the AL Comeback Player of the Year race, but Dunn looks to be the most deserving.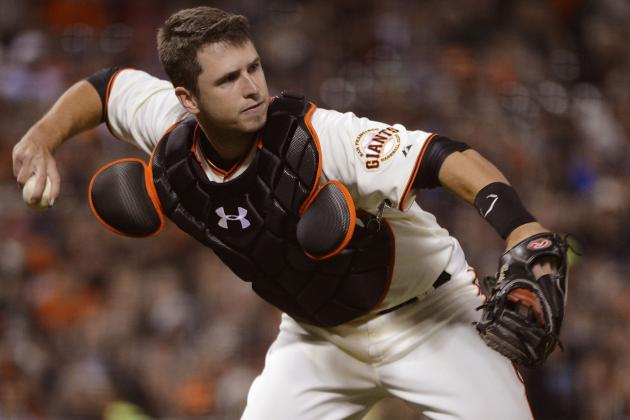 Thearon W. Henderson/Getty Images

Buster Posey has recovered from a gruesome broken leg from May 2011 to put together an All-Star campaign in 2012.
Posey's .330 batting average ranks No. 4 in the NL, and his 76 RBI are good for a top-10 ranking as well.
His 5.0 WAR just goes to show how important he has been to the Giants' 2012 season.
After an incredible 2010 season that saw him win the Rookie of the Year award, a lot was made of Posey's broken leg and if he could return to the same level in 2012.
The Giants have been smart to give Posey rest from behind the plate by platooning him at first base and giving him days off when needed. It's paying dividends in San Francisco.
San Francisco is a half-game behind the Los Angeles Dodgers in the NL West and just one game out of the wild-card standings, thanks in large part to Posey, who leads the team in home runs (19), RBI (74) and on-base percentage (.407).
Posey has been the symbol of what a comeback player is. Whether it's coming back from a down season or an ugly injury, one thing is for sure:
Buster Posey is back.
Follow me on Twitter: Follow @Pete_Schauer