Zack Greinke and More American League Players Who Need to Have a Big Week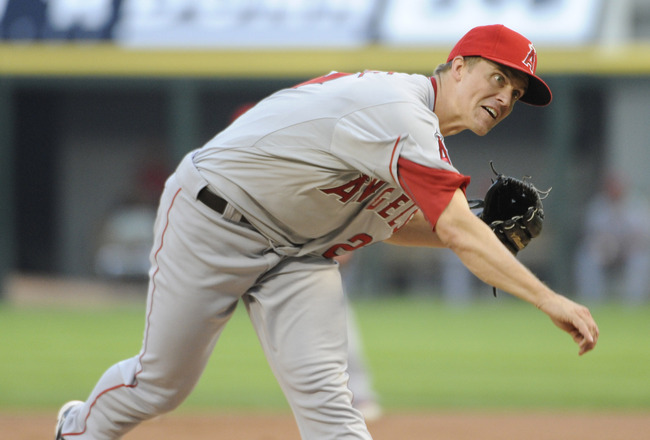 David Banks/Getty Images
When the Los Angeles Angels traded for Zack Greinke a few days before the trade deadline, they figured they were getting an ace who would help them make a spirited charge at the first-place Texas Rangers.
Things haven't exactly gone according to plan. Instead of making a charge, the Angels have retreated since they acquired Greinke.
The Angels have lost all three of the starts Greinke has made for them, and their deficit in the AL West has doubled from four games to eight games.
The question is no longer whether or not they'll be able to catch the Rangers. The question now is whether or not they'll make the postseason at all.
It goes without saying that they need Greinke to shape up in order to have a shot at securing a wild-card berth, and there's no time like the present for Greinke to get back on the right track. He has two starts lined up this week, and the Angels need him to make the most of them.
Greinke isn't the only big-name player in the American League who needs to come through with a big week. Here's a look at a few more.
Note: All stats come from Baseball-Reference.com unless otherwise noted.
Curtis Granderson, CF, New York Yankees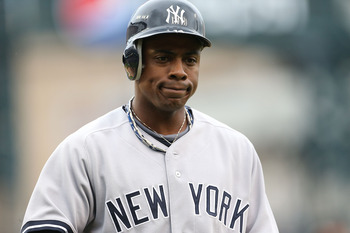 Leon Halip/Getty Images
The Yankees know full well at this point that Curtis Granderson is not going to be a .300 hitter for them. But as long as he hovers around the .250 mark while showing off his impressive power, they're in no position to complain.
The power has been there for the Grandy Man in recent days, as he's slugged seven home runs in 28 games since the All-Star break. The only trouble is that he's not hitting much at all when he's not driving the ball over the fence.
Granderson is only hitting .218 since the break, with an ugly .283 on-base percentage to boot. He's struck out 41 times in 110 at-bats, a strikeout rate that's high even for him.
Granderson's struggles are only getting worse. He's hitting under .200 in August, with a total of just four hits in his last seven games.
The Yankees are still playing good baseball, mind you. They're 7-4 this month, and they still hold a five-game lead in the AL East despite the recent hotness of the Baltimore Orioles and Tampa Bay Rays. But with CC Sabathia and Alex Rodriguez on the DL and Granderson struggling at the plate, the Yankees are as vulnerable now as they've been all season.
And that doesn't bode well for them heading into a week where they'll play seven games against the Texas Rangers and the Boston Red Sox. Things could very easily become too close for comfort in the AL East if the Yankees can't find a way to come out ahead when all is said and done at the end of the week.
They'll need as much help from Granderson as they can get. He's a force of nature when he gets hot, and a hot Granderson would very much come in handy this week.
If I'm the Yankees, I look on the bright side and figure that Granderson is due.
And then I'd cross my fingers.
Zack Greinke, SP, Los Angeles Angels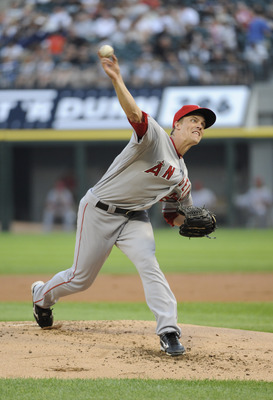 David Banks/Getty Images
Though the Angels lost the first game Greinke pitched for them back on July 29, they had to like what they saw. Greinke pitched seven sharp innings against the Tampa Bay Rays, allowing just two earned runs and striking out eight. It wasn't his fault that the run support wasn't there.
His last two starts, however, have been considerably less encouraging.
Greinke was knocked around for six earned runs in seven innings against the Chicago White Sox on August 3, and he followed that up with a start against the Oakland A's in which he gave up four earned runs on six hits and five walks in just five innings.
When Greinke left Milwaukee, he had a 3.44 ERA for the season. After three starts with the Angels, his ERA in the Junior Circuit sits at 5.68.
The Angels shouldn't panic just yet. They know that this is not a case of an NL lifer struggling to adapt to life in the American League, as it was just a couple of years ago that Greinke won the AL Cy Young award as a member of the Kansas City Royals. He hasn't been good, but three starts is too small a sample size for the Angels to assume the worst.
And besides, things are lined up in Greinke's favor this week.
Greinke is slated to make two starts this week. The first will come on Tuesday night in Anaheim against the Cleveland Indians, who are just 9-21 since the break and struggling in virtually every aspect of the game. Getting back on track against them shouldn't be too difficult.
On Sunday, Greinke will have a chance to get back at the Rays. They're basically the exact opposite of the Indians, though, as the Rays have been playing very good baseball in August. In fact, they have yet to lose a game since Evan Longoria returned to action on August 7.
Essentially, this week will see Greinke take on the worst and the best that the AL has to offer right now.
If he can't beat either of them, that's when we can start using the dreaded "B" word in conjunction with his name.
Matt Harrison, SP, Texas Rangers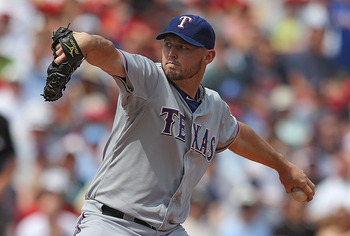 Jim Rogash/Getty Images
Thanks in large part to Josh Hamilton, the Rangers are starting to look like their usual selves for the first time in a long time. He has a .969 OPS and 15 RBI in August, and the Rangers have won eight of the 11 games they've played.
The only problem is that their starting pitching has been hit or miss this month, as Rangers starters have an ERA of 5.69 so far in August.
Matt Harrison has been awfully human lately, giving up 16 hits and surrendering six walks in just 11.1 innings of work this month. His last start saw him go for just 4.2 innings against the Red Sox at Fenway Park.
So it goes for Harrison. He has an ERA of 5.55 over his last four starts, in which opponents have hit him at a .310 clip with a .560 slugging percentage. He's seen his ERA for the season rise from 2.87 to 3.31.
When Harrison is pitching well, he looks like a guy who should be the unquestioned ace of the Rangers' starting staff. With him struggling at the moment, it's a toss-up as to who would start Game 1 for the Rangers if the postseason started tomorrow.
In the last few weeks of the season, Harrison will be looking to earn that honor. To that end, he can do himself a huge favor by getting back on track this week.
Harrison is lined up to make two starts this week, both of which will be on the road against elite offensive teams. His first start will come on Tuesday night against the Yankees at Yankee Stadium, and he'll then take on the Blue Jays in Toronto on Sunday afternoon.
The Yankees and Blue Jays rank third and fourth in the AL in runs scored, respectively, not to mention first and second in home runs.
If Harrison can tame both of them, it will be safe to say that his struggles are firmly in the rear-view mirror.
Albert Pujols, 1B, Los Angeles Angels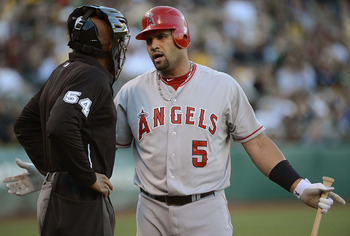 Thearon W. Henderson/Getty Images
Albert Pujols was one of the American League's hottest hitters in the month of July, hitting .330/.411/.660 with eight homers and 18 RBI.
In the last week, however, Pujols has been missing in action.
Pujols has quietly slipped into a bad slump, as he has just two hits in his last 27 at-bats without a single RBI. Not surprisingly, the Angels have won just two of their last seven games while Pujols has struggled.
Pujols told the Los Angeles Times on Sunday that he's not letting his slump or the Angels' collective slump get him down, insisting that there's a lot of baseball still to be played.
And besides, it's not like the Angels are faced with an uphill climb. They're only two games out in the AL Wild Card race.
Still, in times like these, it's hard not to think back to Pujols' struggles at the plate in April and early May. Mike Trout energized the club when he got called up in late April, but Pujols getting hot at the plate was a big reason why the Angels were so successful from the middle of May through the end of July.
Trout is still capable of incredible things, but he's started to slow down a little bit. He's hitting .250 in August so far, with just four hits in his last 20 at-bats.
With Trout slowing down and the Angels struggling as a whole, Pujols could not have picked a worse time to go into a slump. It goes without saying that the whole team needs to shape up, but one's eyes naturally gravitate toward Pujols, a three-time MVP and a two-time World Series champ, as the man who needs to lead the Angels out of this thing.
If one man can put the Angels on his back, it's Pujols.
In fact, you might even say that it must be Pujols.
Anibal Sanchez, SP, Detroit Tigers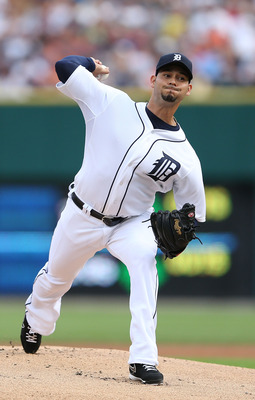 Leon Halip/Getty Images
The Tigers figured they were getting some much-needed rotation depth when they acquired Anibal Sanchez from the Miami Marlins ahead of the trade deadline. At the very least, he would surely be an upgrade over Jacob Turner.
Um, maybe not.
Sanchez hasn't taken to the AL very well, as his ERA sits at 7.80 after three starts with the Tigers. He was particularly bad his last time out against the Yankees, giving up seven earned runs in just three innings of work.
The Tigers themselves remain suspended in animation in second place in the AL Central behind the Chicago White Sox. They should be better than they are, but they haven't been able to break free from the pattern of underachievement they've been stuck in since early April.
As per usual, they'll be looking to get on a roll this week. They'll need Sanchez to get them started, as he'll get the start on Monday night against the Twins at Target Field.
Sanchez should be capable of taming the Twins, but his second start of the week on Sunday against the Orioles in Baltimore won't be easy. The Orioles are a quality team, and they're playing as well now as they have all season.
Sanchez has a lot riding on this stint with the Tigers. In the short term, he'll be looking to prove to Jim Leyland that he deserves to be in Detroit's postseason rotation if the Tigers do end up qualifying for October baseball. In the long term, he'll be looking to score a multi-year deal this offseason as a first-time free agent.
Until then, all Sanchez can do is take baby steps. A pair of wins this week would definitely put him on the right track.
A Few More
David Phelps
Ronald Martinez/Getty Images
Wei-Yin Chen, SP, Baltimore Orioles
Chen has been more consistent than any rookie pitcher in the AL this season, but he's coming off a very poor outing against the Royals his last time out. The Orioles will be looking for him to bounce back in his starts against Boston and Detroit this week.
Adam Dunn, 1B/DH, Chicago White Sox
Ho hum. Dunn has become a regular feature of this list, and at the moment he has just six hits in his last 50 at-bats with no homers and just three RBI.
Evan Longoria, 3B, Tampa Bay Rays
Longo's return has had exactly the kind of impact the Rays were hoping it would have. They'll need more of the good stuff as they tackle a seven-game road swing through Seattle and Anaheim this week.
Matt Moore, SP, Tampa Bay Rays
Moore is finally starting to live up to his billing as a future ace, as he has an ERA under 2.00 in five starts since the All-Star break. He'll be on the mound twice this week.
Jarrod Parker, SP, Oakland A's
Parker has been the anti-Matt Moore since the break, as he has an ERA over 5.00 in five starts. Starts against the Royals and Indians this week should help him rediscover his form.
David Phelps, SP, New York Yankees
Phelps will be filling CC Sabathia's shoes for the next couple of weeks, and he'll start by picking up two starts for the Yankees against Texas and Boston. Suffice it to say, he could have asked for easier assignments.
C.J. Wilson, SP, Los Angeles Angels
Wilson hasn't won a game since late June, and he's sitting on an ERA over 6.00 in six starts since the break. The Angels need him to get going just as much as they Greinke to get going. And like Greinke, Wilson will make two starts this week.
If you want to talk baseball, hit me up on Twitter.
Keep Reading