MLB: Power Ranking the Top 30 Active Position Players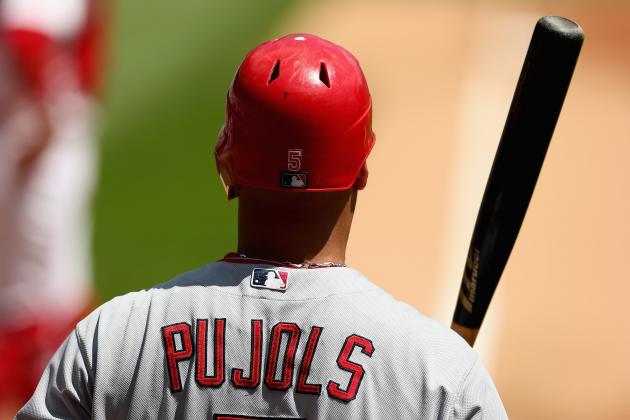 Jonathan Daniel/Getty Images

For the first time in many years, there is no clear-cut best player in baseball. Barry Bonds held that honor for the first half of the 2000s before passing the baton to Albert Pujols, with the two combining to win seven of nine NL MVP awards from 2001 through '09.
Now though, there are a handful of players in contention for the title of the best in the game but no obvious winner. Ask five people and you're very likely to get five different answers. The usual aspects were weighed for this article with batting average, slugging percentage and OPS rating high along with home runs, stolen bases, defensive excellence and of course the ever-popular WAR (Wins Above Replacement).
Players weren't completely dropped off the list for struggling in 2012, although I did focus heavily on what the player is doing this year. Injuries hurt the ranking, as it is imperative that a team can count on a guy to be able to play, and that's a big reason why Chase Utley didn't make the cut.
Begin Slideshow

»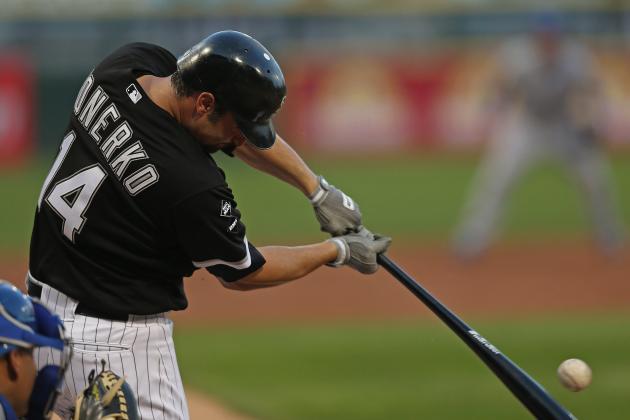 Jonathan Daniel/Getty Images

Paul Konerko is 36 years old but he's still playing like someone in the prime of his career, and he's making a strong case for the Hall of Fame.
Konerko is hitting .316/.388/.504 with 18 home runs and 54 RBIs this season, and he's made three consecutive AL All-Star teams. Konerko has averaged 30 long balls per year since 1999, although he's still typically overlooked when discussing the game's best power hitters.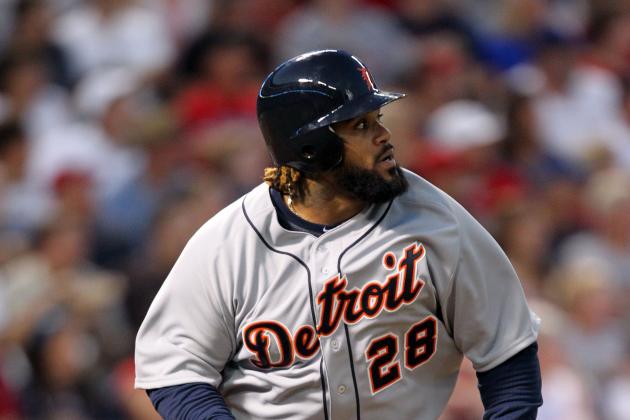 Layne Murdoch/Getty Images

Prince Fielder may not have the body type to play out a nine-year, $214-million contract, but he's proved his worth so far in 2012.
Fielder is remarkably durable for a big man, as he's leading the AL with 113 games played and he's twice led the National League in games played. Fielder is hitting .313 with a .400 on-base percentage and a .518 slugging percentage, and his .918 OPS ranks ninth-best in the league.
Fielder has averaged 38 home runs, 111 RBIs, and a .932 OPS since debuting as a full-time player back in 2006.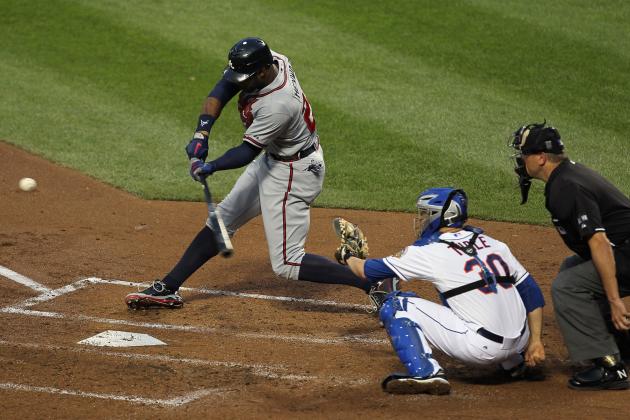 Mike Stobe/Getty Images

After his pretty miserable sophomore slump in 2011, Jason Heyward has bounced back in a big way this year. His stats may not reflect how well he's playing—a .269 batting average and .825 doesn't seem like it belongs to one of the game's best players.
But factor in that Heyward has power and speed (18 home runs and 15 steals, which puts him on pace for at least 25 home runs and 25 steals) and he's phenomenal in the field. Heyward rates as a plus-13.2 per FanGraphs, which puts him as the single-best defensive player at any position in the National League.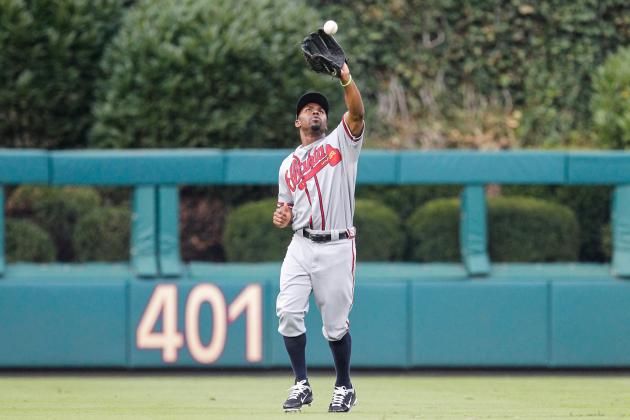 Brian Garfinkel/Getty Images

Michael Bourn will be one of the most coveted free agents in the league this coming offseason, as he's picked a good time to have a career year.
Bourn has seen a drop in his batting average as of late, but he's still playing very well. He's at .288 with a career-high nine home runs, a pretty impressive feat considering he hit seven home runs in his previous 2,005 plate appearances. Bourn has led the league in stolen bases three years running, and he gets to nearly every ball in center field.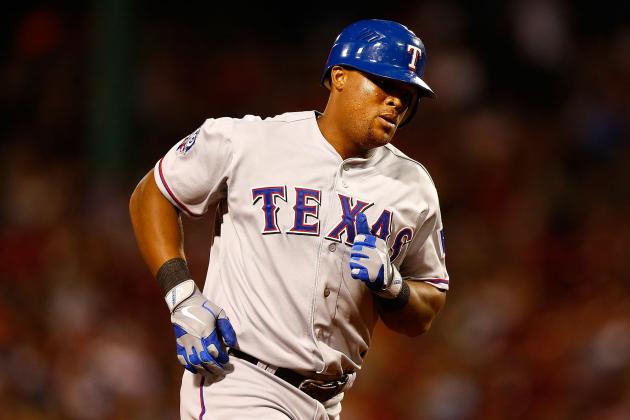 Jared Wickerham/Getty Images

It's ridiculous to think that Adrian Beltre legitimately will have a Hall of Fame case when he hangs up his cleats, but that does seem to be the case. He has 329 home runs and three Gold Gloves at third base, which happens to be the least-represented position in the Hall.
I couldn't believe the Rangers gave a 31-year old Beltre a five-year, $80-million contract with a vesting option for a sixth year. He's actually been worth it so far, though, and he has really been one of the game's best players for the last three seasons.
Since 2010, Beltre is a .307 hitter and he's posted an .886 OPS, which ranks 16th among all position players in the game during that span. Factor in his good defense and you have a really good player for a low-30s guy.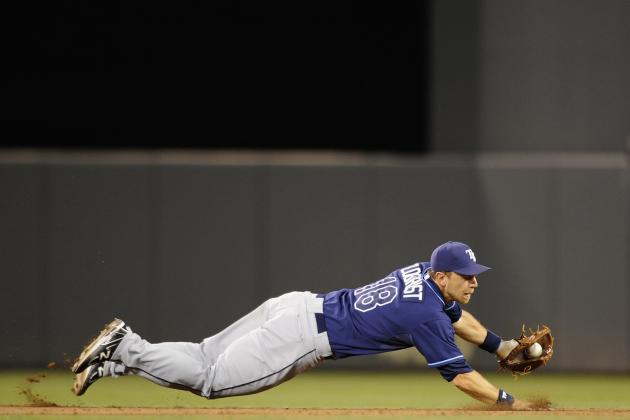 Hannah Foslien/Getty Images

When you look at Ben Zobrist's .256 career batting average, it's easy to overlook his greatness as a player. He has medium-range power (15-20 home runs per season) and he strikes out well over 100 times per season. So what makes him so good?
Well, he has exceptional plate discipline, as his 13.9 walk rate ranks 12th best among all position players in the game since 2009. He is a terrific baserunner and a fabulous gloveman at whichever position he chooses to play, as Zobrist can play first base, second base, shortstop, third base, left field, center field and right field.
Since 2008, Zobrist rates as a plus-47.9 in the field per FanGraphs, which makes him the sixth-best overall position player defensively. And his total WAR value of 23.9 ranks 12th best of all players during that span. It's true value to a team when Zobrist can play as well as he does both offensively, defensively (at so many positions) and as a baserunner.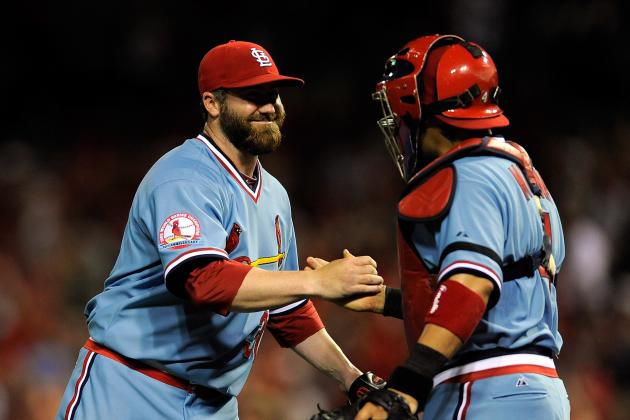 Jeff Curry/Getty Images

Yadier Molina seems to be getting better every year. After hitting between six and eight home runs for six straight seasons, he crushed 14 last year and he has 16 already in 2012.
Molina has single-season bests with a .312 batting average, .499 slugging percentage and .860 OPS. He has made four straight NL All-Star teams and he's even a threat to run, as he has 11 steals on the season.
Everyone knows Molina does his best work behind the plate, though. He's got a cannon of an arm, having led the NL in caught stealing percentage three times (this year will be his fourth) and he's a workhorse as a catcher, having led the NL in games as a catcher twice (this year will be his third).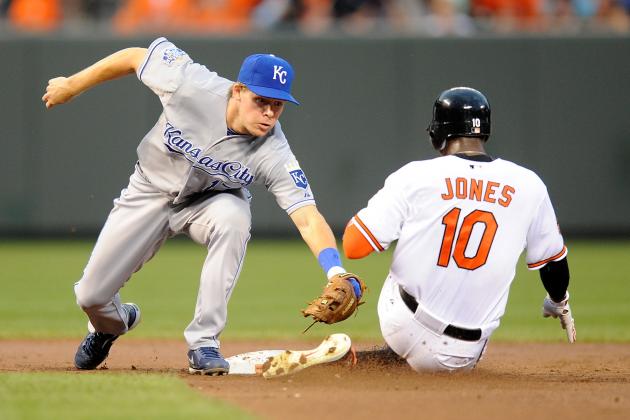 Greg Fiume/Getty Images

Until this season, Adam Jones had been a .280 hitter with 20 home runs, 10 stolen bases and a .775 OPS who is a borderline All-Star player in the American League.
Now Jones is in the midst of a breakout year, and while his numbers aren't as good as they were in May or June, Jones is still a top-10 league MVP candidate. He's hitting .295 with 24 home runs, 11 stolen bases and a .869 OPS. He has a ridiculous four extra-inning home runs, which is a big reason the Baltimore Orioles are 11-2 in extra-inning contests and an unsustainable 22-6 in one-run games. Jones is also an elite defender in the outfield, and he's well worth his new six-year, $85-million contract.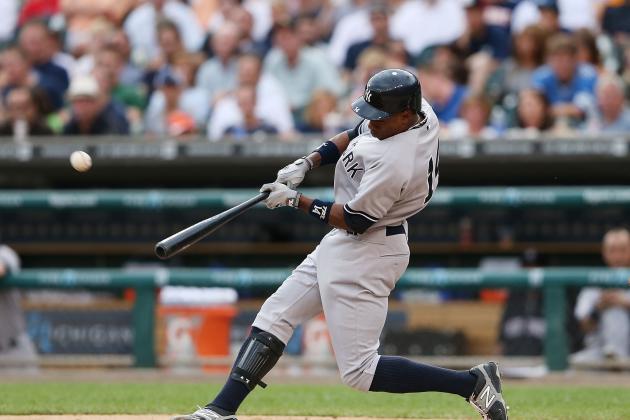 Leon Halip/Getty Images

Curtis Granderson is hitting just .242 and he strikes out way too many times, having averaged 141 per season since 2006.
What he does do, however, is hit a lot of home runs (41 last year and 30 already this year), which has led to a league-best 119 RBIs in 2011 and 66 more in 2012. He is also a good baserunner who can steal double-digit to 25 bases per year.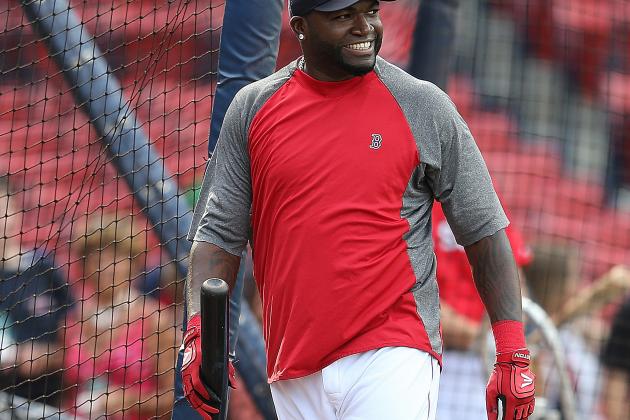 Jim Rogash/Getty Images

At the age of 36, David Ortiz is still playing remarkably well. He signed a one-year, $14.58-million contract with the Boston Red Sox in the offseason, and he's making a strong case for a multi-year deal even at his age.
Ortiz is hitting .316 with a .414 on-base percentage, a .609 slugging percentage and 1.024 OPS, each of which lead the American League. Ortiz has topped 20 home runs for 11 straight years, and even though he doesn't play defense, he still gets a lot of credit for how much he contributes to the Red Sox—his 36.2 WAR over the last 10 seasons ranks 19th best among all hitters.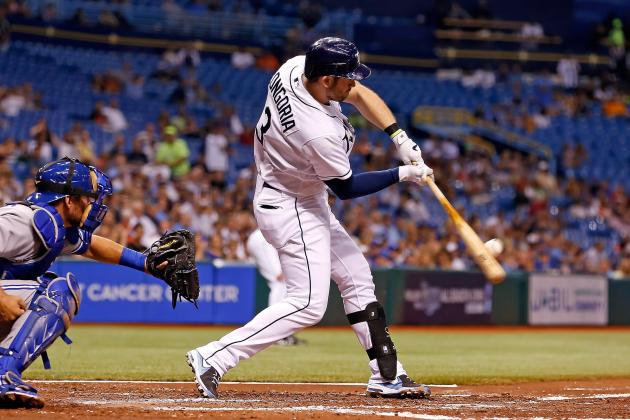 J. Meric/Getty Images

Evan Longoria has missed a great majority of this season due to injuries, but in the games that he did play, he was as good as ever.
Longoria has a .330 batting average, .421 on-base percentage and .536 slugging percentage in 114 plate appearances, all single-season career bests. He is a 25-30 home run player at the hot corner position and he's really good defensively.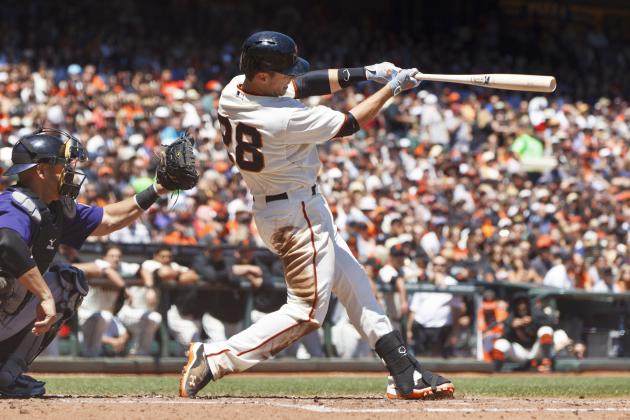 Jason O. Watson/Getty Images

In his first full season since his memorable rookie campaign in 2010—.305 batting average, 18 home runs, Rookie of the Year award and World Series championship—Buster Posey has taken his success to a whole new level.
Posey is making a strong case for the National League MVP in 2012. He is hitting .328 with 18 home runs and a .937 OPS. He could stand to work on his defense some (he's leading the league in stolen bases allowed), but considering he is still just 25 years old and has barely 1,000 career plate appearances, Posey is going to be a force in this league for many years to come.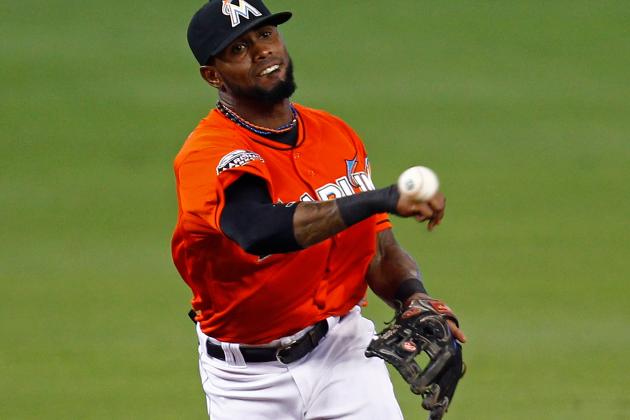 Sarah Glenn/Getty Images

Jose Reyes parlayed an MVP-caliber 2011 season into a six-year, $106-million contract with the Miami Marlins. His .337 batting average from last year hasn't carried over, but his .285 mark and .781 OPS are right on par with his seasonal averages.
Reyes has tremendous speed, as evidenced by the four seasons he has led the league in triples, and three seasons for stolen bases. Reyes is third in the NL in triples in 2012 and fourth in steals. He plays good enough defense that he sent longtime shortstop Hanley Ramirez to third base, and Reyes hasn't dealt with any of his recurring hamstring problems yet this year.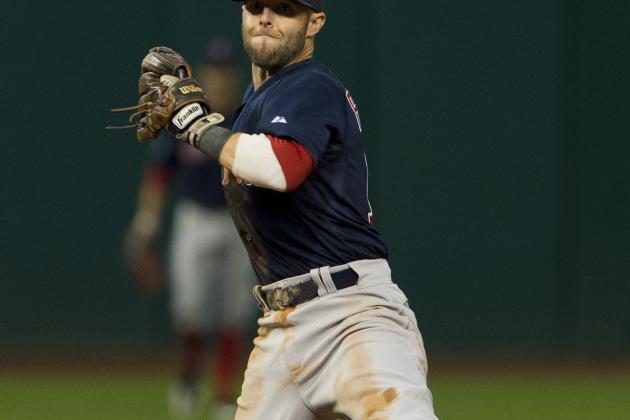 Jason Miller/Getty Images

Dustin Pedroia has accomplished more in a few seasons than many great players accomplish in a career, so he's on this list even if his 2012 campaign isn't up to standards with the norm.
Pedroia is hitting .275 with nine home runs and nine stolen bases this year, although he's normally more of a .300 hitter who can put up 15-20 home runs and 20 steals with great defense at second base.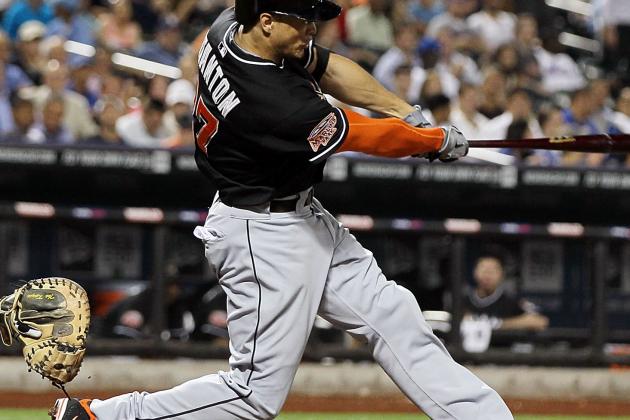 Jim McIsaac/Getty Images

Giancarlo Stanton has so much raw power at just the age of 22 that it's downright scary. He has a .536 career slugging percentage and a .884 OPS, numbers that rank seventh and 10th in the National League during that span.
What's most impressive about Stanton is that he went from a .259/.326/.507 line in 2010 to .262/.356/.537 in 2011 to .286/.362/.569 in 2012, meaning he increased his batting average, on-base percentage and slugging percentage (along with his OPS and adjusted OPS) every year of his career.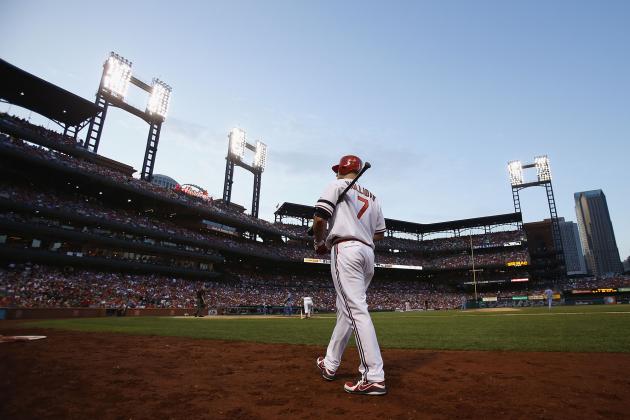 Paul Nordmann/Getty Images

Even though he's left Colorado, Matt Holliday has continued his amazing success at the plate over the last several seasons in St. Louis.
Holliday is a .315 career hitter, making him one of just five active players with at least a .315 average and 100 home runs. He has been remarkably consistent as of late, posting an OPS of .922, .912 and .935 over the last three years.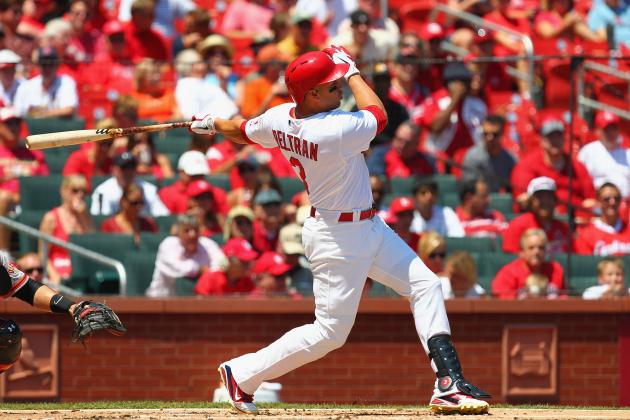 Dilip Vishwanat/Getty Images

Carlos Beltran is going to have a really good Hall of Fame case by the time he retires, and he's still helping his case even at age 35.
Beltran has 28 home runs and a league-leading 81 RBIs, along with 10 stolen bases, which makes him one of the better power-speed players in the business. Beltran is hitting .286 with a .552 slugging percentage and .909 OPS, and he's made seven different All-Star teams in his career.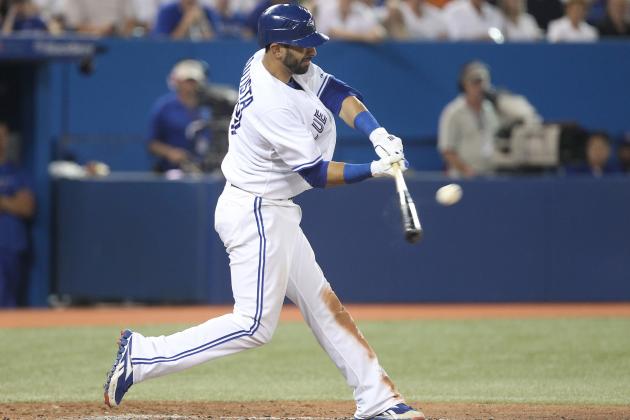 Tom Szczerbowski/Getty Images

Jose Bautista is one of the more remarkable cases I can ever remember. He was a subpar major league baseball player for the first six years of his career before exploding for 54 home runs in 2010 and 43 more in 2011, each of which led the American League.
Bautista is having another great power year, as he has 27 home runs, a .534 slugging percentage and an .894 OPS. He has one of the best batting eyes in the game, evidenced by the league-leading 132 walks he drew last year, the most by any major league player since Barry Bonds drew that many free passes back in 2007.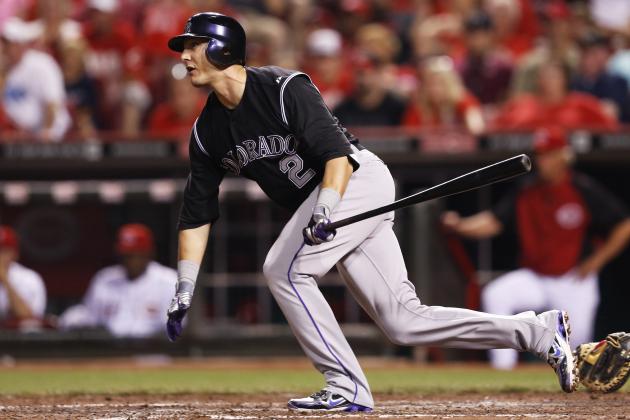 Joe Robbins/Getty Images

Troy Tulowitzki's contract is ridiculous for any shortstop because he will be in his age-35 season and making $14 million, which he very likely won't be worth.
He's struggled with injuries in 2012 and appeared in just 47 ballgames. Last year, though, he hit .302 with 30 home runs and 105 RBIs, posting a .916 OPS that was 40 points higher than any other National League shortstop.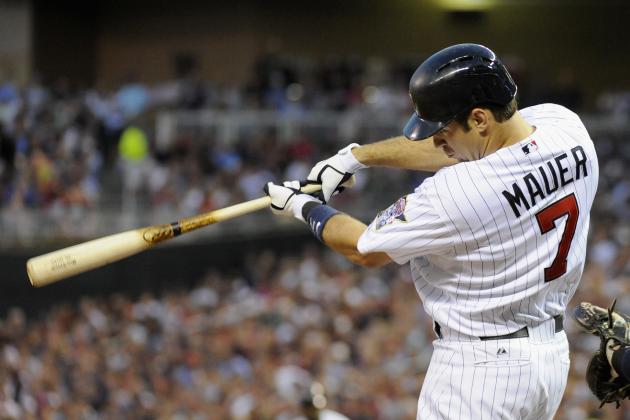 Hannah Foslien/Getty Images

No one really seems to be talking about Joe Mauer this year, even though he's rebounded from a disappointing 2011 campaign to put up a strong performance at the plate.
Mauer is hitting .320 and leading the league with a .416 on-base percentage. His 28 home runs from 2009 seems to be a fluke, as he's more of a 7-10 home run per year type of player, but he hits for a high enough average, walks a ton and plays great defense behind the plate, proving that he's a top player in the game.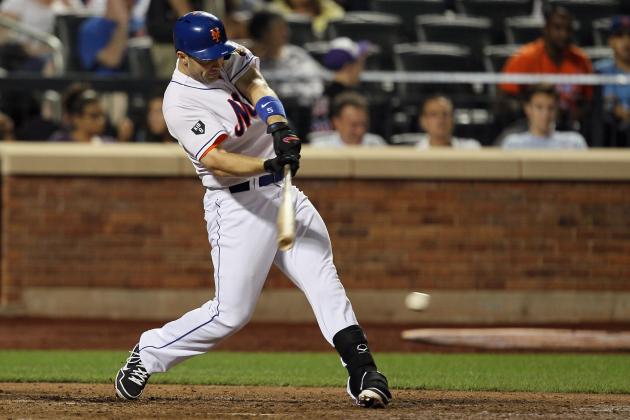 Mike Stobe/Getty Images

David Wright has been slightly inconsistent over the last several seasons, but he's putting up a career year in 2012.
Wright has a .324/.417/.535 slash line with 16 home runs, 73 RBIs and 12 steals, and he's an MVP candidate in a year in which no one really stands out in the National League.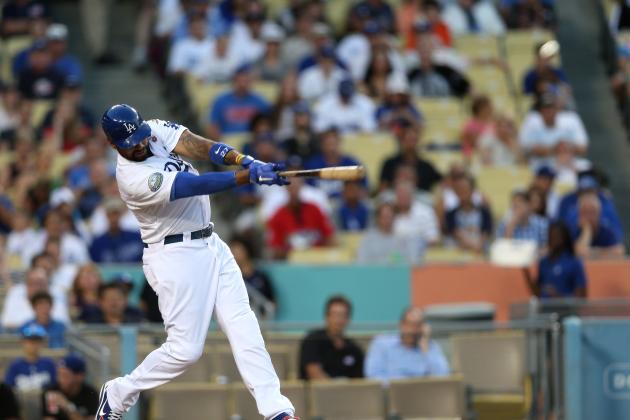 Stephen Dunn/Getty Images

When Matt Kemp plays, the Los Angeles Dodgers are 35-24. When he doesn't play, they're just 24-28.
Kemp has followed up a truly spectacular 2011 campaign (.324, 39 home runs, 126 RBIs, 40 steals) with another great year in 2012. When he's been healthy, he's produced to the tune of a ridiculous .354 batting average, .650 slugging percentage and 1.045 OPS. He's added 17 home runs in just 61 games, numbers that would project to an even better season than the MVP-caliber one he put up in 2012.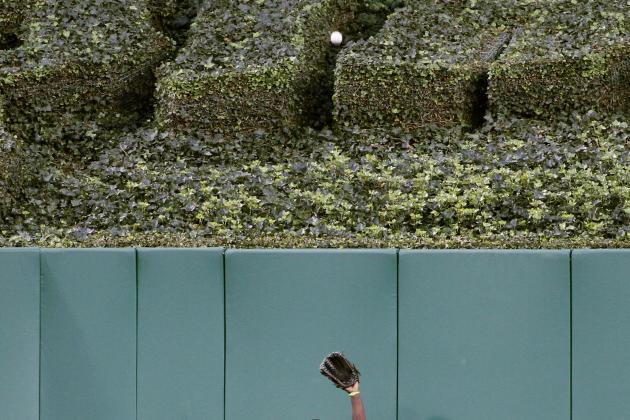 Justin K. Aller/Getty Images

For the first three years of his career, Andrew McCutchen was a fantastic player who hit 20 home runs, stole 20 bases and played great defense in center field for the perennially-last place Pittsburgh Pirates.
This year, he's taken his .276 batting average to a whole new level. McCutchen is hitting at a .365 clip, a figure that leads the league, as does his .615 slugging percentage and 187 adjusted OPS. He has tied his career-high with 23 home runs and considering the Pirates are serious playoff contenders in the NL Central, McCutchen has a good chance to win the NL MVP award this season.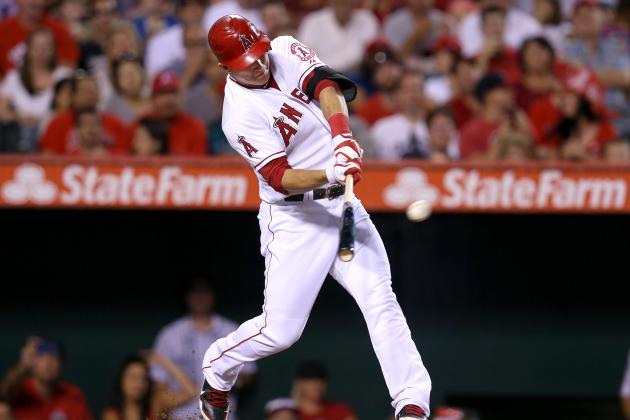 Stephen Dunn/Getty Images

I almost put Mike Trout as the number one overall player in baseball. Part of me still wonders if I should have. He's tearing up the game like no rookie has ever done before, and in fact, few non-rookies have ever done before.
Trout is hitting at a .345 clip with 21 home runs and 36 steals. He has a .603 slugging percentage and 1.010 OPS and he leads the American League in runs scored (88), steals, batting average and adjusted OPS (183). He can play any position in the outfield and he's the first player since 2010 with three homer-robbing catches, per ESPN Stats & Info.
Trout is a lock to win the AL Rookie of the Year award and I think he will probably win the league MVP award, making him just the third rookie ever to win the MVP also. The Los Angeles Angels of Anaheim were just 6-14 to start the season; they're 53-38 since they called him up.
I just couldn't justify putting Trout ahead of players who have been doing it longer, though. Not to take anything away from Trout, but I need to see more than three months. His batting average on balls in play is .396, which is a ridiculously unsustainable total.
If you normalize his BABIP to the major league average of .300, or even .320 or .330 because of Trout's great speed, his batting average would be around .290 with a .520 slugging percentage and maybe an .870 OPS. That's still very good, but he wouldn't be talked about as possibly the best overall player in baseball. Again, I'll admit that is nit-picking and I'm very excited to see what Trout can do over the next decade or more, because he has the potential to be off-the-charts good, considering he is a five-tool player who really has no flaws.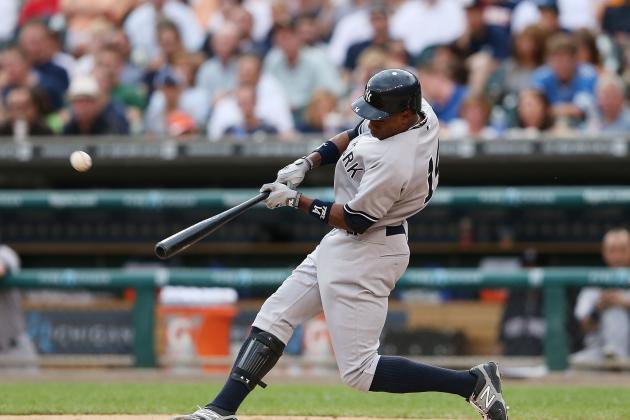 Leon Halip/Getty Images

A second baseman who hits .320 every year with 25 home runs and Gold Glove defense is pretty valuable, and it's high time the New York Yankees reward Robinson Cano with the $100-million-plus contract he deserves.
Cano is at .317 with single-season bests in slugging percentage (.558) and OPS (.933) and he has 24 home runs, which means he could set a new personal high if he reaches 30. With the injuries Chase Utley has sustained recently, it's safe to say Cano has passed Utley as the best all-around second baseman in the game.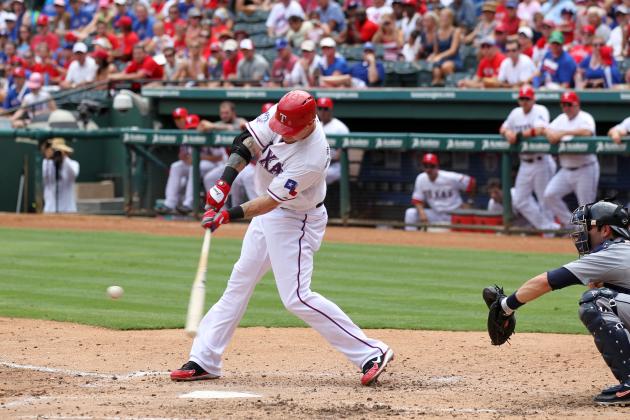 Layne Murdoch/Getty Images

Even with the awful slump he's endured recently, Josh Hamilton is still leading the entire American League in home runs (31) and RBIs (96), and that's a testament to the ridiculous start he had at the plate.
Through the first 35 games of the season, Hamilton had 18 home runs to go with a .404 batting average, .838 slugging percentage and 1.296 OPS that made him on pace to have one of the greatest single-seasons by any hitter ever. And since becoming a full-time player for the Texas Rangers in 2008, Hamilton is a .307 hitter with a .911 OPS.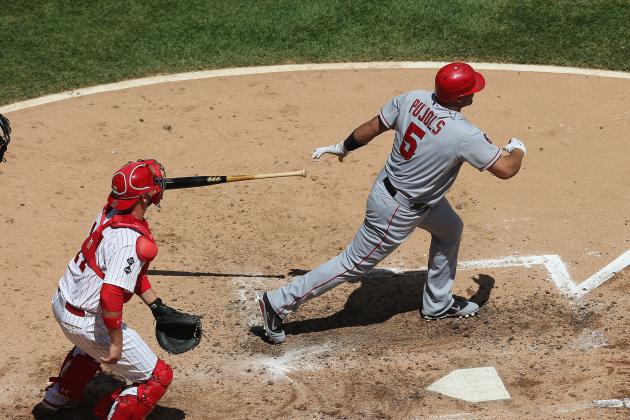 Jonathan Daniel/Getty Images

I think for the first time in at least five or six years, there's a new best player in the game and it's not Albert Pujols (you also could have made a case for Alex Rodriguez during the mid-2000s and I wouldn't argue with it).
Pujols began the 2012 campaign slow, just as he did in 2011. He hit just .190 with a .275 slugging percentage and .510 OPS through May 16, numbers that literally made him a liability to his new team. Then he turned into the Pujols we all know, and he's hitting .318/.390/.628 with 23 home runs and 64 RBIs in the 77 games since then, numbers that would project to nearly 50 home runs and 135 RBIs over the course of a season. His 1.018 OPS is right on par with his career average, which means he's found his swing again.
Pujols is also a very solid defensive first baseman who has won a pair of Gold Gloves before for fielding excellence. In order to recapture his title as the game's best player, though, Pujols needs to overcome what has been a ridiculously slow start each of the last two seasons, and play .300/.400/.550 baseball straight through the year, as he has done in the past. And again, it's certainly not as if the fourth-best position player in baseball is anything to sneeze about.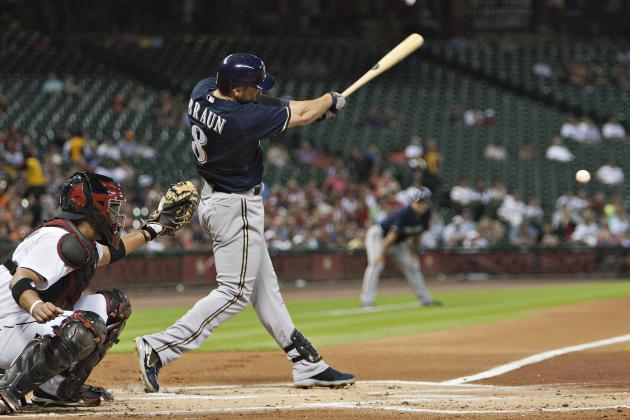 Bob Levey/Getty Images

After a stellar 2011 MVP season came the stunning news that Ryan Braun had tested positive for performance-enhancing drugs. He appealed the suspension and actually won, meaning he didn't have to sit out at all in '12.
And he's been just as good as he was last year, as Braun is hitting .304/.382/.582 with a .966 OPS that is just 28 points behind his league-leading .994 mark from '11. He is tops in the National League with 29 home runs, and his 19 stolen bases are a testament to his effectiveness as a baserunner. In a year in which there is no clear-cut MVP winner, Braun could finish with his second straight award.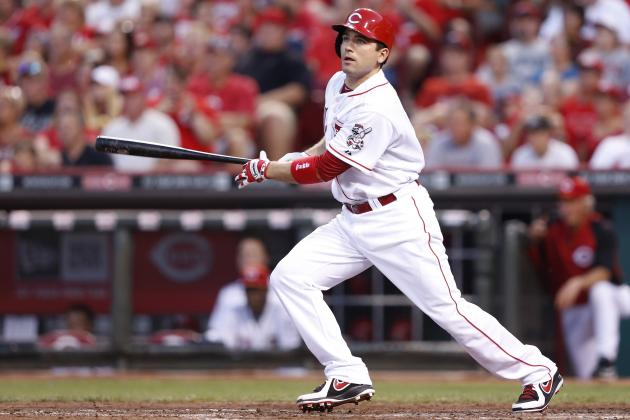 Joe Robbins/Getty Images

The Cincinnati Reds rewarded Joey Votto for a phenomenal 2011 season by signing him to a 10-year contract that extends him through 2023 with a team option for '24.
Votto has rewarded the Reds with an equally impressive year at the plate. He is hitting .342 with a league-leading .465 on-base percentage that would be the highest in the game since the .470 mark Chipper Jones put up in 2008. Votto has a .604 slugging percentage and a 1.049 OPS that is tops in the game, and he's on track to lead the NL in OPS for the second time in three years.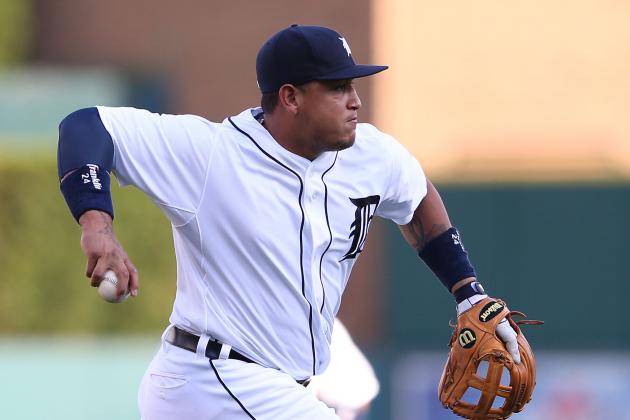 Leon Halip/Getty Images

Miguel Cabrera has a .317 career batting average, .557 slugging percentage and .951 OPS, plus 306 home runs and over 1,000 runs batted in, and he's still just 29 years old.
Cabrera is having another spectacular season, as he's hitting .322 with 29 home runs and a league-best 96 RBIs. His .579 slugging percentage ranks fourth in the AL, his .963 OPS ranks third and he is tops with 261 total bases, which makes him a pretty good bet to finish second behind Mike Trout for the AL MVP award. That would give Cabrera 10 consecutive seasons of earning MVP votes, six top-five finishes and two runner-ups.
He still has yet to win an MVP award—although that will assuredly come, given how good he's played—but in a time in which there is no clear-cut player, Cabrera gets the nod for the best player in baseball.