Breaking Down the Keys to Rangers-A's-Angels Race in the AL West
The Angels have hit the skids in August and have fallen to third place in the AL West.
Layne Murdoch/Getty Images
In the American League, it's obvious where the best division race is located. It's out west.
The AL West race has something for everyone. It has the two-time defending AL champs in the Texas Rangers leading the way. Behind them is a team in the Oakland A's that probably has Hollywood scrambling to produce a sequel to Moneyball. Just behind them is a team in the Los Angeles Angels that is making a play at becoming the West Coast's answer to the New York Yankees.
For the time being, the Rangers have a comfortable lead in the division, as they sit 5.5 games ahead of the A's entering the weekend. Oakland sits just 1.5 games ahead of the Angels for second place, however, and that could change any day seeing as how the two clubs have been stuck in a seesaw battle for several weeks at this point.
In all likelihood, things won't be settled in the AL West until the final week of the season, maybe even the final day. In the end, the division could produce three of the AL's five playoff teams.
It all depends on how many things go right for each club down the stretch. To illustrate the point, here's a look at three keys for each of the three clubs in question.
Note: All stats come from Baseball-Reference.com unless otherwise noted.
Rangers Key No. 3: Ryan Dempster Must Adjust to Life in AL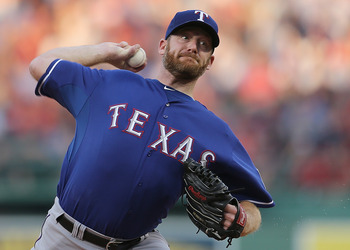 Jim Rogash/Getty Images
The Rangers desperately needed to upgrade their rotation at the trade deadline. There was some buzz about them trading for ace-level pitchers such as Zack Greinke, Josh Johnson and even Cliff Lee, but in the end they settled for Ryan Dempster.
Dempster had a 2.25 ERA in 16 starts for the Chicago Cubs this season, but he entered the 2012 season with a career ERA of 4.41 in 14 major league seasons, all of which were spent in the National League. For him, pitching in the American League was uncharted territory.
Dempster's foray into the AL didn't start well, as he was rocked for eight earned runs in his Rangers debut against the Angels. He had given up just seven earned runs combined in his last seven starts with the Cubs.
Dempster's second Rangers start against the Red Sox at Fenway Park went better, as he pitched 6.2 innings and allowed just three runs, none of which were earned. The only blemish was a three-run home run by Will Middlebrooks that chased Dempster from the game in the seventh inning.
But that start has to be taken for what it's worth. The Red Sox are as up and down as any team in baseball, and Dempster had already proven this season that he can beat them. He dominated the Red Sox at Wrigley Field in June as well.
The jury is still out on whether Dempster is a good fit for the AL. The Rangers will gladly take what they can get from him for the time being, but their hope when they acquired him was that he would establish himself as one of the top pitchers in the rotation. Perhaps even the best pitcher in their rotation.
That leads us to the next key for the Rangers.
Rangers Key No. 2: Who's the Ace of the Pitching Staff?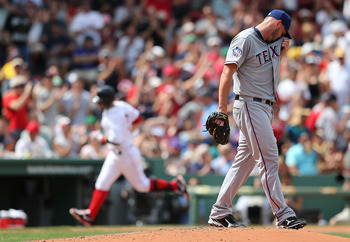 Jim Rogash/Getty Images
The reason the Rangers were linked to so many aces at the trade deadline is because they don't really have an ace. Their rotation is essentially a collection of No. 2- and No. 3-type starting pitchers.
It remains to be seen if Dempster is an ace, and his comrades in Texas' rotation have just as much to prove down the stretch as he does.
Matt Harrison (pictured) looked like the club's ace for a while there, but he's been knocked around in each of his last four starts.
Yu Darvish has ace-caliber stuff, but he's been inconsistent all season and has been a nightmare since the All-Star break.
Derek Holland can be really good on a given night, but he's surrendered 21 home runs in just 107.2 innings, including nine in his last four starts.
Scott Feldman has been pitching well lately, but he doesn't have a track record that suggests he's capable of sustained success.
It's looking like the Rangers are going to make it to October, but right now it's a toss-up as far as who their Game 1 starter would be. It's likely that Ron Washington will go with whoever has the hot hand.
Whether any of Texas' five starters are going to be able to get hot down the stretch is anybody's guess.
Rangers Key No. 1: If Josh Hamilton Gets Hot Again, It's Over
Jim Rogash/Getty Images
There's no question who the most important player on the Rangers is. It's Josh Hamilton by a mile.
Hamilton was as hot as can be out of the gate this season, hitting over .400 with 18 home runs in the Rangers' first 31 games. He looked like the best baseball player in the known universe (and perhaps some unknown universes as well).
He then proceeded to fall into a horrid slump that lasted through the end of July. The month of July itself was particularly brutal, as Hamilton hit just .177 with a .354 slugging percentage.
More recently, Hamilton has been showing signs of life. He's hitting .333 with a .545 slugging percentage and 11 RBI in Texas' last seven games. He homered, tripled and collected four RBI in the Rangers' 10-9 victory at Fenway Park on Wednesday.
For the first time in a long time, Hamilton looks comfortable at the plate and is having little trouble driving the ball.
Because we're talking about a small sample size, Rangers fans shouldn't get their hopes up too much. There were times when Hamilton showed signs of life during his slump only to start struggling again. A few good games doesn't mean his slump is over.
But...
If Hamilton's slump has indeed come and gone, the AL West race is all over. The Rangers are a dominant team when he's playing up to his capabilities, and that doesn't bode well for the A's and Angels seeing as how the Rangers are already comfortably ahead in the division.
Oakland A's Key No. 3: Can Colon and McCarthy Carry a Young Rotation?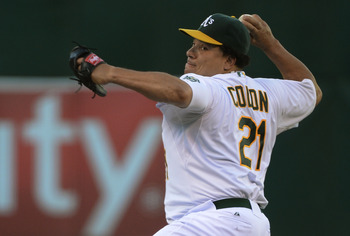 Thearon W. Henderson/Getty Images
Nine different pitchers have started games for the A's this season. Of those nine, six have been rookies.
The kids have done all right. A's starters have a 3.76 ERA this season, second in the American League behind the Tampa Bay Rays.
Life isn't perfect for Oakland's rookie hurlers at the moment, though. Tommy Milone has struggled in each of his last three starts. Jarrod Parker has an ERA near 6.00 in his last six starts. Dan Straily has only made two starts, the latter of which saw him give up four home runs.
The warning signs are there that the A's may not be able to rely on their rookie starters to give them quality outings on a regular basis. This means there's more pressure now than ever before on veteran starters Bartolo Colon and Brandon McCarthy, who will start for the first time since June 19 on Friday after being activated off the DL.
Colon, 39, is having a solid season with an ERA of 3.38 through 22 starts. He's also on something of a roll, as he's won his last three starts without allowing an earned run in 20.2 innings.
McCarthy had a 2.54 ERA in 12 starts before he got hurt and has generally been one of the better pitchers in baseball since the start of the 2011 season. His 3.03 FIP since the start of the 2011 season ranks eighth among pitchers with at least 200 innings pitched, according to FanGraphs.
The thing is that neither Colon nor McCarthy is especially durable. If one or both of them go down, it will be up to the kids to get the A's to October, and that's hardly ideal.
So there's a lot that can go wrong when it comes to Oakland's starting rotation. They've been a resilient team all season, but they'll hit a wall if their rotation crumbles in the next few weeks.
Oakland A's Key No. 2: Yoenis Cespedes Must Stay Healthy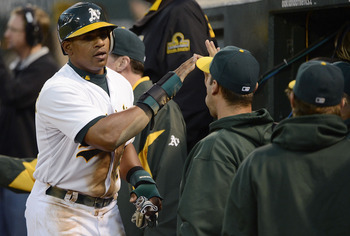 Thearon W. Henderson/Getty Images
The A's are a different team when Yoenis Cespedes is in the lineup. They're 48-30 when he plays and 12-21 when he doesn't.
Cespedes definitely has the numbers of a difference-maker. He's hitting .307/.367/.517 with 14 home runs and 56 RBI, and he's hitting .342 with 21 RBI since the start of July.
There's just one problem: Cespedes isn't very durable.
At the moment, Cespedes is dealing with a bad wrist. At other times this season, he's dealt with a hand injury that landed him on the DL for a few weeks and occasional hamstring woes.
Given his track record, the A's can't take it for granted that Cespedes is going to be 100 percent healthy at any point in the final weeks of the season. The best they can hope for is that he doesn't suffer any injuries that require time on the DL.
To that end, all they can do is cross their fingers.
It's not an exaggeration to say that the A's need Cespedes in their lineup if they want to make the playoffs. They don't have a strong lineup to begin with. Without him, theirs is one of the weakest lineups in the American League.
They basically need as much help as they can get, and Cespedes is a guy who helps out a lot when he's playing.
Oakland A's Key No. 1: How Much Magic Do They Have Left?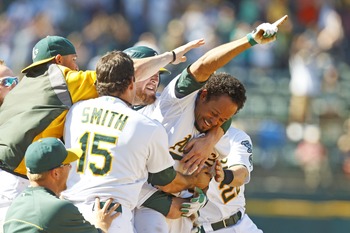 Jason O. Watson/Getty Images
On balance, the A's don't make a ton of sense. They have a lot of young, unproven players on their roster, and they also have some old veterans like Colon and Brandon Inge who would be lucky to catch on anywhere else.
On paper, the A's resemble a team that should be in last place in the AL West, not in second place and contending for a spot in the playoffs.
The funny thing is that the A's would be in last place in the AL West if you took away their 13 walk-off wins. They'd have only 47 victories, four fewer than the Seattle Mariners.
The 13 walk-offs the A's have enjoyed this season are the result of something that doesn't show up in the box score and is indeed impossible to quantify.
For lack of a better word, we'll call it magic.
The A's have worked a lot of magic this season, particularly in the month of July. But the question that simply must be asked is this:
How much magic can they possibly have left?
That's what we're going to find out.
Angels Key No. 3: Patch Up a Leaky Bullpen Before It's Too Late
Jonathan Daniel/Getty Images
The Angels have lost six of the eight games they've played this month, falling from three games behind the Rangers for first place to 1.5 games behind the A's for second place.
The primary culprit in all this? Their bullpen, of course.
Angels relievers have been awful so far in August, combining to post an 11.76 ERA with nine home runs allowed in just 20.2 innings.
Of the six games the Angels have lost this month, five have been lost by the bullpen. Jason Isringhausen (pictured) alone has lost two games.
Maybe we shouldn't be so surprised seeing as how the Angels' bullpen is undermanned at the moment. Fireballing righty Jordan Walden and lefty specialist Scott Downs are both on the disabled list of the moment, leaving Mike Scioscia with two fewer late-inning options at his disposal.
Per the team's official site, both Walden and Downs could return by the middle of August. Whenever they return, it will be not a moment too soon.
If Walden and Downs prove incapable of solving the Angels' bullpen woes, the club is going to be in deep, deep trouble.
Angels Key No. 2: Jered Weaver Can't Do It All on His Own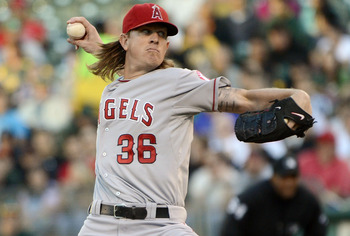 Thearon W. Henderson/Getty Images
Jered Weaver is awesome. He's won 15 of his 16 decisions this year, including nine in a row. He's leading the American League in both ERA at 2.13 and in WHIP at 0.92.
The Angels have nothing to worry about when Weaver is on the mound. He's a true No. 1 pitcher and a classic stopper.
The rest of their rotation, on the other hand...
Trade deadline acquisition Zack Greinke looked great in his first start with the Angels, but he's allowed 10 earned runs over 12 innings in his last two starts. C.J. Wilson has struggled since the All-Star break and hasn't even won a game since late June. Ervin Santana has been awful all season, and he's not getting any better with the passing of time.
The one other guy besides Weaver who's pitching well right now is Dan Haren, as he's given up just four earned runs in his last three starts. He's only been able to log six innings apiece in these last three starts, however, and the Angels have to be especially careful with him given his problems with his back this season.
So as worrisome as their bullpen may be, the Angels' starting rotation isn't a whole lot better at the moment. Outside of Weaver, there are plenty of question marks.
The Angels aren't making the playoffs unless these question marks go away.
Angels Key No. 1: How Much Longer Can Mike Trout Avoid Slumping?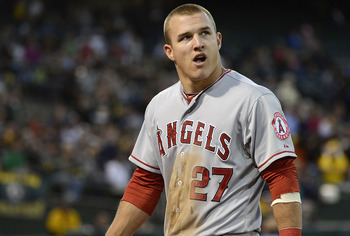 Thearon W. Henderson/Getty Images
Mike Trout is a force of nature. If he stays on his current pace, he will have had one of the greatest seasons in baseball history, never mind the greatest season ever by a rookie player.
What's amazing about Trout is that he's proven to be slump-proof this season. His OPS rose from .941 in May to .950 in June to an absurd 1.259 in July. Conventional wisdom suggests that he should have hit a wall by now, but he's instead gotten better and better with the passing of time.
But how much longer can this possibly last?
Maybe not much longer. Trout hasn't fallen into a slump yet, but he's only hitting .273 this month with 13 strikeouts in 33 at-bats. He struck out just 21 times in 97 at-bats in July.
Trout is the reason the Angels are where they are in the first place, as they'd probably be languishing right around the .500 mark right now if he was still toiling away in Triple-A. Ever since he got the call in April, the Angels have been a different team.
It's a hell of a story, yet there's no escaping the notion that it's all a little too good to be true. Surely Trout's brilliance has a shelf life.
If he proves that it doesn't, and that he really is this good, he'll lead the Angels into the postseason and then run away with the AL MVP award.
If his story is too good to be true, the Angels are doomed.
If you want to talk baseball, hit me up on Twitter.
Keep Reading