Washington Redskins vs. the Buffalo Bills: The Armchair Coach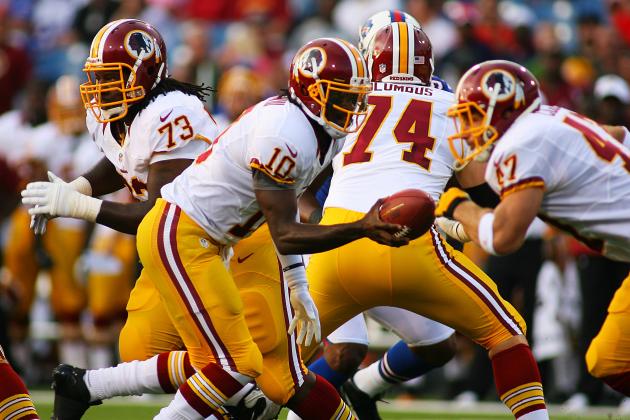 Rick Stewart/Getty Images
RG3 starts his pro career with a preseason win.
The Washington Redskins media have produced a heady slew of articles that are slinging around the Internet today concerned with the Redskins players who impressed, distressed and plain old stank it up last night (Yes, I'm talking about you, Rex).
In their 7-6 victory over the Buffalo Bills, the Redskins managed to get a good look at some very important pieces of their team. I've spent most of this morning reading articles about RG3, Trent Williams, Brandon Banks, Rex Grossman and a few surprises like Chris Baker.
Bleacher Report's very own Brad Gagnon may have the cleanest and most concise report on the players who stood out yesterday.
So since there are so many good reports already out there—and so I don't just make one big block quote of Brad's article—in my first report of the 2012 season, the Armchair Coach isn't going to grade his players, he's going to grade his coaching staff (and yes, I used to be a teacher, so no "homer" grades allowed).
Here are the grades that I give to the coaches of the Washington Redskins.
Begin Slideshow

»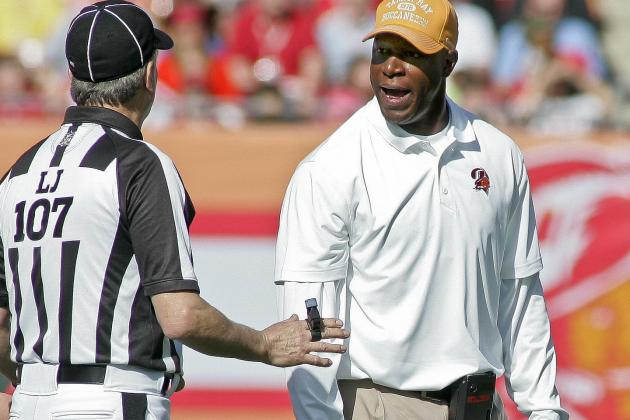 Phil Sears-US PRESSWIRE
Raheem makes some noise
Raheem Morris is a good coach, and the group has a ton of talent on it, but the secondary survived last night by getting away with three pass interferences (that I saw) and three dropped interceptions. Push-ups aside, yelling at your backs to catch the ball isn't coaching, it's cheerleading.
Raheem Morris can and must do more to get these guys ready for the season.
We knew going into the preseason that this group is a work in progress, and they showed some good signs that they are beginning to gel, but I was hoping to see them further along the path to the turnover machine we hope they become.
If I wanted dropped interceptions, I would have asked to keep Carlos Rogers.
Kevin Hoffman-US PRESSWIRE
Ryan Kerrigan is part of fierce front seven
I put these together for a simple reason: Though Jacob Burney coaches the line and Bob Slowik coaches the linebackers, in the 3-4 they tend to practice and play as a unit. The depth of all positions should make the Redskins faithful very pleased.
I am so confident of the starters that I didn't even bother watching this group until the backups and rookies started playing.
WOW.
Guys coming off of our practice squad looked like freight trains, technique was strong, positions were held, penetration was provided and tackles were made.
So why the "minus" tacked onto the A?
My favorite college QB of all time and my biggest professional letdown—Vince Young—torched them repeatedly by running the ball when the play broke down. In fact, I would have given the coaches a "B" for not having a basic understanding of how to contain a running QB when they train against one every day in practice, except this squad also sacked him, stuffed him twice and prevented him from scoring a touchdown.
Handout/Getty Images
The Buck stops here on Defense
The defense is going to have to be elite if the Redskins want to compete this season, and as such, my grading is tough.
The defense gave up three field goal attempts, dropped three easy interceptions and failed to adjust against Vince Young's legs. The buck stops with the head honcho, Jim Haslett.
I know it's the first preseason game, but most deficiencies the defense displayed last night were schematic. Either the player missed an assignment (coaching is about teaching those assignments, right?), or the defense failed to adjust to a new offensive look.
The good news is Jim Haslett has built ridiculous depth among the front seven. His scheme looks like it will be able to bring ungodly pressure on the QB, and unlike last year, there was an interception. There were three more chances that, if Morris does his job, will be turnovers in the regular season.
I will say this: After watching an eight-play goal line stand, I am extremely excited to see if Haslett will make the Washington Redskins a top-10 defense this season.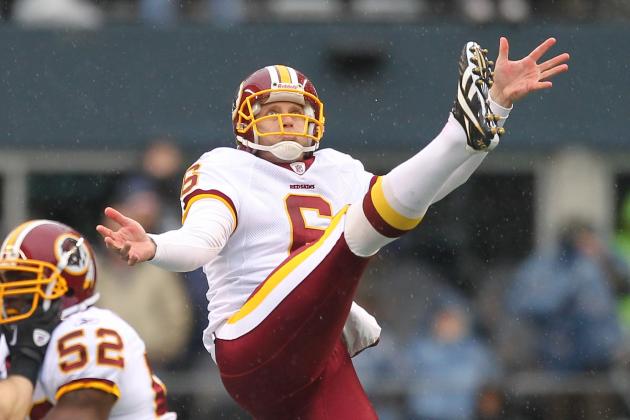 Otto Greule Jr/Getty Images
Still the best part of our special teams
Average. More of the same.
Limited opportunities to grade Danny Smith's schemes because we never kicked a field goal, kicked off only twice and repeatedly punted from the end zone during the "Train Rex" quarter of play.
What I saw that bothered me was this: Last year we had very poor blocking schemes on returns, and I saw no evidence that has changed. Lots of fair catches, lots of Buffalo Jerseys surrounding the returner before they even catch the ball, and no real running lanes opened.
Both kickoffs were good. Sav Rocca was a little short on his kicks, but he was accurate as always.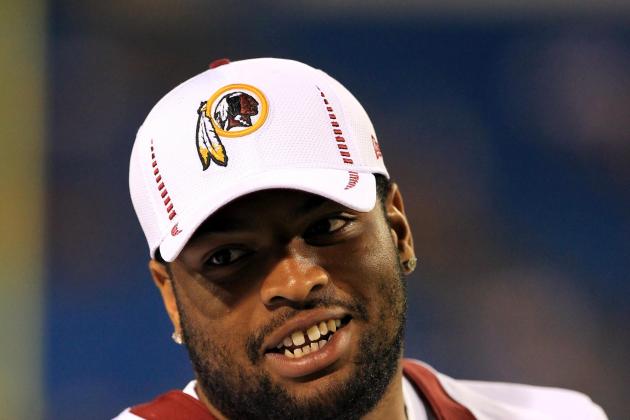 Kevin Hoffman-US PRESSWIRE
The Silverback
Who woulda thunk it? An A for the line coach Chris Foerster!
I know that Foerster may not be able to take full credit for Trent Williams suddenly becoming the Silverback for real (My goodness did you see him shoving two defenders into the end zone on their touchdown pass?), but he certainly can take credit for protecting RG3 for three series of plays.
Robert Griffin was never sacked, knocked down, hurried or even touched.
Did I mention that three of the linemen were not the starters? Impressive.
So again we ask, why the "minus" on the A? Because they struggled to open running lanes for our running backs. The line has two jobs. They protect the Quarterback (A+), and the open running lanes for the backs (B).
Aggregate grade for Foerster: A-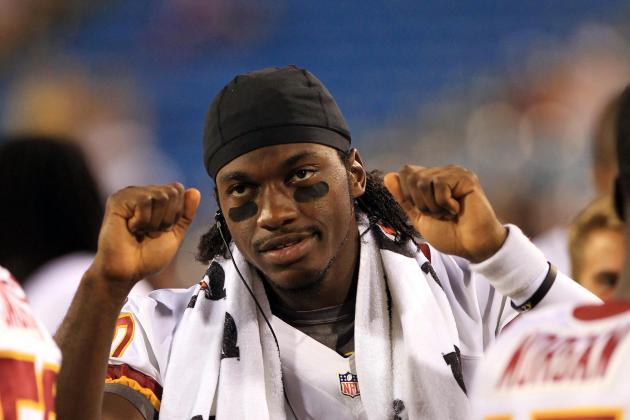 Kevin Hoffman-US PRESSWIRE
The future is now.
I admit putting Ike Hilliard (WR), Sean McVay (TE) and Matt LaFleur (QB) into one group is a little unfair, but I decided that for all our sakes, I would save you the two extra slides.
Matt LaFleur has an opportunity to become the talk of the town with RG3 as his starting protege, but what impressed me most was how he took our third-string rookie, Kirk Cousins, and turned him into a self possessed, calm and solid backup in such a short time. Kirk looked like the obvious back up to Griffin after Rex came out and, um, did what Rex does.
I can't blame LaFleur for Rex—he's a 10-year veteran QB. He's hit his ceiling. The end.
So LaFleur himself gets an A.
Sean McVay, on the other hand, is working with tremendous skill at the tight end and completely failing to impress me. When Logan Paulson makes the only noteworthy play by a tight end in a game, there are issues. That is especially true when you are watching two rookie QBs play. Rookies need their tight ends.
Niles Paul is supposed to be working on blocking, but instead drops the ball. Maybe too much focus on blocking in camp and not enough reps getting the ball his way?
Cooley seems to be a fullback now, but we all know he's got all the tools and talent still to be a high caliber tight end. I hope we see more of him at the position in the following weeks.
At the end of the day, to have this much talent and to be almost an afterthought to the game yesterday is a bad sign. I know it's just preseason, but this is the game I'm grading them on. A teacher grades the test handed out, not the test they might have next semester.
McVay gets a C-.
Ike Hilliard found himself in a tight spot yesterday. RG3 found his guy, Pierre Garcon, and hit him several times for several big plays, including the only touchdown of the night.
Then Rex found his little man, Brandon Banks, and proceeded to underthrow, overthrow and of course, throw to the defender on seven pass plays directed to the fan favorite.
Banks had to break up an interception, slow down after having a full stride on the defender, and once actually come back past the defender to attempt a catch. In Rex's defense, Banks slipped and fell twice on his cuts.
My point is this: Ike Hilliard had his hands tied as far as demonstrating how far along he's brought this squad, but overall, the group looked solid in their first outing.
Ike gets a B.
Aggregate grade: B-.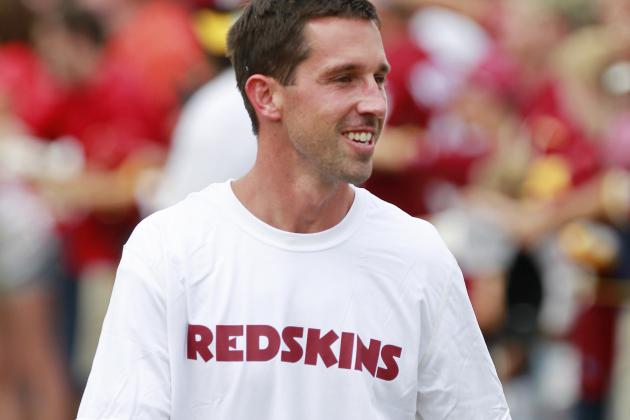 Geoff Burke-US PRESSWIRE
Shanahan the Younger
Shanahan the Younger played a smart, conservative game yesterday, avoiding both injuries and limiting mistakes.
It was a preseason game, so there were plenty of mental breakdowns, but as we all saw, compared to the Bills penalties, the Redskins were the epitome of disciplined.
Kyle Shanahan smartly kept RG3 in the pocket, allowed him to get comfortable and focused on building confidence and familiarity for his new field general. After the 80-yard drive ended in a touchdown, they pulled the starters and let the contest for roster spots begin in earnest.
Kyle loses an entire letter grade for keeping Rex in as long as he did. Rex belongs in a headset with a clipboard in his hands. I hope to never see him take the field again. Cousins showed plainly that he has the tools and ability to step in if needed.
Overall, the line held up, the backs disappointed, and the play calling was vanilla. Vanilla in preseason game one is good, but vanilla should have included the tight ends more.
The most interesting aspect of the offensive game was tied to the line, but not in the way we expected.
The zone blocking scheme, it appears, will take time to become effective with the youth and inexperience of the back up lineman. Protection for our QBs was excellent, despite our fears of a 10-sack repeat of last season, but our backs had a tough time finding holes to run through.
Kyle Shanahan has all the tools he needs to implement his offense fully for the first time ever here in D.C. Here's hoping it blossoms into a point scoring machine.
Final Grade for Kyle: B-.
Rick Stewart/Getty Images
The Big Kahuna
Mike Shanahan has been preaching patience and rebuilding for three years. This year, the expectations are to win more than we lose. Winning a preseason game means nothing, but it sure beats losing it.
As the overseer of the entire team, eventually it all comes back to Mike Shanahan. Does his vision work? Can it work? Will it work in the NFC East?
The Bills provided an excellent taste of what the NFC East defenses can be like. The Bills have a terrific front line, and they are a punishing attack. They exposed our weakness in familiarity of the zone blocking scheme, but they never touched our quarterback.
The second best thing about this game, from a head coach-grading standpoint, is that our team has the ability to run the "bread and butter" plays and schemes to great effect.
The very best aspect of this game, again from a head coach standpoint, is that it would appear that both quarterback picks in the last draft were excellent decisions, and supply the Redskins with the much needed "Not Rex Grossman" option behind center.
Never the less, a score of 7-6 was a bad kick away from 7-9. Our offense has to be a 28-points-a-week producer if we hope to win more than we lose this year. Preseason or not, this team should be putting more points up on the board.
Final grade: B+.