2012 Fantasy Football Stock Report: Who's Trending Up, Down This Preseason?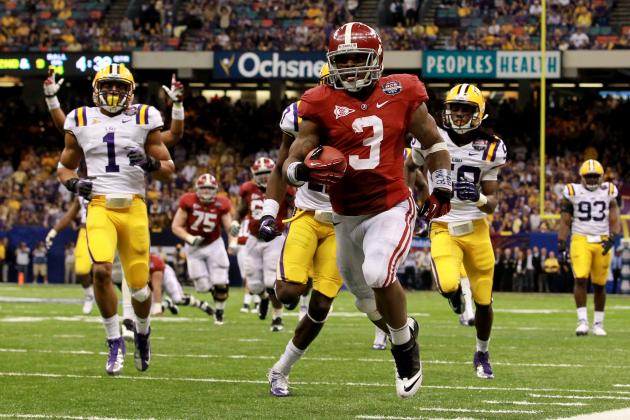 Ronald Martinez/Getty Images

At this time of year, the rankings of players in fantasy football can change quite a bit from day to day.
Just a few good plays in a preseason game and a player's stock can rise sharply. On the other hand, a little hamstring injury can have his stock falling like a rock.
So let's see whose stock has been moving up or down substantially this week.
Begin Slideshow

»
Ronald Martinez/Getty Images

The Cleveland Browns were counting heavily on their first draft pick, Trent Richardson, to be a key part of their offense. They were hopeful that the offseason surgery resolved the torn meniscus that he suffered in the BCS championship game last season.
One consensus ranking had him listed at the 21st overall position.
However, this week he needed to have surgery on his knee to remove a small particle. As a result of this, he is expected to miss all of the preseason.
The need for two operations in one year for a running back is scary, regardless of how minor they might be.
Richardson's stock has taken a big hit with the news this week. I'm thinking he might slip into the fourth round or lower in some drafts.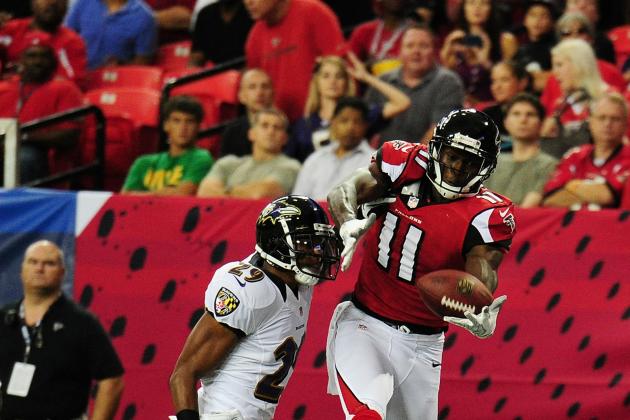 Scott Cunningham/Getty Images

Julio Jones made mincemeat of the Baltimore Ravens well-rated defense in just one quarter of play in the Falcons first preseason game.
Jones had six catches for 109 yards and one touchdown in his short time in action.
Expectations for Jones this year were already high, but this game kicked them up a few notches.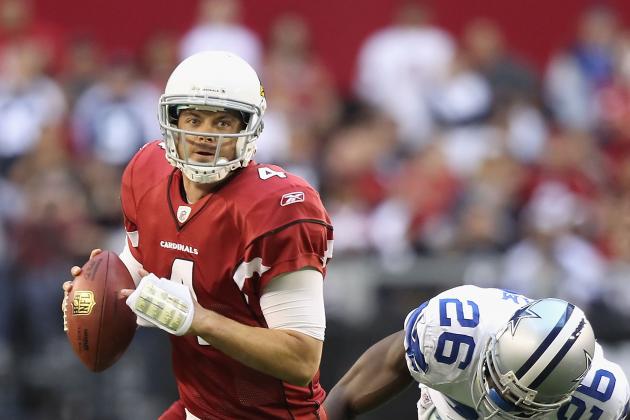 Christian Petersen/Getty Images

Kevin Kolb looked terrible in his short stint in the Hall of Fame game.
The best description might be that he looked like a deer caught in the headlights of a car. Then he left the game with a rib injury.
Now add to this Kolb's 81 quarterback rating and only nine touchdowns last year, and you can see why some might be thinking that John Skelton might be getting a shot to start for the Cardinals.
Last year Kolb might have been drafted as a backup quarterback. This year he probably will go undrafted in most leagues.
Streeter Lecka/Getty Images

If you never heard of Mike Goodson, that's because he didn't play very much for the Carolina Panthers during the past three seasons.
But recently it was reported that he was in line for the backup running back slot for the Oakland Raiders. And considering the injury history of Darren McFadden, that might position him for a nice amount of action this year. So his stock went up quite a few ticks.
However, he appeared to be seriously injured in training camp and was taken to the hospital. But fortunately he was released and the injury was reported to be minor.
It might take a little while longer until his status on the roster is finalized.
.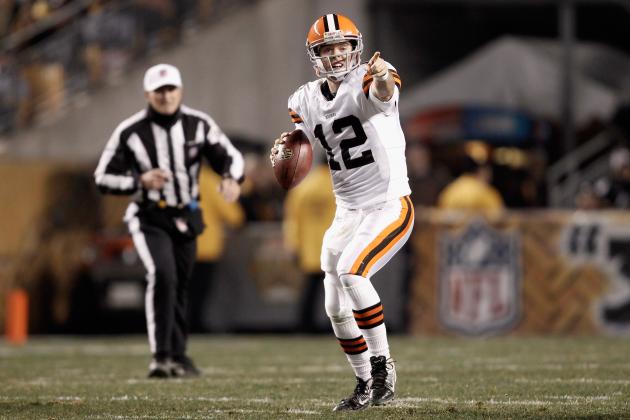 Jared Wickerham/Getty Images

For now, at least, the Cleveland Browns have given the starting quarterback job to Brandon Weeden. With two years of quarterback rankings under 75, Colt McCoy's time might have passed.
Last year McCoy might have been passable as fantasy backup. This year, he likely will go undrafted in most leagues.
Rich Schultz/Getty Images

Who? Unless you are a fan of the Pac-12 conference or watched the Eagles first preseason game, you probably never heard of Nick Foles. But now you have. Foles was the top QB in the Pac 12 last year, throwing for 3191 yards and 20 touchdowns.
The Eagles took him in the third round of this year's draft. He is 6' 6" and weighs 240 pounds. In his first NFL preseason game, he showed off his arm by completing two long passes for touchdowns. On the second one he was running away from the line of scrimmage and threw off his back foot. He threw a perfect spiral and hit his receiver in stride.
Given the fragility of Michael Vick, you should pay attention to Noles in your draft. In a keeper league, you should definitely snatch him up if he is available in one of the last few rounds. You are hearing it here first from Professor Bush. Noles is the Eagles quarterback of the future. It is just a matter of time.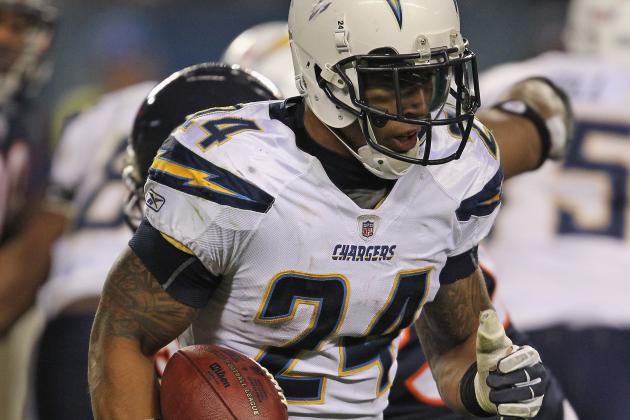 Jonathan Daniel/Getty Images

A lightning bolt struck the San Diego Chargers in their first preseason game.
On his first carry, Ryan Matthews suffered a broken clavicle and is expected to be out for at least six weeks. He had become a trendy first-round pick in some circles, but this injury will certainly knock him down a few notches.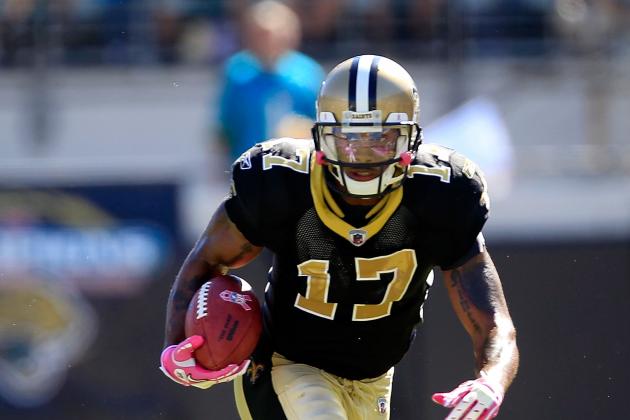 Sam Greenwood/Getty Images

Robert Meachem sometimes got lost in the shuffle of all the weapons that the New Orleans Saints have.
But now he has moved on to the San Diego Chargers, who can also be a high-powered offense. Since Vincent Jackson left the Chargers, Meachem should be ready for a career year and quickly become Phillip Rivers' favorite target.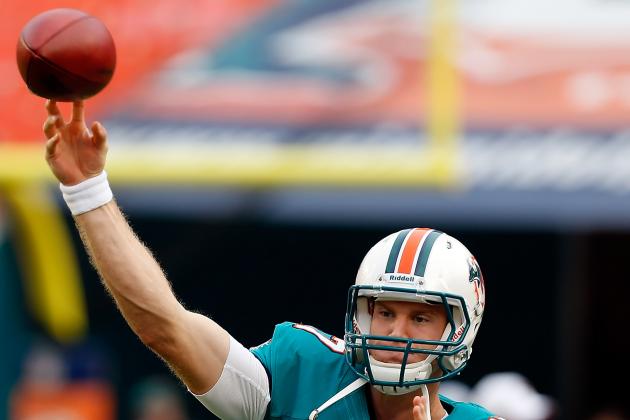 J. Meric/Getty Images

Ryan Tannehill has moved up on the quarterback depth chart for the Miami Dolphins.
David Garrard's surgery is expected to keep him out of action for two to four weeks. I believe this will accelerate the schedule for when Tannehill takes over as the Dolphins starting quarterback sometime this year.