Yu Darvish and More American League Players Who Need to Have a Big Week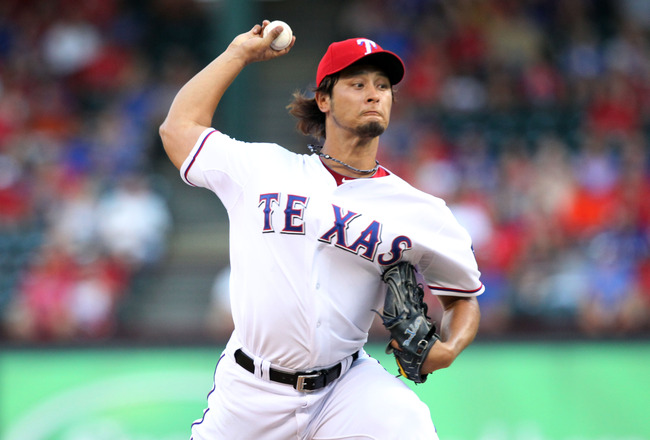 Layne Murdoch/Getty Images
Before Yu Darvish came along, Japanese starting pitchers had a track record of being inconsistent after making the transition over to the major leagues.
Thanks to Darvish, that tradition is alive and well.
Darvish has been, at times, quite brilliant during his first season with the Texas Rangers. At other times, he's been downright awful. And there seems to be no in-between. The Rangers are either going to get one version of Darvish or the other on a given night.
They've gotten the bad version of Darvish in his last two starts. Needless to say, he'll be looking to bounce back strong this week in the two starts he has lined up against Boston and Detroit.
He's not the only American League player who needs to have a big week. Here's a quick look at him and a few others who need to make the most of the next seven days.
Note: All stats come from Baseball-Reference.com unless otherwise noted.
Ryan Cook, RP, Oakland A's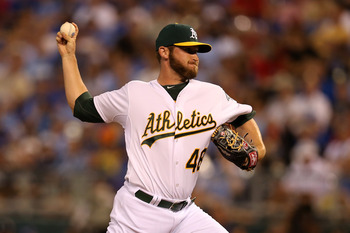 Jonathan Daniel/Getty Images
On July 18, Ryan Cook pitched a scoreless ninth inning against the Texas Rangers, ultimately picking up his third win of the season when Brandon Hicks hit a walk-off homer in the bottom of the inning.
That outing was significant because it was Cook's 40th of the season. Of those first 40 outings, 38 had been scoreless appearances. Cook had an ERA of 1.34, and he was holding hitters to an absurd .107 batting average. He had yet to give up a home run.
Since then, the wheels have fallen off.
In his last seven appearances, Cook has blown four saves and compiled an ERA of an even 9.00. Opponents have hit him at a .333 clip, and his home run total has jumped from zero to four.
Oakland's rookie closer has hit a wall. One supposes it was bound to happen sooner or later.
The question Bob Melvin is facing now is how much longer he wants to roll with Cook as his closer. It doesn't bode well for Cook that Melvin suggested to the San Francisco Chronicle this weekend that Cook may need a "break" from closing duties.
The A's have a tough stretch of games lined up this week, as they'll host the Los Angeles Angels for three games in Oakland before heading to Chicago to take on the White Sox in a three-game series. Cook is going to be needed at some point this week, and the pressure will be on him to put his struggles firmly in the rear-view mirror.
If he doesn't, he'll presumably be demoted to setup duty while Grant Balfour reclaims the closer's role.
Yu Darvish, SP, Texas Rangers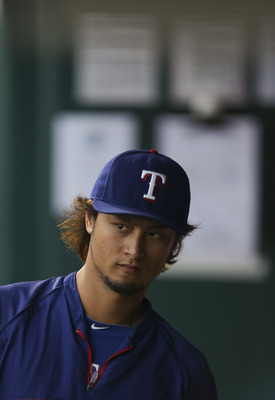 Ed Zurga/Getty Images
Yu Darvish went into the All-Star break with a 10-5 record and a solid 3.59 ERA in 16 starts. According to all the fans who participated in the All-Star Game Final Vote, those were All-Star numbers.
Darvish's numbers since the break, on the other hand, fall well short of being All-Star-caliber. Even his most vocal supporters should be able to admit that.
In four starts since the break, Darvish is 1-2 with an ERA of 7.66. He's given up at least five earned runs in three of the four starts he's made and is coming off a start in which he walked six and gave up seven earned runs in just five innings.
Walks have been a problem for Darvish all season, but the problem has gotten particularly bad in the second half. In just 24.2 innings of work, he's walked 17 batters. That's a BB/9 of 6.3.
Darvish needs to get back on the right track. And soon.
He'll have two chances to get back on the right track this week.
The first will come on Monday night at Fenway Park against the Red Sox, one of the top run-scoring teams in MLB. Darvish will probably get plenty of run support to work with seeing as how the Rangers will be facing Aaron Cook, but they'll be forced to grind out a tough win yet again if Darvish doesn't settle down and pitch well.
Things won't get any easier for Darvish later in the week, as he's slated to face the Detroit Tigers at Rangers Ballpark in Arlington on Sunday. The Tigers have been playing good baseball recently, and that's thanks partially to the fact that Miguel Cabrera and Prince Fielder are as hot as can be.
The Rangers are counting on Darvish to give them quality innings because, shoot, somebody in their starting rotation has to.
Josh Hamilton, OF, Texas Rangers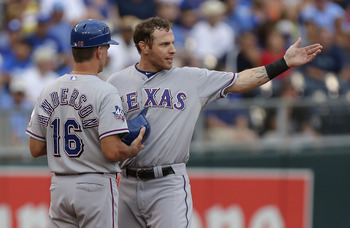 Ed Zurga/Getty Images
In April, Josh Hamilton posted an OPS of 1.182. In May, he posted an OPS of 1.186. Consistency doesn't get much more consistent than that.
Ever since, though...
Hamilton went on to struggle in June, posting an OPS of .754. He struggled even more in July, posting an OPS of .607.
If you're picking up on the trend, you won't be surprised to hear this: So far in August, Hamilton's OPS is .480.
Hamilton's struggles were already bad. But amazingly, they keep getting worse.
The good news? Hamilton has a modest four-game hitting streak going and at least has had six RBI in just five games of the month of August so far. He's still striking out too much, but his at-bats do seem to be getting better.
The Rangers are going to need as many good at-bats out of Hamilton as they can get this week as they prepare to take on the Red Sox in Boston and the Tigers in Arlington.
The bright side for them is that Hamilton destroyed the Red Sox the last time the Rangers visited Fenway, and he has four homers and eight RBI against Detroit this season.
The Rangers don't need Hamilton to get hot again in order to make the playoffs. They've managed to maintain their lead in the AL West all this time even despite him being cold at the plate. They can keep that up for a few more weeks if need be.
But the clock is ticking for Hamilton to develop some momentum for what the Rangers hope will be a deep postseason run. The sooner he gets going, the better.
Ivan Nova, SP, New York Yankees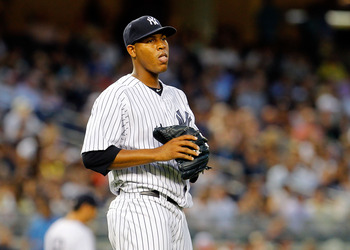 Jim McIsaac/Getty Images
Don't look now, but the Yankees have hit the skids a little bit. They managed to take two out of three from the Seattle Mariners this weekend, but they've lost 10 of 16 dating back to July 19.
One guy who hasn't helped their cause is Ivan Nova, whose last four starts have left a lot to be desired. He's struggled in all four of them, albeit in different ways.
On July 15 against the Los Angeles Angels, Nova gave up three home runs and six earned runs in six innings. He only gave up two earned runs in 6.2 innings on July 20 against the Oakland A's, but he surrendered nine hits. He walked six in five innings in his next start against the Seattle Mariners.
Nova finally hit rock bottom his last time out against the Baltimore Orioles, giving up nine earned runs on 10 hits and a walk in five innings. He picked up his fifth loss and watched his ERA balloon from 4.08 to 4.53.
Nova clearly has some things to figure out heading into the home stretch of the season. Since they don't have any better options, all the Yankees can do is keep running him out there and hope for the best.
They'll definitely be hoping for the best on Monday. The Yankees are set to host the Tigers in the first game of a four-game series in the Bronx, and Nova will be opposed by reigning AL Cy Young and MVP winner Justin Verlander.
Nova will then face the Toronto Blue Jays for the first time all season on Saturday. They've been struggling lately, but they still rank second in the majors behind the Yankees in home runs.
That doesn't bode well for Nova. He does, after all, lead the American League with a .506 opponents' slugging percentage.
Mark Trumbo, OF, Los Angeles Angels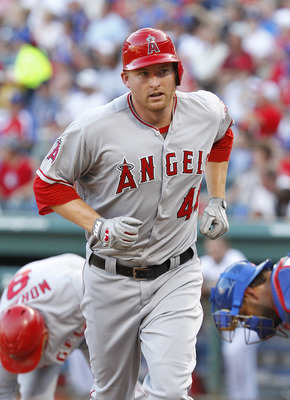 Rick Yeatts/Getty Images
The Angels have baseball's best player in Mike Trout and one of baseball's hottest hitters in Albert Pujols. What more could they possibly ask for?
Not much, but it would be nice if Mark Trumbo snapped out of his recent funk at the plate.
Trumbo is having a rough month of August thus far, as he has just three hits in 20 at-bats with nine strikeouts. His OPS for the month sits at .592.
A small sample size, to be sure, but it's concerning nonetheless because Trumbo didn't end July on a strong note. In fact, he's hitting just .208/.300/.264 with one homer and six RBI over his last 14 games.
The Angels themselves have been struggling lately, as they've lost four of five to open the month of August. They find themselves in third place in the AL West to start the week.
That could change over the next couple days, as the Angels are starting the week with a three-game set against the Oakland A's at O.co Coliseum. The A's tend to play very well at home, in large part because they pitch so well when they play at home.
Trumbo knows this. He has just two hits in 14 at-bats in Oakland this season and is just a .140 hitter at the Coliseum in his career. It's a place that just doesn't agree with him.
There's no time like the present for Trumbo to finally tame Oakland's home digs. Ideally, he'll get hot again and help the Angels leapfrog the A's in the standings. Then he can use the momentum he established to help the Angels sweep the Mariners in Anaheim later this week—something they should be able to do.
If Trumbo can bring himself to be as hot as Trout and Pujols, the Angels are going to turn into a runaway train.
A Few More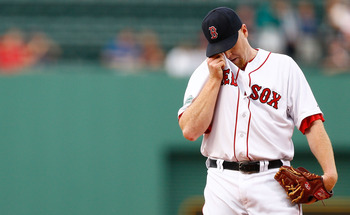 Aaron Cook
Jared Wickerham/Getty Images
Aaron Cook, SP, Boston Red Sox
Cook has hit the skids in his last three starts, giving up six home runs and 17 runs (15 earned) in just 15 innings. If he struggles against Texas on Monday night, it wouldn't be a shock if the Red Sox gave Cook's next start to Franklin Morales.
Ryan Dempster, SP, Texas Rangers
Dempster's first start in a Rangers uniform was a dud, as he gave up eight earned runs in just 4.2 innings. He'll be looking to redeem himself against the Red Sox at Fenway Park on Tuesday night.
Adam Dunn, 1B/DH, Chicago White Sox
Dunn is hitting .192 with a .298 on-base percentage since the start of July. Thus far in August, he's hitting .071 with a .222 OBP. So it goes.
Paul Konerko, 1B, Chicago White Sox
Konerko has been slumping just as badly as Dunn recently, but he managed to collect three hits on Sunday. Not a bad springboard for him to use.
Jarrod Parker, SP, Oakland A's
Parker has struggled since the All-Star break, posting a 5.04 ERA in four starts. He'll open the week with a matchup against Jered Weaver and will then face the White Sox in Chicago.
Chris Sale, SP, Chicago White Sox
Sale is set to make his first start since July 27 on Monday night. All eyes will be on his radar-gun readings.
If you want to talk baseball, hit me up on Twitter.
Keep Reading