Fantasy Baseball: 5 Players About to Break Out of Big Slumps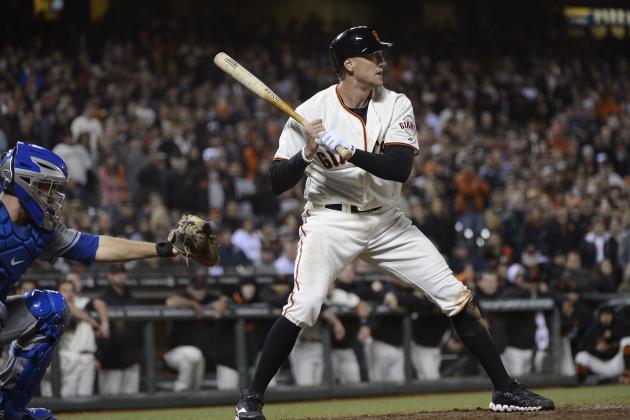 Thearon W. Henderson/Getty Images
Hunter Pence should get it going in San Fran.
There are a couple of players who couldn't hit water if they fell out of a boat right now.
That's the way baseball is. Every player is going to have their ups and downs in a 162-game season.
But, just because someone is slumping, it doesn't mean you should give up on him. In fact, a slump is often a good time to target a buy-low player.
Here's a handful of players who are stuck in slumps right now but should be able to recover and help you down the playoff stretch.
Begin Slideshow

»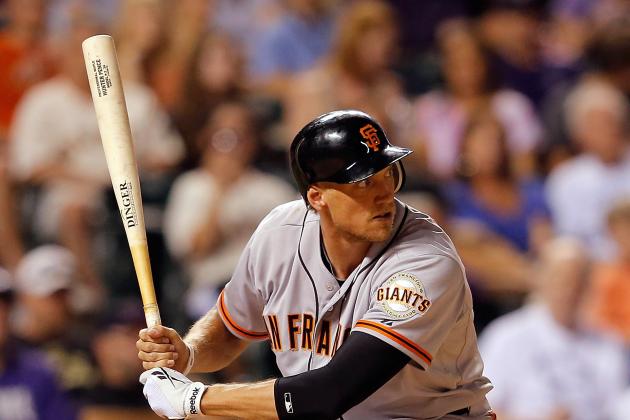 Doug Pensinger/Getty Images
Pence should get it going with San Fran.
Stats the last month: .198 BA, 1 HR, 14 RBI, 4 R, 1 SB
Hunter Pence has been mightily struggling over the last month. He's hitting under .200 and has seemed to lose his power stroke during the span.
But, a move out west can help Pence. In 22 career games at AT&T Park, Pence is hitting .305 with five homers.
Jumping to a team that's in the middle of a division race should rejuvenate Pence. Investing in Pence while he's struggling could pay dividends down the stretch.
Projected stats the rest of the season: .275 BA, 7 HR, 30 RBI, 4 SB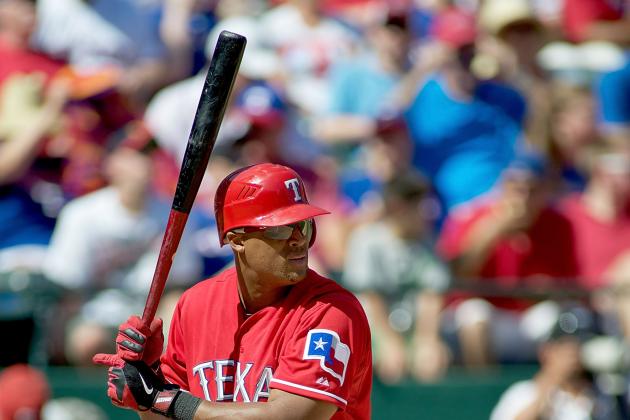 Cooper Neill/Getty Images
Beltre should regain his power stroke.
Stats the last month: .269 BA, 4 HR, 9 RBI, 13 R
Adrian Beltre isn't mired in a huge slump, but he's not putting up the power numbers that we've come to expect. With just four homers and nine RBI over the last month, Beltre is in a little funk.
His upcoming schedule should change that.
Beltre has 13 more home games this month. This is significant because he hit .326 with 23 home runs at Texas last season and is hitting .324 at home this year.
Secondly, his road series are at Boston, New York and Toronto. In his career, Beltre is a .291 hitter at Fenway, and Yankee Stadium and the Rogers Centre are both favorable to the long ball.
Projected stats the rest of the season: .300 BA, 8 HR, 30 RBI, 25 R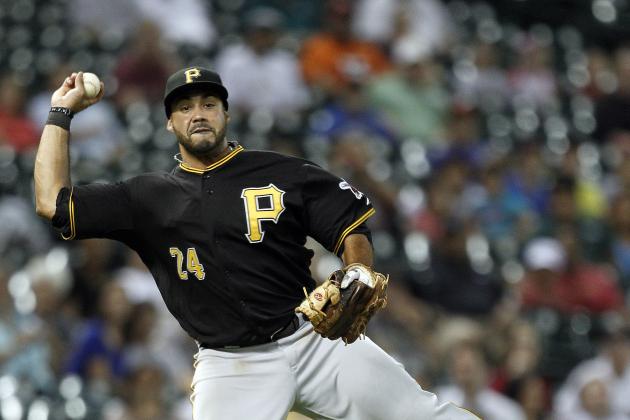 Bob Levey/Getty Images
Alvarez has had a power outage the last couple weeks.
Stats the last two weeks: .244 BA, 0 HR, 0 RBI, 1 R
Pedro Alvarez has finally showed his promise this season. He has a career-high 21 home runs, and he should continue to add to that number.
It hasn't been going too well for the young third baseman lately, though.
You can't expect the batting average to be much higher than the .240-to-.250 range, but he's not hitting any homers. In the last 14 days, Alvarez is without a home run and an RBI.
Alvarez is a very streaky player and has hit a rough patch right now. Expect him to turn it on soon, and when he does, he'll hit his homers in bunches.
Projected stats the rest of the season: .245 BA, 9 HR, 30 RBI, 20 R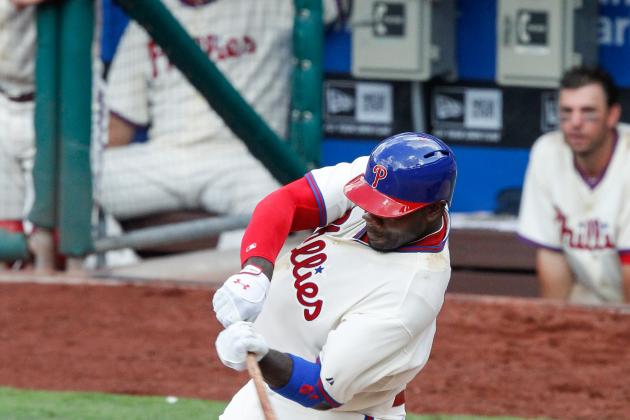 Brian Garfinkel/Getty Images
Howard should start getting more comfortable.
Stats the last month: .192 BA, 4 HR, 10 RBI, 6 R
Ryan Howard has struggled since returning from his Achilles injury. Since making his season debut on July 6, Howard is barely hitting over .200.
Howard is a notorious second-half player, though, so expect him to get more comfortable with each at-bat.
And while many don't think of Howard as a good contact hitter, the Phillies first baseman is a career .274 hitter—way higher than his clip right now.
Howard is actually getting pretty unlucky, too. His BABIP is at .300, where it usually is, but he's only hitting .208. He's going to get hotter as the season progresses.
Projected stats the rest of the season: .250 BA, 10 HR, 30 RBI, 20 R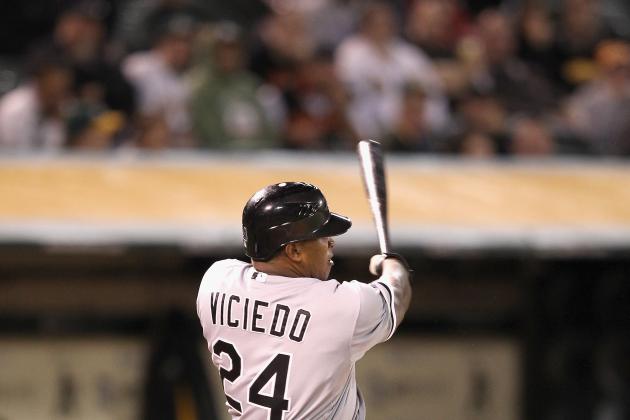 Ezra Shaw/Getty Images
Viciedo should get hot before the season ends.
Stats the last month: .238 BA, 2 HR, 13 RBI, 3 R
The power has been out for Dayan Viciedo for quite some time now. The White Sox slugger has only two home runs since July 13.
Viciedo should be able to right the ship before it's too late, though.
Viciedo will try to recapture the touch he had in May, when he hit .351 with eight homers. After struggling the last two months, Viciedo is due for a hot streak.
Projected stats the rest of the season: .270 BA, 7 HR, 25 RBI, 25 R