Fantasy Baseball: 5 Latest "Sell High" Fantasy Trade Options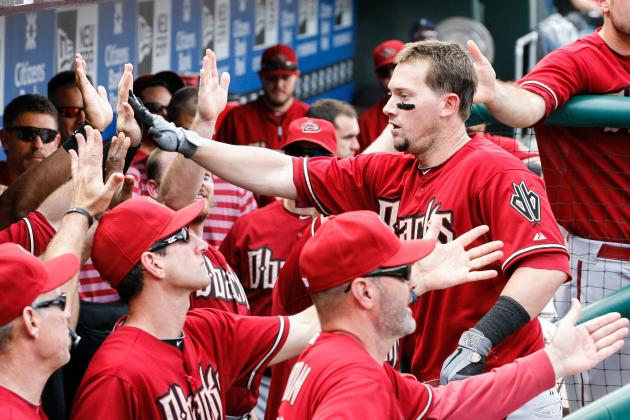 Brian Garfinkel/Getty Images

With four to five weeks left in the 2012 fantasy season, plenty of teams in your league will still be in the running for the playoffs. It is just a matter of whether you are leading your league, looking to improve your position, or you are currently on the outside looking in.
If you are in one of these three positions, you'll be looking for that one player to put you over the top. Chances are this guy will not be in the free-agent pool.
If you are lucky, you will have one of the following guys on your team to trade. Each one of these players is at the top of their game, but only for the time being. Let's face it, if these guys had been great all season you wouldn't be looking to trade them.
Begin Slideshow

»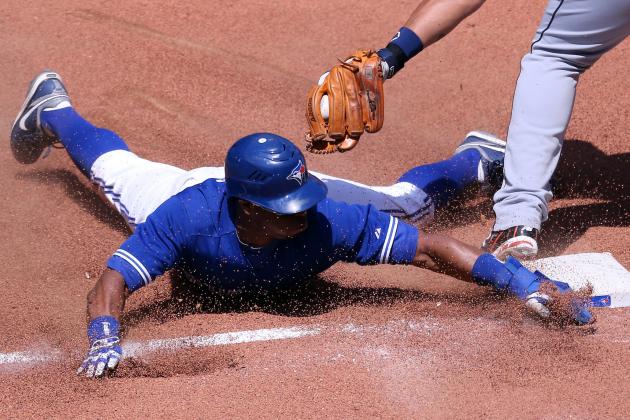 Tom Szczerbowski/Getty Images

With Emilio Bonifacio injury prone and Jason Kipnis in a slump, outfielder Rajai Davis has suddenly become a hot commodity.
Davis has been the speed to go with Toronto's power this year and is currently sitting at 30 steals this year. Unfortunately, Davis has only provided six home runs and driven in 27, driving away potential owners.
Davis has gained momentum, though, as over the last two weeks he is batting .318 with two home runs and nine runs batted in to go along with five steals. In the past month, he has scored 13 runs and stolen 10 bases.
Davis only trails Mike Trout in steals and would be a great addition to a team desperate for speed. With so few other speed options out there, Davis will not bring in more than what he can bring in now.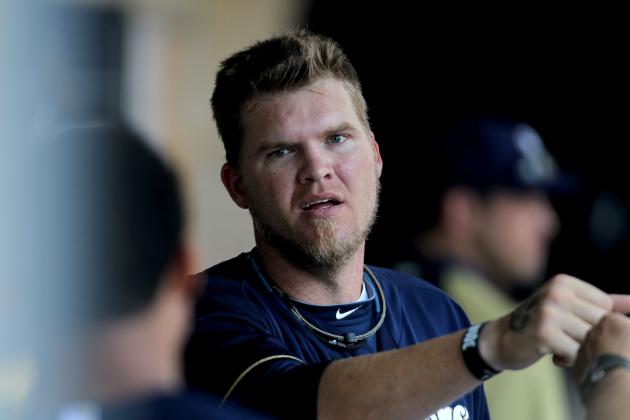 Mike McGinnis/Getty Images

The Brewers are struggling to win and the offense is a big reason why. The trade involving Prince Fielder was only supposed to send away a first baseman, not the entire offense.
Ryan Braun is not the MVP he was last year, Rickie Weeks is struggling mightily, and Corey Hart has not been the missing piece. When Fielder left, Hart was expected to step in and be the one-two punch for Milwaukee, but it has not happened.
Two years ago, Hart hit over 30 home runs and drove in over 100 runs. He is also is a guy who should be hitting around .285 to .290. He was nowhere near these numbers, until this past month.
In the last 30 days, Corey Hart has been the guy Brewers fans have been hoping for. He is hitting .333 with 14 runs scored, four home runs, and 17 RBI.
Are the Brewers winning games again? No. Is Hart an OF/1B that can bring significant value in return right now? Yes. Hart's good now, but a losing team does not drive consistency, so ride his tide now.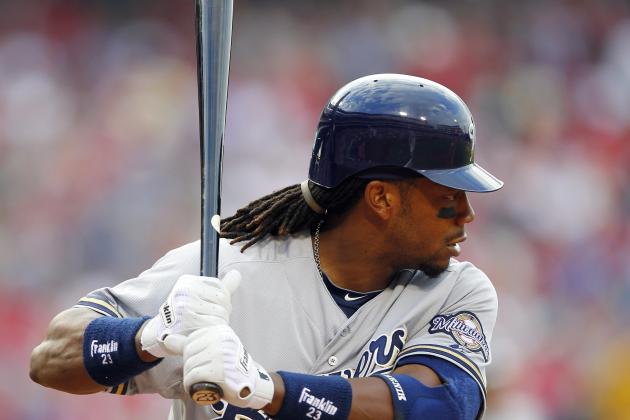 Rich Schultz/Getty Images

Rickie Weeks is a top candidate for biggest bust this year. Like numerous others in the Brewers lineup, Weeks is well below career numbers and he is nowhere near the player fantasy owners were expecting when they selected him as one of their top picks.
Weeks in the last two years has averaged a .269 batting average, 25 home runs, and two years ago scored 112 runs. This year, Weeks is sporting a .208 batting average, 12 home runs, 39 RBI, and 44 runs scored.
Chances are good that Weeks has been dropped, but for you owners that have been loyal and stuck with him, you are lucky. Recently, Weeks has shown signs of the All-Star second baseman he was supposed to be.
In the last month, Weeks is batting .259, has scored 12 runs, hammered six home runs, and driven in 15 runs. That means half of his home runs and 38 percent of his RBI have come within the last month.
This may be the only team he has any kind of value, so now is the time to part with him before he reverts to the player he has been for most of the season.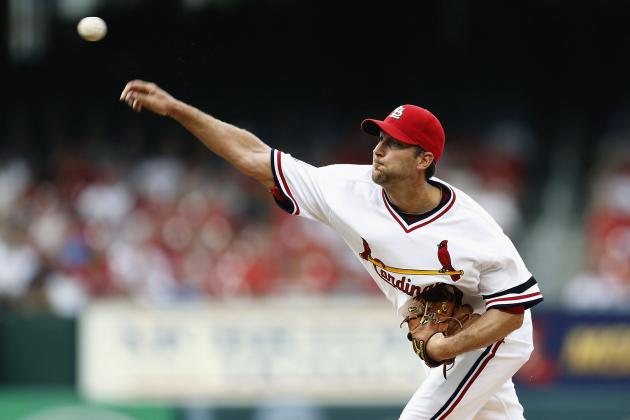 Paul Nordmann/Getty Images

As star pitchers like Cole Hamels and Justin Verlander have struggled lately, one guy whose value is skyrocketing is pitcher Adam Wainwright.
The Cardinals pitcher has struggled all year and a 9-10 record with a 4.03 ERA demonstrates the problems he has had. He just is not the pitcher he was before he became injured.
Luckily for you owners still hanging onto him, the perfect time to trade him has arrived. Teams will be looking for an extra guy to add to the rotation to provide an edge from the end of the rotation.
Wainwright has allowed no more than two earned runs in his last four starts and he is coming off a complete game victory in which he only allowed one run.
Over the last month, Wainwright has 32 strikeouts, a 2.52 ERA, and an amazing 0.87 WHIP. He is pitching like an ace right now, and knowing that he'll have starts against the Cubs, Brewers and Astros come playoff time will only raise the appeal Wainwright provides.
Remember, though, the 10 losses are a reminder that this may not be sustained success.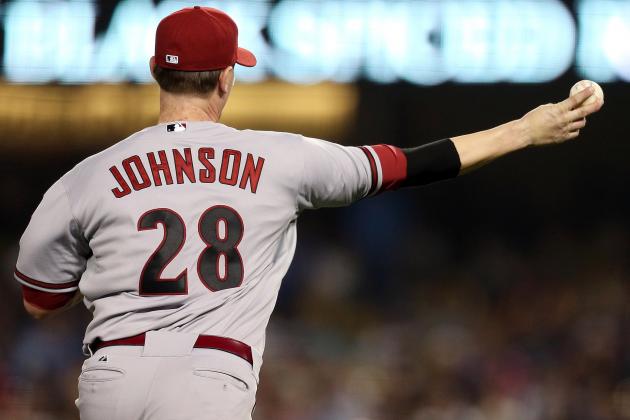 Josh Hedges/Getty Images

This last guy is a must sell, if you want someone else to have the hottest hitter in baseball.
Chris Johnson is "en fuego" right now and the Arizona Diamondbacks are the beneficiaries. They were looking for a third baseman to just be able to hold down the position, but they may have made the best trade of the year.
Why would anyone want this guy?
People will want him because he is part of a hot Arizona team averaging almost 4.5 runs per game and are in the heat of the NL West race.
People will want Johnson because he is part of a lineup that has guys 2-7 in the order who can hit and get on base allowing Johnson ample opportunity to drive them in.
People will want Johnson because in the last two weeks he has scored six times, hit four home runs, and driven in 13 runs. All of this the result of his .422 batting average.
He has gone from the minor league status of the Houston Astros lineup to the Big Boy league with the Arizona Diamondbacks lineup. Anyone looking for a 3B will need Johnson in order to succeed in the playoffs against the Adrian Beltre's and Mark Trumbo's.
It comes down to this, who wants him more the other guy or you?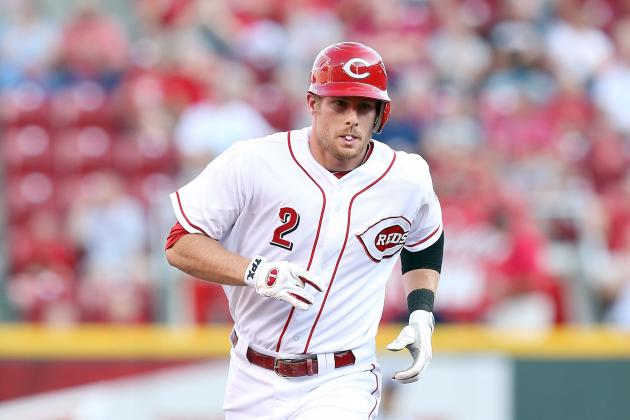 Andy Lyons/Getty Images

These players are others carrying high value as of right now with great numbers over the past month.
* Zack Cozart: SS .250 AVG 13 Runs scored 3 HR 7 RBI
* Aramis Ramirez: 3B .368 AVG 13 Runs scored 3 HR 17 RBI
* Brennan Boesch: OF .295 AVG 10 Runs scored 3 HR 15 RBI