MLB Opening Day 2013: Predicting Every NL West Team's Opening Day Lineup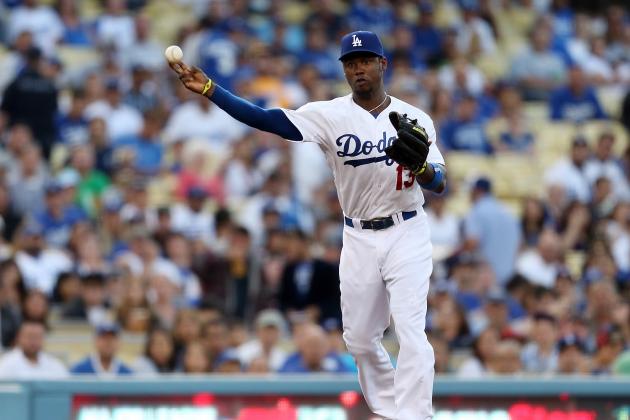 Josh Hedges/Getty Images

The Los Angeles Dodgers and San Francisco Giants were two of the most active teams leading up to Major League Baseball's July 31st non-waiver trade deadline. Meanwhile, their division rivals in San Diego, Colorado and Arizona gained attention for the moves they didn't make.
The Dodgers acquired four players—OF Shane Victorino from the Philadelphia Phillies, RHP Brandon League from the Seattle Mariners, and 3B/SS Hanley Ramirez and LHP Randy Choate from the Miami Marlins—in three separate trades.
The Giants added SS Marco Scutaro from the Colorado Rockies and OF Hunter Pence from the Phillies.
Los Angeles continued to be active after the trade deadline, putting in waiver claims for two of Philadelphia's starting pitchers—RHP Joe Blanton and LHP Cliff Lee.
The Dodgers were able to agree to trade terms to acquire Blanton, but the Phillies pulled Lee back off of waivers—meaning he will remain in Philadelphia through the end of the 2012 season.
Both San Francisco and Los Angeles made bold efforts to improve their odds of contending for a World Series championship in 2012, but many of the moves will impact their 2013 Opening Day rosters as well.
Instead of their usual fire sale, the Padres actually re-signed two of their veterans—left fielder Carlos Quentin and closer Huston Street—to contract extensions that will keep them in San Diego beyond this year.
The Diamondbacks acquired Chris Johnson from the Houston Astros to fill a void at third base, but Arizona made more noise by not trading star right fielder Justin Upton despite rumors suggesting he was available.
The Rockies decided to hold on to All-Star center fielder Carlos Gonzalez instead of moving him to spur a rebuilding effort.
Although there are still a few weeks left before the August 31st trade deadline for players who clear waivers and a full offseason of free-agent signings to be made, it's not too early to predict what the 2013 Opening Day lineups for each NL West team will look like.
Begin Slideshow

»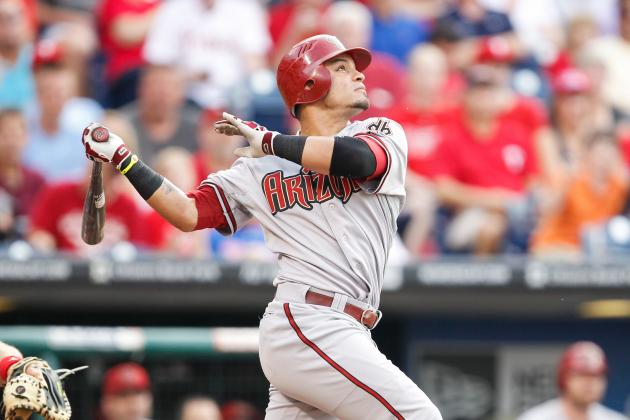 Brian Garfinkel/Getty Images

When the Arizona Diamondbacks signed free agent left fielder Jason Kubel prior to the start of this season, Gerardo Parra appeared to be the odd man out as an everyday member of the lineup. Despite winning a Gold Glove in 2011, that assumption has proven to be true so far this season.
Although right fielder Justin Upton was not traded prior to the July 31 MLB trade deadline, the fact that his name was prominently mentioned means he is likely to be moved this offseason, creating a spot in the starting lineup for the 25-year-old Parra.
Parra has above-average speed and has shown the ability to be a good base stealer (15 steals in 16 attempts in 2011). He's also gets on base often enough (.351 OBP over the past two seasons) to merit a shot at the leadoff spot in lieu of acquiring a better option in the offseason.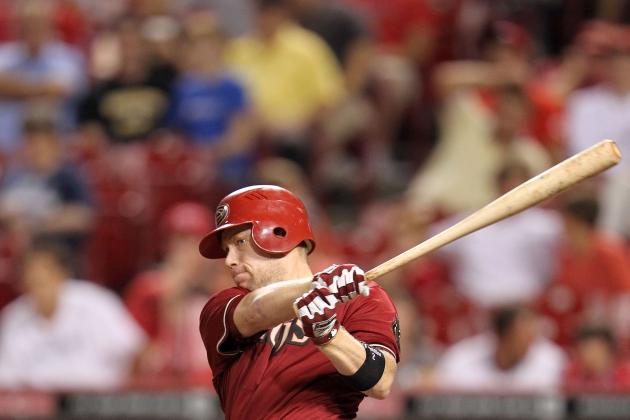 Andy Lyons/Getty Images

Aaron Hill's career came crashing down to earth after a career year in Toronto in 2009.
Hill belted 36 home runs that year, while driving in 108 and scoring 103 runs. But he battled injuries over the next two seasons and his performance dropped off considerably as a result (he hit only .205 with 68 RBI in 2010).
Once it became clear Hill would not rediscover his mojo in Toronto, he was traded to Arizona for fellow second baseman Kelly Johnson, who'd worn out his welcome with the Diamondbacks.
Hill hasn't regained the power he showed in Toronto, but he's hit .303 with 15 home runs in a combined 135 games since arriving in the desert last August. With the positive response to the change in scenery, expect to see Aaron Hill slotted in the No. 2 spot in the batting order come April of 2013.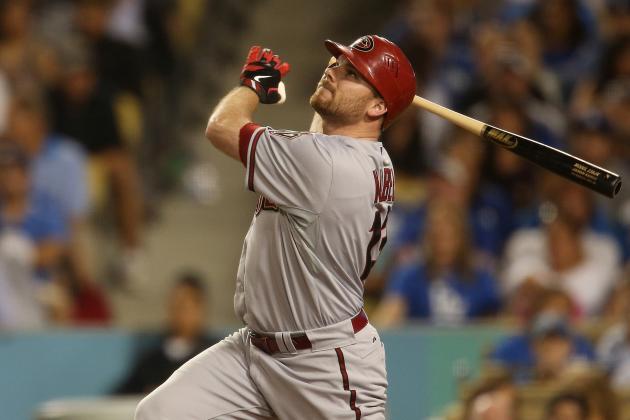 Josh Hedges/Getty Images

Jason Kubel's arrival in Arizona as a free agent was curious considering the Diamondbacks appeared to be set in the outfield with Chris Young, NL MVP candidate Justin Upton, and 2011 Gold Glove winner Gerardo Parra.
There were no doubts Kubel would improve Arizona's offense, but many wondered if that was really what the Diamondbacks needed since they scored the 4th most runs in the National League last season. So the question remained—would Kubel's bat offset a drop off in the outfield defense?
The answer has clearly been yes, as Kubel is currently tied for third in the NL with 23 home runs and tied for 4th in RBIs with 74. His presence was particularly important when center fielder Chris Young missed 42 games earlier in the season with a shoulder injury.
Kubel will enter 2013 in the final year of a two-year, $15 million contract he signed this past offseason. Given his performance this year, the Diamondbacks may look to extend that deal before the 2013 season gets underway.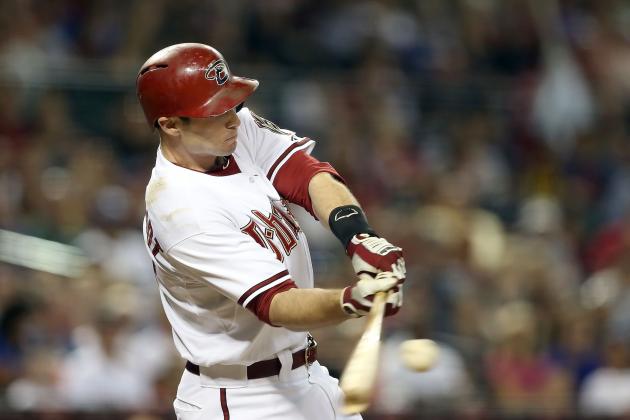 Christian Petersen/Getty Images

Arizona Diamondbacks' first baseman Paul Goldschmidt consistently hit for power and average at the minor league level over the past three years. After his high strikeout numbers were exacerbated during his major league debut last season, many became concerned about his plate discipline.
Goldschmidt has quickly put those concerns to rest during his first full season as the starter in Arizona and looks to be the team's cleanup hitter for the foreseeable future.
He still strikes out a ton, whiffing 88 times in just 333 at bats in 2012, but Goldschmidt also has 16 home runs to go along with a .300/.365/.519 slash line.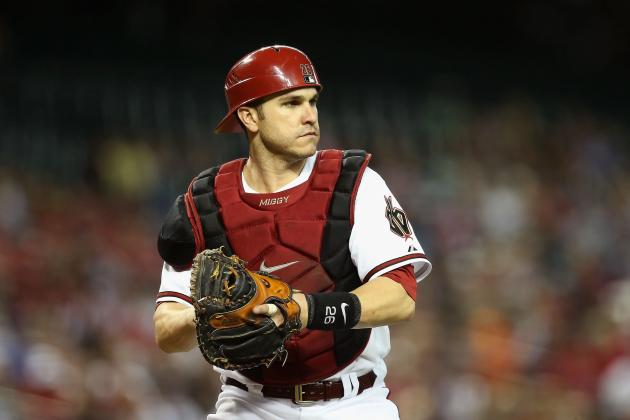 Christian Petersen/Getty Images

Arizona Diamondbacks catcher Miguel Montero continues to be one of the premier hitters at his position. He had an outstanding 2011, hitting .282 with 18 home runs, 86 RBI, a .351 OBP and a OWAR of 3.2 in 493 at bats during his first season as a full-time catcher.
Montero has improved on those numbers in 2012 and is currently on pace to hit 20 home runs and drive in 97, all while raising his OBP to .389.
Arizona just signed the 29-year-old backstop to a five-year, $60 million contract extension in May, so it's safe to say he will be a fixture in the Diamondbacks lineup for years to come.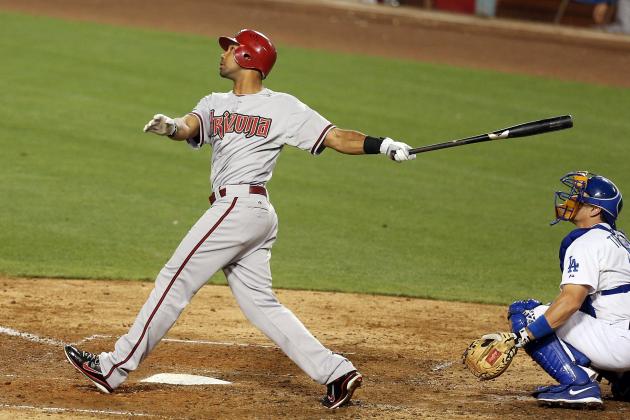 Josh Hedges/Getty Images

Chris Young got off to a hot start for the Arizona Diamondbacks this season before missing several weeks with a wrist injury. His high strikeout rate and low batting average are always a source of frustration, but Young is a perennial 20 home run, 20 stolen base threat—he's reached the mark three times in his five full major league seasons.
Young still has one more guaranteed year left on a five-year, $28 million contract that includes a team option for 2014. That means he should be highly motivated to have a big 2013 season in his proverbial "walk year."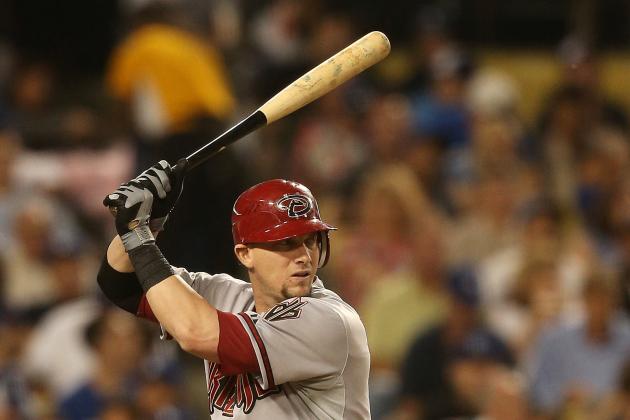 Josh Hedges/Getty Images

The Diamondbacks have had a huge hole at third base this year since incumbent starter Ryan Roberts struggled to duplicate a successful 2011 campaign. Roughly a week after trading Roberts to the Tampa Bay Rays, Arizona acquired Chris Johnson from the Houston Astros just before the July 31st MLB non-waiver trade deadline.
Johnson finally managed to grab hold of the starting third base job in Houston this season after sharing time at the position the last two years. He's taken over that same role with the Diamondbacks and has thrived in his first six games in Arizona, hitting .381 with three home runs and 10 RBI.
He doesn't project to hit for much power, but the 27-year-old Johnson can be a solid run producer. He'll become arbitration eligible this winter, but if he continues to thrive in the desert there's no reason to believe the Diamondbacks won't bring him back in 2013.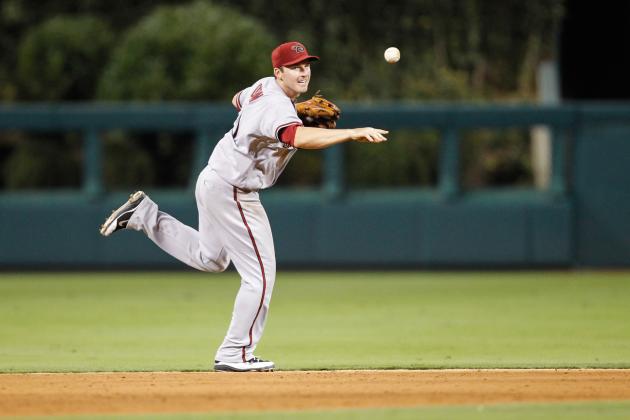 Brian Garfinkel/Getty Images

Current shortstop Stephen Drew has been limited to just 28 games this year for the Arizona Diamondbacks, because of an ankle injury that also cost him 76 games in 2011. On the surface, Drew's chances of returning to Arizona in 2013 seem slim—but the alternatives are even less attractive.
Other than Drew, the notable shortstops scheduled to become free agents are Jhonny Peralta of the Detroit Tigers, Erik Aybar of the Los Angeles Angels, Marco Scutaro of the San Francisco Giants and Jason Bartlett of the San Diego Padres.
According to ESPN.com's Brian Gramling, Peralta and Aybar are likely to return to their respective teams, and Scutaro and Bartlett are both older, less attractive alternatives to Drew.
Arizona's best minor league prospect at the position—2009 first-round pick Chris Owings—probably needs another year in the minor leagues before he's ready to become the Diamondbacks' shortstop of the future.
As unlikely as this scenario may have seemed at the start of 2012, Arizona might be better off bringing Drew back on a one-year deal at a lot less than the $7.75 million he's making in the second year of a two-year contract he signed before last season.
That might be the best scenario for Drew as well, giving him a full, healthy season to prove himself before hitting free agency again. Just 29 now, Drew could still earn himself one more lucrative, multi-year contract with a strong 2013.
If Arizona fans want a more optimistic view on their shortstop situation for next year, how about an offseason trade with the Chicago Cubs that would bring RHP Matt Garza and mercurial shortstop Starlin Castro back to the desert?
According to ESPN's Jim Bowden, Upton's name was not mentioned when the two clubs discussed a Garza deal in July (SB Nation). But that doesn't mean such a discussion could not occur this winter when more teams enter the Upton sweepstakes and the price goes up.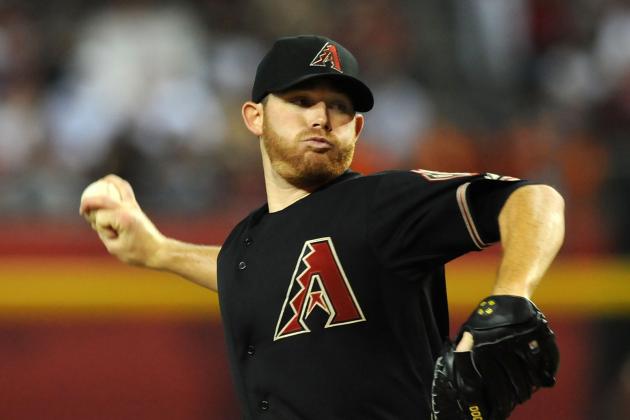 Norm Hall/Getty Images

Ian Kennedy hasn't been nearly as good for the Arizona Diamondbacks as he was during his breakout 2011 campaign, but he's still the ace of their staff.
Kennedy has seen his WHIP (from 1.09 to 1.29) and ERA (from 2.80 to 4.15) balloon this year, mostly because he's giving up more home runs and more overall hits per inning than in 2011 (Kennedy's walk rate has remained about the same).
With RHP Daniel Hudson missing most of 2012 after Tommy John surgery and rookie phenom Trevor Bauer failing to impress during his first stint in the majors, look for Hudson to be the opening day starter for the Diamondbacks in 2013.
Rob Carr/Getty Images

Colorado Rockies center fielder Dexter Fowler has finally delivered on the considerable potential he's flashed over the past two years. Still just 26 years old, he has turned into the dual home run/stolen base threat the Rockies have long thought he would be.
Fowler has already hit 12 home runs in just 324 at bats this year, doubling his previous career high of six for an entire season. He's also raised his on-base percentage to .380 and become a more efficient base stealer, getting caught only twice in 11 attempts so far.
Fowler will enter his first season of salary arbitration this winter, so the Scott Boras-client stands to get a considerable raise over his $2.35 million 2012 salary. As one of the few bright spots in an otherwise dismal season in Colorado, Fowler looks to be the leadoff man for the Rockies for years to come.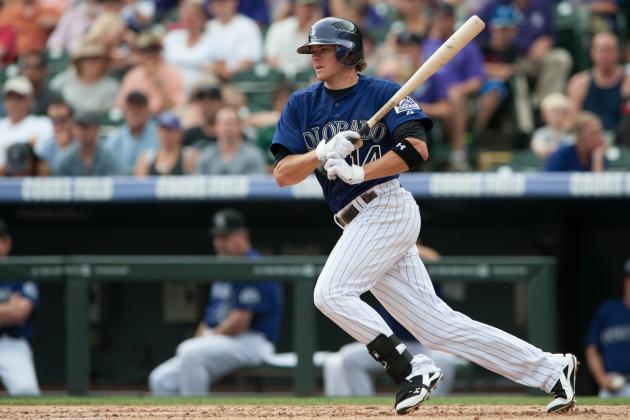 Dustin Bradford/Getty Images

Josh Rutledge has been filling in at shortstop for the Colorado Rockies while Troy Tulowitzki has been out with a groin injury for the past two months. He'll move back to second base—his natural position—once Tulowitzki returns later this year, and the recent trade of Marco Scutaro opens up playing time at that position.
Rutledge has hit well in his first 21 games in the major leagues, slamming six home runs to go along with a .329 average. Don't expect that type of production to continue since Rutledge never displayed as much power in the minor leagues. But with gap power and above average speed, Rutledge should start the 2013 season as the Rockies' starting second baseman and batting second in the lineup.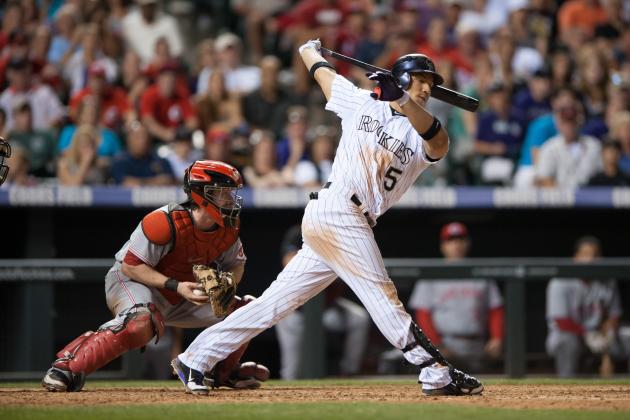 Dustin Bradford/Getty Images

Carlos Gonzalez has continued to hit like a Triple Crown contender for the Colorado Rockies, despite all the injuries, poor pitching, and lineup turnover that have lead to another lost season.
Gonzalez is currently fifth in the NL in batting average (.327), ninth in home runs (20) and tied for fourth in RBI (74). Add to that 14 stolen bases, and another 30 home run/20 stolen base season seems likely for the Rockies left fielder.
The Rockies gave "CarGo" a seven-year, $80 million contract extension before the start of the 2011 season, a bargain for a player of his talent (consider Los Angeles Dodgers center fielder Matt Kemp received an eight-year, $160 million extension this past offseason, and Kemp is one year older than Gonzalez).
Unless someone bowls the Rockies over with a package including multiple high-ceiling prospects this winter, expect to see Gonzalez back in the third spot of the Colorado lineup on opening day 2013.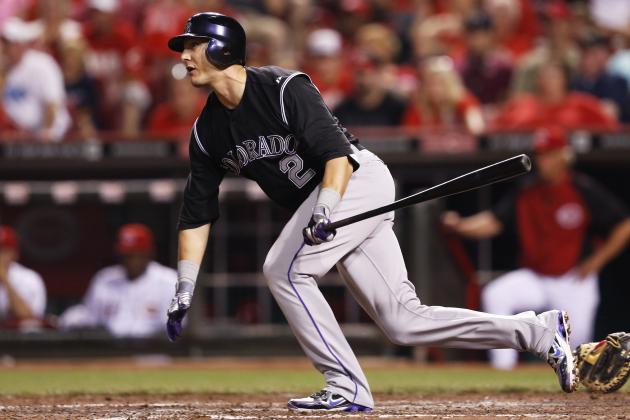 Joe Robbins/Getty Images

Colorado Rockies All-Star shortstop Troy Tulowitzki has had yet another season cut short by injury, this time a left groin injury that has limited him to just 47 games in 2012. There's no question that, when healthy, Tulowitzki is the top shortstop in the majors, but he's only played in 151 or more games twice in five full seasons in Colorado.
The Rockies are "stuck" with Tulowitzki through the 2021 season, and, while his home/road splits improved last season, it's hard to imagine him in another uniform anytime in the near future. Expect Tulowitzki to be back at shortstop and hitting cleanup for the Rockies in 2013.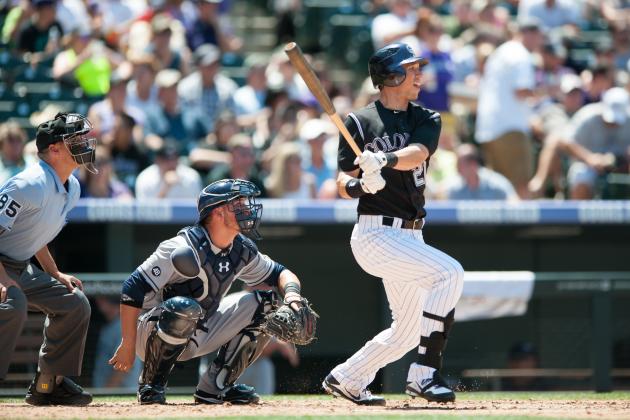 Dustin Bradford/Getty Images

Tyler Colvin has pretty much become the starting right fielder for the Colorado Rockies over the past few weeks. He struggled to gain regular at bats through the first three months of the 2012 season, but injuries and poor performances by other Colorado players gave him more opportunities. His hitting kept him in the lineup after that.
While right field has been his primary position, it's possible that he could move to first base permanently in 2013 since Todd Helton is in the last year of his contract and could choose to retire or sign with a contender this offseason.
Colvin has tailed off a bit since the All-Star break, but he's still just 26 years old and has room to grow as a hitter. The Rockies won't be spending a lot of money in free agency, so expect Colvin to hold down an everyday spot in the lineup from the start of the 2013 season.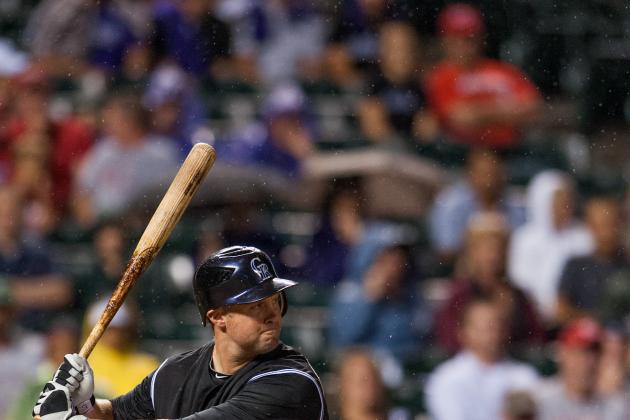 Dustin Bradford/Getty Images

Michael Cuddyer has provided much needed pop to the Colorado lineup during his first year with the Rockies. The 11-year veteran joined the club this season after spending his entire career with the Minnesota Twins.
His 15 home runs, 56 RBI and 52 runs scored are all second on the team behind All-Star left fielder Carlos Gonzalez, and his offense has been a welcome addition—especially with the void left by shortstop Troy Tulowitzki's absence due to injury.
Cuddyer is in the first year of a three-year deal he signed with Colorado last winter. He's been everything the team had hoped when they signed him, so expect to see him back in right field on Opening Day in 2013, batting sixth for the Rockies.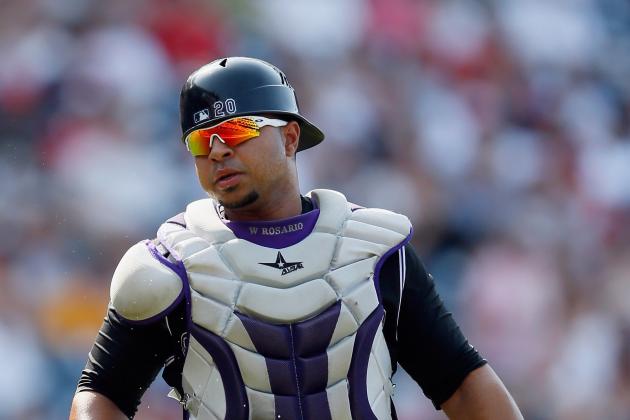 Rob Carr/Getty Images

Colorado Rockies rookie catcher Wilin Rosario has had a solid first year in the majors, delivering on the massive power (18 home runs) that he displayed in the minors. Unfortunately, he still hasn't improved his plate discipline, boasting a .239 average with 60 strikeouts in just 230 at bats this year.
At just 23 years old and with less than 300 career at bats at the major league level, the Rockies can afford to be patient with Rosario's development. As long he continues to provide exceptional power and show off a rocket arm behind the plate, he will be Colorado's catcher when the 2013 season gets underway.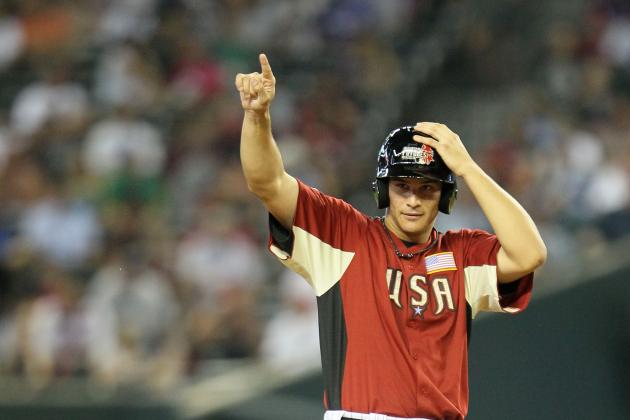 Jeff Gross/Getty Images

Nolan Arenado is the top prospect in the Colorado Rockies' minor league system and the top third base prospect in all of major league baseball.
He hasn't exactly crushed minor league pitching at Double-A Tulsa this year, hitting just .270 with nine home runs in 109 games. The Rockies are going nowhere fast in 2012, though, and aren't a good bet to show much improvement in 2013 either. With no other viable options on the roster, there's no reason not to let the 21-year-old figure it out at the major league level.
Arenado will most likely get called up in September, if not sooner, to get a jump on his major league development. The starting third base job will likely then be his to lose in spring training next year.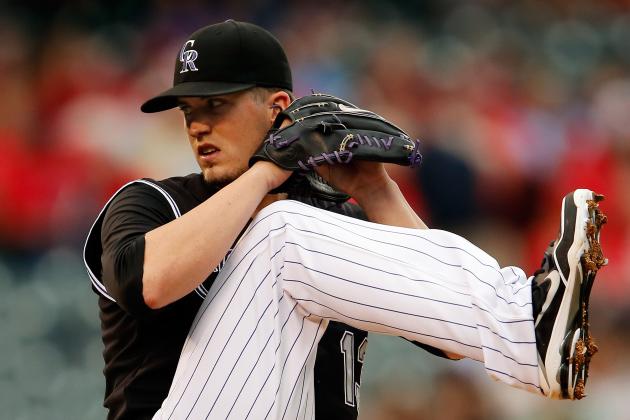 Doug Pensinger/Getty Images

Drew Pomeranz has had a rough go of it during his rookie year in Colorado. The 6'0'', 230-pound lefty has gotten lit up to the tune of a 5.13 ERA, 1.48 WHIP and 24 walks in just 52.2 innings pitched so far in 2012.
The Rockies have limited all of their starters to a 75-pitch count over the past month or so, and that doesn't seem to be helping Pomeranz's development. Yet Rockies manager Jim Tracy appears to be looking for any way to prevent his starters from getting rocked, as Colorado has given up a major league worst 621 runs this year.
As bad as it's been in Colorado, there doesn't seem to be many better options for the Rockies. None of the recent acquisitions they've made either via trade (Jonathan Sanchez) or free agency (Jeff Francis) have worked out for them. It appears Pomeranz will be the Opening Day starter by default in 2013.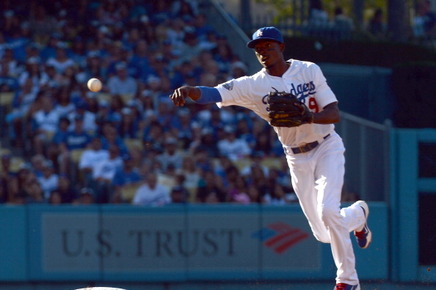 Harry How/Getty Images

Los Angeles Dodgers shortstop Dee Gordon has had a disappointing season to say the least. Yet despite the fact the Dodgers recently acquired former All-Star shortstop Hanley Ramirez from the Miami Marlins, Los Angeles still sees Gordon as part of their long-term future.
Gordon is expected to regain his starting job when he returns to the lineup later this month after recovering from surgery to repair torn ligaments in his thumb.
Gordon's .229 batting average and .280 OBP are well below expectations for a player that began the season as the Dodgers' leadoff hitter. However, the acquisition of Shane Victorino from the Philadelphia Phillies gives Los Angeles the luxury of moving Gordon further down in the lineup. His speed adds a needed dimension to an offense that needs to manufacture runs to win.
Although Ramirez prefers to play shortstop, the lack of better options and a poor free agent market for third basemen this winter could mean Gordon will remain the starting shortstop to begin 2013 and force Ramirez to shift back to the hot corner.
Gordon is still only 24 years old and a Los Angeles fan favorite, so expect him to get every chance to succeed heading into next season.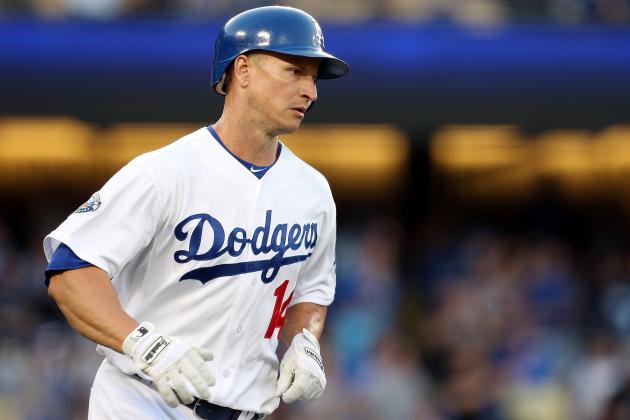 Josh Hedges/Getty Images

Los Angeles Dodgers second baseman Mark Ellis has been a pleasant surprise for the team in the first year of a two-year, $8.75 million contract he signed this past offseason. Although he missed almost half the year following an injury that nearly cost him his left leg, Ellis has provided solid defense and a steady bat for the Dodgers.
Ellis' .360 OBP from the second spot in the lineup has provided plenty of RBI opportunities for Matt Kemp and Andre Ethier, something that was sorely needed given the lack of production the Dodgers received from the leadoff spot in the lineup prior to the trade for Shane Victorino.
Given the relative youth on the Dodgers' roster and the lack of any second base prospects anywhere close to being ready for the majors, expect to see Ellis back next year providing some much-needed veteran leadership for this team.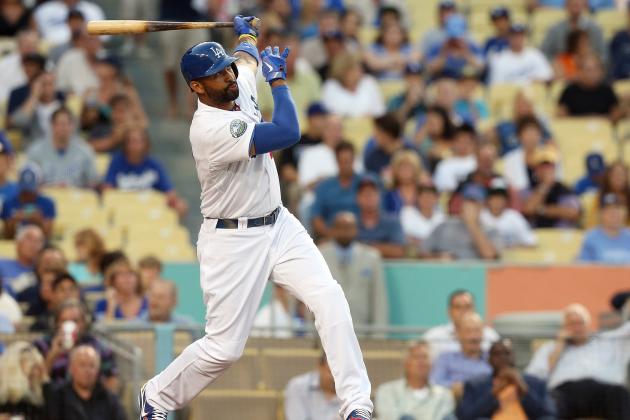 Josh Hedges/Getty Images

Los Angeles Dodgers All-Star center fielder Matt Kemp entered the 2012 season fresh off an NL MVP runner-up season and ready to prove he's the best player in Major League Baseball. After a historic April that had many talking Triple Crown, Kemp seemed well on his way to fulfilling that destiny.
Then a hamstring injury caused him to miss more than 50 games and left Dodger fans to wonder what could have been.
Kemp hasn't been quite as spectacular since returning to the Los Angeles lineup following the All-Star break, but he's still producing like one of the best players in the National League—and doing everything to justify the eight-year, $160 million contract extension he received last winter.
Expect to see the 27-year-old Kemp holding down the third spot in the Dodgers lineup for many years to come.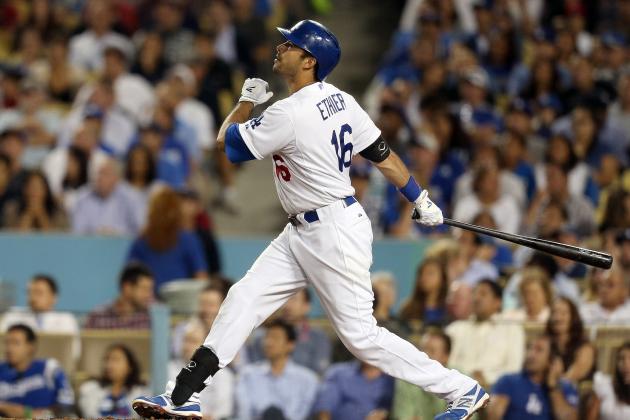 Josh Hedges/Getty Images

Gold Glove right fielder Andre Ethier came into the 2012 season unsure about his future in Los Angeles beyond this year. But a hot start—one that saw him leading the National League in RBI for most of the season's first half—convinced the new Dodgers ownership group to give him a five-year, $85 million contract extension.
Now Dodgers fans can rest assured that Ethier and Matt Kemp will be the offensive cornerstones of the franchise for the foreseeable future. Even with the acquisition of former All-Star Hanley Ramirez, expect the left-handed Ethier to remain in the cleanup spot next year to provide more balance in the lineup.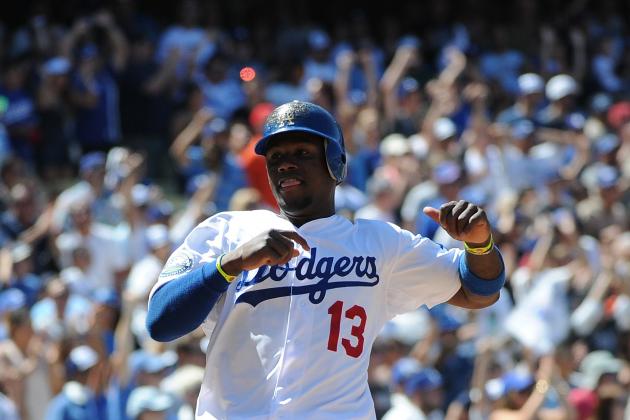 Lisa Blumenfeld/Getty Images

The Los Angeles Dodgers pulled off the most shocking trade of the 2012 season when they acquired former three-time All-Star Hanley Ramirez from the Miami Marlins prior to the July 31st non-waiver trade deadline. Ramirez has played nothing like an All-Star over the past two years, but the change of scenery may be exactly what the former batting champ needs to regain his form.
Although Dee Gordon has struggled to develop as expected for Los Angeles, it appears the Dodgers have not given up on the 23-year-old speed demon just yet. That means Ramirez will more than likely begin the 2013 season at third base, but he'll provide insurance for L.A. if they decide to give Gordon a short leash.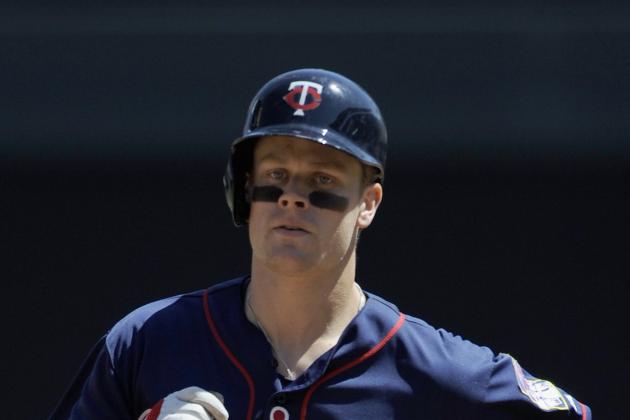 Hannah Foslien/Getty Images

Minnesota Twins first Baseman Justin Morneau has had a solid season after two years of struggling with a wrist injury and concussion symptoms. As the Los Angeles Dodgers gear up for a run at the NL West title as well as an extended postseason appearance, first base remains a major void for them.
The Twins have been the worst team in the American League for most of the season and have been looking to give some of their younger players more playing time while getting rid of large contracts.
The Dodgers have added veterans like Hanley Ramirez and Shane Victorino, regardless of salary, in an attempt to bolster an offense that has failed to regularly produce runs outside of All-Stars Matt Kemp and Andre Ethier. First baseman James Loney's regression at the plate has been a big problem for Los Angeles.
If Minnesota doesn't put Morneau through waivers in the next two weeks—giving the Dodgers an opportunity to acquire him this year—look for Los Angeles to try and work out a trade with the Twins this offseason. With $13 million guaranteed in 2013, Morneau would be a reasonable short-term risk for the Dodgers to take while searching for a long-term answer at first base.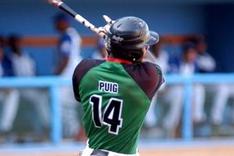 The Los Angeles Dodgers made waves when they signed Cuban prospect Yasiel Puig to a seven-year, $42 million contract back in June. The move signified the team's desire to get back into the international market and their commitment to spending money to improve the team.
Puig had not played organized baseball for nearly a year after defecting from his Cuban team Cienfuego in 2011. The 21-year-old outfielder has been working off the rust in the Dodgers rookie league and is hitting .400 with four home runs, 11 RBI and 10 runs scored in his first nine games.
Given the investment that the Dodgers have made in Puig—and Shane Victorino becoming a free agent this winter—look for Puig to win the starting job in left field for Los Angeles next spring.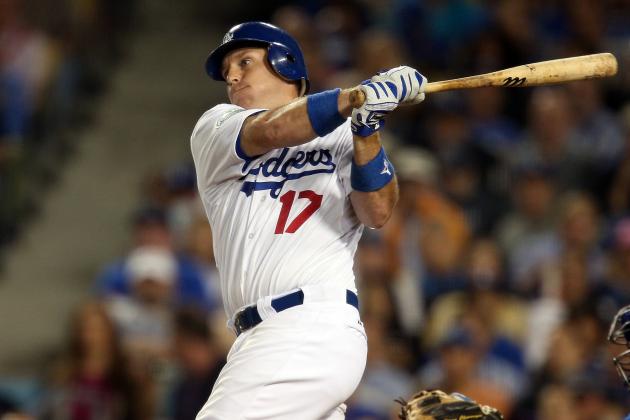 Josh Hedges/Getty Images

The Los Angeles Dodgers entered the 2012 season expecting nothing offensively from the catcher position. The only hope was that the platoon of Matt Treanor and A.J. Ellis would provide veteran leadership, solid defense and manage the pitching staff well.
The 31-year-old Ellis, though, has easily been the brightest surprise for the Dodgers this season, giving them much needed pop from a position that doesn't normally produce much. He's delivered a solid .281 average with 10 home runs and 33 RBI in 90 games. Even more impressive is Ellis' .393 on-base percentage.
The Dodgers are certain to give Ellis an increase over the veteran's minimum that he's making on a one-year deal in 2012, but he'll still be a bargain for Los Angeles given how much he's exceeded expectations.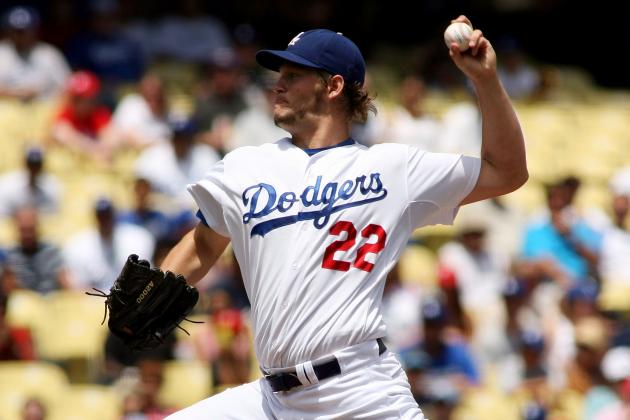 Jeff Golden/Getty Images

Los Angeles Dodgers staff ace Clayton Kershaw has been everything the team hoped he would since the day he arrived in the majors in 2008. After winning his first NL Cy Young award last year at the tender age of 23, Kershaw is atop the the short list of candidates for the best left-handed pitcher in major league baseball.
Kershaw's current contract would make him a free agent after the 2013 season, but based on the recent contract extensions given to outfielders and fellow All-Stars Matt Kemp and Andre Ethier, I'd be shocked if the Dodgers didn't lock Kershaw up with a long-term contract extension before the start of the 2013 season.
Either way, look for him to take the mound on Opening Day for Los Angeles.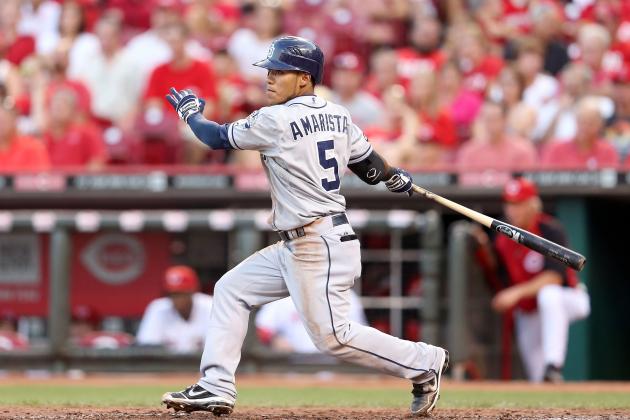 Andy Lyons/Getty Images

The San Diego Padres are fully embracing a youth movement that will surely carry over into 2013, and second baseman Alexi Amarista is already a part of that movement.
Since being called up in mid-May, Amarista has since become a fixture in the everyday lineup and regularly hits in the leadoff spot in San Diego. He makes good contact and has above average speed on the basepaths, but he'll need to improve his .302 on-base percentage to remain at the top of the order.
Amarista's versatility has allowed him to play second base, shortstop and all three outfield positions. With the Padres' top prospect Jedd Gyorko projected to take over at second base next year, look for the 23-year-old Amarista to start the 2013 season as the everyday right fielder in San Diego.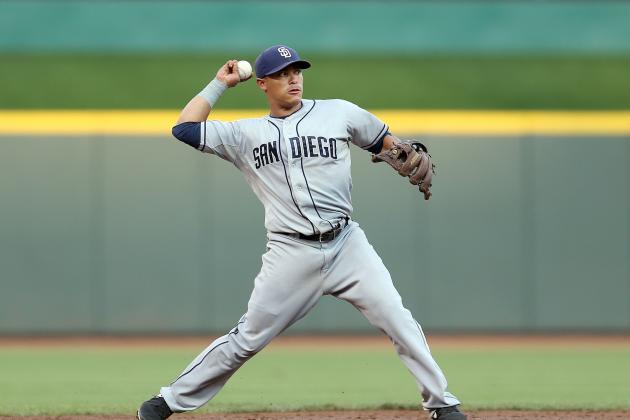 Andy Lyons/Getty Images

San Diego Padres shortstop Everth Cabrera is not a particularly good hitter (.235 career batting average in 839 career at-bats) or fielder. But he does steal bases extremely well, as he's been successful on all 19 attempts this season.
Cabrera's bat was serviceable during the first two months of the season, but a combined .213 average in July and August cost him his starting job.
With few better options internally, expect the 25-year-old Cabrera to get another shot at the starting shortstop job to start the 2013 season. If he struggles early, though, the Padres may decide to shift Alexi Amarista over to shortstop and go with a platoon of cheap veterans in right field.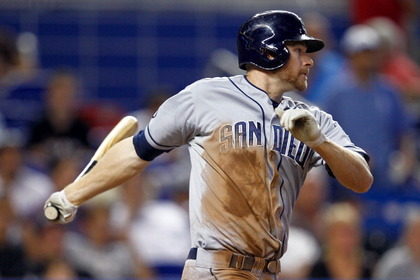 Sarah Glenn/Getty Images

San Diego Padres third baseman Chase Headley has had a breakout season that proves he's worthy of a long-term contract.
Playing on a one-year, $3.48 million deal, the 28-year-old Headley has already set career highs in home runs (19), RBI (73) and tied his career high with 62 runs scored while playing all 116 games for the Padres. He's also on pace to tie his career high with 17 stolen bases.
While San Diego is clearly going with youth at most positions, they have shown a willingness to offer contract extensions to players that they see as key members of the team's future. Center fielder Cameron Maybin received a five-year, $25 million contract last offseason, and the team extended left fielder Carlos Quentin and closer Huston Street's contracts this season.
Headley's strong play, combined with a weak free agent market for third basemen, may price him out of San Diego this winter. The Padres could always decide to turn over the hot corner to top prospect Jedd Gyorko, too.
My gut tells me the new ownership group, led by former Los Angeles Dodgers owner Peter O'Malley, will try to retain Headley and bring a winner back to San Diego sooner rather than later.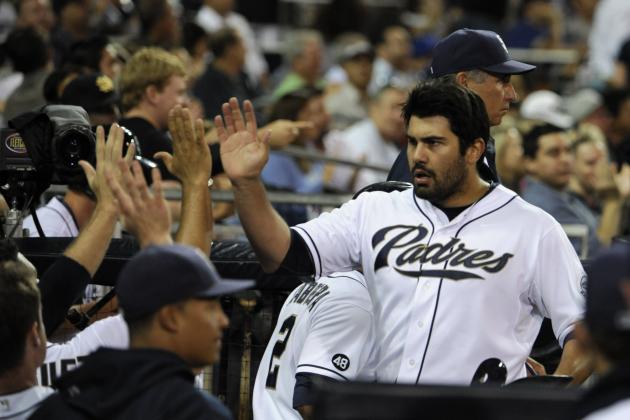 Denis Poroy/Getty Images

The San Diego Padres showed their commitment to left fielder Carlos Quentin by locking him up with a three-year, $27 million contract extension in June. That ended any speculation that Quentin might be traded before the July 31st MLB non-waiver trade deadline.
The Padres don't have much power in their lineup, so retaining Quentin showed a commitment to building a winning team in the near future. His right-handed bat fits nicely in the cleanup spot in the lineup, so expect him to start the 2013 season there after missing the first month of the 2012 season recovering from knee surgery.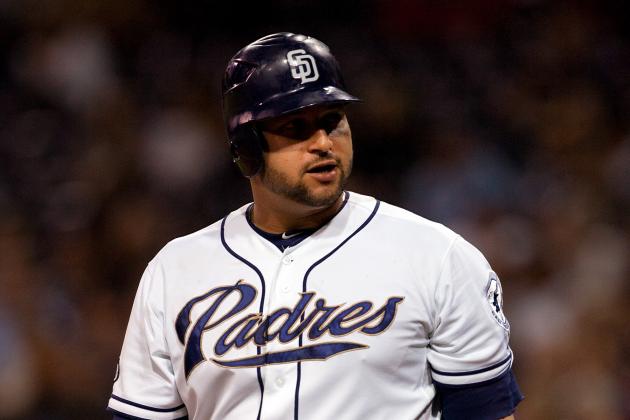 Kent Horner/Getty Images

San Diego Padres first baseman Yonder Alonso was the main prize in the trade that sent right-hander Mat Latos to the Cincinnati Reds this past offseason. Alonso absolutely murdered minor league pitching, but his path to the majors was blocked in Cincinnati by former NL MVP Joey Votto.
Like most rookies, Alonso struggled to adjust to major league pitching in April and finished the month with a .253 average and just four RBI. He struggled even worse in June after a strong May, hitting just .218 with four RBI.
But Alonso has taken off over the past six weeks, hitting .303 with five home runs and 24 RBI since July 1st. He's raised his season average to a respectable .274 and his 31 doubles rank 6th in the National League, showing the gap power that most scouts projected for him.
Alonso seems poised to be a fixture in the Padres lineup for years to come, so he'll likely be protecting Carlos Quentin out of the five hole in 2013.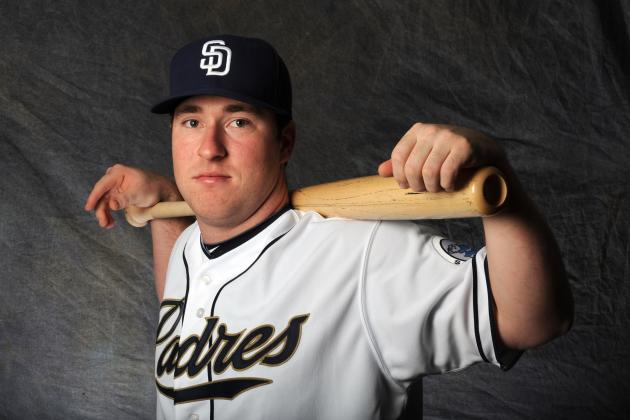 Rich Pilling/Getty Images

Jedd Gyorko is the top hitting prospect in the San Diego Padres minor league system. He's hitting .312 with 23 home runs and 82 RBI in 108 games at Double-AA and Triple-AAA this season. There's no way the Padres can justify keeping him in the minors beyond 2012.
While Gyorko has played both second and third base in the minors, second seems like his best position at the major league level. He's been a better defender there, and keeping him at second base would give San Diego the chance to resign incumbent third baseman Chase Headley to a long-term deal.
Expect to catch your first glimpse of Gyorko before the 2012 season ends, and he should be in the majors to stay when the 2013 season gets underway.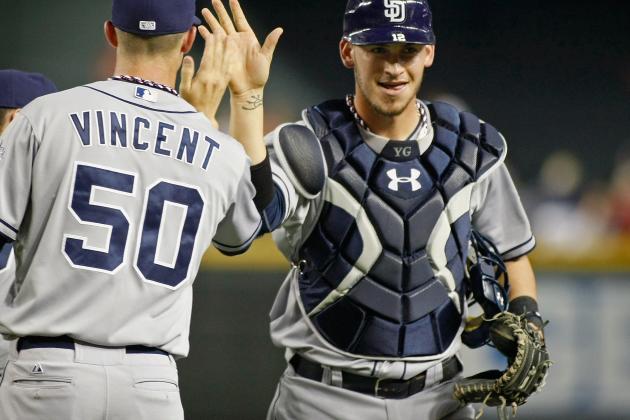 Ralph Freso/Getty Images

Yasmani Grandal was another prospect included in the trade that sent right-handed pitcher Mat Latos to the Cincinnati Reds this past winter. Though Grandal has been limited by an oblique strain that landed him on the disabled list, the 23-year-old catcher has shown a lot of promise in a 24-game sample.
He homered twice in his first major league start on June 30th, and he's hit .315 with five home runs, 15 RBI and 14 runs scored in just 77 at bats this season.
Grandal and first baseman Yonder Alonso are making the Padres look brilliant for trading Latos, and both should be fixtures in the San Diego lineup for a long time.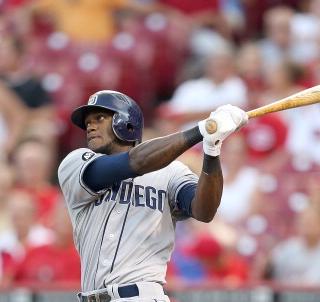 Andy Lyons/Getty Images

San Diego Padres center fielder Cameron Maybin seemed to be on his way to cashing in on his considerable potential after hitting .264 with nine home runs and 40 stolen bases last season. That performance earned him a five-year, $25 million contract extension this past offseason, but he's struggled to justify San Diego's investment in 2012.
While he's hitting with slightly more power this year, his batting average has dipped to a woeful .214 with a .291 OBP, limiting his stolen base potential.
Still just 25, it's way too early to give up on Maybin. The contract extension almost guarantees him a spot in the opening day lineup in 2013. The Padres can only hope the 2012 season is just a bump in the road and not a sign of what's to come in future years.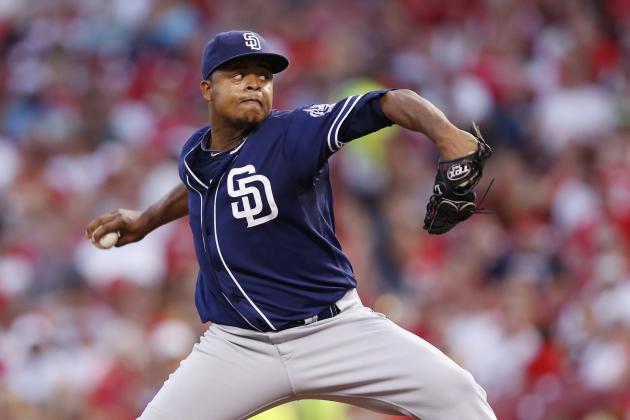 Joe Robbins/Getty Images

Edinson Volquez was the final piece of the San Diego Padres trade that sent Mat Latos to the Cincinnati Reds, and the move to pitcher-friendly Petco Park has worked wonders for him. Overall, Volquez has a 4.03 ERA with 128 strikeouts and a .220 BAA in 138.1 innings pitched. His ERA at home, 3.24, is even more impressive.
Just like in Cincinnati, walks have been Volquez's biggest problem—he's issued a major league-worst 84 free passes this year.
Despite the walks, he has been San Diego's most reliable starter in 2012. Expect him to toe the rubber on Opening Day in 2013.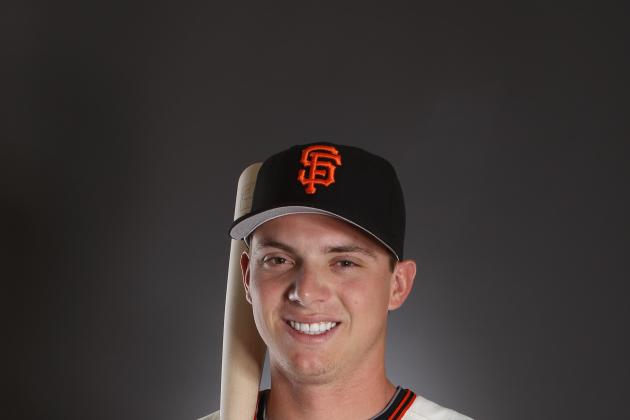 Ezra Shaw/Getty Images

Gary Brown is the San Francisco Giants' top prospect and has a chance to replace Angel Pagan in center field to start the 2013 season.
Pagan has been a nice addition to the San Francisco lineup in his first year with the team after signing a $4.85 million contract for the 2012 season, but the one-year deal was a clear sign that the Giants were simply using Pagan as a stop gap until Brown was ready to take over in 2013.
Brown has hit .282 with 31 stolen bases in 117 games at Double-AA Richmond this season. He could use a little more plate discipline (73 strikeouts in 536 plate appearances) and needs to become a more efficient base runner (he's been caught stealing 15 times in 46 attempts), but he has a respectable .348 OBP and could add some more youth to an aging San Francisco lineup.
Brown will likely get a late-season call-up in September, but don't expect him to get many starts with the Giants in the midst of a tough battle with the rival Dodgers for NL West supremacy. San Francisco does have a history of letting their top prospects learn on the job (see Buster Posey in 2010), so expect Brown to get every opportunity to win the starting center field job in spring training.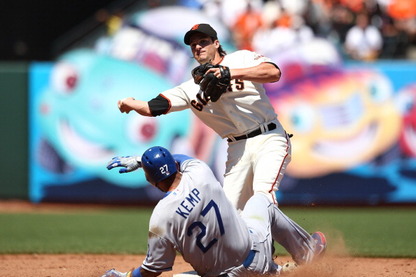 Tony Medina/Getty Images

Although the San Francisco Giants' recent trade for Marco Scutaro has cut into Ryan Theriot's playing time, that doesn't mean his future with the team looks bleak.
Theriot signed a one-year, $1.25 million deal to play for the Giants this year, but both he and Scutaro will be free agents this coming winter. Along with those two, the pool of potential free agents at second base looks shallow—assuming the New York Yankees and Texas Rangers pick up club options on Robinson Cano and Ian Kinsler respectively.
The Giants just gave Matt Cain a five-year, $100 million extension, and they'll probably attempt to resign new right fielder Hunter Pence to a long-term deal. That likely means they'll look to go cheap at second base again, and with Theriot (32) a full five years younger than Scutaro, he may be the more likely of the two to return in 2013.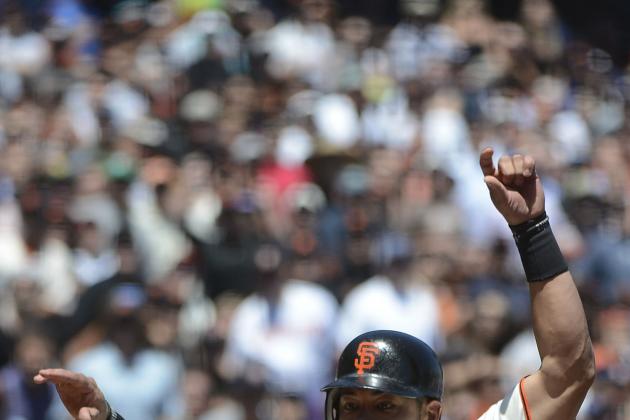 Thearon W. Henderson/Getty Images

Many people wondered if Melky Cabrera's 2011 season in Kansas City was a fluke, but the San Francisco Giants have clearly gotten the better end of the trade that sent left-handed pitcher Jonathan Sanchez to the Royals this past offseason.
Cabrera leads the National League with 83 runs scored, and he's second to Pittsburgh's Andrew McCutchen with a .347 batting average and Colorado's Dexter Fowler with 10 triples.
Although nothing is imminent, the representatives for the Giants and Cabrera seem to be working on a contract extension that will keep the 28-year-old left fielder in San Francisco for the next few years.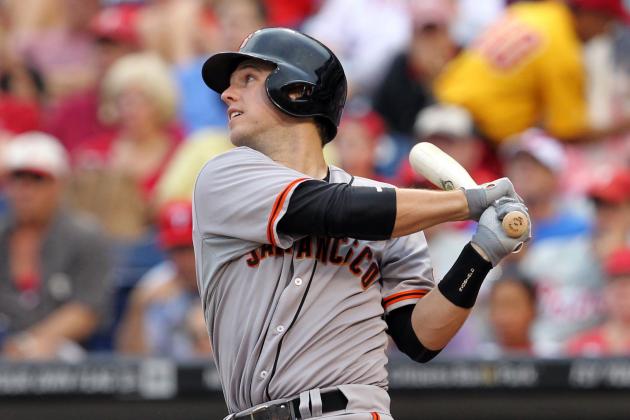 Hunter Martin/Getty Images

After his 2011 season was cut short by a gruesome ankle injury suffered in a home plate collision, San Francisco Giants catcher Buster Posey has returned to establish himself as the best backstop in Major League Baseball.
Posey fully recovered from his injury in time to be the Giants' Opening Day starter, and he picked up right where he left off after a spectacular rookie year in 2010. Posey's .332 batting average and 76 RBI are tops among all major league catchers. His 19 home runs and 49 runs scored both rank 3rd at the position.
More importantly, he's been a rock in the middle of the San Francisco lineup and he's handled the pitching staff expertly. He may not garner many NL MVP votes, but he's certainly the most important player for the Giants.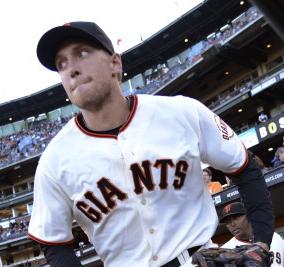 Thearon W. Henderson/Getty Images

The San Francisco Giants made a big splash when they traded for Philadelphia Phillies right fielder Hunter Pence before the July 31st non-waiver trade deadline. He brings a powerful bat and rocket arm to the Giants outfield, and is a welcome addition to a team fighting hard to win the NL West.
Pence is scheduled to become a free agent this offseason, but the Giants would do well to lock him up before he officially hits the free agent market. He would provide another proven run producer in the heart of the San Francisco lineup and take some pressure off the oft-injured Pablo Sandoval.
Look for the Giants to make every effort to keep Pence in the Bay Area in 2013 and beyond.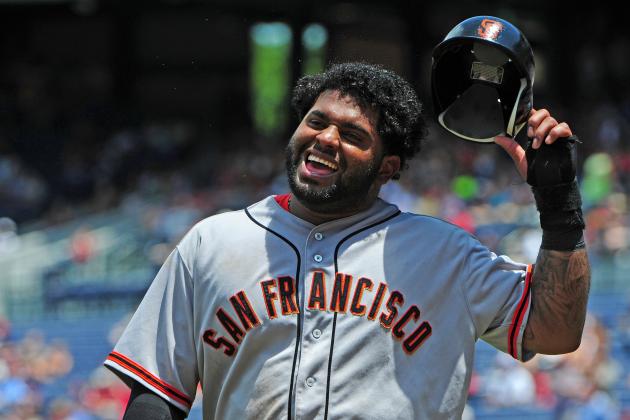 Scott Cunningham/Getty Images

San Francisco Giants third baseman Pablo Sandoval is a fixture in the middle of their lineup. Although he's struggled to stay healthy over the past two seasons, he's delivered offensively when he's been on the field.
Though he normally bats fifth behind Buster Posey, the acquisition of Hunter Pence—who has more power than Sandoval—may move him down a spot in the batting order. Rest assured the .306 career hitter will rake no matter where he's asked to hit.
Sandoval is always an injury risk, but, assuming he's healthy, expect 'Kung Fu Panda' to be manning third base with a big smile on Opening Day 2013.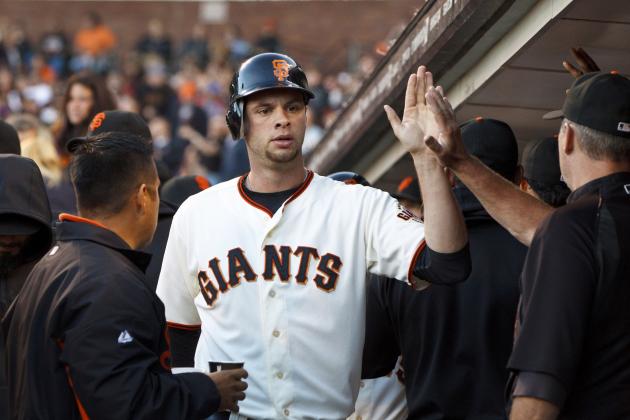 Jason O. Watson/Getty Images

San Francisco Giants first baseman Brandon Belt once again struggled to put his stamp on the starting job early in the 2012 season, but he's hitting a robust .438 in August and .274 since the All-Star break. He's finally starting to look comfortable at the plate.
If Belt can continue to settle in over the final six weeks of the regular season, he should have no problem keeping the full-time first base job in San Francisco to start the 2013 season.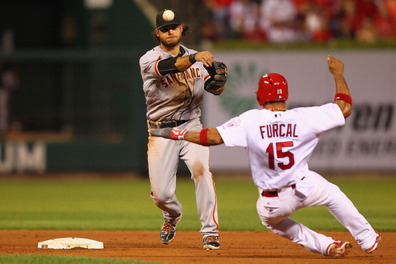 Dilip Vishwanat/Getty Images

San Francisco Giants shortstop Brandon Crawford is not in the lineup for his bat. The slick-fielding infielder is out there to provide above-average defense behind a starting rotation that produces a lot of ground balls.
Crawford can certainly improve on his .243 average and work hard to cut down on the strikeouts, but the 25-year-old will remain in the eighth spot in the lineup as long as his glove works.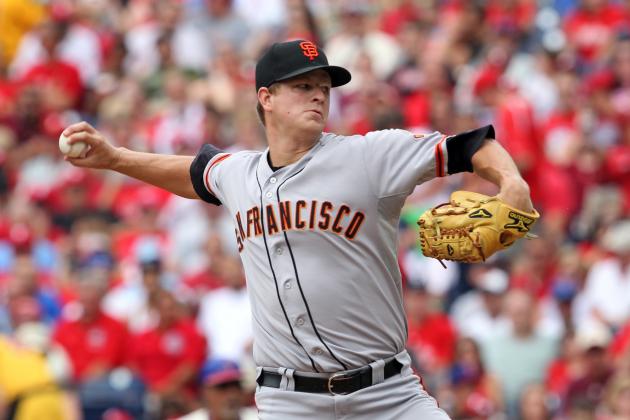 Hunter Martin/Getty Images

Tim Lincecum may have won back-to-back NL Cy Young awards with the Giants, but Matt Cain appears to have taken over the role of staff ace in San Francisco.
Instead of caving to the pressure of a five-year, $100 million contract, Cain went out and threw a perfect game this year—striking out 14 Houston Astros in the process and tying Sandy Koufax for the most strikeouts in a perfect game—on his way to being the NL starter in this year's All-Star game.
Cain has been roughed up a bit since the break, but his track record of steady improvement has made the 27-year-old the new ace of the staff. Look for him to take the ball on Opening Day of the 2013 season.