Re-Ranking All 30 MLB Pitching Rotations After the 2012 Trade Deadline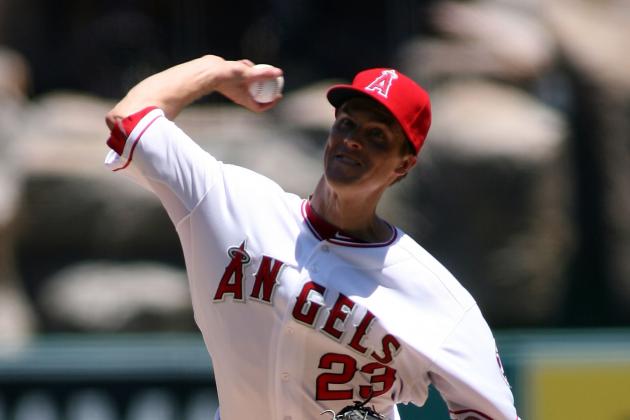 Jeff Golden/Getty Images

The 2012 Major League Baseball non-waiver trade deadline has come and gone with the usual flurry of activity taking place, shaking up the landscape of baseball.
With the addition of the second wild-card spot this season, several teams appeared gun-shy at times, afraid to make any earth-rattling moves. Instead, there were several small moves with a couple of blockbusters sprinkled in.
Now that the dust has settled, it is time to re-examine and re-rank all 30 MLB pitching rotations as we inch closer to the playoffs.
Begin Slideshow

»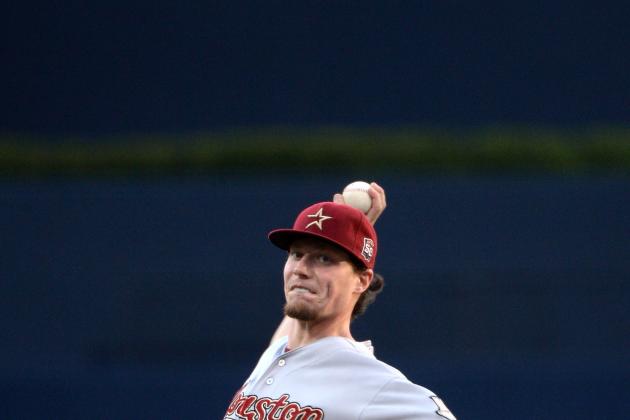 Donald Miralle/Getty Images
Lucas Harrell
Starting Rotation:
Lucas Harrell
Bud Norris
Jordan Lyles
Dallas Keuchel
Armando Galarraga
The Houston Astros own a 4.79 team ERA and 1.44 WHIP while having allowed 504 earned runs with an opponents' .339 OBP.
At the trade deadline, the 'Stros depleted their staff but made moves to continue their build for the future.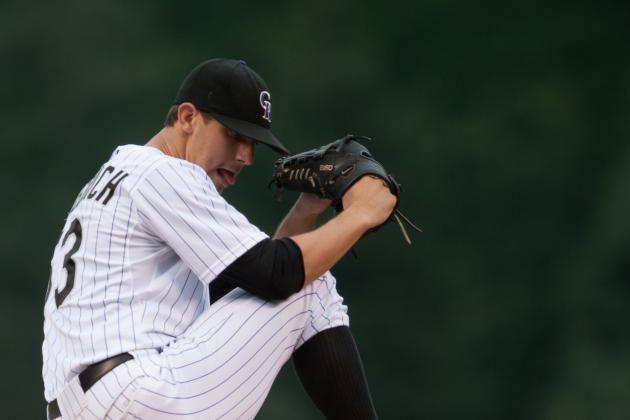 Dustin Bradford/Getty Images
Christian Friedrich
Starting Rotation:
Christian Friedrich
Jeff Francis
Jonathan Sanchez
Drew Pomeranz
Alex White
You would think that with a team ERA of 5.50, 1.57 WHIP, 566 earned runs surrendered and a .361 opponent OBP, the Rockies would be in last place.
Had the Houston Astros stayed pat and not dismantled their staff, that would've been the case.
They're young, but they've at least had major league experience this season.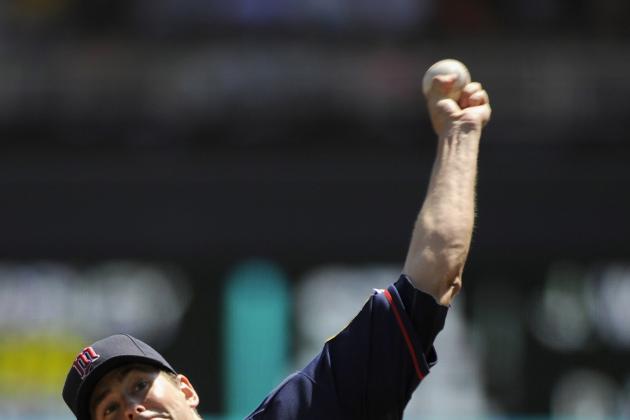 Hannah Foslien/Getty Images
Scott Diamond
Starting Rotation:
Scott Diamond
Cole De Vries
Sam Deduno
Nick Blackburn
Brian Duensing
The Minnesota Twins own a 4.78 ERA with a 1.38 WHIP, having surrendered 506 earned runs with opposing batters wielding a .332 OBP against them.
The Twins stood firm at the deadline, not adding any pieces to the pitching staff. They're aware that this is a rebuilding year. Surprisingly, they did not deal away Justin Morneau.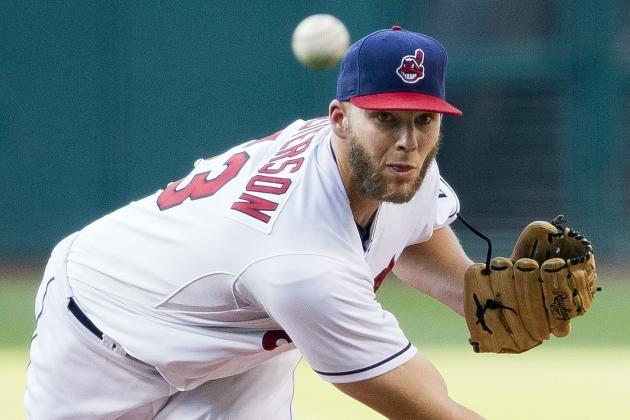 Jason Miller/Getty Images
Justin Masterson
Starting Rotation*:
Justin Masterson
Ubaldo Jimenez
Zach McAllister
Corey Kluber
The Cleveland Indians own a 4.73 ERA with a 1.42 WHIP, having surrendered 500 earned runs while giving opposing batters a .335 OBP.
Between Masterson and Jimenez, it is surprising that this staff is not better than what they've been. The team has some serious potential at the top of the rotation; they just have not been producing.
*As of this writing, the Indians released Derek Lowe and have only a four-man rotation listed on their website.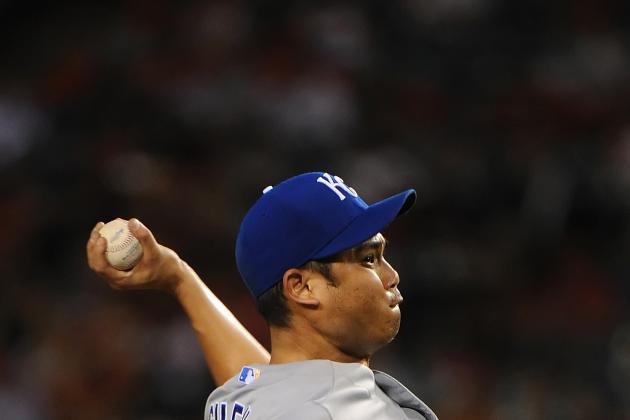 Lisa Blumenfeld/Getty Images
Bruce Chen
Starting Rotation:
Bruce Chen
Luke Hochevar
Luis Mendoza
Will Smith
Jeremy Guthrie
The Kansas City Royals own a 4.50 team ERA and 1.44 WHIP and have surrendered 475 earned runs. Opponents own a .343 OBP against them.
The Royals have some great, young potential on their team, they just seem to be a year or two away from being contenders in the same way that the Pirates were.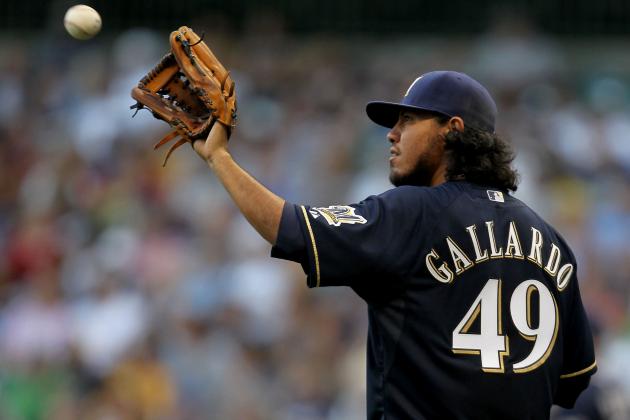 Mike McGinnis/Getty Images
Yovani Gallardo
Starting Rotation:
Yovani Gallardo
Randy Wolf
Marco Estrada
Mike Fiers
Mark Rogers
Losing Zack Greinke hurt...a lot.
While the team owns a 4.33 ERA with a 1.38 WHIP, they've surrendered 460 earned runs and opponents own a .329 OBP against them.
Moving forward, this team can be very good. They have a few prolific offensive players that can bolster that side of things. It all boils down to the pitching.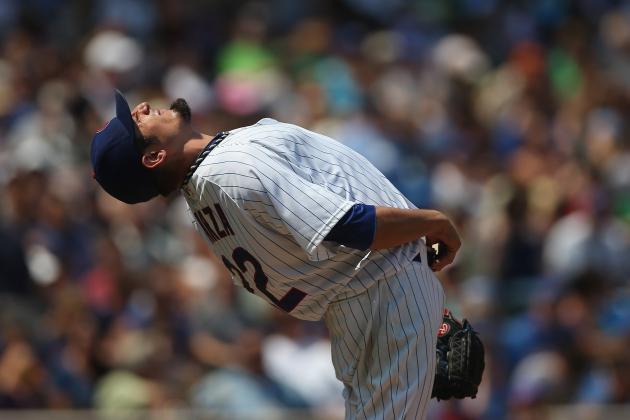 Jonathan Daniel/Getty Images
Matt Garza
Starting Rotation:
Matt Garza
Jeff Samardzija
Travis Wood
Justin Germano
Chris Volstad
Though they lost two of their top-of-the-rotation starters at the trading deadline (Ryan Dempster, Paul Maholm), the Chicago Cubs have a lot to be inspired about.
The team ERA is 4.31 with a 1.37 WHIP. They have allowed 440 earned runs with an opponent OBP of .330. That may not seem all that flattering, but the tandem of Theo Epstein and Jed Hoyer has been making some great moves for the Cubs. This was just another one...erm, two, in the rebuilding process.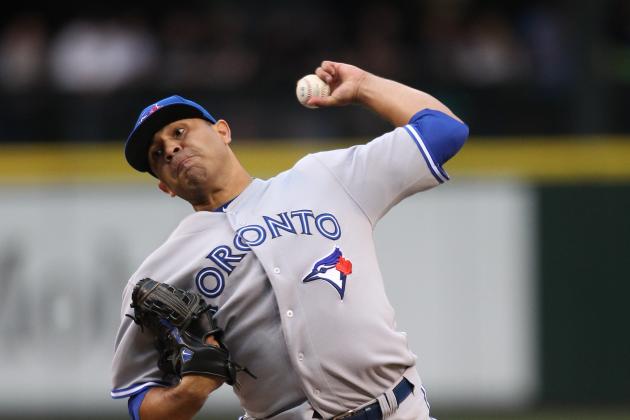 Otto Greule Jr/Getty Images
Ricky Romero
Starting Rotation:
Ricky Romero
Henderson Alvarez
J.A. Happ
Aaron Laffey
Carlos Villanueva
The Toronto Blue Jays have been burdened by injuries to their starting pitching. With studs like Brandon Morrow and Kyle Drabek on the DL, it is no wonder why the pitching has been suspect. The addition of J.A. Happ should help some.
The Jays own a 4.50 ERA with a 1.37 WHIP and have surrendered 479 earned runs and opponents own a .331 OBP against them.
After the red-hot start to the 2012 season, Toronto has fallen off some, but they did show significant promise for the future.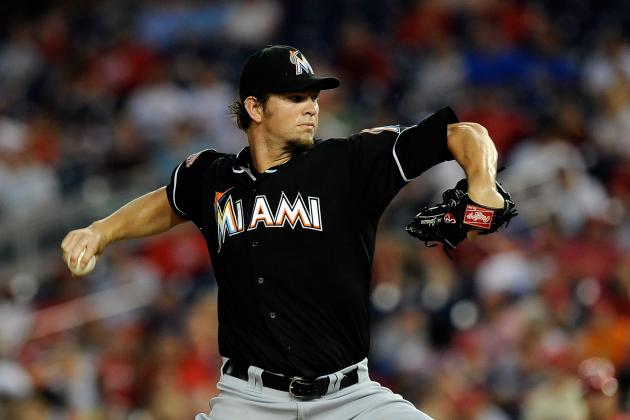 Patrick McDermott/Getty Images
Josh Johnson
Starting Rotation:
Josh Johnson
Mark Buehrle
Ricky Nolasco
Nathan Eovaldi
Wade LeBlanc
The Miami Marlins own a 4.18 ERA and 1.35 WHIP. They have surrendered 446 earned runs while allowing opposing batters to obtain a .329 OBP.
While the Marlins traded away Anibal Sanchez, in his place they now have Eovaldi, a young pitcher who showed a lot of promise with the Dodgers.
Surely, fans are glad that the team did not deal off their ace, Josh Johnson.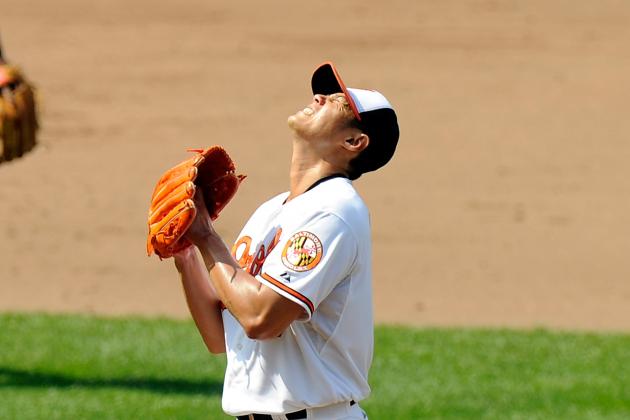 Greg Fiume/Getty Images
Wei-Yin Chen
Starting Rotation:
Wei-Yin Chen
Chris Tillman
Miguel Gonzalez
Zach Britton
Tommy Hunter
The Baltimore Orioles have a 4.17 ERA and 1.34 WHIP, and they have allowed 451 earned runs and have allowed opponents to earn a .323 OBP against them.
With Jason Hammel on the sideline, the Orioles are without one of their better starters this season, but they have a lot of great potential on this team.
As a baseball fan in general, you have to enjoy seeing a resurgence in teams like Baltimore. They're making strides in the right direction.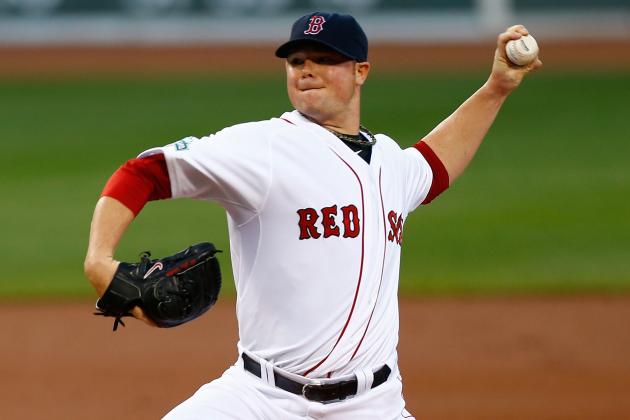 Jared Wickerham/Getty Images
Jon Lester
Starting Rotation:
Jon Lester
Josh Beckett
Clay Buchholz
Felix Doubront
Aaron Cook
The Boston Red Sox have a 4.31 ERA and 1.31 WHIP. They've given up 463 earned runs and have afforded oppenents a .323 OBP.
"Ace" of the staff Jon Lester has looked like anything but as of late. The true star for this rotation has been between Felix Doubront (who leads the team in wins) and Clay Buchholz.
While it seemed like a foregone conclusion that the team would deal off Josh Beckett and bring in another starter at the trade deadline, that obviously did not happen. Does that make the team better or worse?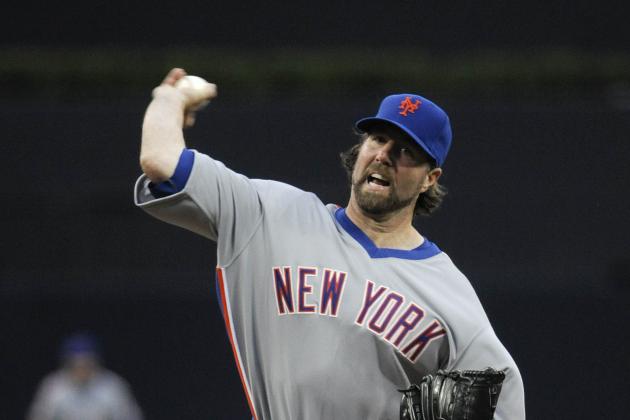 Denis Poroy/Getty Images
R.A. Dickey
Starting Rotation:
R.A. Dickey
Jon Niese
Chris Young
Jeremy Hefner
Matt Harvey
The New York Mets own a 4.13 ERA and 1.31 WHIP, and they've surrendered 438 earned runs and have allowed opponents a .314 OBP.
The Mets have been revitalized with the emergence of R.A. Dickey coupled with a solid supporting cast. The disappointing piece, once again, has to be Johan Santana. Though he's on the DL right now, Mets fans have not seen the same pitcher he once was in Minnesota since he arrived in New York.
That said, at least fans were treated to a no-hitter earlier in the season. However, fans would rather see Dickey get his 15th win of the season.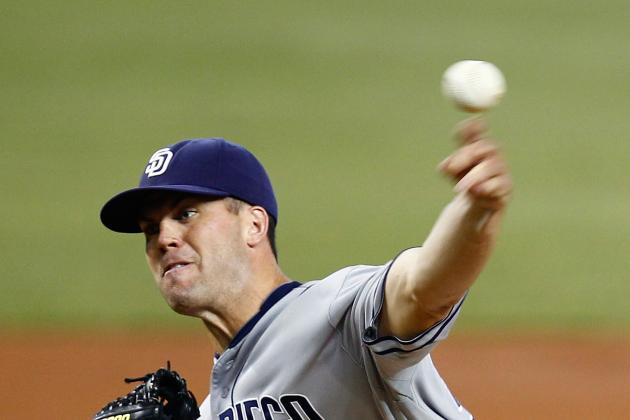 Sarah Glenn/Getty Images

Starting Rotation:
Clayton Richard
Edinson Volquez
Eric Stults
Jason Marquis
The San Diego Padres own a 3.90 ERA and 1.33 WHIP. Opponents have knocked 418 earned runs and a allowed opponents a .319 OBP.
Running with just a four-man rotation at the moment (or so the website says), the Padres have a crop of nice, young arms that are developing nicely for the team.
Tim Stauffer, Andrew Cashner and Anthony Bass are all on the DL for San Diego. Needless to say, the pitching staff has been injury-plagued.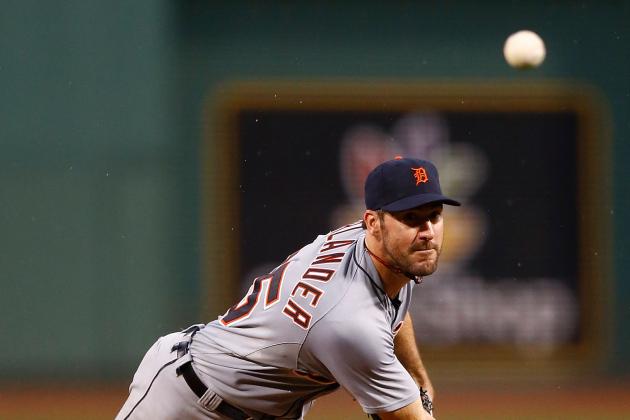 Jared Wickerham/Getty Images
Justin Verlander
Pitching Rotation:
Justin Verlander
Doug Fister
Max Scherzer
Rick Porcello
Anibal Sanchez
The Detroit Tigers have a 3.98 ERA and 1.30 WHIP, while also allowing 414 earned runs and allowing opposing teams a .316 OBP.
If this list was about the best pitcher in the game, then obviously Justin Verlander would be atop the list. However, as a whole, the Tigers need a little bit of work.
Anibal Sanchez was a nice pickup, but not quite one of the magnitude the team needs to propel them into elite rotation status.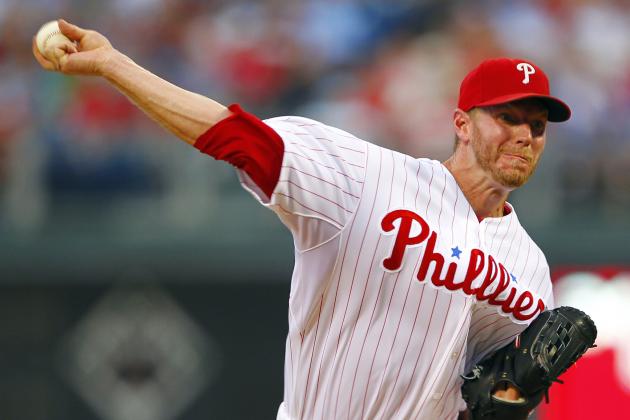 Rich Schultz/Getty Images
Roy Halladay
Starting Rotation:
Roy Halladay
Cliff Lee
Cole Hamels
Vance Worley
The Philadelphia Phillies own a 4.07 ERA and 1.26 WHIP with 433 earned runs and a .311 opponents' OBP.
Having just lost their fifth starter in Joe Blanton to the Los Angeles Dodgers, the team has yet to list a replacement (permanently) in their starting rotation.
Though it appears doubtful, if the Phillies lose Cliff Lee to the Dodgers as well, you can drop this team down in the rankings to the mid-20s. For such a star-studded rotation, it's unfortunate they've been unable to perform.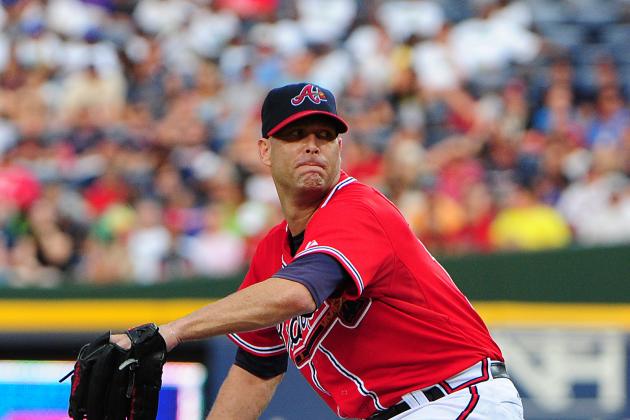 Scott Cunningham/Getty Images
Tim Hudson
Starting Rotation:
Tim Hudson
Ben Sheets
Mike Minor
Paul Maholm
Kris Medlen
The Atlanta Braves own a 3.77 ERA and 1.30 WHIP. They've allowed 400 earned runs and have allowed opponents to obtain a .319 OBP when facing them.
Adding Paul Maholm was a fantastic move by the Braves. They lost Brandon Beachy for the season. Jair Jurrjens has been injured repeatedly, and Tommy Hanson is on the shelf.
If the Braves were healthy right now, this rotation would be top 10 easily, maybe even top five.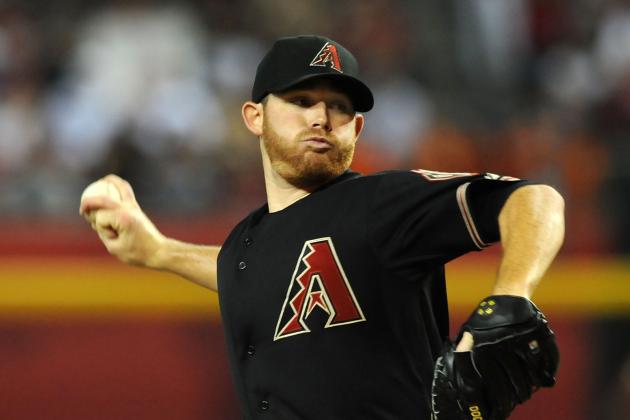 Norm Hall/Getty Images
Ian Kennedy
Starting Rotation:
Ian Kennedy
Trevor Cahill
Wade Miley
Joe Saunders
Patrick Corbin
The Arizona Diamondbacks have a 3.89 ERA and 1.28 WHIP and have given up 405 earned runs and have seen opponents offer a .315 OBP against them.
Anchored by a solid rookie season out of Wade Miley, the Diamondbacks have proved to be a legit contender moving towards the fall.
Though their plans to add another arm fell through, this rotation is still very strong and hitting its stride at the right time.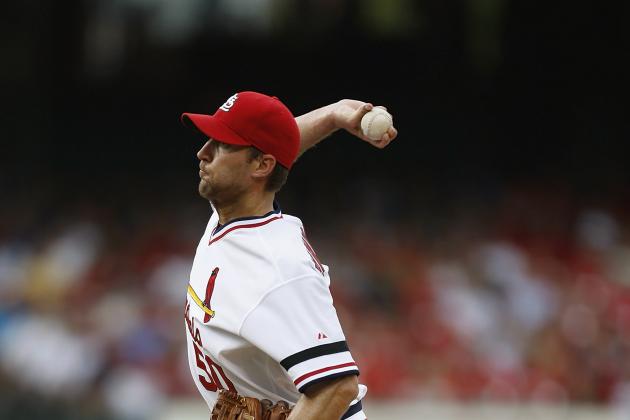 Paul Nordmann/Getty Images
Adam Wainwright
Starting Rotation:
Adam Wainwright
Kyle Lohse
Jake Westbrook
Lance Lynn
Joe Kelly
The St. Louis Cardinals have a 3.77 ERA and 1.29 WHIP with 401 earned runs and a .316 opponents' OBP.
No Chris Carpenter? No problem.
The Cards have been consistently good all season long. They've benefited nicely from a surprising start to the season from their fourth starter, Lance Lynn, who leads the Cardinals in wins with 13.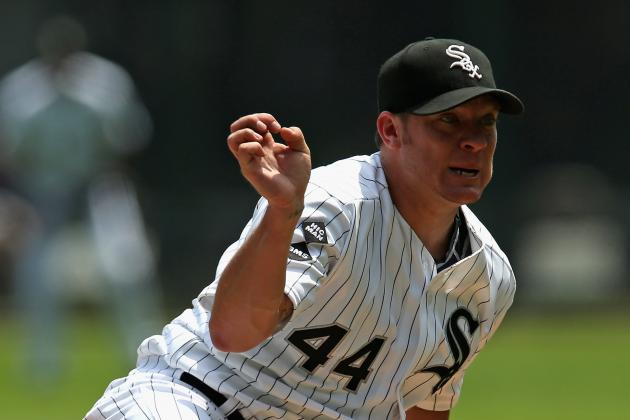 Jonathan Daniel/Getty Images
Jake Peavy
Starting Rotation:
Jake Peavy
Gavin Floyd
Phil Humber
Chris Sale
Jose Quintana
Francisco Liriano
The Chicago White Sox have a 4.00 ERA and 1.26 WHIP. They've also allowed 423 earned runs and giving opponents a .313 OBP.
Already having an incredibly solidly pitching staff, the White Sox went out and traded for Francisco Liriano.
Coming to Chicago, Liriano does not have to be "the man," so to speak. Granted, he's only started one game in Chi-Town, but his ERA is just 3.00, versus the 5.31 he owned in Minnesota.
More importantly; Chris Sale has been "the man" for Chicago. He leads the team with an impressive 12-3 record.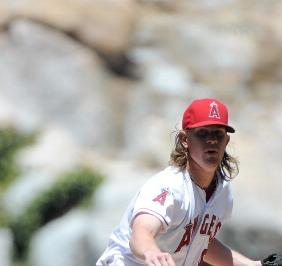 Lisa Blumenfeld/Getty Images
Jered Weaver
Starting Rotation:
Jered Weaver
Zack Greinke
C.J. Wilson
Dan Haren
Ervin Santana
The Los Angeles Angels own a 3.96 ERA and 1.29 WHIP, and they've allowed 421 earned runs and have seen opponents obtain a .315 OBP when facing them.
The Halos already own the most prolific offense in the majors right now, and by adding Zack Greinke, they're on their way to being the best rotation in the game.
On paper, they already should be.
While Jered Weaver has been incredible this year, and C.J. Wilson has been solid, Haren and Santana both own ERAs over 4.50, which doesn't help the cause.
Greinke, in his limited time with the team, also has an ERA over 5.00.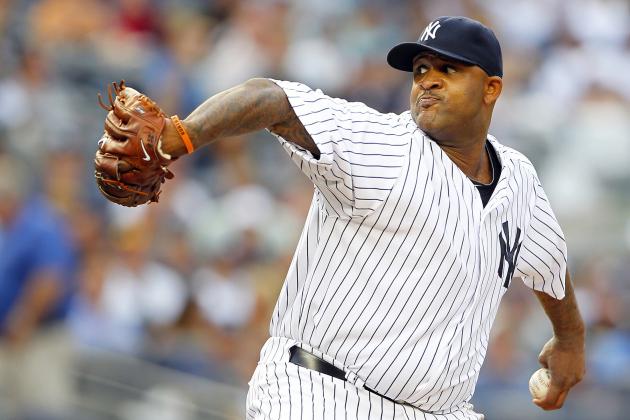 Rich Schultz/Getty Images
CC Sabathia
Starting Rotation:
CC Sabathia
Hiroki Kuroda
Phil Hughes
Ivan Nova
Freddy Garcia
The New York Yankees own a 3.74 ERA and 1.29 WHIP and have allowed 393 earned runs with teams offering a .313 OBP against them.
Somehow, some way, the Yankees continue to win despite never having been able to use their offseason acquisition, Michael Pineda, and losing Andy Pettitte to injury.
Nevertheless, the Yankees have been consistently good. They were quiet at the trade deadline (on the pitching front)—perhaps rightfully so.
One thing is for certain, Kuroda has proven to be a huge addition for the Yanks.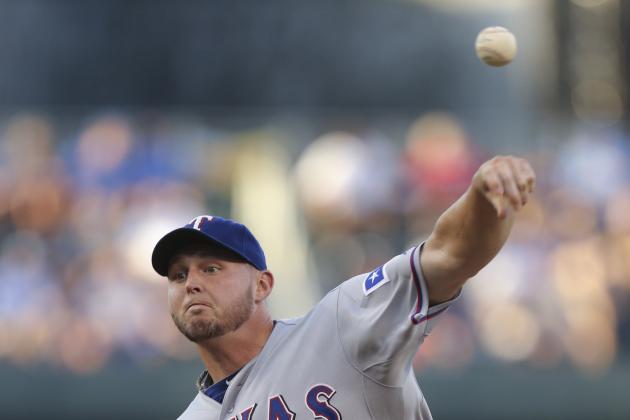 Ed Zurga/Getty Images

Starting Rotation:
Matt Harrison
Yu Darvish
Derek Holland
Ryan Dempster
Scott Feldman
The Texas Rangers have a 3.96 ERA and 1.25 WHIP and have allowed 412 earned runs and seeing opposing teams muster a .308 OBP against them.
The most brilliant thing the Rangers did at the trade deadline was keep Ryan Dempster out of New York's pinstripes.
That might have given the American League to the Yankees.
Adding Dempster to this lineup is huge, especially behind the solid years Harrison, Darvish and Holland are having.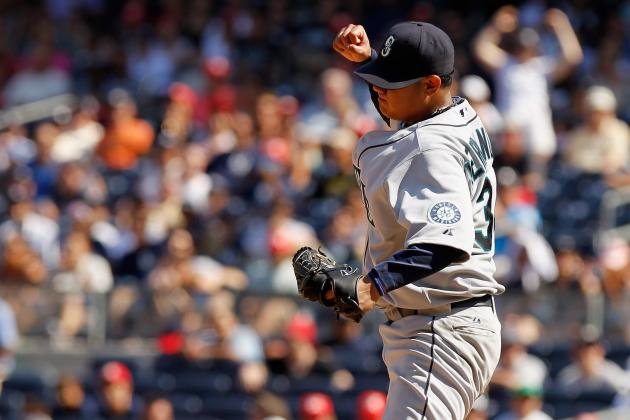 Mike Stobe/Getty Images
Felix Hernandez
Starting Rotation
Felix Hernandez
Jason Vargas
Kevin Millwood
Hisashi Iwakuma
Blake Beavan
The Seattle Mariners have a 3.75 ERA and 1.21 WHIP, and they have allowed 407 earned runs and a .305 OBP against opponents.
King Felix is really good. Understatement of the year, perhaps?
However, it isn't all about Hernandez in Seattle. Okay, maybe it is, but the rest of the rotation has been incredibly solid for a team that is just 50-58.
Jason Vargas has been just as reliable as King Felix, and he leads the team with 12 wins. The issue for the Mariners is not necessarily the pitching, but the lack of offense to support the rotation.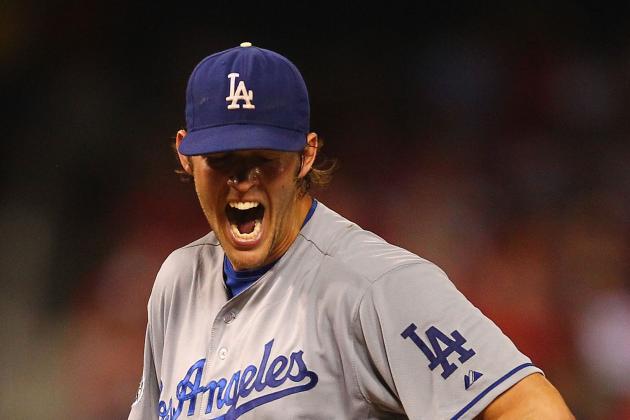 Dilip Vishwanat/Getty Images
Clayton Kershaw
Starting Rotation:
Clayton Kershaw
Chad Billingsley
Chris Capuano
Aaron Harang
Joe Blanton
The Los Angeles Dodgers have a 3.33 ERA and 1.26 WHIP and have allowed 357 earned runs and have allowed opponents a .311 OBP.
Clayton Kershaw has corrected any and all early-season struggles to be the beast that Dodger fans—and the rest of the National League—know him to be.
The addition of Joe Blanton has balanced this rotation out from top to bottom.
If by some odd chance the Dodgers are able to negotiate a trade for Cliff Lee, this rotation might be the best in baseball.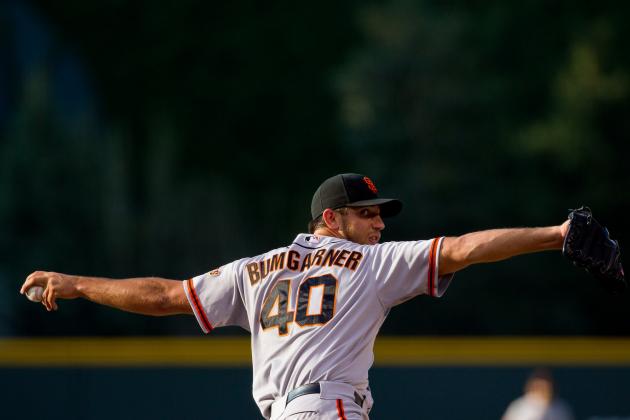 Justin Edmonds/Getty Images
Madison Bumgarner
Starting Rotation:
Madison Bumgarner
Tim Lincecum
Matt Cain
Barry Zito
Ryan Vogelsong
The San Francisco Giants have a 3.58 ERA and 1.25 WHIP. They've also allowed 383 earned runs and a .307 OBP from opposing batters.
It is hard to believe that, with a struggling Tim Lincecum, the Giants are as effective as they've been in years past.
It's quite possible that they're even better. Madison Bumgarner has emerged as an ace. Matt Cain is an ace. Barry Zito has actually performed well this season.
If Timmy can right his ship, this Giants rotation will be downright scary in the playoffs.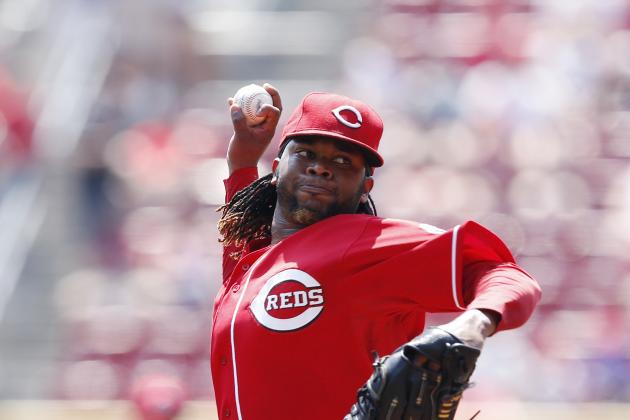 Joe Robbins/Getty Images
Johnny Cueto
Starting Rotation:
Johnny Cueto
Matt Latos
Bronson Arroyo
Mike Leake
Homer Bailey
The Cincinnati Reds have a 3.35 ERA and 1.25 WHIP and have allowed 356 earned runs with a .309 OBP from the opposition.
The Reds pitchers just do not give up earned runs. Teams struggle with the dynamic rotation, and it shows. Only one team in baseball has a lower team ERA.
Is it time to talk about the 14-5 Johnny Cueto as one of the best pitchers in baseball? It would appear so.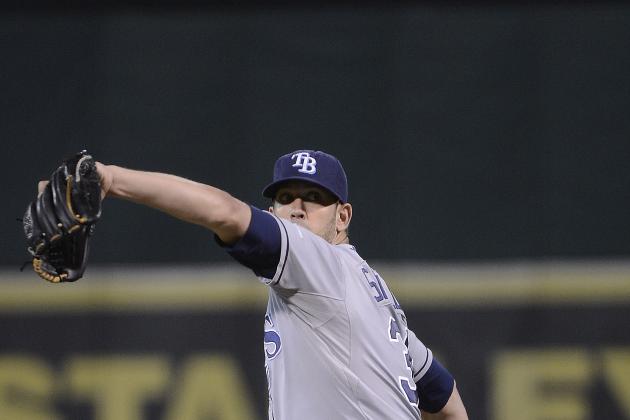 Thearon W. Henderson/Getty Images
James Shields
Starting Rotation:
James Shields
David Price
Jeremy Hellickson
Matt Moore
Alex Cobb
The Tampa Bay Rays have a 3.46 ERA and 1.24 WHIP and have allowed 371 earned runs and allowing opposing batters just a .307 OBP.
Very similar to the Oakland A's, the Tampa Bay Rays appear to just grow excellent pitchers on trees. For the past several years, the Rays have had great young arms develop into studs for their rotation.
The key is, Tampa knows when to unload the talent.
It appears that the time was just not right for James Shields to move on. Tampa decided to hang on to him at the trade deadline rather than pull the trigger.
Perhaps this non-move was the best move they could make.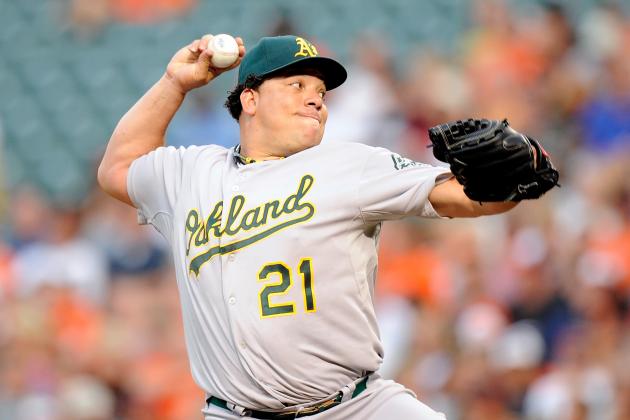 Greg Fiume/Getty Images
Bartolo Colon
Starting Rotation:
Bartolo Colon
Tommy Milone
Jarrod Parker
Dan Straily
Travis Blackley
A.J. Griffin
The Oakland A's own a 3.42 ERA and 1.24 WHIP with 370 earned runs and a .307 OBP for their opponents.
Quick: Other than Bartolo Colon, do you know any other starter listed in the A's rotation? (A's fans don't apply.)
If you answered yes, you're probably lying. With Brandon McCarthy on the DL, the rotation is scarce with "names" but still pretty packed with talent.
Tommy Milone leads the A's with nine wins, Colon has eight and Parker adds seven. It is a very balanced rotation. They are certainly one of the more surprising rotations in baseball this season.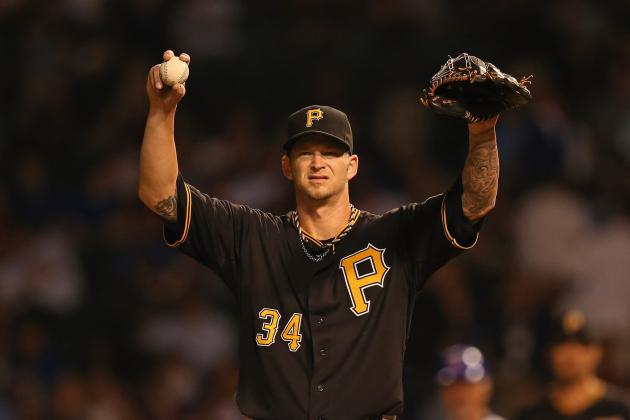 Jonathan Daniel/Getty Images
A.J. Burnett
Starting Rotation:
A.J. Burnett
Eric Bedard
James McDonald
Jeff Karstens
Wandy Rodriguez
The Pittsburgh Pirates own a 3.61 ERA and 1.27 WHIP and have allowed 368 earned runs and a .310 OBP from opposing batters.
A.J. Burnett has found his comfort zone in Pittsburgh. With the Yankees, he always appeared to be uncomfortable; in Pennsylvania, he's dominant. So says his 13-3 record this season.
By adding Wandy Rodriguez to the mix, the Pirates have made it known that they intend to contend in 2012. Rodriguez was the ace in Houston. Here, he's listed as the team's fifth starter.
All things considered, that's a pretty scary fifth starter to have.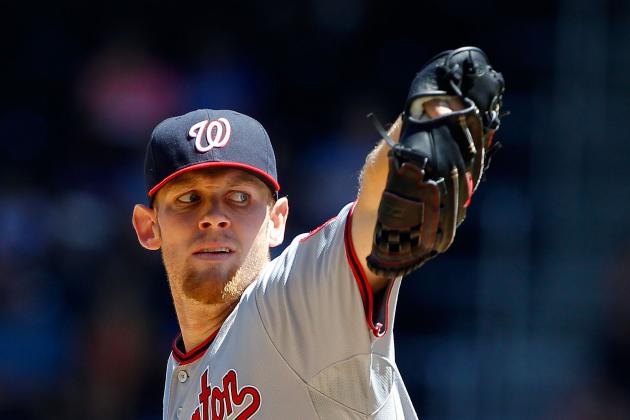 Jim McIsaac/Getty Images
Stephen Strasburg
Starting Rotation:
Stephen Strasburg
Gio Gonzalez
Jordan Zimmermann
Edwin Jackson
Ross Detwiler
3.31 ERA—Best in Major League Baseball
1.21 WHIP—Best in Major League Baseball
357 earned runs—Best in Major League Baseball
.302 opponents' OBP—Best in Major League Baseball
Raw numbers aside, the Washington Nationals are absolutely stacked. They have offense. They have pitching. They have defense.
In short, the Nats are the complete package right now.