NFL Hall of Fame Game 2012: Players to Watch in NFL's Preseason Opener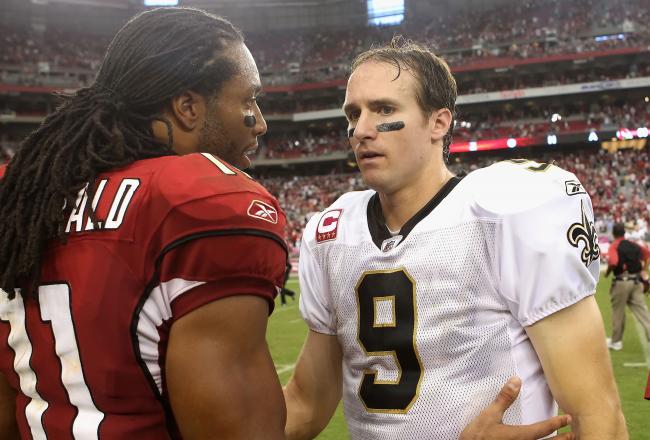 Christian Petersen/Getty Images
The New Orleans Saints and Arizona Cardinals will kick off the NFL preseason on Sunday, August 5, at the Pro Football Hall of Fame Game in Canton, Ohio.
After missing the game in 2011 because of the lockout, Fawcett Stadium's 2012's edition will be that much more enjoyable as a symbol of the beginning of the 2012 NFL season.
The opening preseason game is not usually one to display a team's starters but to get a look at what the staff has to work with. In 2010, the Cincinnati Bengals and Dallas Cowboys both pulled their starters well before halftime.
That game ended with a 16-7 final score, in favor of the 'Boys. While that score isn't eye popping, it is understandable given the point in the season at which this game is held. Teams are still installing packages, evaluating 90 players and learning to play together.
With that in mind, don't expect the Saints' $100 million dollar man Drew Brees to put on an aerial demonstration in Canton. But, there still will be plenty of other action to watch.
The biggest draw of this game and the rest of the preseason for the most part is the unexpected. Is there a player screaming to breakout and make his mark early on either the Saints or Cardinals roster? Let's take a look at what you should be watching on Sunday.
New Orleans Saints Players to Watch
Darren Sproles
Sproles is pure electric on the field and as big of a multi-dimensional threat as you will find in the NFL. He has breakaway speed and averaged a whopping 6.2 YPC in 2011.
David Hawthorne and Curtis Lofton
Offseason additions to the Saints linebacker corps, Hawthorne and Lofton will join Jonathon Vilma (after the suspension) to create a formidable linebacker group for years to come in New Orleans.
Drew Brees
Freshly signed Brees will have a lot to prove in 2012 after the team has taken huge disciplinary action from the NFL for its pay-for-play bounty system. Brees is one of the best passers in the NFL and is no surprise on this list. His name is the first thing that comes to mind when thinking about the Saints.
Nick Toon
The Saints lost wide receiver Robert Meachem to the San Diego Chargers in free agency. They took Toon, their only skill-player pick in the draft, to fill the void in their high-flying offense. Toon doesn't have game-breaking speed like Meachem. However, he fits the mold of a Lance Moore type player and could step in and provide Drew Brees with a consistent pass catching option.
Arizona Cardinals Players to Watch
Fitz is hands down one of the best pass catching options in the whole of the NFL. No matter who is behind center, he finds a way to get open and haul in some of the most difficult catches. There's sure to be a play or two where you just say, "WOW!" whenever he is involved.
Michael Floyd
Cardinals rookie wide receiver Michael Floyd has had his issues off-the-field but has done nothing but excel on it. You will get your first look at who some pegged as the No. 1 wide receiver in the 2012 NFL draft.
Kevin Kolb
Kolb was traded for in hopes of being the long-term solution for the Cardinals at quarterback. Injuries have momentarily sidelined those hopes. In his absence, the team was 5-2 last season under backup John Skelton.
John Skelton
Speaking of Skelton, he may be second on the depth chart heading into training camp but he has a very real possibility of playing in 2012. Whether Kolb is injured or not, his strong arm and excellent ability to keep his team in games has earned him the trust of the Cardinals staff.
I am a both a Cleveland Browns Featured Columnist and a Trends and Traffic Writer at Bleacher Report. Follow me on Twitter @BigHoagowski to get all my updates if you like what you read or want to talk sports.
This article is
What is the duplicate article?
Why is this article offensive?
Where is this article plagiarized from?
Why is this article poorly edited?