Fantasy Football 2012: 5 Players with Declining Fantasy Value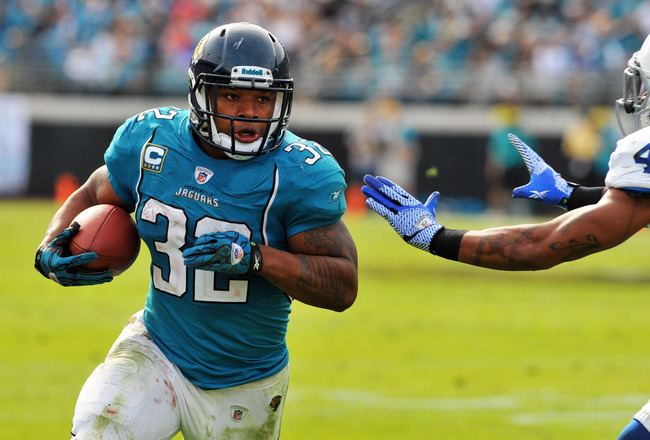 Al Messerschmidt/Getty Images
Is Maurice Jones-Drew a second-round draft pick in fantasy football drafts?
It sounds crazy, after he led the NFL in rushing with 1,606 yards in 2011, but fantasy owners should not take him until the second round.
Whether it is injuries or contract hold-outs, players' fantasy stock are always falling or rising throughout NFL training camp.
Here are five players whose fantasy value is on the decline for the 2012 NFL season.
Marshawn Lynch, Seattle Seahawks, RB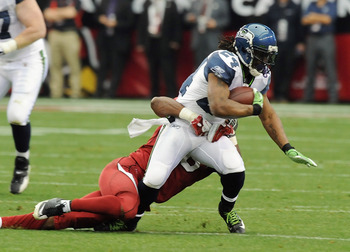 Norm Hall/Getty Images
After finishing the 2011 season as one of the top running backs in the league, Marshawn Lynch was destined to be drafted in the first two rounds of 2012 fantasy football drafts.
However, after his recent run in with the law, Lynch's fantasy stock is starting to drop. With the chance of being suspended, fantasy owners are starting to get wary about taking him with such a high draft pick.
If Lynch does get suspended for a couple games, forget about drafting him in the first two rounds. Wait until the third or fourth round, where he will have great value. You do not want to use one of your top draft picks on a player who is already missing a few games.
Malcom Floyd, San Diego Chargers, WR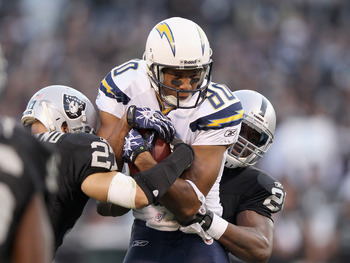 Ezra Shaw/Getty Images
When Vincent Jackson left the San Diego Chargers this offseason, it appeared that 2012 was going to be the breakout year for Malcom Floyd.
Floyd had no competition for the starting spot and was the Chargers only proven wide receiver. After the signing of Robert Meachem though, things are not looking so good for Floyd anymore.
It appears that Meachem is going to win the No. 1 wide receiver spot for the Chargers. This means that you can expect Floyd to put up the same numbers as he has his whole career.
Floyd is not a bad wide receiver to have on your bench, but had he been the Chargers go-to receiver, Floyd would have been a legit No. 2 fantasy receiver.
Roy Helu, Washington Redskins, RB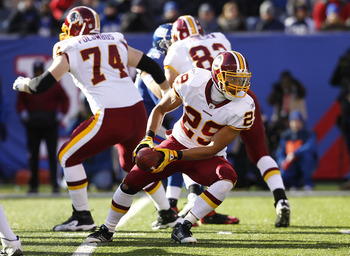 Jeff Zelevansky/Getty Images
As the Washington Redskins 2011 season came to an end, it appeared that they had found their running back of the future in Roy Helu.
After a couple 100-yard rushing performances towards the end of the season, it looked liked Helu was going to be the Redskins' featured back.
However, with Mike Shanahan as the head coach, you never know who will be getting the carries in the Redskins backfield. With reports coming out of the Redskins training camp that Shanahan is undecided about whether he will start one running back or use a rotation, Helu's fantasy stock is now dropping fast.
Before training camp started, Helu was considered to be a breakout fantasy player in 2012. Being the starting running back for the Redskins, along with the ability to catch passes out of the backfield, Helu had great value as a No. 2 fantasy back. He was going to be drafted by the fifth round and possibly earlier in PPR leagues.
With the competition still going on for the Redskins' starting running back position, I would hold off on taking Helu in the first five rounds. Until Shanahan decides what he is going to do with his running backs, Helu is just another fantasy back to have on your bench.
Jahvid Best, Detroit Lions, RB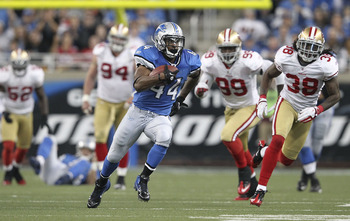 Leon Halip/Getty Images
After a promising rookie season in 2010, Jahvid Best looked like he was going to become a legit fantasy back for years to come.
Unfortunately, 2011 was a horrible year for Best. Best suffered two severe head injuries and not only put his fantasy stock in jeopardy, but his entire playing career.
With Best still not cleared to play, it appears that Best has lost his starting running back spot to Kevin Smith.
It is unsure when Best will be able to return to the field and until that is figured out, he is not worth drafting. Even when Best does return, he is going to be a backup running back in an offense that does not run the ball much.
Maurice Jones-Drew, Jacksonville Jaguars, RB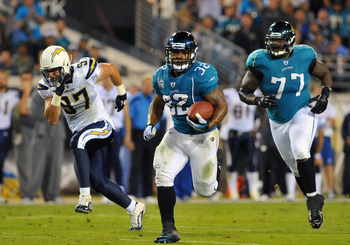 Al Messerschmidt/Getty Images
The longer Maurice Jones-Drew holds out for a new contract, the more his fantasy stock continues to drop.
If MJD keeps this hold out going for any longer, he is bound to have a year similar to Chris Johnson's in 2011.
Remember Johnson's hold out last year? After being one of the most dominant fantasy players for three seasons, fantasy owners took him early in the first rounds of their fantasy drafts, assuming that missing training camp would have no impact on Johnson.
He ended up finishing that season with 1,047 rushing yards and only four touchdowns.
Similar to Johnson last year, MJD is considered to be a top-five draft in 2012 fantasy drafts. If MJD continues this hold out, do not expect the MJD of old. He is going to struggle and end up having a sub-par season.
Assuming he does not sign a contract before preseason games start, avoid drafting MJD in the first round.
Keep Reading