Fantasy Baseball 2012: Top 12 Waiver-Wire Pickups for Week 18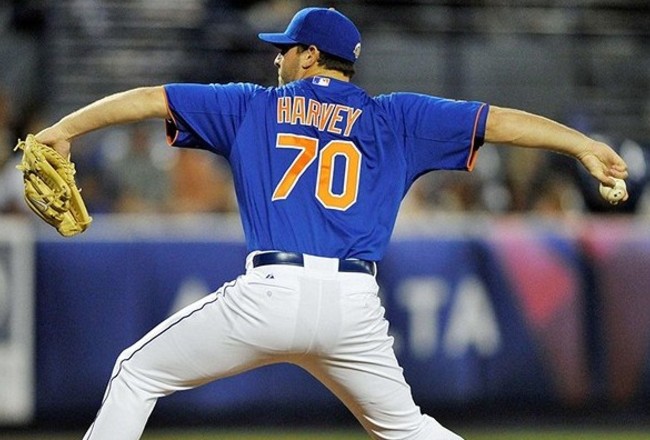 Rookie pitcher Matt Harvey holds the Mets' franchise record for most strikeouts in a major league debut—11 against Arizona on July 26. (US PRESSWIRE)

The following slideshow touts the top 12 waiver-wire pickups right now, recognizing the best free agents from the majority of 12-team roto leagues.

For the most part, this list rewards players who have already fostered productive starts to the 2012 season.

Savvy readers will notice the rankings are different from last week's offering. These changes can be attributed to the waiver-wire graduations of Adam Lind, Rajai Davis, Jonathan Lucroy and Francisco Cordero—forgotten (or largely ignored) assets on draft day, but now contributing pieces with their current teams.

That's how it should be with this countdown: Here today, gone tomorrow.

Enjoy the show!
12: (OF) Starling Marte, Pittsburgh Pirates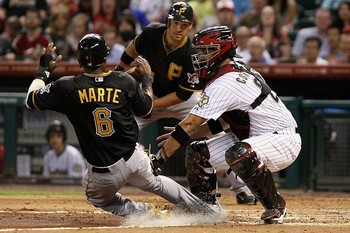 Photo Credit: US PRESSWIRE
Skinny: On July 26, Starling Marte cracked a homer off the first pitch of his inaugural major league at-bat.

Three days later, the 23-year-old dynamo notched his first MLB steal to cap an opening weekend of four hits, two runs and two RBI.

But this isn't why Marte earned a spot in the countdown. As the Pirates' No. 1 prospect and likely coveted piece of any MLB pre-deadline trade discussions, Marte has 24 homers, 112 RBI, 155 runs, 45 steals and a .312 batting average in the last two seasons (in just 228 games).

His athleticism in the outfield also rivals that of Bucs teammate Andrew McCutchen, if that should sway you into adding a No. 6 or 7 outfielder off waivers this week.
11: (SS) Josh Rutledge, Colorado Rockies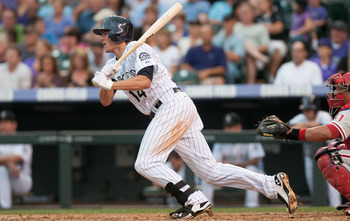 Dustin Bradford/Getty Images
Skinny: Josh Rutledge, the Rockies' shortstop while Troy Tulowitzki rehabs from a significant groin injury, has forged an impressive start to his MLB career, racking up eight multiple-hit efforts in his first 15 games.

In that span, he's also hitting at a .379 clip with two homers and three RBI.

And now that Colorado has parted with free agent-to-be Marco Scutaro (traded to San Francisco), Rutledge could possibly be moved to second base when Tulo returns to the Rockies' lineup.

Bottom line: Rutledge (a .320 career hitter in the minors) deserves waiver-wire consideration based on a strong start and tenuous depth at fantasy shortstop.

For the long term, he may even develop into a 20-homer/20-steal threat...just like Troy Tulowitzki in his early to mid-20s.
10: (SP) Aaron Harang, Los Angeles Dodgers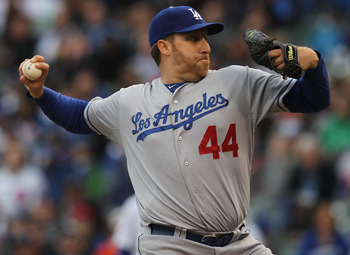 Jonathan Daniel/Getty Images
Skinny: Aaron Harang (7-5, 3.39 ERA, 1.34 WHIP, 95/52 K-BB) has been a serviceable fantasy starter for the entire MLB season.

In his last 10 starts, the veteran right-hander surrendered just three runs or less nine times; and in that span, he posted four outings of zero or one run allowed.

But his stats (and fantasy standing) have really taken off since July 1—a 2-0 record, 2.39 ERA, 0.84 WHIP and 22/9 K-BB ratio.

It's the kind of low-key excellence fantasy owners should covet this time of year; it also doesn't hurt that the Dodgers are suddenly healthy, happy (to have Hanley Ramirez) and back in first place in the National League West (tied with the Giants).
9: (1B) Ike Davis, New York Mets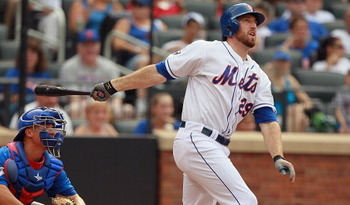 Mike Stobe/Getty Images
Skinny: There is no middle ground with Ike Davis in the fantasy realm.

Yes, he's tallied 14 homers and raised his batting average 24 points since June 15. But in that span, he only has five multiple-hit games—including the festival of three solo homers on July 28 against the Diamondbacks—and his on-base percentage (.277) curiously dropped a point.

Bottom line: If your club is in dire need of homers, without any consideration of batting average, Davis and Carlos Pena are the ones to pursue.

However, for those who believe in offensive balance with corner infielders...just keep on walking.
8: (SP) Lucas Harrell, Houston Astros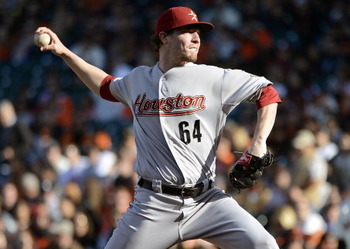 Thearon W. Henderson/Getty Images
Skinny: Another week of baseball, another endorsement of Lucas Harrell, the new rotation anchor of the Astros (now that Wandy Rodriguez has been traded to Pittsburgh).

Of his last seven outings, Harrell (8-7, 4.03 ERA) has racked up six-plus strikeouts five times; in that span, he also has six outings of two runs or less.

Since July 15, Harrell has a 1.83 ERA and 1.17 WHIP.

That's probably the best trend to reiterate how a pitcher of Harrell's skill set belongs on a roster in all 12-team leagues.
7: (OF) Brennan Boesch, Detroit Tigers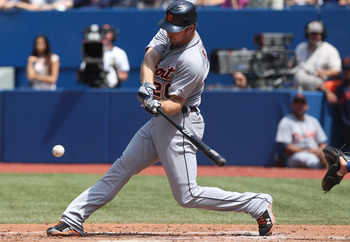 Tom Szczerbowski/Getty Images
Skinny: The top-ranked asset in this countdown last week, Brennan Boesch has struggled mightily in the last seven days, batting .130 with zero homers.

But one bad week isn't enough to abandon this sweet-swinging, power-hitting lefty...and his four homers, 17 RBI and a .299 batting average since June 30.

Bottom line: Boesch is still a lock a lock for 25 weekly at-bats with Detroit, while enjoying lineup protection from Austin Jackson, Miguel Cabrera and Prince Fielder.

In other words, the next seven-game spurt is just one shaky pitcher away.
6: (OF) Ryan Ludwick, Cincinnati Reds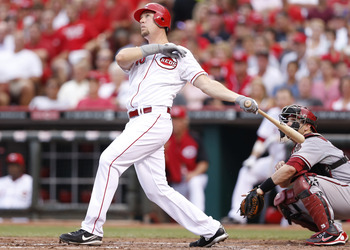 Joe Robbins/Getty Images
Skinny: Since June 27, Ryan Ludwick has belted eight homers and raised his batting average 23 points.

But that doesn't reveal the full story behind his ranking here.

For the Reds' current nine-game winning streak—a run that occurred without Joey Votto in the lineup—Ludwick is batting at a .354 clip with three homers, seven runs and seven RBI.

So, why isn't the red-hot Ludwick ranked higher? The speculation of Chris Heisey (.349 batting since June 30) reclaiming his starting spot in the outfield has dampened some of the enthusiasm of landing a sturdy veteran (Ludwick) for the season's final two months.

Then again, Heisey could be an excellent pickup for the pennant push, as well.
5: (SP) A.J. Griffin, Oakland A's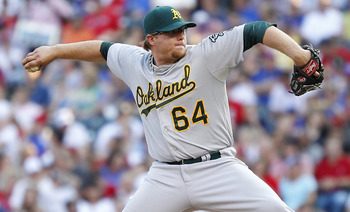 Rick Yeatts/Getty Images
Skinny: Fantasy owners, what are you waiting for with A.J. Griffin and his waiver-wire availability?

He's a perfect 6-for-6 in going six innings per start, while allowing just three runs or fewer each time. In fact, he's surrendered just two runs or less five times in that span.

In terms of track record, Griffin had an 18-11 record, 3.10 ERA, 1.01 WHIP and sterling strikeout-to-walk ratio (273/53) in three minor league seasons.

And for what it's worth, the Athletics have gone 18-4 for the month of July, while surging into the first slot for the American League's two wild card openings.

You remember Oakland, the low-payroll, Moneyball-attesting club that's flourishing in a pennant race with three 25-and-under starters in its pitching rotation (Griffin, Tommy Milone and Jarrod Parker)?
4: (1B) Chris Carter, Oakland A's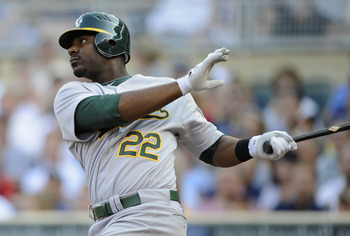 Hannah Foslien/Getty Images
Skinny: In 2009, at the tender age of 22, Chris Carter ravaged the opposition at two minor league levels, totaling 28 homers, 115 RBI, 115 runs, 13 steals and a scintillating .329 batting average.

It was one of the greatest five-category tallies in minors history...even if Carter had regressed a bit, belting 11 fewer homers than the prior season.

For the 2010 and '11 seasons, Carter struggled mightily for the parent club (39 total games), barely clearing .150 batting and notching only three homers and seven RBI. As MLB starts go, Carter bore little resemblance to Frank Thomas or Ryan Howard.

But this story can still have a happy ending. In his last five games, Carter has three homers, five runs and seven RBI.

Of equal importance, Carter is starting to earn full-time reps at first base, meaning he could be a healthy lock for double-digit homers from this point forward (July 30-Sept. 30).
3: (SP) Joe Blanton, Philadelphia Phillies
Rich Schultz/Getty Images
Skinny: It's easy to look past Joe Blanton's run-related foibles after studying his remarkably consistent numbers in two major categories.

Since May 14, Blanton (8-9, 4.59 ERA, 1.59 WHIP, 115/18 K-BB) is a perfect 14-for-14 in allowing two or less walks per start. And since June 3, Blanton has maintained an admirable streak of six, seven or eight strikeouts in every outing.

Blanton has cleaned up from a 30-day perspective, as well. For the month of July, the Phillies right-hander notched one victory, a 3.82 ERA, 1.05 WHIP and scintillating strikeout-to-walk ratio (33/5).

Put it all together, and Blanton could be a real difference-maker for the season's final stretch—even if his Phillies continue to flounder in August and September.
2: (1B/OF) Yonder Alonso, San Diego Padres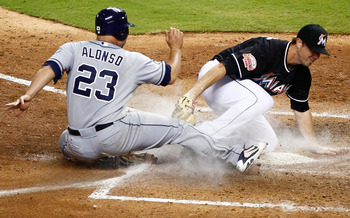 Sarah Glenn/Getty Images
Skinny: It's odd that Yonder Alonso (5 HR, 36 RBI, .260 BA) earned a No. 2 ranking here, despite an 0-for-19 malaise from July 21-25.

But by conveniently removing those five days from the ledger, Alonso (.338 seasonal OBP) is hitting at a .333 clip with three homers and 17 RBI since June 30.

In other words, he's starting to show the consistency of a top-notch prospect and long-term anchor from San Diego's blockbuster trade with Cincinnati last winter (shipping Mat Latos to the Reds).

Interestingly, catcher Yasmani Grandal—another big piece in the Latos trade—has five homers, 15 RBI and a .316 batting average since June 30.

But for this countdown, Alonso (1B/OF eligibility) has the higher fantasy ceiling for the next two months.
1: (SP) Matt Harvey, New York Mets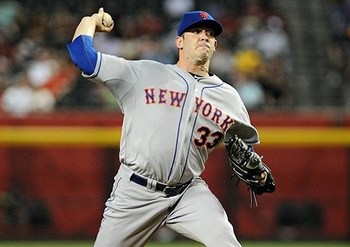 Photo Credit: US PRESSWIRE
Skinny: Not that it matters for fantasy purposes, but on July 26, Matt Harvey became the first player in baseball's modern era to register 11 strikeouts and two base hits in his major league debut.

The 11 strikeouts (through only 5.1 innings) also stood as a Mets' record for pitchers making their inaugural start.

Put it all together, and it makes perfect sense to attach a No. 1 ranking to a superb prospect like Harvey, despite his one MLB start and standing on a New York club that's now 12.5 games out of first place in the National League East.

But Harvey is worth the relatively blind pursuit in fantasy circles, given his strong track record in the minors (20-10, 3.48 ERA, 268/95 K-BB, 9.8 K/9) and seemingly secure spot in the Mets' rotation.
Keep Reading