The 8 Most Awkward Celebrations in Recent MLB History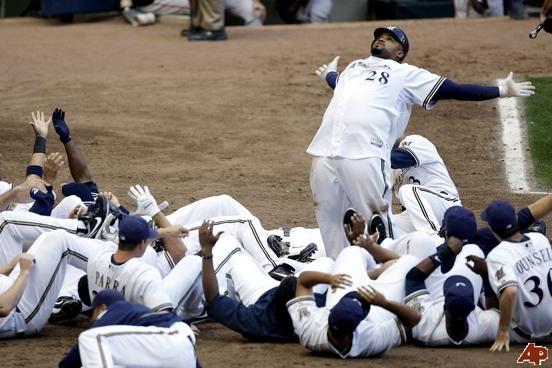 Over the years, MLB has been surprisingly free of embarrassingly bad celebration failures.
One theory as to why is because baseball's fabled honor code discourages players from showing up opponents.
But if these eight players are any indication, maybe it is because baseball players just aren't that good at celebrating.
Begin Slideshow

»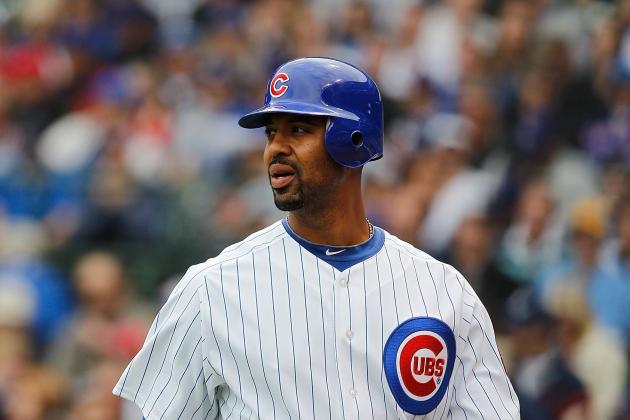 Jonathan Daniel/Getty Images

After scoring the go-ahead run in the ninth inning of a game against the San Francisco Giants late in the 2009 season, Lee was greeted by a host of congratulatory pats on the back by his Chicago Cubs teammates as he returned to the dugout.
Relief pitcher Angel Guzman, however, decides that the situation called for more than a pat on the back and instead opted for a slap on the helmet. This resulted in neck spasms for Lee and may have led to the Cubbies falling out of the wild-card chase.
I'm not one to believe in curses, but…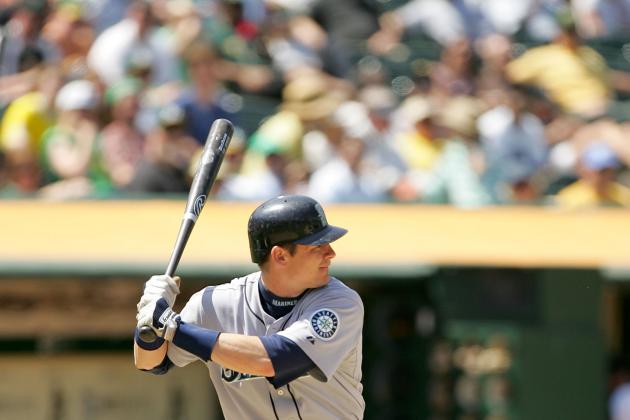 Ezra Shaw/Getty Images

Many Seattle fans consider Ichiro's game-winning blast against Mariano Rivera to have been his greatest moment as a Mariner.
What most people do not realize, however, is that backup catcher Rob Johnson was injured while jumping up and down in the ensuing celebration.
Somewhere, Ray Fosse is shaking his head in embarrassment.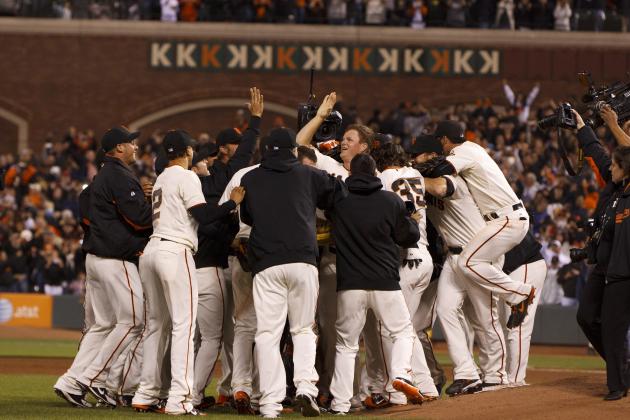 Jason O. Watson/Getty Images

Perfect games are supposed to be times of celebration, but do not tell that to the San Francisco Giants. After Matt Cain's perfecto earlier this year, backup first baseman Aubrey Huff decided it would be a good idea to jump over the dugout railing in order to get to the mound as quickly as possible.
One sprained knee later, Huff got a nice reminder that railings are there for a reason.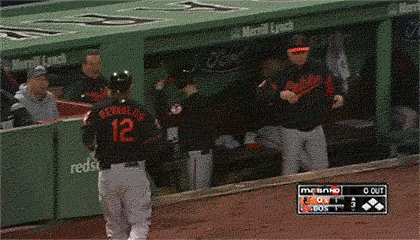 I'm willing to give Reynolds a pass on this one. Considering the guy strikes out every third trip to the plate, he had probably forgotten the protocol for high-fiving the skipper.
Apparently forgetting that he was at a baseball stadium and not a mosh pit, Morales decides to celebrate his game-winning grand slam by trying to jump on top of his Angels teammates.
The result? An awkward landing on home plate, a broken left leg and a lost season for a promising young slugger.
However, it does beg the question: Is it still called a walk-off homer if the hitter cannot walk off the field?
People have gotten A-Rod's infamous slap all wrong. He was not trying to knock the ball out of Bronson Arroyo's glove; he was prematurely celebrating Boston's amazing comeback in the 2004 ALCS.
Viewed from this light, Alex Rodriguez is one of the classiest players in the game.
Some major leaguers are still trying to get the hang of this whole "mosh pit at home plate" celebration following a walk-off home run.
Martin, whose blast defeated the rival New York Mets back in June, lands right on his butt after trying to jump into the arms of his Yankee teammates.
See why I think that baseball players simply aren't very good at celebrations?
While Hawkins' show-stealing backflip during the MLB Draft caused a thousand heart attacks in the White Sox organization, at least we can be certain that he will stick the landing on any mosh pits at home plate.