NFC North Daily: Hot Breakfast Links for July 24, 2012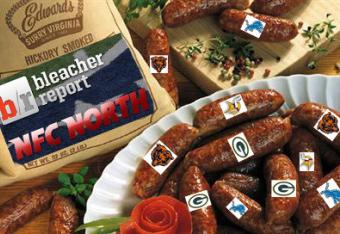 Camps are (sort of) underway!
The rookies have shown up to Lions camp, the rest of everyone will be coming in tomorrow and Thursday for all four teams.
So it will get fast and furious over the next few weeks. No rest for the wicked—or anyone else, for that matter.
Order up!
Detroit Lions

Aaron Berry issued a statement on his release from the Lions and the events around it. You can tell when lawyers write something vs players—say what you will about Berry but 1) this looks written by him and 2) he sounds contrite. We'll see if he hears the wake-up call for real.
Dave Birkett brings us the disappointing but not shocking news that rookies Ryan Broyles and Chris Greenwood will be starting camp on the Physically Unable to Perform list.
B/R FC Scott Bischoff tells us why Jacob Lacey has to step up in camp. Lacey was my "outside-looking-in guy" for cornerback, but with Berry's dismissal, that will change.
Green Bay Packers

Mike Florio reports that Anthony Hargrove is one of several players suspended due to the bounty scandal who will not seek a preliminary injunction, waiting instead for a judicial resolution, which the NFLPA hopes will happen before the season.
Bob McGinn takes a look at the Packers quarterbacks, and in his article, offensive coordinator Tom Clements talks about the feel that the organization preferred to build a quarterback (Graham Harrell) from within rather than chase a free agent.
This is absolutely a bone of contention among Packers faithful I have talked to, as some feel a Kyle Orton or Jason Campbell would have been safer. The Packers believe in this method, though, and it has worked for them—so far.
Minnesota Vikings

Tom Pelissero takes a look at the defensive backs, especially rookie Harrison Smith. One of the biggest storylines of the Vikings' draft, for me, was moving back into the first for Smith. There's no way to really judge that move now—not for years, really.
However, Smith has to step up early here—there are too many questions around him not to, especially after the team jumped back into the first for him.
Dan Wiederer tells us of eight under-the-radar players to watch in camp. I'm a little surprised DW has Jarius Wright on there and not Greg Childs—but I like his reasoning.
My opinion has been that Wright will see less time this year because he duplicates Harvin so thoroughly (not in overall ability, but role).
However, Wiederer has a point which has occurred to me before. Harvin is almost done with his contract and is already unhappy—if Wright proves his worth, he could be leverage against Harvin.
Chicago Bears

Brad Biggs takes a look at new Bears OC Mike Tice and how he is approaching the season. We talk a lot about Lovie Smith and whether he should be concerned for his job—Mike Tice holds part of the key to that as well. If Tice falls on his face, so does Lovie.
No pressure, though.
The four writers at ESPN Chicago take on some Bears fact or fiction today.
My Thoughts on Each Bears Fact or Fiction

Fact or Fiction: Jay Cutler Will Have a Career Season in 2012
Fact—he finally has the weapons, he has an offensive scheme which won't get him killed and he has a lot to prove for 2012.
Fact or Fiction: Brandon Marshall Will Catch 100 Passes This Season
Fiction—Not because he isn't good but because he won't have to. It will be close. I will say that Marshall is poised for a career year, though. You can read why, here.
Fact or Fiction: By the End of the Season, the O-Line Will Go From a Weakness to a Strength
Fiction—I don't care what magic Tice has in his toolbox, it's just too much to ask. Will it be better? Yes, much. But a strength? I think that's a leap.
How about, not a weakness?
Fact or Fiction: Michael Bush Will Have More Touchdowns Than Matt Forte This Season
Fiction—Here's one I am not sure about because the Bears like using the No. 2 in the red zone and in short yardage. This will be the best tandem in the division and one of the best in the league, so both will have chances.
Ultimately, Forte will edge Bush out, because while they will split carries, he will get more overall, and I expect that to translate to more touchdowns, even if Bush gets more looks in the red zone.
I might actually break that down further today, as it bears discussion.
Like these stories? Follow the linked writers on Twitter!
@bobmcginn @VikingsNow @StribDW @freeplions @Bischoff_Scott @profootballtalk @BradBiggs @MichaelCWright @ESPNChiBears @mkisaacson @espnchijon
Check out the B/R NFC North Facebook page—like us and keep up with everything NFC North on Bleacher Report! Follow me on Twitter at @andrew_garda.
This article is
What is the duplicate article?
Why is this article offensive?
Where is this article plagiarized from?
Why is this article poorly edited?