10 Ice-Cold MLB Prospects on the Verge of Being Demoted a Level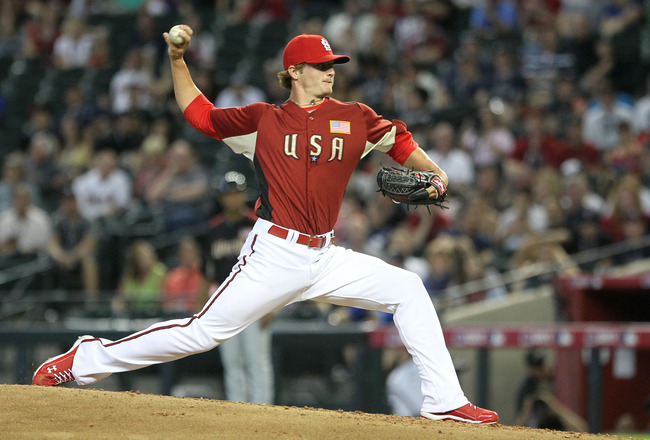 Jeff Gross/Getty Images
Now that the halfway point of the minor league levels' full season has come and gone, tons of prospects throughout baseball are continually receiving promotions to higher levels.
At the same time, there are players who are still yet to turn the corner this season and continually struggle to make adjustments that are vital to their overall progress.
While some of these prospects will be given the opportunity to work through their problems—seemingly as a sign of good faith from their respective organizations—there are countless others who are on the verge of a demotion from their current level.
Therefore, as the 2012 minor league season gradually winds down and every organization assesses the development of its prospects, these 10 players could receive a demotion in the near future to refine certain aspects of their game.
Shelby Miller, RHP, St. Louis Cardinals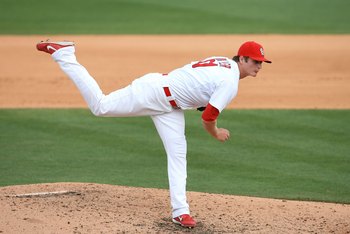 Doug Benc/Getty Images
Triple-A: 4-8, 82.1 IP, 5.79 ERA, .280 BAA, 17 HR, 94 K/46 BB (18 GS)
Coming into the season as one of the top pitching prospects in the game, Miller has done very little to retain such a title. His velocity has been down into the low-90s this season and many scouts have claimed that he appears bored or complacent in his outings.
Furthermore, the right-hander has struggled to keep the ball down in the zone, which never bodes well when there's not enough velocity to blow it past opposing hitters. As Miller's inconsistent season continues, the Cardinals will be forced to either promote, trade, or demote him to Double-A to refine his command.
Christian Bethancourt, C, Atlanta Braves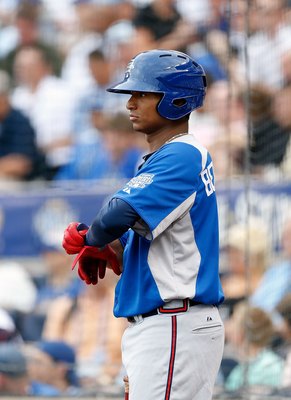 Jamie Squire/Getty Images
Double-A: .240/.269/.264, 4 XBH, 17 RBI, 38 K/9 BB (57 G)
Although Bethancourt is easily the best defensive catcher in the minor leagues, registering pop times either below or around 1.8 seconds, his ability as a hitter severely lags behind.
He's a free swinger who doesn't strike out a ton; however, he lacks plate discipline and frequently gets himself out. He fails to recognize offspeed pitches and will often chase them out of the zone, getting out on his front foot and committing too early.
Noah Perio, 2B, Miami Marlins
Courtesy of MiLB.com
High-A: .235/.282/.292, 15 XBH, 27 RBI, 43 K/18 BB (83 G)
After posting a .729 OPS last season at Low-A with 39 extra-base hits and 15 stolen bases, Perio received a promotion to High-A prior to the start of the 2012 season. So far he has struggled to drive the ball despite not striking out too often.
He's had serious problems against left-handed pitching, batting .131/.223/.141 with one extra-base hit and 16 strikeouts in 99 at-bats.
Destin Hood, OF, Washington Nationals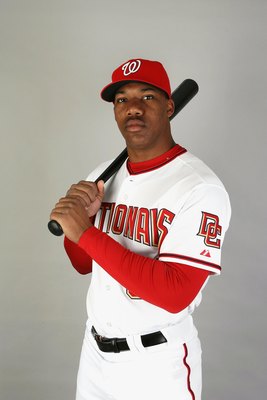 Doug Benc/Getty Images
Double-A: .223/.296/.313, 15 XBH, 30 RBI, 56 K/20 BB (59 G)
A highly impressive athlete, Hood was promoted to Double-A before the season after a breakout 2011 campaign at High-A. While he's battled injury and spent time on the disabled list this season, he's struggled to adapt to the improvement in pitching at Double-A. He's also struggled to make consistent contact and, in turn, has seen his power numbers trail off relative to 2011.
Reymond Fuentes, OF, San Diego Padres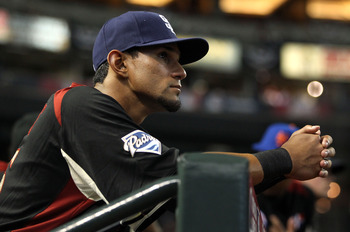 Christian Petersen/Getty Images
Double-A: .224/.310/.301, 19 XBH, 26 RBI, 21 SB, 96 K/33 BB (93 G)
Traded along with Anthony Rizzo and Casey Kelly in the deal that sent Adrian Gonzalez to Boston, Fuentes enjoyed a hot start to the season when he posted a .794 OPS in April.
However, it's been downhill since then, as he's yet to post higher than a .576 OPS in any subsequent month. He's still showing the ability to steal bases with consistency, but they are few and far between as his contact issues have led to 96 strikeouts in 93 games.
Sebastian Valle, C, Philadelphia Phillies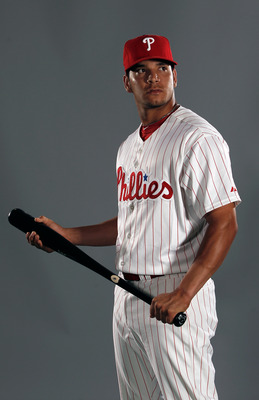 Jonathan Ferrey/Getty Images
Double-A: .241/.260/.406, 23 XBH (10 HR), 35 RBI, 72 K/9 BB (71 G)
While Valle's power numbers have returned after a disappointing 2011 campaign, he's on pace to set career-worst totals in both batting average and strikeouts. He's only drawn nine walks thus far, his first season at Double-A, so his plate discipline has a ways to go.
While he has a plus arm, Valle has also struggled to improve his blocking and receiving skills—something that will be vital toward his overall development and ascent through the Phillies' system.
Deck McGuire, RHP, Toronto Blue Jays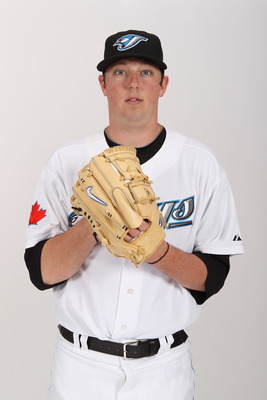 Nick Laham/Getty Images
Double-A: 4-10, 102.2 IP, 5.96 ERA, .279 BAA, 72 K/42 BB (20 GS)
After going 9-5 with a 3.02 ERA and 124 strikeouts in 125.1 innings between High- and Double-A in 2011—his first professional season—McGuire has substantially regressed this season pitching for Double-A New Hampshire once again.
He's been far too hittable, allowing 112 hits and 16 home runs in 102.2 innings, and his strikeout total is down. He's struggled to locate his pitches and work ahead in the count, which in turn has allowed opposing hitters to sit on specific offerings.
Brad Peacock, RHP, Oakland Athletics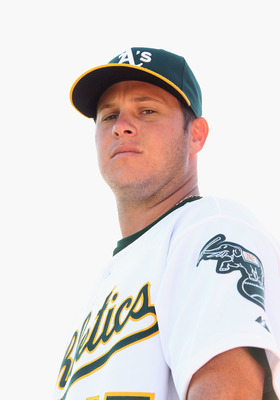 Christian Petersen/Getty Images
Triple-A: 7-6, 90.2 IP, 6.75 ERA, .301 BAA, 96 K/43 BB (19 GS)
After reaching the major leagues last season with the Washington Nationals, Peacock was traded to the Oakland Athletics this offseason along with several other prospects for Gio Gonzalez.
Clearly feeling the effects of the hitter-friendly Pacific Coast League, Peacock is having a down season and has been passed on the organizational depth chart by right-hander A.J. Griffin. Although he's still striking out his share of hitters, Peacock has yielded 112 hits in 90.2 innings, something that doesn't exactly warrant a big-league promotion.
Alex Torres, LHP, Tampa Bay Rays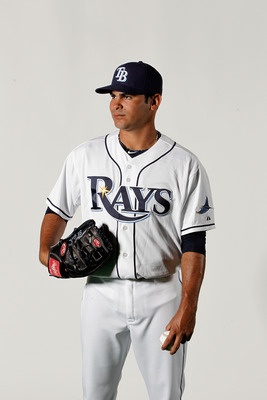 Jonathan Ferrey/Getty Images
Triple-A: 3-4, 55.1 IP, 6.34 ERA, .258 BAA, 69 K/49 BB (21 G; 10 GS)
A left-hander who has battled control problems throughout his minor league career, Torres even spent time in the Durham bullpen this season to refine his command and overall efficiency. After exhibiting some improvement in that area, he was recently reinserted into the rotation, where he continues to walk too many batters.
While is stuff is as good as ever and he continues to pile up the strikeouts, there's not much more that the organization can do other than move him back to the bullpen or issue him a demotion.
Heath Hembree, RHP, San Francisco Giants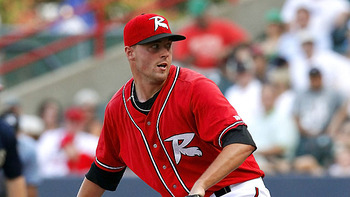 Courtesy MiLB.com
Triple-A: 1-1, 13 SV, 31 IP, 5.52 ERA, .217 BAA, 26 K/15 BB (32 G)
Pegged as the Giants' future closer, most scouts predicted that Hembree would be in the big-league bullpen by the All-Star break—especially after registering 38 saves with a 1.86 ERA and 78 strikeouts in 53.1 innings last season between High- and Double-A.
Although he's amassed 13 saves this season in 32 games, the 6'4" right-hander has struggled to consistently locate his power arsenal down in the zone. Even though he recently landed on the disabled list after an outing on June 4 where he allowed five runs on three hits and two walks, the injury doesn't explain his overall ineffectiveness this season.
Keep Reading