MLB Hall of Fame Induction 2012: Ranking the 10 Biggest HOF Snubs of the Year
Jeff Gross/Getty Images

If you were part of a Greek organization in college, whether it be a fraternity or sorority, chances are you've already made this correlation.
Every player in baseball is essentially pledging the same organization—the Hall of Fame. While the pledge period in college only lasts a few months, it can last decades in Major League Baseball.
Since inducting their first pledge class in 1936, one that consisted of five players, only 290 others have been deemed worthy of induction into this exclusive club.
That's a total of 295 people permitted entry into the hallowed halls of the Hall over more than 75 years. Sunday, that number will inch closer to 300 as Barry Larkin and the late Ron Santo will take their rightful places as the newest members.
But we could be over 300 inductees by now.
We should be over 300 inductees by now.
A strong argument could be made for dozens of players who are worthy of inclusion. Let's take a look at the 10 strongest.
Begin Slideshow

»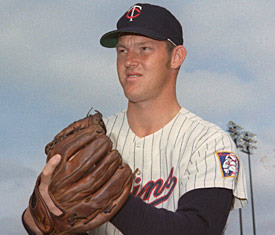 Photo courtesy of twinstrivia.com.
Career Stats: 898 G (625 GS), 283-237, 3.45 ERA, 1.26 WHIP, 4.9 K/9
2012 Voting: Not eligible for writers' ballot (Golden Era Committee Ballot, voting results not public).
Of the 30 pitchers who can boast of more career victories than Jim Kaat, 23 are members of the Hall of Fame.
Three of the seven not enshrined will be soon enough, as Greg Maddux, Randy Johnson and Tom Glavine are all destined for Cooperstown. Roger Clemens, with the steroid cloud hanging over his head, may never get in. Tommy John isn't quite Hall of Fame material, and the remaining two pitchers—Tony Mullane and Bobby Mathews—both played in the 1800s.
Arguably the greatest-fielding pitcher the game has ever seen, Kaat has 16 Gold Gloves, three All-Star selections and three 20-win seasons on his resume. With nearly 300 career victories, it's hard to say that Kaat doesn't belong in Cooperstown.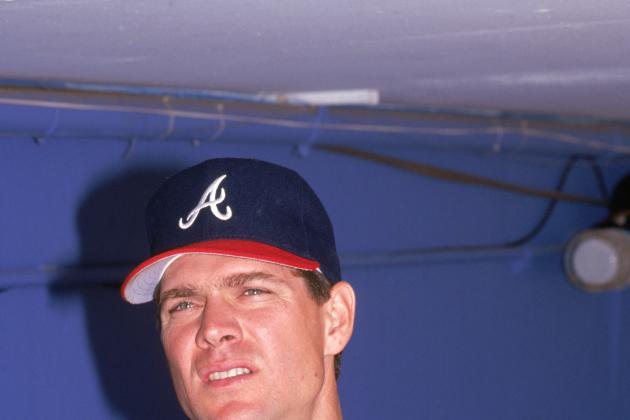 Ken Levine/Getty Images

Career Stats: 2180 G, .265/.346/.469, 398 HR, 1266 RBI, 2111 H, 1197 R, 161 SB
2012 Voting: 14.5 percent, 14th year on the ballot.
We've heard for quite some time that a player needs to be dominant in his era to warrant serious consideration for the Hall of Fame. While his pedestrian batting average screams that Dale Murphy was an average player, he was anything but that.
From 1980 through 1989, only Mike Schmidt hit more home runs than Murphy, out-slugging him 313 to 308; both players drove in 929 runs during that period as well. From 1981 through 1990, no player in baseball hit more home runs than Murphy.
The winner of back-to-back NL MVP awards, his 1983 MVP season marks the only time in baseball history that a player had a .300 batting average, 30 home runs, 120 RBI, 130 runs scored, 90 walks and 30 stolen bases while being caught stealing less than 10 times.
A seven-time All-Star and five-time Gold Glove award winner, to say that Murphy wasn't a dominant force during the 1980s simply isn't accurate. Few players put together as productive a decade as the man that Braves fans simply know as "the Murph."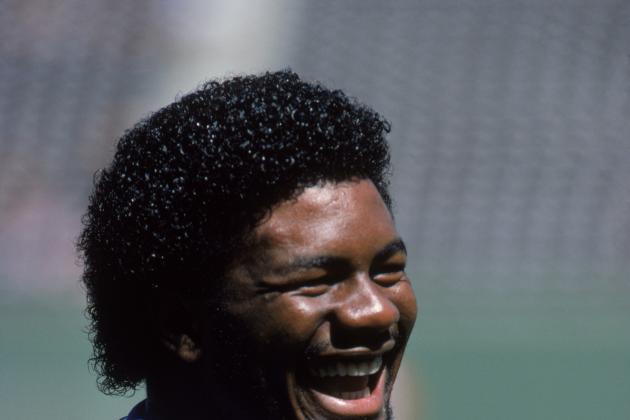 Stephen Dunn/Getty Images

Career Stats: 1022 G (6 GS), 71-92, 3.03 ERA, 1.26 WHIP, 8.7 K/9, 478 SV
2012 Voting: 50.6 percent, 10th year on the ballot.
When he retired in 1998, Lee Smith's 478 career saves were the most of any closer in the history of the game—a number since surpassed by Trevor Hoffman and Mariano Rivera.
Maybe he wasn't ever a dominating force like Rivera is, but then again, nobody is quite like Mariano Rivera. Of the five closers in the Hall of Fame—Dennis Eckersley, Goose Gossage, Bruce Sutter, Rollie Fingers and Hoyt Wilhelm—only Eckersley's career saves total comes within 100 of Smith's.
Chances are that Smith's comments about the voting process itself have played a part in his exclusion, such as what he said to Chris Jenkins of the San Diego Union-Tribune back in 2006:
This confuses the hell out of me. But I've always been baffled by it. ...


I hear people say, "Oh, but this is only your fourth year of eligibility." I don't get that either. My stats aren't getting any better with time. If anything, give it a few more years and there'll be four more guys with more saves than me. But I understand that in baseball you've got to wait your time.
He's right, of course. His stats aren't going to look better over time, and time is something that Smith is starting to run out of.
People can point to the fact that the five closers who are inducted have all been a part of World Series-winning teams, but Smith's lack of a ring speaks more to the mediocre teams that he played on and shouldn't be an indictment of his effectiveness.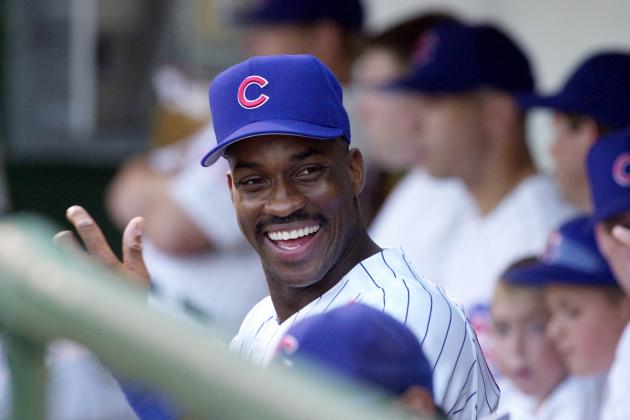 Jonathan Daniel/Getty Images

Career Stats: 2460 G, .284/.377/.509, 493 HR, 1550 RBI, 2490 H, 1349 R, 72 SB
2012 Voting: 23.9 percent, third year on the ballot.
His 493 home runs put him in a tie with Lou Gehrig for 26th on the all-time list, but consider this: Seven of the players ahead of him—Barry Bonds, Alex Rodriguez, Sammy Sosa, Mark McGwire, Rafael Palmeiro, Manny Ramirez and Gary Sheffield—are some of the faces of the steroid era and aren't likely to find their way into Cooperstown any time soon.
Two more, Ken Griffey Jr. and Frank Thomas, are sure-fire locks to make the Hall of Fame, while a third, Jim Thome, is likely headed for enshrinement as well. That takes 10 players off the list, and of the 16 remaining, each and every one is a Hall of Famer.
Comparing McGriff's numbers to two of the more recent enshrined first basemen, Tony Perez and Orlando Cepeda, makes it all the more obvious that McGriff is deserving:
McGriff: .284/.377/.509, 493 HR, 1550 RBI, 2490 H, 1349 R
Perez: .279/.341/.463, 379 HR, 1652 RBI, 2732 H, 1272 R
Cepeda: .297/.350/.499, 379 HR, 1365 RBI, 2351 H, 1131 R
While some will say that neither Cepeda nor Perez belongs in the Hall of Fame, the fact remains that they are in fact Hall of Famers—and McGriff's numbers are just as good, if not better, than theirs.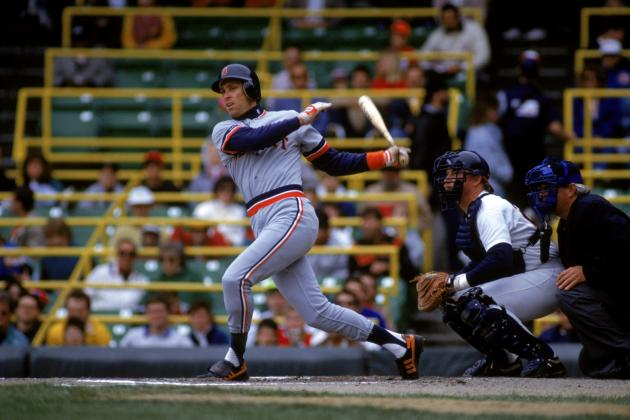 Jonathan Daniel/Getty Images

Career Stats: 2293 G, .285/.352/.415, 185 HR, 1003 RBI, 2365 H, 1231 R, 236 SB
2012 Voting: 36.8 percent, 11th year on the ballot.
Take a look at how Alan Trammell stacks up against the infamous Player X who like Trammell, spent his entire career with one team:
Trammell: 2293 G, .285/.352/.415, 185 HR, 1003 RBI, 2365 H, 236 SB.
Player X: 2180 G, .295/.371/.444, 198 HR, 960 RBI, 2340 H, 379 SB.
Player X was a 12-time All-Star and three-time Gold Glove winner who hit .300 five times and won a regular season MVP award.
Trammell was a six-time All-Star who won four Gold Gloves, hit .300 seven times, won a World Series MVP and finished second in the AL MVP Voting in 1987.
Those numbers are eerily similar aren't they?
Have you figured out who Player X is yet?
You'll see him this Sunday when he gets officially inducted into the Hall of Fame—Player X is Barry Larkin. With all due respect to Larkin, who is definitely a Hall of Famer—the fact that he's in while Trammell is not is one of the more head-scratching decisions I've seen in awhile.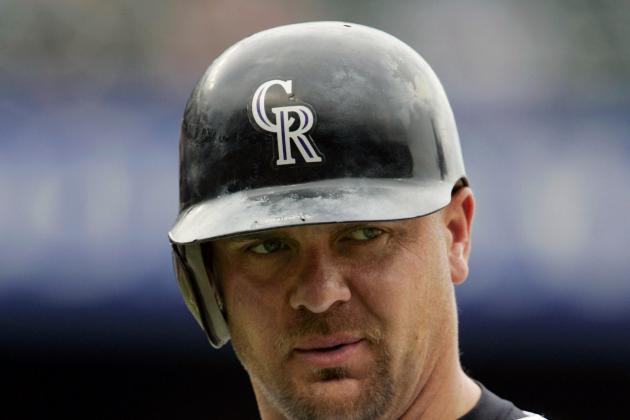 Brian Bahr/Getty Images

Career Stats: 1988 G, .313/.400/.565, 2160 H, 383 HR, 1311 RBI, 1355 R, 230 SB
2012 Voting: 22.9 percent, second year on ballot
Some people will bring up steroids when you mention Larry Walker's name, but those assertions are ridiculous. There's never been so much as a whisper that Walker's numbers are tainted by performance enhancing drugs by anyone other than fans still bitter that Walker tormented their favorite team on multiple occasions over the course of his 17-year career.
Others point to the fact that Walker spent much of his time playing in Coors Field and it's a fair point to make given the dramatic difference in his career splits: .381/.462/.710 at Coors, .282/.329/.501 everywhere else.
But so what? It's not like Walker was the only player to spend a considerable amount of time at Coors Field, giving him an unfair advantage over everyone else—and to hold something that he not only had no control over but a stadium that the commissioner's office had to approve before being built against him is nearly as ridiculous as the unfounded chatter about Walker being on the juice.
Baseball-Reference.com offers something called neutralized stats, a formula largely developed by Bill James in where they adjust a players' statistics if they had played in a neutral ballpark on an average team. Let's compare Walker's adjusted numbers to the unadjusted numbers of another Hall of Fame outfielder, Jim Rice:
Walker: .294/.378/.530, 357 HR, 1177 RBI, 2043 H, 1207 R, 219 SB
Rice: .298/.352/.502, 382 HR, 1451 RBI, 2452 H, 1249 R, 58 SB
Coors Field or not, Larry Walker put together a Hall of Fame career.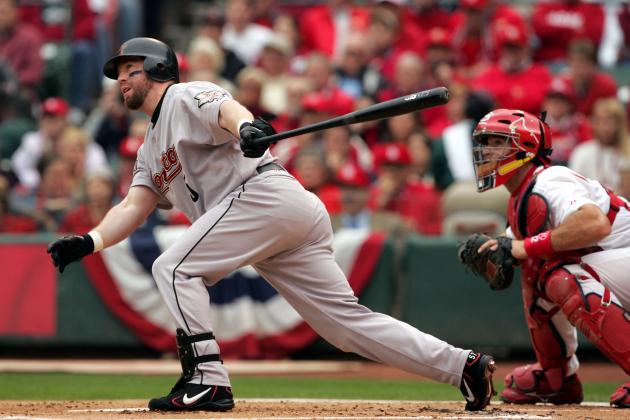 Stephen Dunn/Getty Images

Career Stats: 2150 G, .297/.408/.540, 449 HR, 1529 RBI, 2314 H, 1517 R, 202 SB
2012 Voting: 56 percent, second year on the ballot
Two icons of the game, Lou Gehrig and Jimmie Foxx, each put together six consecutive seasons with 30 home runs, 100 RBI and 100 runs scored. Jeff Bagwell not only matched their streak, but was two RBI away from doing that for eight consecutive seasons. (He finished with 98 RBI in 2002.)
Sticking with the Iron Horse and the Beast for a second, they are also two of the three first basemen to have scored and driven in more than 1,500 runs since 1900—and to do it without the security blanket of a DH spot to enjoy. The third? Jeff Bagwell.
As for the constant chatter surrounding steroids and Bagwell, he has steadfastly denied those allegations, including in an interview with ESPN's Jerry Crasnick two years ago:
I never used [steroids], and I'll tell you exactly why: If I could hit between 30 and 40 home runs every year and drive in 120 runs, why did I need to do anything else? I was pretty happy with what I was doing, and that's the God's honest truth. All of a sudden guys were starting to hit 60 or 70 home runs and people were like, 'Dude, if you took [PEDs], you could do it too.' And I was like, 'I'm good where I'm at. I just want to do what I can do.
While players like Barry Bonds, Mark McGwire and Sammy Sosa were hitting 50, 60, 70 home runs a season, Bagwell's career high was 47 in 2000—not a ridiculous number considering that he averaged 34 home runs a season.
He won the NL Rookie of the Year award in 1991, the NL MVP Award in 1994, was a four-time All-Star, the best player in Astros history and the unquestioned leader of a team that he led to the postseason six times.
Lumping Bagwell in with suspected steroid abusers that we can point to noticeable changes in their physical appearance, in their performance on the field or both is simply irresponsible and cheating a great player from receiving the honor that he deserves.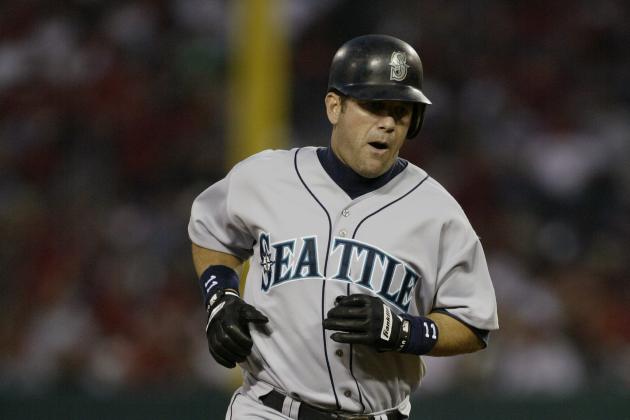 Stephen Dunn/Getty Images

Career Stats: 2055 G, .312/.418/.550, 309 HR, 1261 RBI, 2247 H, 1219 R, 49 SB
2012 Voting: 36.5 percent, third year on the ballot.
I get it—Edgar Martinez didn't play the field for most of his career.
Hall of Famer Paul Molitor spent the last eight years of his career as a designated hitter, so why should Martinez, a seven-time All-Star, be penalized for spending 10 of his 12 seasons in the big league at the same position?
His numbers are unquestionably Hall of Fame worthy, and like it or not, the DH is here to stay.
To keep the greatest designated hitter in the history of the game out of the Hall of Fame is simply doing a disservice to the Hall and the game itself.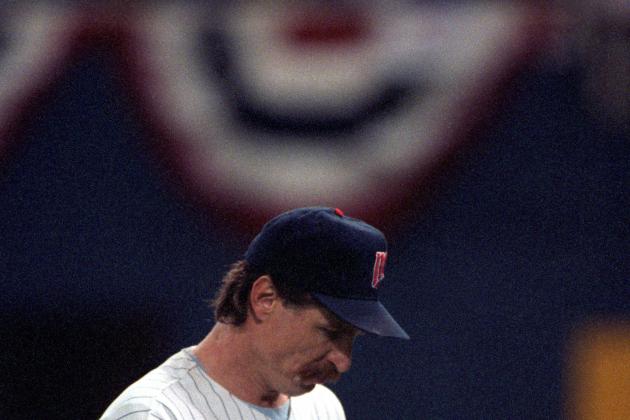 Rick Stewart/Getty Images

Career Stats: 549 G (527 GS), 254-186, 3.90 ERA, 1.30 WHIP, 5.8 K/9
2012 Voting: 66.7 percent, 13th year on the ballot.
Sometimes numbers don't tell the whole story.
It's understandable that some would look at his 3.90 ERA and say "no way" to a Hall of Fame nomination, but let's put that number in its proper place.
From 1980 through 1992, no pitcher in baseball won more games than Morris, who picked up 216 victories over that 13-year time frame—an average of 17 a year for more than a decade.
He started 13 Opening Days for three different teams, started three All-Star games and of the seven postseason series in which he took part, Morris started Game 1 six times. Five times, he started on short rest to pitch in either Game 4 or Game 7 of those series.
Do we need more proof that not only was Jack Morris an ace for multiple teams and for more than a decade, but that he's one of the best big-game pitchers the game has seen?
His ERA is truly the only argument that can be used against him—but it's a weak argument when put into the context of his career.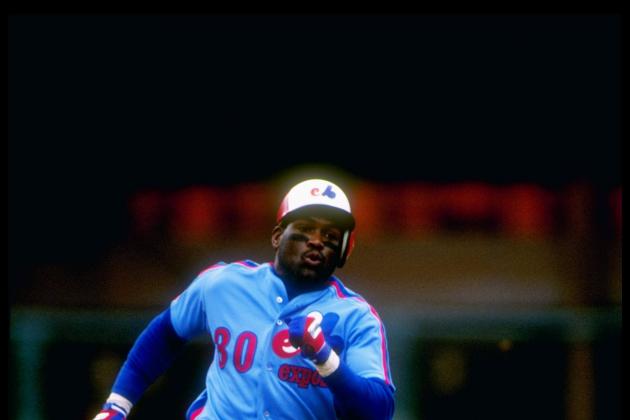 Otto Greule Jr/Getty Images

Career Stats: 2502 G, .294/.385/.425, 170 HR, 980 RBI, 2605 H, 1571 R, 808 SB
2012 Voting: 48.7 percent, fifth year on the ballot.
How Tim Raines is not yet enshrined in the Hall of Fame is mind boggling.
One of the great stolen base artists of all time, his 808 career swipes are the third most in baseball history, and both men ahead of him, Rickey Henderson and Lou Brock are enshrined in the Hall of Fame.
While everyone remembers Raines for his speed, that's selling the man short—his speed was his greatest asset, but it also made him one of the most exciting and explosive players in the game for more than a decade.
Of the 50 players who have scored more runs in their career than Raines, 46 are members of the Hall. The four who aren't? Jimmy Ryan and George Van Haltren, outfielders from the late 1800s, Bill Dahlen, a shortstop who played from 1891 to 1911, and Rafael Palmeiro, forever tainted by taking steroids.
ESPN's David Schoenfield once compared Raines to one of his contemporaries who has already been enshrined. Without clicking on the link, see if you can figure out who Player X is:
Raines: .294/.385/.425, 170 HR, 980 RBI, 2605 H, 1571 R, 808 SB, 2502 G
Player X: .338/.388/.459, 135 HR, 1138 RBI, 3141 H, 1383 R, 319 SB, 2440 G
Their stats are similar—Player X has a significantly higher batting average and more hits while Raines has more power, runs scored and stolen bases—but all things considered these two players are pretty darn close to one another.
That's right—Tim Raines might not be as professional a hitter as Tony Gwynn was, but he was just as potent of an offensive force—and he belongs alongside his fellow National League All-Star in Cooperstown.