NL Cy Young Award Rankings: Rising Cain Takes Top Spot, Strasburg Gets Squeezed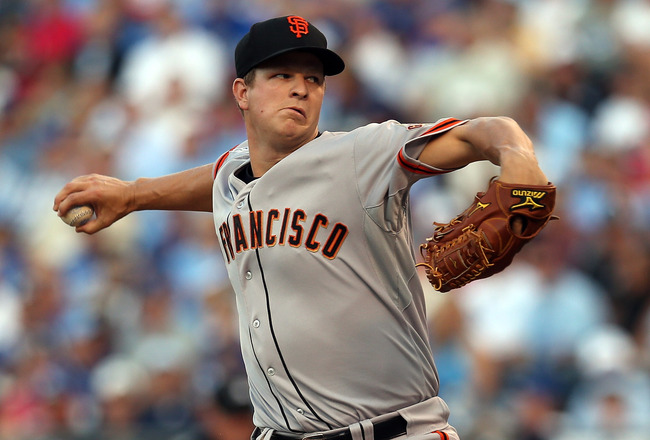 Matt Cain leads the NL in walks and hits per innings pitched.
Jonathan Daniel/Getty Images
Of all the races for postseason awards in baseball, the competition for the NL Cy Young Award might be the most intriguing. Just when it looks like a front-runner might emerge and take control of the race, he either falters or someone else pitches well enough to take over the top spot.
There are so many excellent starting pitchers in the NL that a new favorite could be chosen each week. Of the eight pitchers listed here (including honorable mentions), you could shake them up, put them in a different order and not necessarily be wrong about who goes where.
The numbers and categories that distinguish one pitcher from another can take on different meanings from week to week as well. What demonstrates dominance most clearly? Is it ERA? Is it strikeouts? Opponents batting average? Won-loss record? Though it may seem like the criteria for these rankings can change each week, we're talking about a rather subjective process.
So we have a shake-up in our rankings this week with two pitchers returning to the list of top contenders and a change at the top. Your responses, suggestions and rankings are welcome in the comments. They make a difference in how this list is put together. But for now, these five pitchers look like the leading candidates for the NL Cy Young Award.
** All statistics are current going into Wednesday's schedule of games.
Honorable Mentions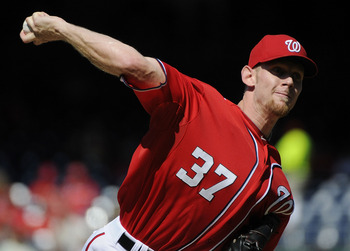 Jonathan Ernst/Getty Images
Stephen Strasburg, Washington Nationals
Strasburg drops out of the top five for the first time this season. To be honest, I'm not sure that's the right move, but with other pitchers making a push, it was difficult to keep him among the five leading contenders.
There's some thought that Strasburg shouldn't be considered at all because it's presumed he's not going to be pitching by the end of the season. Once he reaches the innings limit the Nationals have imposed upon him, he'll be shut down. I still have doubts that will happen, however.
To me, these rankings reflect who is pitching the best right now, not who will win the Cy Young Award at the end of the year. Ideally, the two philosophies would match up. But not this year.
Strasburg leads the NL in strikeouts with 135. Consequently, his rate of 11.57 Ks per nine innings is the best in baseball. His ERA, WHIP (walks and hits per innings pitched) and opponents batting average are also among the league leaders. However, Strasburg has pitched several fewer innings than his contemporaries. (He has 30 fewer than the Padres' Clayton Richard, for example.)
Clayton Kershaw, Los Angeles Dodgers
Kershaw is just two-thirds of an inning behind the league lead in that category. He's been the workhorse for a starting rotation that is carrying his team. And with injuries to Ted Lilly and Chad Billingsley, the Dodgers need him to be the ace more than ever.
Only Strasburg has more strikeouts in the NL. Kershaw also ranks among the top pitchers in the league in ERA, WHIP and opponents batting average.
Kershaw won the Cy Young Award last season, of course. The one difference between last year and this season is that he's giving up more hits. As ESPN.com's Dan Braunstein explains, Kershaw's inconsistency with his slider may have something to do with that.
Ryan Vogelsong, San Francisco Giants
Vogelsong was outstanding on Wednesday night against one of the best lineups in the NL. Facing the Atlanta Braves, Vogelsong allowed one run and four hits over six innings, along with seven strikeouts.
For a guy who tends not to strike many guys out, it was a dominant performance. But Vogelsong has been doing this all season. Wednesday's performance dropped his ERA to 2.31, the third best in the league.
Vogelsong is striking out 6.5 batters per nine innings, one of the lowest totals in the majors. (He ranks No. 70 in that category, to be exact.) Despite that, he's 12th in the NL in WHIP and his .219 opponents batting average is the sixth best in the league.
5. Ryan Dempster, Chicago Cubs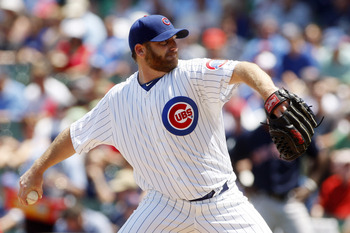 Jerry Lai-US PRESSWIRE
Last week: Unranked
The one pitcher that most commenters felt was the biggest snub last week was Ryan Dempster. How could the pitcher with the NL's best ERA not be on the list?
I was under the impression that Dempster hadn't pitched enough innings to qualify among the league leaders. But I was mistaken. He had exactly the number of innings necessary, despite going on the disabled list with a lat muscle injury.
So Dempster continues to lead the NL with a 1.86 ERA. He's the only starting pitcher in the majors with an ERA under 2.00. More impressively, Dempster has pitched 33 consecutive scoreless innings, covering five straight starts.
That's despite averaging 7.34 strikeouts per nine innings, ranking him No. 55 among big-league pitchers. However, Dempster makes up for that with a 1.02 WHIP, the third-best mark in the NL. Opposing batters are also hitting just .204 against him, the second-lowest average in the league.
The question now is whether Dempster will still be pitching in the NL by the end of July. Will the Cubs trade him to an American League contender like the Tigers or Red Sox? Dempster has pitched in the NL his entire career, however, so landing with the Dodgers, Braves or maybe even the Nationals seems more likely.
4. Gio Gonzalez. Washington Nationals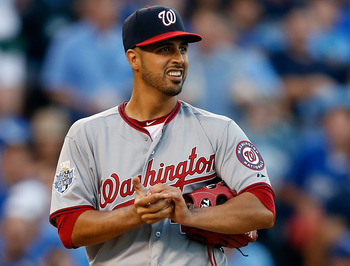 Jamie Squire/Getty Images
Last week: Honorable mention
Once the early favorite to win the NL Cy Young Award, Gio Gonzalez dropped out of our top five list after a rough pair of starts in late June and early July. That may have been a bit harsh, but he was allowing more runs while striking out fewer batters.
Gonzalez appears to have righted himself, however, and once again looks like one of the most dominant pitchers in the league. His 127 strikeouts are tied for the third most in the NL, and only teammate Stephen Strasburg punches out batters at a higher rate per nine innings than Gonzalez's 10.62.
Walks have been a career bugaboo for Gonzalez, which is why his 1.10 WHIP is a bit higher than the top pitchers in the NL. However, Gonzalez is also allowing 6.35 hits per nine innings, the best rate in the league.
The one number that shows just how overpowering Gonzalez has been is an opponents batting average of .195, which leads all NL pitchers.
Gonzalez also has 12 wins, tied for the major-league lead in victories.
Though Strasburg is generally considered to be the Nationals' ace starter, their best pitcher might really be Gonzalez. Considering that Strasburg might be shut down in September, Gonzalez becomes even more important. He'll be expected to lead the way during the Nats' playoff drive.
3. R.A. Dickey, New York Mets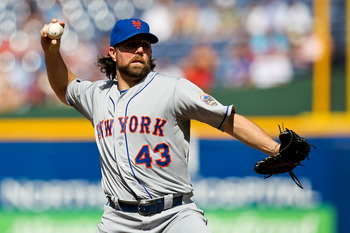 Daniel Shirey-US PRESSWIRE
Last week: No. 1
R.A. Dickey was the best pitcher in the National League during the first half of 2012, which is why we had him at the top of our NL Cy Young Award rankings last week.
However, we're now into the second half of the season and it hasn't begun so well for Dickey. In his first start after the All-Star break, Dickey was roughed up for five runs and eight hits over five innings against the Braves.
Just one bad start? Not exactly. Dickey has allowed five runs in three of his past four starts. There was a shutout mixed in there, but it came against the Dodgers, who haven't generated much offense against anyone in recent weeks.
So what's been the problem? As Dickey told the New York Times' Andrew Keh, he needs to change speeds more often.
"I think perhaps throwing too many hard knuckleballs has gotten me in trouble some, in an effort to strike guys out with it," Dickey explained. "If anything, I'm going to try to change speed with it a bit more, but nothing drastic."
That makes as much sense as any other possible explanation. Even if opposing batters don't know where that knuckleball is going, they can still sit on a pitch if it's coming in at the same speed.
Despite the struggles, Dickey still has a 12-1 record and 2.66 ERA. With 127 strikeouts, he's tied for third in the NL. Dickey also has the league's second-best WHIP at 0.98 and his .211 opponents batting average is the fourth lowest among NL starting pitchers.
2. Johnny Cueto, Cincinnati Reds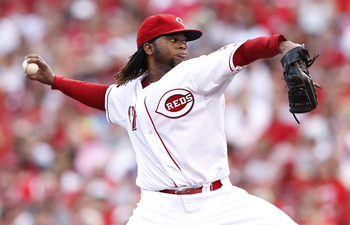 Joe Robbins/Getty Images
Last week: No. 3
In his first start since baseball's midseason break, Johnny Cueto demonstrated why snubbing him from the NL All-Star team was such an outrage. Facing the Arizona Diamondbacks, Cueto pitched six shutout innings, allowing four hits.
That lowered his ERA to 2.28, second in the NL behind Ryan Dempster.
Since giving up five runs and 11 hits against the Colorado Rockies on May 25, Cueto has allowed three runs or fewer in his past nine starts. In four of those appearances, he allowed one run or less.
Those numbers are even more impressive considering that Cueto doesn't strike that many batters out. His rate of 6.7 strikeouts per nine innings ranks him No. 64 among major league pitchers. He allows 8.3 hits per nine, ranking No. 37 in baseball.
Rather than try to blow hitters away, Cueto pitches to contact and gets ground-ball outs, a necessity for success at Great American Ball Park, where any fly ball can go into the seats.
Letting batters hit the ball also allows Cueto to pitch more efficiently and go deep into ballgames. His 126.1 innings are the fourth most in the league.
1. Matt Cain, San Francisco Giants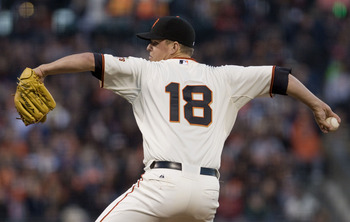 Ed Szczepanski-US PRESSWIRE
Last week: No. 2
With Dickey's drop from the top, Matt Cain regains his place as the leading contender for the NL Cy Young Award.
Though Cain faced the Houston Astros in his first start since the All-Star break, he did what a top pitcher should do against a bad lineup. Cain allowed one earned run and five hits over 6.1 innings, while striking out six batters.
Look at the NL's pitching leaderboards and Cain's name isn't far from the top in any category. His 2.56 ERA ranks fifth among NL starting pitchers. Opposing batters are hitting .210 against him, the second-best mark in the league. And Cain leads NL pitchers with an 0.96 WHIP.
Cain also has the fifth-most strikeouts in the NL with 124. And his 126.1 innings are the league's third-highest total.
Now that the Giants have overtaken the Dodgers for the NL West lead, it doesn't look like they'll be giving up first place any time soon. San Francisco's offense is much improved from last season, but this team is built around its starting pitching.
If Cain is the best pitcher on what's arguably the best pitching staff in baseball, that's a pretty compelling argument for him being the Cy Young Award front-runner in the NL.
Follow @iancass on Twitter
Keep Reading