Fantasy Football 2012: Fantasy Experts Draftmaster Recap: Rounds 5-10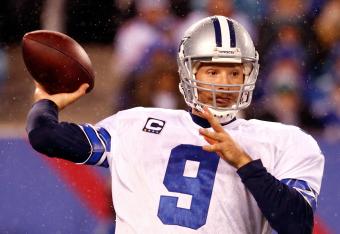 Jeff Zelevansky/Getty Images
Fantasy experts' drafts can go one of two ways: Either the experts only want their name involved and really don't care about the draft, or they can be total cutthroat drafts. Draftmaster 50 is definitely of the latter variety. Each of these experts is obviously putting a lot of thought into each pick and trying to out-think 11 others who are doing the same right back. These are the fun drafts.
Last week, I posted the analysis of the first five rounds of this draft. Today we will continue with the next five rounds.
This is a strong group of drafters, and sometimes knowing your opponents can be both a blessing and a curse. Trying to out-think guys who know the players you are high on before the draft even begins can bring its own battles to the table.
Most of the owners in this group play against each other in multiple leagues and have for many years. When owners are knowledgeable of the likes and dislikes of the other owners, the ADP goes out the window. If an owner feels strongly enough about a player, they know they have to grab them long before their current ADP. We really start to see this come into play in these rounds.
In this review I have added some of the comments that the owners made when making their picks, hopefully it will give you a little insight into the picks themselves. You can follow the draft here.
Here is a list of the Experts involved:
Mike Clay (@MikeClayNFL): Pro Football Focus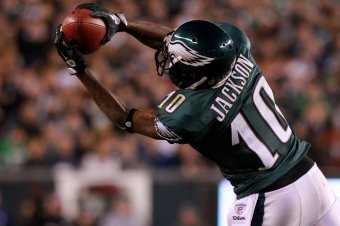 Nick Laham/Getty Images
Sigmund Bloom (@SigmundBloom): FootballGuys
Josh Moore (@4for4_Josh): 4for4
Marc Caviglia (@BrunoBoys): Bruno Boys
Paul Greco (@PaulGreco): FantasyPros911
Greg Kellogg (@komments): Fantasy Sharks Radio
Chris Wesseling (@ChrisWesseling): Rotoworld
Adam Ronis (@AdamRonis): RotoExperts
William Del Pilar (@wdelpilar): Former Owner KFFL & 2011 Pro Football Weekly writer
Matt Schauf (@mschauf63): DraftSharks
John Sarmento (@rumfordjohnny): 2mugsFF
This draft uses PPR scoring with 24 roster spots and the following starting lineup: 1 QB, 2 RB, 3WR, 1 TE, 2 Flex (RB, WR, TE), K, Def.
The following are the picks from rounds six through 10.
Round 6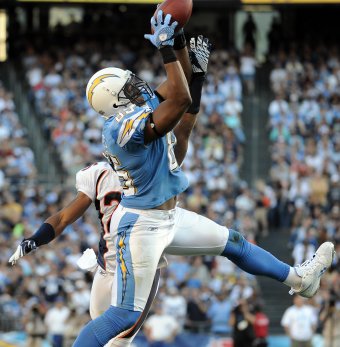 Harry How/Getty Images
6.01 @mschauf63: Robert Meachem, WR, San Diego: "Next up is a guy I haven't gotten to draft often enough yet because Antonio Brown and Eric Decker are usually sitting there for me. I expect Meachem to blow up in San Diego, with the only question being his number of targets. That question isn't big. The upside is."
6.02 @4for4_Josh: Vincent Jackson, WR, Tampa Bay: "Vincent's propensity to blow up and then disappear wont have me pulling my hair out in a best ball format. Yay."

6.03 @MikeClayNFL: Beanie Wells, RB, Arizona

6.04 @BrunoBoys: Jonathan Stewart, RB, Carolina

6.05 @komments: Peyton Manning, QB, Denver

6.06 @AdamRonis: Tony Romo, QB, Dallas

6.07 @wdelpilar: DeSean Jackson, WR, Philadelphia: "I had Pierre Garcon rated one tier above but only slightly. As my No. 2 fantasy WR I have no qualms w/going w/D-Jax regardless of his attitude. I'll take my chances and believe he has upside when compared to his 2011 campaign. With Michael Vick with a full offseason as the starting QB I believe their chemistry will improve."
6.08 @PaulGreco: Jason Witten, TE, Dallas: "Set to have another top five TE season. If he continues to date Tony Romo, we're looking at a 70+ rec, 900+ yd season. BOOM!!!"
6.09 @RumfordJohnny: Antonio Gates, TE, San Diego: "Don't love the value at WR at this point, so I'd prefer a #1 target at TE, over a 2nd or 3rd option at WR."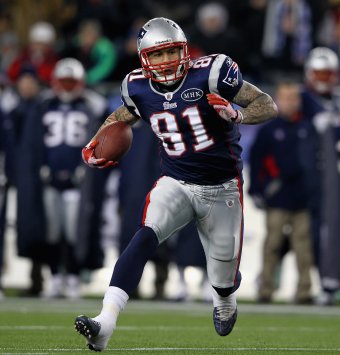 Al Bello/Getty Images
6.10 @SigmundBloom: Aaron Hernandez, TE, New England

6.11 @Fantasytaz: Matt Ryan, QB, Atlanta

6.12 @ChrisWesseling: Vernon Davi, Tight End, San Francisco

Round Makeup: Three quarterbacks, two running backs, three wide receivers and four tight ends.
Draft Makeup: 10 quarterbacks, 27 running backs, 29 wide receivers and six tight ends.
Round Analysis: This round saw some strong quarterbacks and tight ends come off the board, along with some risky wide receivers. Meachem has never shown that he can be a No. 1 wide receiver. Vincent Jackson now finds himself as the first option in a very run-heavy offense, and DeSean Jackson needs to decide if he will actually try this year. All of them have upside, but they definitely come with some risk.
Greg Kellogg taking Peyton Manning before Tony Romo came off the board was a surprise, but if Manning is indeed fully healthy he could pay off big there.
Best Value Pick: Aaron Hernandez. Hernandez finished as the third tight end, even while missing multiple games in 2011, and if he can stay healthy for the a full season, he may get even closer to the big two, Rob Gronkowski and Jimmy Graham.
Riskiest Pick: Beanie Wells. He finished 2011 as the 24th ranked RB, so this is right where most will take him. But there is a good chance that Ryan Williams will take the ball out of an oft-injured Wells' hands more often than fantasy owners will like.
Who is your riskiest pick in Round 6?
Safest Pick: Matt Ryan. Ryan has finished as the No. 8 quarterback in each of the last two seasons and now the offense is looking to air it out even more. He represents great value as the tenth QB off the board.
Round 7
7.01 @ChrisWesseling: James Starks, RB, Green Bay: "Looks like an every-down back in a high-scoring offense."
7.02 @Fantasytaz: Darrius Heyward-Bey, WR, Oakland

7.03 @SigmundBloom: Pierre Garcon, WR, Washington

7.04 @RumfordJohnny: Randall Cobb, WR, Green Bay

7.05 @PaulGreco: Donald Brown, RB, Indianapolis

7.06 @wdelpilar: C.J. Spiller, RB, Buffalo

7.07 @AdamRonis: Torrey Smith, WR, Baltimore

7.08 @komments: Jay Cutler, QB, Chicago: "By grabbing Jay Cutler, I hedge my bets on Manning. This is a position that is critical in Draftmaster formats. One injured QB can hurt you, two can kill you."
7.09 @BrunoBoys: Jermichael Finley, TE, Green Bay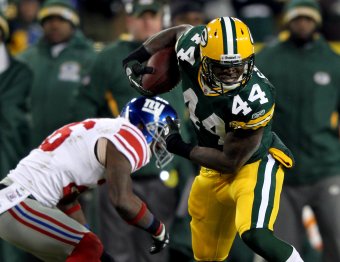 Jamie Squire/Getty Images
7.10 @MikeClayNFL: Denarius Moore, WR, Oakland

7.11 @4for4_Josh: David Wilson, RB, New York Giants: "Wouldn't normally reach for Wilson in the 7th, but he gives me additional value here w/Bradshaw already in tow."
7.12 @mschauf63: Ben Roethlisberger, QB, Pittsburgh: "This is why it's not hard to wait on a QB. I still see 2 weekly starters at QB, 2 other decent No. 1s and plenty of ammo for a best-ball corps. It's a deep position. I very nearly passed here just to see what would make it back to me. But I see 30+ TD upside on Roethlisberger this year under Todd Haley and don't love the remaining RBs enough to reach for 2 here."
Round Makeup: Two quarterbacks, four running backs, five wide receivers and one tight end.
Draft Makeup: 12 quarterbacks, 31 running backs, 34 wide receivers and seven tight ends.
Round Analysis: This round saw the first handcuffs come off the board. Both William Del Pilar and Josh Moore grabbed the handcuffs for Fred Jackson and Ahmad Bradshaw, respectively.
John Sarmento took Randall Cobb off the board four full rounds before his current ADP, which obviously shows that he expects big things from Cobb. Greg Kellogg grabs his second QB in a row, and as he states, he is hedging his bet in case Manning isn't ready.
Matt Schauf waited until the end of the seventh round to grab his first QB, Ben Roethlisberger, but one team still has no starting QB.
Best Value Pick: C.J. Spiller. In a draft where most RBs came off the board early, Spiller actually came off the board almost a full round after his current ADP.
Justin Edmonds/Getty Images
Riskiest Pick: David Wilson. Wilson is a very good running back, but he is not even guaranteed to be the backup, according to ESPN's Ohm Youngmisuk.
Safest Pick: Every single pick in this round has questions, but Roethlisberger is the safest choice. He has finished in the top 12 in points per game in both of the last two years.
Round 8
8.01 @mscauf63: Benjarvus Green-Ellis, RB, Cincinnati: Utter toss-up for me here between the Lawfirm and McGahee. I'll go BJGE because he's younger and the new HC raved about him after signing him. In Denver, the buzz RB is Ronnie Hillman. Each comes with considerable TD upside thanks to goal-line skills."
8.02 @4for4_Josh: Willis McGahee, RB, Denver

8.03 @MikeClayNFL: Fred Davis, TE, Washington

8.04 @BrunoBoys: Reggie Wayne, WR, Indianapolis

8.05 @komments: Carson Palmer, QB, Oakland: "24 roster spots without IDP. I took two QBs with questionable health histories. I KNOW Jim Day was targeting Palmer so I take him a little early because I suspect he is a top 15 guy."
8.06 @AdamRonis: Ronnie Hillman, RB, Denver

8.07 @wdelpilar: Robert Griffin III, QB, Washington: "In this best-ball format and despite a great 2011 season Matthew Stafford was injury-prone. I'm deviating from my normal strategy based on best-ball format to take a rookie QB but one who should post quality numbers with his legs and will have a few boom weeks. That's where this format benefits me despite having Stafford. I'm looking towards elite scores in this slot all season."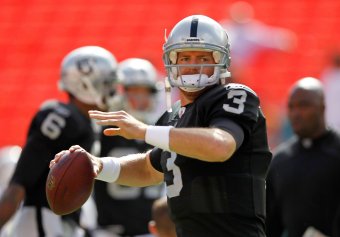 Mike Ehrmann/Getty Images
8.08 @PaulGreco: Mark Ingram, RB, New Orleans

8.09 @RumfordJohnny: Greg Little, WR, Cleveland

8.10 @SigmundBloom: Philip Rivers, QB, San Diego

8.11 @Fantasytaz: Ben Tate, RB, Houston

8.12 @ChrisWesseling: Stevan Ridley, RB, New England

Round Makeup: Three quarterbacks, six running backs, two wide receivers and one tight end.
Draft Makeup: 15 quarterbacks, 37 running backs, 36 wide receivers and eight tight ends.
Round Analysis: Greg Kellogg comes back for his third quarterback in a row, and at this point in the draft he has more QBs than wide receivers. Something about that just doesn't feel right. You can only start one QB per week, so pressing his depth at QB is going to cost him at wide receiver.
Sigmund Bloom finally grabs his QB and gets great value with Philip Rivers at the end of the eighth round, two full rounds after his current ADP. This just shows that waiting on a starting QB can net big dividends.
William Del Pilar is obviously enjoying the Robert Griffin Kool-Aid to take him before Rivers.
Best Pick: Philip Rivers. Even in a turnover-riddled 2011 season Rivers finished as a top-10 QB. He has averaged almost 4,400 yards and 30 TDs in his last four seasons.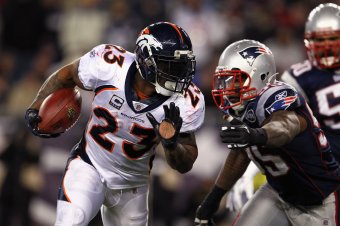 Al Bello/Getty Images
Riskiest Pick: Robert Griffin III. Most are expecting Griffin to be the next coming of Cam Newton, but to grab him before a quarterback with Rivers' numbers is just buying into the early season rookie love a little too hard.
Safest Pick: Philip Rivers would be my choice here, but we've already talked about him, so I will go with Reggie Wayne. Wayne took a big hit last year, mostly due to lousy play at the QB position. With Luck under center we should expect better QB play than Wayne saw last year. Expect him to bump up his 2011 numbers.
Round 9
9.01 @ChrisWesseling: Sidney Rice, WR, Seattle

9.02 @Fantasytaz: Tony Gonzalez, TE, Atlanta

9.03 @SigmundBloom: Peyton Hillis, RB, Kansas City

9.04 @RumfordJohnny: Jacob Tamme, TE, Denver

9.05 @PaulGreco: Matt Schaub, QB, Houston

9.06 @wdelpilar: Randy Mos, WR, San Francisco: "Calculated Risk here w/Randy Moss and as my No. 3 fantasy WR it's an important pick for me based on expectations. When originally signed I expected him to be No. 1 but then the Crabtree and Manningham talk along w/analysts takes seemed to put me in the minority but after OTAs I believe he can still be the team's best WR with others to complement him - that's where Crabtree and Manningham will help. I wanted to go a different direction but with only two WRs - albeit quality receivers - I needed to focus on this position this round."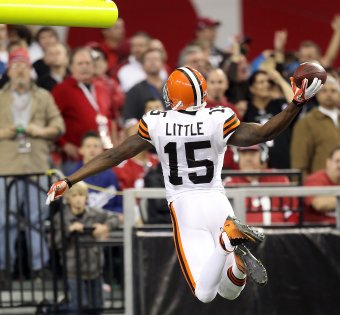 Christian Petersen/Getty Images
9.07 @AdamRonis: Brandon Pettigrew, TE, Detroit

9.08 @komments: DeAngelo Williams, RB, Carolina: "Well that sucked. I figured that after I took Palmer, Jim would snatch Gonzo from me but I had hoped Pettigrew would fall. Instead Gonzo, Tamme and Pettigrew all go in the six picks before me. Time to regroup and take another RB."
9.09 @BrunoBoys: Michael Crabtree, WR, San Francisco

9.10 @MikeClayNFL: Michael Bush, RB, Chicago: "Doubt Forte holds out or gets traded, but it's a possibility. Either way, he has a good shot at scoring 8-10 touchdowns."
9.11 @4for4_Josh: Santonio Holmes, WR, New York Jets

9.12 @mschauf63: Pierre Thomas, RB, New Orleans: "I fell for Pierre during his monster second half in 2008. Although we've had our rocky times since then -- thanks largely to that jerk Sean -- we're still together. Watching him play, I don't know how the team doesn't give him more touches. I aim to be around when he finally enjoys his full-season breakthrough."
Round Makeup: One quarterbacks, three running backs, five wide receivers and three tight ends.
Draft Makeup: 16 quarterbacks, 40 running backs, 41 wide receivers and 11 tight ends.
Round Analysis: There is a lot of good upside in this round, including Peyton Hillis, Jacob Tamme and Randy Moss. Moss is back and he wants to play. He will be a force this year and landing him in the ninth round could end up as a huge steal.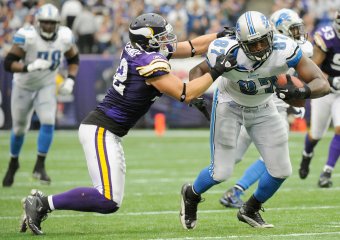 Hannah Foslien/Getty Images
When was the last time two San Francisco wide receivers came off the board in the same round of a draft? Heck when was the last time two 49er receivers were even drafted in the same draft? The times they are a changing.
Santonio Holmes continues to fall. Last year at this time he was being taken in the fifth round.
Best Pick: Peyton Hillis. Hillis in a good situation in Kansas City. The offensive line is built to help a strong running unit, and he will be reunited with offensive coordinator Brian Daboll. Starter Jamaal Charles is coming back from ACL surgery, and if Charles has any setbacks, Hillis will be a steal here.
Riskiest Pick: Sidney Rice. Rice has missed 17 games the last two years and is coming off surgeries to both shoulders this offseason.
Safest Pick: Brandon Pettigrew. He has been a top-10 tight end the past two seasons, including finishing sixth in 2011, yet he is coming off the board as the 11th tight end taken.
Round 10
10.01 @mscauf63: Shane Vereen, RB, New England: "I'm not sure how things are going to be sorted out in the New England backfield, but I'm anxious to find out. It was only a year ago that Bill Belichick drafted this guy ahead of Mikel Leshoure, Daniel Thomas, DeMarco Murray and Stevan Ridley. I'm plenty willing to take a shot here -- especially in a best-ball setup."
10.02 @4for4_Josh: Lance Moore, WR, New Orleans: "Meachem is gone. Toon is a rookie. Henderson isn't good. Think Moore plays well in a best-ball format and has tremendous upside."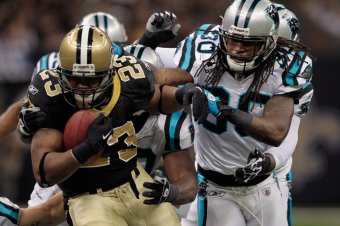 Chris Graythen/Getty Images
10.03 @MikeClayNFL: Titus Young, WR, Detroit

10.04 @BrunoBoys: Felix Jones, RB, Dallas

10.05 @komments: Jared Cook TE, Tennessee

10.06 @AdamRonis: Malcom Floyd, WR, San Diego

10.07 @wdelpilar: Toby Gerhart, RB, Minnesota: "I believe I'm in the minority based on offseason reports but I'll take that belief and run w/it. I believe Gerhart will be in a time-share with AP all season vs. the thought AP will return to form at some point this year. Sure AP has the ability to be a Terry Allen (2 ACLs) or Robert Smith (ACL/PCL) - two former fantasy and NFL studs who overcame multiple devastating knee injuries. However I'll take the statistical odds AP's not an outlier and Gerhart will see enough weekly touches to make a fantasy difference. In best ball format I'll be able to maximize his best weeks but I do hope he sees enough touches weekly to make an impact. As stated, a calculated risk. That and John Sarmento who owns AP but only two RBs at this point may have been looking this round at Gerhart. We're at a point someone would have taken him regardless."
10.08 @PaulGreco: Mike Williams, WR, Tampa Bay: "The potential is there for Mike Williams. With Vincent Jackson coming in opposite of him, the hope is, the double teams will shift Jackson's way, leaving Williams one-on-one down field. A budding star."
10.09 @RumfordJohnny: Rashad Jennings, RB, Jacksonville

10.10 @SigmundBloom: Jacquizz Rodgers, RB, Atlanta

10.11 @Fantasytaz: LeGarrette Blount, RB, Tampa Bay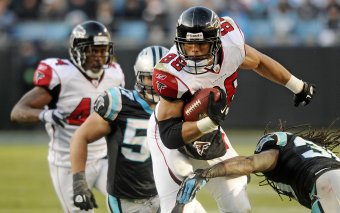 Jared C. Tilton/Getty Images
10.12 @ChrisWesseling: Kevin Smith, RB, Detroit

Round Makeup: Seven running backs, four wide receivers and one tight end.
Draft Makeup: 16 quarterbacks, 47 running backs, 45 wide receivers and 12 tight ends.
Round Analysis: Another round of solid upside players. Lance Moore, Titus Young, Malcom Floyd and Mike Williams all present nice upside this late in the draft.
All of the running backs selected in this round have the chance to exceed these draft positions, if one or two things go their way. That is what you're looking for when drafting running backs this late. Each could be called upon at some point this season to carry the load for their team, and if you happen to hit the right one, that player could push your team into the playoffs and beyond.
Last year Darren Sproles was being taken this late, or even later, in most drafts. The potential is definitely there.
Best Pick: Mike Williams. If Williams can get back to where he was in his rookie season—especially with the help of Vincent Jackson on the other side—Williams has the chance to get back into the top 20.
Riskiest Pick: Shane Vereen. Don't get me wrong, I like Vereen. But the simple fact is that we just have not seen him on the field enough to know if Belichick will use him enough to make him fantasy worthy. They still have Danny Woodhead and Joseph Addai on the roster. This is a battle to watch carefully in training camp and the preseason.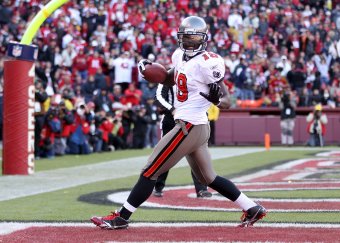 Ezra Shaw/Getty Images
Safest Pick: Lance Moore. In three of the last four years, he has had at least eight touchdowns and should see increased chances with Robert Meachem moving on to San Diego.
Here are some things that stand out through 10 rounds:
Nine teams only have one quarterback, while Kellogg has three.
Kellogg is also the only team not to have at least three wide receivers at this point.
John Sarmento is the only team with less than three running backs. He is also the only team to have two tight ends so far.
Every team has a starting tight end except William Del Pilar's.
Greg Kellogg REALLY likes quarterbacks.
Check back next week for Rounds 11-15.
Follow Jim Day on Twitter @Fantasytaz and visit his website Fantasytaz.com. He hosts the Twitter Roundtable podcast on BlogTalkRadio each Wednesday night at 8:00pm EST and will be appearing at the Fantasy Football Fest in Atlantic City on August 18th and 19th.
This article is
What is the duplicate article?
Why is this article offensive?
Where is this article plagiarized from?
Why is this article poorly edited?