Rob Gronkowski's Summer of Gronk Continues Per Bill Simmons' ESPYs Stories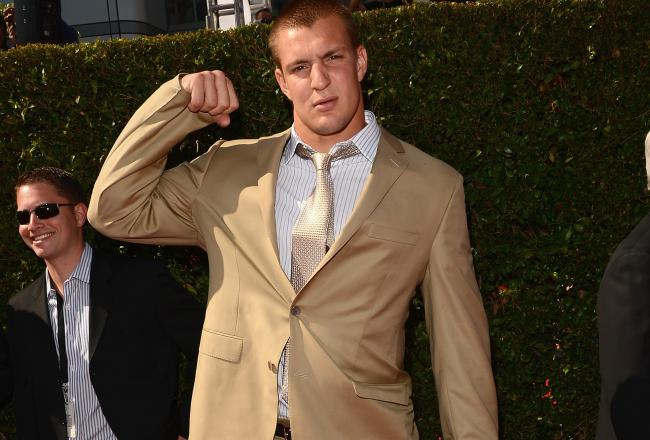 Jason Merritt/Getty Images
Rob Gronkowski is a little kid given the keys to the nation, and his summer of Gronk will no doubt continue, despite the misgivings of the New England Patriots.
ESPN's Bill Simmons recently gave us all a tour of the behind-the-scenes antics of Gronkowski at the 2012 ESPYs, via his B.S. Report Podcast.
We give a virtual tip of the hat to Big Lead Sports who picked up on the hilarity and to Sports Rapport who apparently transcribed all the goodies.
We are taken to the ESPYs which featured a few moments of pure brilliance as pertains to Gronkowski. However, there is nothing shocking from them, because we already knew he was the most-bro bro to ever bro.
These just strengthen that assertion.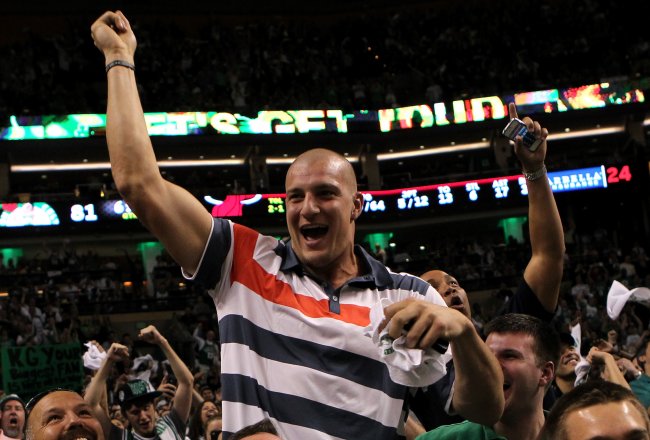 Jim Rogash/Getty Images
Here is Gronk dominating a crowded escalator, via Sports Rapport. By the way, it seems Simmons had issue differentiating between an elevator and escalator. For us fat people, we know the difference. Escalators are our best friends at malls.
Leaving the after party, walking through the hotel where the first after-party was and there was an [escalator] that people were going down. And there was probably like—you know, people were walking kind of slow because there's only one at a time on the [escalator] so it's kind of clogged a little bit—and then there was an [escalator] going up that nobody was on. Gronkowski sprints down, past all the people that are going down the [escalator] and sprints down the 'up' [escalator]. Then, he gets to the bottom, raises his hands, and goes, "YEAHHHHHHHHH!!!!!" I actually witnessed [this].
The second story actually does feature an elevator. Gronk seems to be vexed with a question that must be weighting heavily on his mind.
[Gronk] is in the elevator—and there's probably 10 people in the elevator including one of my friends—he says to the doorman—it's this party that's gonna be on the roof of some place in LA—like, it's outdoors. He says to the elevator person, "At this party, can we party with our shirts off?" And the guy's like, "Uhhh…yeah…I think so." Gronkowski turns to his buddy and goes, "YEAHHHHHHH!!!!!!!" and high fives him.
When you are Gronk, a party is not a party unless you are naked from the waist up. I guess that would also go for the waist down, but that's another article altogether.
Frazer Harrison/Getty Images
The third tale of awesome is my favorite, via Sports Rapport.
This was also witnessed by a friend of mine. Gronkowski's in line for the bathroom. There's a line. There's two urinals and a stall, or whatever, and they're all waiting. Gronkowski's with his two brothers—who just looked awesome. He goes into the stall and then turns over to one of his brothers and says, "Crossies?" The second brother goes in. The third brother goes in. And then there's some guy who's waiting—some smaller guy—and they're like, "Let's get him, too." They grab this guy and they bring him in and they all pee in the bathroom together.
As Simmons wisely points out, there is no way anyone believes that fourth guy who is randomly grabbed and told to urinate among the Gronk trio.
The ESPN personality also raises a great point, we need to see a Gronk reality series. I for one hate reality TV, but I would set a Gronk series on record in a heartbeat.
Forget Hard Knocks, because Gronk would be a hilarious watch as he takes the NFL over with the zeal of a little kid.
Follow me on Twitter for more swagtastic updates.
This article is
What is the duplicate article?
Why is this article offensive?
Where is this article plagiarized from?
Why is this article poorly edited?