Washington Nationals: Midseason Grades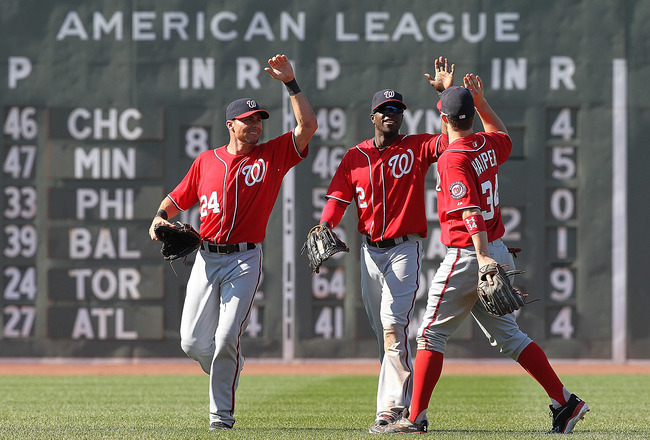 Jim Rogash/Getty Images
For the first time since their inaugural season in 2005, the Washington Nationals have been fun to watch. It's been a grueling process, but all aspects are starting to come to fruition.
They have one of best ballparks in all of baseball, the majority of their players are homegrown and their fanbase seems to be increasing on a game-to-game basis.
The first-place Nats had to do it the old-fashioned way, lead by an old-fashioned manager Davey Johnson. Regardless if they tail off, (which could very well happen to an inexperienced team) positive strides were made to the future of the franchise in the first three months of the season.
What's even more impressive is that a lot of the players on the roster are not even playing up to their potential.
Below are my mid-season grades for each guy on the team.
LF/IF: Stephen Lombardozzi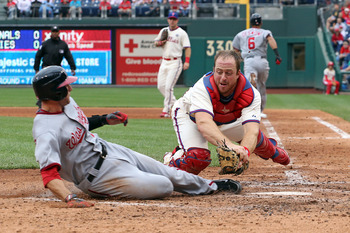 Hunter Martin/Getty Images
Midseason Grade: B
If you can play multiple positions, have good speed and switch hit, a professional team will find room for you. That being said, is he an everyday type player? We're not sure yet.
Lombo's had plenty of opportunities with the injuries to Werth and Ryan Zimmerman, but he's had his ups and downs throughout this season.
While he looks like a stereotypical leadoff slap hitter, he's going to need to hit higher than his current .266 batting average.
Barring another injury, Stephen's playing time will only decrease once Jayson Werth returns from a broken wrist. Either way, his manager Davey Johnson is notoriously patient and we'll be seeing a lot of him.
Outfielder: Bryce Harper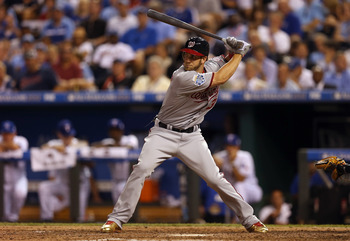 Jonathan Daniel/Getty Images
Midseason Grade: A
As I watched the All-Star Game, Bryce Harper returned back to some of his old habits: His aggressiveness can be inconsistent.
That being said, he's just a teenager. The fact that he's hitting better in the major leagues than he did while he was in the minors is just showing that he was meant to be a big leaguer.
As special of a player Bryce Harper as should be, he didn't exactly have the best reputation upon being called up. Since then, Harper has been precocious and has great respect for his peers and the game itself.
Additionally, I really didn't expect a lot from him on a statistical basis this season, but he's shown an ability to adapt to all the hype that has been surrounding him since he was in high school.
I always said that great players can affect the game in multiple ways. He's affecting the game in every aspect; it truly is enjoyable to watch.
3B: Ryan Zimmerman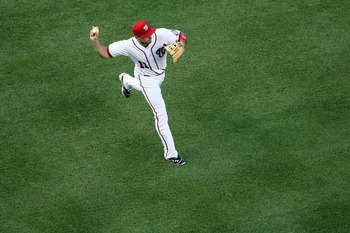 Rob Carr/Getty Images
Midseason Grade: D
I know that Zim has come around over the past few weeks, but let's not forget what he was doing before that.
He approached the All-Star Game with a .243 batting average, eight homeruns, 40 RBI and .308 OBP. For someone that signed a six-year, $100 million dollar contract extension he needs to be putting up premier numbers every year and he's certainly capable of that.
I'm giving him a passing grade because he has remained the best defensive third baseman in baseball. I know I'm being harsh, but my expectations are high for Ryan.
I'm aware that he's suffering from a lingering injury, but it appears that he's starting to turn the corner. I guess the cortisone shot worked.
With the Nationals in first place currently, nobody deserves to play for a winning team more than Ryan Zimmerman. He's been here since 2006 and has suffered through the dog days without a complaint and remained loyal.
1B: Adam LaRoche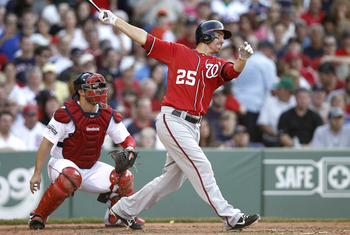 Winslow Townson/Getty Images
Midseason Grade: A
LaRoche was basically an afterthought going into the season. With rumors in regards to the pursuit of Prince Fielder during the offseason, LaRoche was basically a consolation prize.
While he's right around his career average (.255), LaRoche has been a RBI machine (55) and on-pace for 30 home runs. Let's not forget that he's easily in contention to win a Gold Glove.
Not to mention he essentially carried the offense in the first six weeks of the season while the rest of the offense was sputtering.
Outfielder: Michael Morse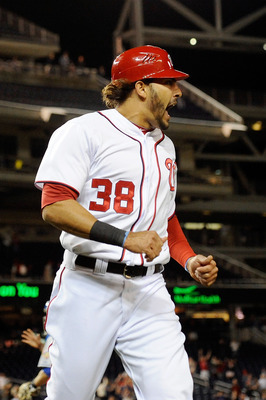 Patrick McDermott/Getty Images
Midseason Grade: B
It's hard to accurately assess Morse when he's only been on the field for a month. Missing the first 50 games was detrimental to Morse's progress as a legitimate power hitter.
Upon being reintroduced into the starting lineup, Morse has been taking baby steps in returning to his 2011 form.
I've noticed that opposing pitchers are not giving him anything to pull, so he's been increasing his average with opposite field singles and doubles. Either way, he's working his way back and he's best suited in the cleanup role.
He's still somewhat of a liability in the outfield, but that's not a major concern. As of now, Morse needs to remain healthy and get the at-bats that are needed.
SS: Ian Desmond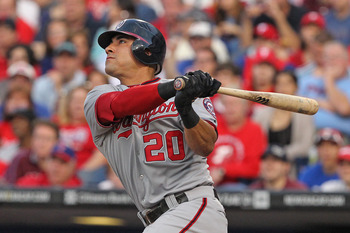 Hunter Martin/Getty Images
Midseason Grade: A
Wow what a turnaround. I don't know what got into Desmond this season, but he's been incredible and the team's best overall hitter.
Prior to this season, I admit that I thought Desmond was the odd man out. I knew Zimmerman wasn't going anywhere. I thought Espinosa's potential outweighed Desmond's and they spent their first-round pick on infielder Anthony Rendon.
He's on pace for 34 home runs and over 100 RBIs. A much-deserved All-Star selection came out of nowhere. He's also improved his inconsistent defense this year as well.
I initially thought that Ian's only success in the future with the Nationals was that of a leadoff hitter, but at the rate he's going that won't be necessary.
While he still needs to work on his patience at the plate, Desmond seems to have found his niche batting in the sixth spot.
2B: Danny Espinosa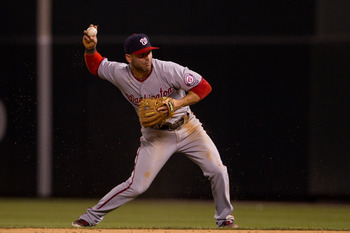 Justin Edmonds/Getty Images
Midseason Grade: D
I went back and forth with this one. Am I being too harsh if I gave him a failing assessment? Offensively, he's completely regressed in just about every category.
As mentioned before, Davey Johnson has shown patience in the talented second-year player, but Espinosa's been plaguing the Nationals lineup with his incessant strikeouts.
It's frustrating to watch because the talent is already there. He's already Gold Glove material, he's a good base runner and can switch hit with power.
He's got to change his approach at the plate if he wants to remain an everyday starter. Slumps seem to occur in baseball more than any other sport, and some tend to be longer than others.
With injuries still affecting the Nationals lineup, Espinosa still has an opportunity to prove his worth and hopefully as a leadoff hitter for that matter.
Catcher: Jesus Flores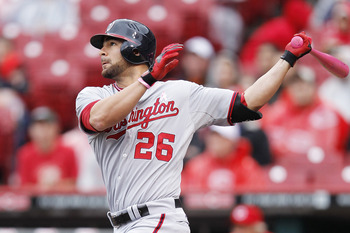 Joe Robbins/Getty Images
Midseason Grade: B
Before Wilson Ramos was considered the catcher of the future, it was Jesus Flores who held that potential role. Devastating injuries slowed down the young catcher for two years and he finally made his way back to the majors last year.
It was widely expected that Flores would be playing predominantly in a reserve role behind Ramos, but with Wilson's knee injury the Nats clubhouse have shown their restored their faith in Flores.
Do I think he's better than Ramos? I would say no, but he can certainly get the job done and that's why I'm giving him a solid B. He's developed a good rapport with just about all of the pitchers on the staff and is not asked of much offensively.
Rarely do athletes get second chances like Flores has earned, regardless if it's out of necessity. Either way, Flores has a substantial learning curve to make throughout the rest of the season as he continues to call a good game.
Outfielder: Rick Ankiel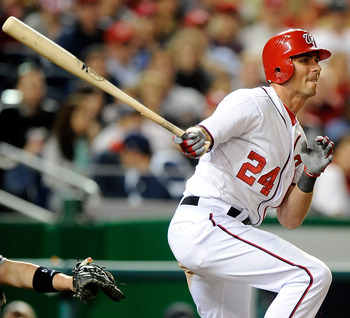 Greg Fiume/Getty Images
Midseason Grade: C
It's hard not to love a player like Rick Ankiel with his unique story from pitching phenom and working his way back up as a positional ballplayer.
While Ankiel's days as a starter are behind him, he's still the team's best outfielder. That's exactly what you look for in a bench player; a guy that can come in late in games and fill a role that is needed for winning teams.
Baserunners have to think twice before they try tagging up against the best outfield arm in the National League.
On the other hand, Rick has been struggling at the plate. He's always been an aggressive hitter and I've watched him swing at a lot of balls outside of the strike zone this season. He's not on the roster for his bat.
With defense like that, Rick isn't going anywhere and he's turned out to be a great guy around the locker room as well.
Outfielder: Roger Bernadina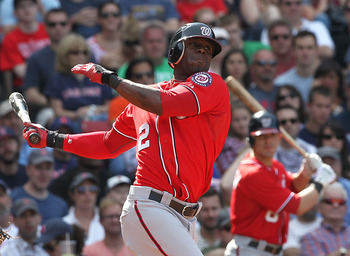 Jim Rogash/Getty Images
Midseason Grade: C+
I always thought Bernadina had everyday outfielder qualities. He can cover a lot of ground and steal bases, but has struggled to maintain a high batting average.
Then with the injury to Chad Tracy, the Shark (Bernadina's nickname) has become the team's best pinch-hitter. When you establish yourself as a reliable pinch-hitter the less starts you will make.
Either way, I think Roger is another valuable bench player.
1B/OF: Tyler Moore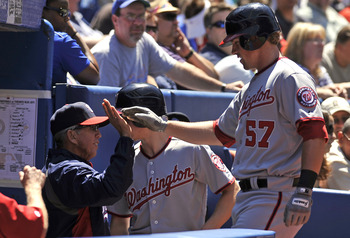 Brad White/Getty Images
Midseason Grade: B+
When you watch the rookie you can obviously see the potential, but it's going to be difficult to find an everyday role for him.
With Adam LaRoche manning first base, Bryce Harper and Mike Morse are in the outfield and Jayson Werth is set to come back within the next month. So where does that leave Tyler Moore?
Although he struggled in his initial call-up, Moore's second stint with the ballclub has been more than impressive. The ball really explodes off of his bat.
So as you can see, Davey Johnson will be in a difficult position with Tyler Moore because he can clearly make an impact if given the opportunities.
Catcher: Jhonatan Solano
Sarah Glenn/Getty Images
Midseason Grade: B
Solano is a fiery guy. He's a passionate player who reminds me of a young Pudge Rodriguez. Now does he have the same talent? Definitely not, but given the Nationals injury woes at catcher, Solano has done an admirable job considering no one expected him to be playing in the majors this season.
He's been hitting well—which certainly came as surprise—but his lack of arm strength has been targeted by opposing base runners.
Despite that inefficiency, it appears that the Nationals are comfortable with Solano being the backup catcher. After the Ramos injury, I figured the team would target a veteran catcher to fill-in when needed. However, I see no problem with Solano staying in that role.
Relief Pitcher: Sean Burnett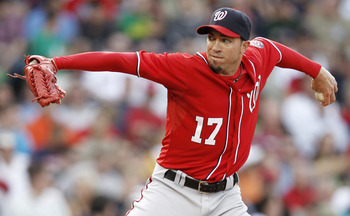 Winslow Townson/Getty Images
Midseason Grade: A
It's comforting to see Burnett rebound after a disappointing 2011 season. He's been able to close some games, become a specialist, and pitch multiple innings in his current setup role.
He's done it all this season and he's done it all effectively. His ERA is currently at 1.99 and has been mixing up his pitches well with good control.
With Drew Storen set to return soon, Burnett's role might change, but either way he has been crucial to the Nats pitching this season.
Relief Pitcher: Tyler Clippard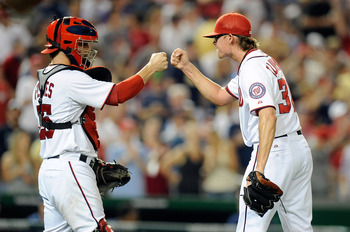 Greg Fiume/Getty Images
Midseason Grade: A
I can't say enough about Tyler Clippard. He would be the closer on most teams throughout baseball and he's not even the most talented in the bullpen.
While he mixes in the occasional breaking-ball, Clippard has made a living off his fastball to changeup combination and hitters still can't figure it out.
It was the end of May when Davey Johnson gave Clippard to the opportunity while his close friend Drew Storen recovers. Since then, Clippard has been dominant.
So when Storen comes back, where does that leave the Nationals bullpen? So it may cause some controversy, but this is the position good teams want to be in—where they have to make a difficult decision on two players whom they know can get the job done.
Even though I think Clippard is a great pitcher, I think Drew Storen has the potential to be one of the best closers in baseball. Clippard has already established himself as arguably the best setup man in baseball, not to mention protecting a lead in the eighth inning could be just as important in the ninth.
Relief Pitcher: Michael Gonzalez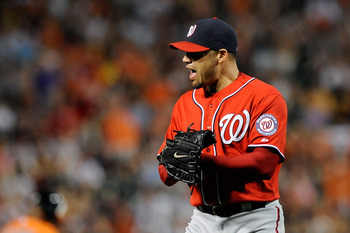 Patrick McDermott/Getty Images
Midseason Grade: C+
What I believe the Nationals want out of Michael Gonzalez is a left-handed specialist who can come into a game regardless of the score and face specific left-handed hitters.
So far, he's been solid in limited duty. He's not going to have an ideal role in the bullpen as they have already been filled.
Relief Pitcher: Craig Stammen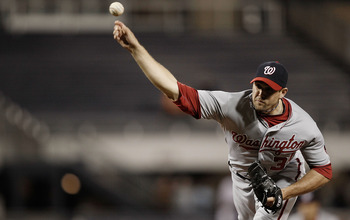 Jared Wickerham/Getty Images
Midseason Grade: A-
Other than Clippard's emergence as a closer, Craig Stammen is the bullpen's MVP so far. He's transitioned his game from a low-end starter to a reliable middle reliever.
He's able to pitch more than one inning and has a deadly slider, which has been his go-to pitch so far this season.
Stammen's production really came out of nowhere. After struggling as a starter in both 2009 and 2010, Craig spent a year in the minors fine-tuning his pitching arsenal and has now essentially solidified himself as a reliever.
Relief Pitcher: Ryan Mattheus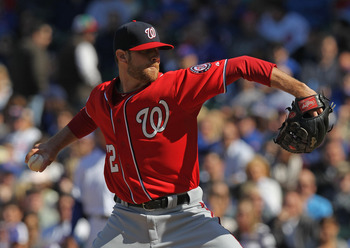 Jonathan Daniel/Getty Images
Midseason Grade: C+
The last thing Mattheus needed was an injury, which kept him out a month. He's still young and inexperienced in baseball years, but Mattheus has been impressive in limited action.
I like his stuff, but he has yet to get it really going so far. So far Mattheus has been used mostly in mop-up duty as he hasn't gained the Nationals trust yet.
He has yet to have a full season as a reliever, after that, a more accurate assessment can be made.
Relief Pitcher: Tom Gorzelanny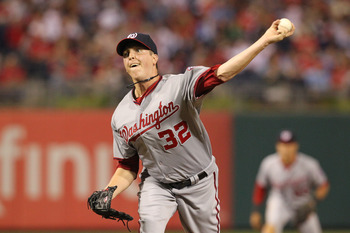 Hunter Martin/Getty Images
Midseason Grade: C
Tom Gorzelanny is not a natural relief pitcher. However, he's not as talented as the five other Nationals starters. So it appears that Gorzelanny is a long reliever by default.
Similar to other relievers, Gorzelanny has been featured in a lot of large-margin games and can also give you 3-4 innings if needed.
He hasn't been great through the first half of the 2012 season, but a lot has to do with the fact that others have clearly outshined the former starter.
Other than that, he's been another solid role player on the bench as he is not heavily trusted.
Relief Pitcher: Henry Rodriguez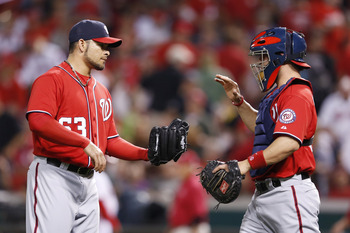 Joe Robbins/Getty Images
Midseason Grade: D
Henry Rodriguez might be the most talented pitcher in the bullpen. 100 mph fastballs don't grow on trees; nor do knee-weakening breaking balls.
The problem isn't his style of pitches. It's the mental side that Henry needs to master. His control is clearly erratic, as every pitch leaves me on the edge of my seat.
If HRod can alter his approach, then he's going to be pitching for a long time. However, he was unwatchable before his DL stint last month.
Starting Pitcher: Stephen Strasburg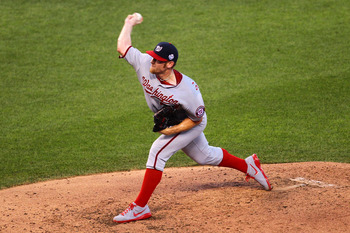 Dilip Vishwanat/Getty Images
Midseason Grade: A
What else is there to say about him? He's incredible to watch. The scary thing is he's only going to get better (barring his health of course).
Strasburg has dominated hitters all season in just about every game. His fastball, curveball and changeup all have been working.
Now there is the innings count scenario. While I can't imagine going on a postseason run without our ace, they need to give the kid a chance to have an actual career.
Using the Jordan Zimmermann model is the most realistic and safe approach unfortunately. You know what we'll also miss? His bat. He can flat-out swing it.
Starting Pitcher: Gio Gonzalez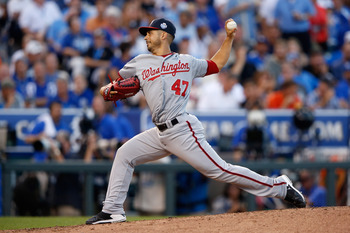 Jamie Squire/Getty Images
Midseason Grade: A
Now we can see why the Nationals were willing to give us their best prospects for the two-time All Star.
Gio's leading the National League in wins and has been neck and neck with ace Stephen Strasburg. While he has a tendency of getting into high pitch counts, Gio has remained consistent all year.
I can admit now that I didn't know a lot about Gonzalez before his arrival, it's hard to pay attention to someone in Oakland. Anyways, this trade has made General Manager Mike Rizzo look like a genius.
Starting Pitcher: Jordan Zimmermann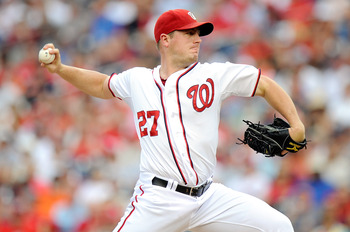 Greg Fiume/Getty Images
Midseason Grade: A
He leads the staff in ERA. Under the radar right? I feel bad for Jordan, he rarely gets any run support. Oh, he can hit too.
I wrote this earlier, but I'm still predicting a no-hitter for the Nationals staff this season and Jordan Zimmermann is my choice.
I can only hope they can sign this guy long-term as his ability to recover from Tommy John surgery is a breath of fresh air for the front office.
He might not be the flashiest of the bunch, but this pitcher will have All Star appearances in the future.
Starting Pitcher: Edwin Jackson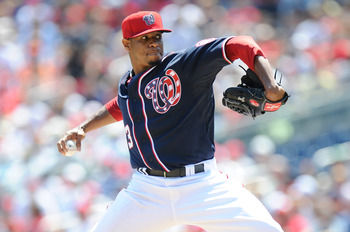 Greg Fiume/Getty Images
Midseason Grade: B+
Edwin has been another surprise in the Nats' clubhouse. By the way, he wouldn't be the number four pitcher in almost all rotations.
He's having one of the best seasons and proving that he is deserving of a long-term contract, as he was abruptly signed to this winter.
He's been fun to watch as well. He's had a couple hiccups, but he's been an innings eater, which is vital to the bottom of the rotation. Oh and guess what? He can hit too.
Starting Pitcher: Ross Detwiler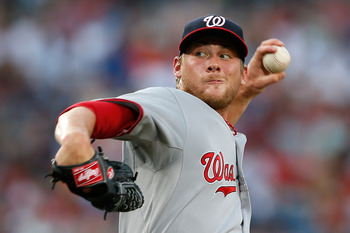 Kevin C. Cox/Getty Images
Midseason Grade: B
Ross needs to be starting. After being a first round selection back in 2007, he's never had a full year to become the consistent starter that he can definitely be.
I like the fact that the rotation has two left-handed pitchers to create mismatches against opposing lineups.
Overall, Detwiler has had a good season and has proven why he was selected over former opening game starter John Lannan.
He's clearly a team-first guy who is willing to come out of the bullpen, but his talent needs to be utilized to the fullest. Even if he has a couple bad outings, Detwiler deserves the opportunity and so far he's been a very impressive fifth starter.
Players with Incomplete Grades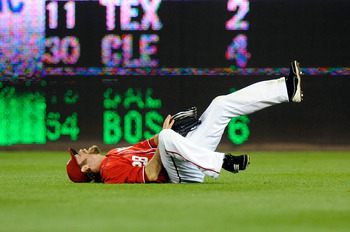 Greg Fiume/Getty Images
Drew Storen obviously won't receive a grade considering that he's been out the entire season. I'm curious to see how it's going to turn out with him and Tyler Clippard. Either way Storen's services will definitely be needed.
Mark DeRosa could have a major role off the bench this season. He can play multiple positions and will probably be the first right-hander to pinch hit. He's one of the most experienced ballplayers on the roster and is a very patient hitter.
Jayson Werth's wrist injury was scary, especially since it was the same wrist that almost ended his career years ago.
Since Werth has been a National, it's been a disaster. Finally as he started to turn the corner as a hitter, he suffers a major injury. As he's nearing a return, I'll be interested to see where he's placed in the lineup. Don't be surprised if he ends up batting leadoff.
I think it's safe to say that the Chien-Ming Wang experiment is over. We paid, tried and essentially failed. The former 20-game winner has not been able to turn the corner and with the emergence of Ross Detwiler, there's really not a place for Wang.
Ideally, we could find a way to trade him. This is highly doubtful considering his health concerns. General Manager Mike Rizzo has struck gold on many personnel decisions throughout his tenure. However, Wang hasn't been one of them.
Xavier Nady was a last minute signing come spring training. While not a lot was expected of Nady, batting .157 was not assumed.
Even though he is currently on the DL, I envision Nady being the odd man out once Werth returns.
Wilson Ramos has had a rough year. Ramos was not going to be an integral part of the offense; however, he's a great defensive catcher and a timely hitter with the best still in front of him.
Athletes can recover from ACL injuries, but it's going to be a difficult task considering Ramos is squatting for half of the game.
Chad Tracy was the team's best pinch hitter on the team. He's this year's Matt Stairs, except a lot better. Davey Johnson loves a player of Tracy's caliber. He can play multiple positions and will continue his bench role when he comes back.
Keep Reading

Washington Nationals: Like this team?