NL MVP Rankings: Step Aside, Joey Votto! Andrew McCutchen Is Here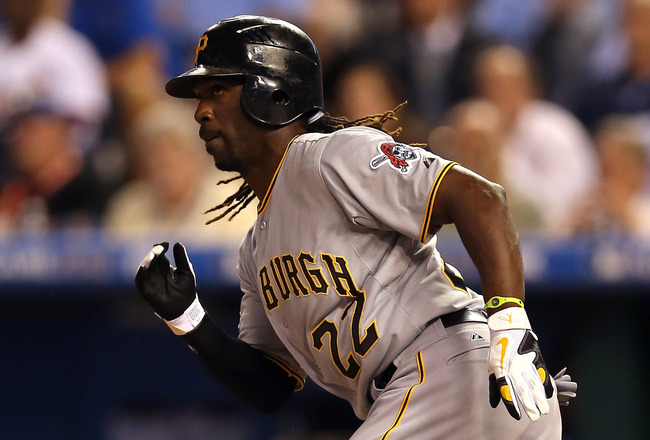 Andrew McCutchen's .362 batting average leads the major leagues.
Jonathan Daniel/Getty Images
Though a week has passed since our last set of NL MVP rankings, not much has taken place on the field. Baseball has been on its All-Star break since Sunday, leaving few games to watch and little reason to move the needle one way or the other when it comes to our top MVP candidates.
However, no baseball games being played does give one—for instance, a blogger putting together MVP rankings every week—time to think. And I undersold Andrew McCutchen last week.
To me, it was too big a jump to put him at No. 1 immediately, considering he had only been an honorable mention before last week. Besides, Joey Votto had done nothing to lose the top spot. And David Wright was making a strong push also. But sometimes, a guy can just leap over everyone to the top.
So we have a shuffle among our top five and a new front-runner. Here are this week's leading favorites for the NL MVP award.
Honorable Mentions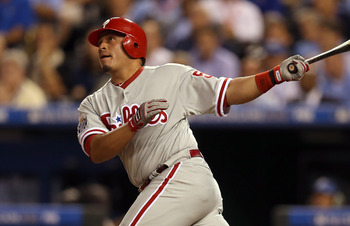 Jonathan Daniel/Getty Images
Carlos Ruiz, Philadelphia Phillies
Ruiz moves down from the No. 5 spot last week. He's hitting .350, the fourth-best average in the NL. Ruiz also ranks among the top five in on-base and slugging percentages, along with OPS. Both Fangraphs and Baseball-Reference have him in the NL's top five in wins above replacement, as well.
But the Phillies are in last place in the NL East and plummeting, 14 games behind the Nationals and 13 games below .500. Ruiz is the Phillies' best hitter, but where would they be without him? In last place.
Melky Cabrera, San Francisco Giants
Cabrera leads the majors with 119 hits. And though this has no bearing on regular-season MVP rankings, he showed everyone watching the All-Star Game why he's been such a standout player this year.
As Matt Kemp put it, "Everything he hits is a hit." Whether the pitch is high or low, inside or outside, Cabrera hits it hard somewhere. His .353 batting average is second in the majors.
But it might be worth asking if Cabrera is actually the most valuable hitter on the Giants. Is Buster Posey or Pablo Sandoval a more important offensive player to a team now a half-game out of first place in the NL West?
Carlos Gonzalez, Colorado Rockies
With 17 home runs and 58 RBI, Gonzalez ranks sixth in the NL in both categories. He's also among the top 10 batters in the league in each of the triple-slash hitting categories and OPS.
However, if we knocked Ruiz for his team being in last place, we have to hang the same tag on Gonzalez. The Rockies are mere percentage points from being the worst team in baseball, despite Gonzalez crushing the ball.
Gonzalez's home-road splits also raise a red flag. His OPS is 1.165 at home, but .777 on the road. He has seven more homers, 24 more RBI and a batting average that's 117 points higher at Coors Field.
5. Ryan Braun, Milwaukee Brewers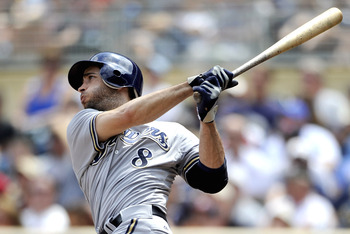 Hannah Foslien/Getty Images
Last week: Honorable mention
As mentioned in the previous slide, Carlos Ruiz ranks among the NL's top five in every triple-slash category, OPS and wins above replacement. So why is Ryan Braun ahead of him in our NL MVP rankings?
Well, chicks dig the long ball, and I guess I do, too. Braun leads the league in home runs with 24, 11 more than Ruiz. Is that enough to answer for Ruiz's 44-point advantage in batting average? The other numbers across the board kind of cancel each other out. Ruiz has a higher on-base percentage, but Braun trumps him in slugging. With OPS, it's a five-point difference between the two.
So if all things are relatively even, I'll go with the guy who can change the game with one swing.
While the Brewers aren't really in the NL Central race at eight games back, they're five games under .500 and have a better record than Ruiz's Phillies. That has to count for something.
Milwaukee could find itself part of the cluster at the top of the division in the weeks to come. If that happens, considering all the injuries the Brewers have dealt with, Braun will get heavy MVP consideration again.
4. Carlos Beltran, St. Louis Cardinals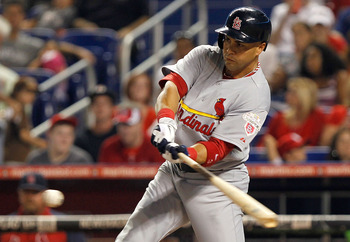 Mike Ehrmann/Getty Images
Last week: No. 4
Holding steady in the fourth spot of our rankings is Carlos Beltran. He didn't have a great week since our last listing, batting 3-for-17 (.176), but we're talking about four games.
Beltran finished the first half of the season as the only other NL player with at least 20 homers, notching exactly 20. But he leads the league in RBI with 65.
One knock against Beltran is that his batting average has dipped below .300 again. As you can see at Baseball-Reference, a player batting below .300 hasn't won MVP in the NL since Kevin Mitchell hit .291 in 1989. In the AL, Alex Rodriguez won the MVP with a .298 batting average.
But A-Rod hit 47 home runs. Interestingly, that's the same number of homers Mitchell had in 1989.
So there's the path to the MVP for Beltran, apparently. Hit 47 home runs. With 20 at the All-Star break, he has a decent head start.
3. David Wright, New York Mets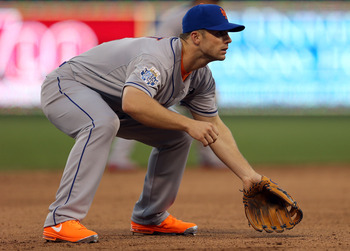 Jonathan Daniel/Getty Images
Last week: No. 2
The Mets third baseman certainly sported some MVP-caliber footwear in the All-Star Game on Tuesday. Those bright orange cleats looked like they could be used to highlight a textbook. (There's an endorsement opportunity for you, Mr. Wright. Go do with it what you will.)
Wright is third in the league with a .351 batting average. His .441 on-base percentage ranks second. He's sixth among NL batters with a .563 slugging percentage. So as you might guess, Wright is also near the top of the league in OPS. He's third, to be exact, at 1.004.
WAR judges Wright even more favorably. Fangraphs has Wright second in the NL at 4.9 wins above replacement. Baseball-Reference rates him at the top with a 4.7 WAR.
The Mets went into the break 4.5 games behind the Nationals in the NL East, putting them in third place. They're in the playoff race for now. Whether or not they can stay there might be the determining factor in Wright winning this award.
2. Joey Votto, Cincinnati Reds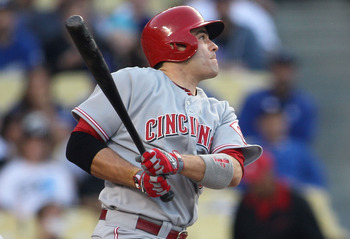 Victor Decolongon/Getty Images
Last week: No. 1
I'll be honest—I didn't think I'd put a No. 2 next to Joey Votto's name in these rankings for the rest of the season. I thought the NL MVP was his to lose. As it turns out, someone might just seize the honors from him.
Of course, it would've been boring if Votto held his place as the MVP front-runner through the entire second half of the season. Just as it might have gotten boring if the Reds had held first place in the NL Central the rest of the way. But just as the Pirates have become a threat to the Reds, so has Votto been challenged.
However, someone will have to beat Votto because it doesn't look like he'll lose the MVP. He's the best player in the NL with a 5.0 WAR at Fangraphs. His 4.5 WAR at Baseball-Reference rates him second.
He leads the major leagues with a 1.087 OPS. His .348 average ranks fifth in the NL. His .617 slugging percentage ranks second in the league, powered by 35 doubles, eight more than anyone else in baseball.
Votto's .471 on-base percentage is 30 points ahead of the next closest batter. His 65 walks—10 more than the second-place hitter in that category—has much to do with that.
Maybe Votto's home run and RBI totals could hurt him among voters who like those counting stats. His 14 homers are tied for eighth in the NL and his 48 RBI are tied for 13th. But Votto isn't a classic power hitter, and his excellent numbers across the board reflect that.
1. Andrew McCutchen, Pittsburgh Pirates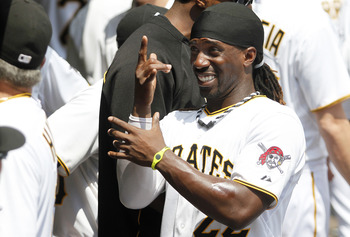 Justin K. Aller/Getty Images
Last week: No. 3
The commenters for last week's NL MVP rankings hit me pretty hard about not naming Andrew McCutchen as the favorite. The argument was the classic one when talking about awarding the MVP. How would that player's team fare without him in the lineup?
In McCutchen's case, this is the clincher. If he wasn't in the Pirates' lineup, where would that team be? They certainly wouldn't be holding first place in the NL Central.
McCutchen leads the majors with a .362 batting average. He's second in the NL with a .414 on-base percentage. His .625 slugging percentage is the best in the NL. Only Josh Hamilton has a higher mark in the majors.
Look at McCutchen the next time you see him play or watch him on highlights. He's not a big guy, not an imposing figure you'd expect to crush the ball. He's built like a slap hitter, someone who might hit the ball into the gap and motor his way around the bases. Where does that power come from?
However, his 18 homers rank fourth in the NL. He has 17 doubles and five triples to go with that.
I don't necessarily think that the Pirates are a one-man lineup. Pedro Alvarez has 16 homers and 50 RBI, though he's batting .231. Garrett Jones has 12 homers and 37 RBI. But those aren't numbers that can push a team up the standings. Those guys aren't having anything close to McCutchen's season.
And right now, neither is anyone else.
This is the debate when talking about the MVP. Should it go to the best player? Or should it go to the guy who's most valuable to his team?
Right now, McCutchen gets the nod based on that second question. But he's playing so well that he fits both criteria. The argument may be moot.
Follow @iancass on Twitter
Keep Reading