Philadelphia Phillies: Top 10 Most Surprising Phillies "All-Stars"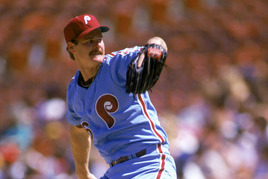 Carlos Ruiz played in his first All-Star game last night.
The 33-year-old is a late bloomer and although his defensive skills have never been questioned, not many saw him blossoming into the type of hitter that he has been this season. The year that the Phillies won the World Series in 2008, Chooch was a second pitcher in the lineup as he hit .219 with an OPS of .620.
Yuck.
But due to some lean years and the rule that every team must have an All-Star rep, the Phillies have had a few odd selections over the years. The next 10 slides will give you the 10 most surprising Phillie All- Stars.
Begin Slideshow

»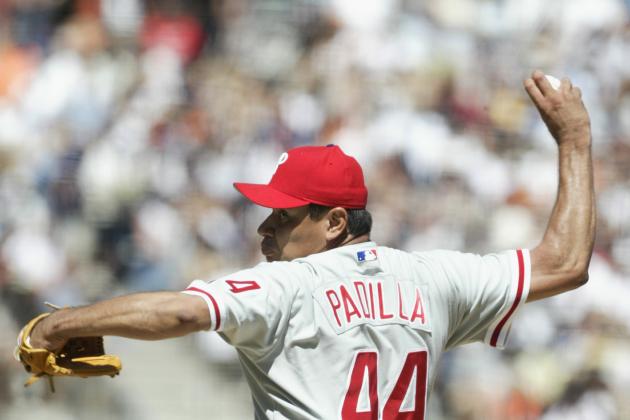 Jed Jacobsohn/Getty Images
Padilla tossed two innings then ran out of gas.
Padilla who was acquired from the Diamondbacks in the Curt Schilling trade is still active today. He has been in the major leagues for 14 seasons and he is now pitching out of the pen for the Boston Red Sox.
2002 was his best season in the big leagues.
He finished with a 14-11 record with a 3.28 ERA. It was the only All-Star team that he was ever named to and he wasn't even supposed to pitch because he had thrown right before the game. However, the game went extra innings and Padilla was the last man standing. He tossed the 10th and 11th innings but that was it and the game ended in a tie.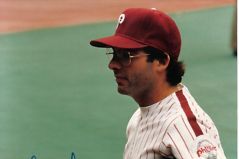 Wilson knocked in over 100 runs in 1985.
The 1985 Phillies were not a very good team.
John Felske led them to a 75-87 record as they started the season 1-8 and lost 18 of their final 24. However, they did have two All-Star reps in 1985 and none of them were named Mike Schmidt.
Ozzie Virgil, Jr. was named to the team and he would later on play in another All-Star game as a member of the Atlanta Braves. It is surprising that this team even got another member and that member was Glenn Wilson.
Wilson hit .275 with 14 HRs and 102 RBI in 1985 while playing in 161 games. However, he walked just 35 times for a super low OBP of .311. The 26-year-old former first-round pick of the Detroit Tigers was gifted with a rifle for an arm as well. However, 1985 was the only year that he made an All-Star game and he promptly struck out against former Phillie Willie Hernandez.
Wilson logged 10 major league seasons and finished with a .265 lifetime average and .704 OPS.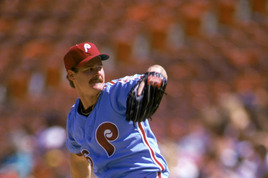 Gross went 12-14 in 1988.
The 1988 Phillies were a sorry bunch.
Steve Jeltz was the everyday shortstop and hit .187. Phil Bradley led the team in runs scored...with 77. Chris James led the team in HRs...with 19. Thirty-eight-year-old Mike Schmidt was banged up and hit just .249 with 12 HRs.
Incredibly, they only had one pitcher— ONE!—who finished the season with a winning record.
Mike Maddux was 4-3!! Woohoo!!
But the Phils needed someone to represent them and that happened to be Kevin Gross. Gross was a very respectable 8-5 at the break with a 2.89 ERA, but he would go just 4-9 for the rest of the season. Kevin played for four teams after the Phillies and finished his 15-year career with a record of 142-158.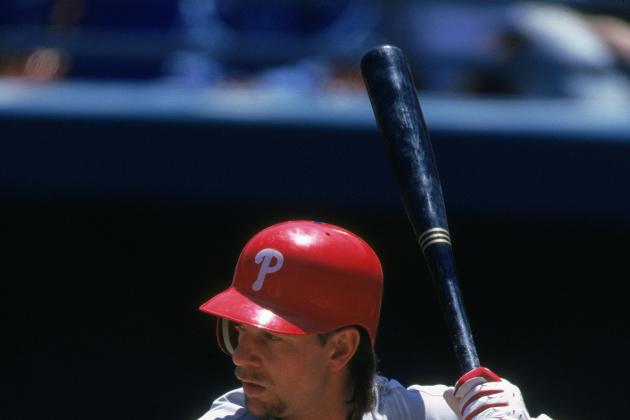 Eliot J. Schechter/Getty Images
Morandini retired with a lifetime .359 slugging percentage
Morandini was a nice player for the Phillies.
He played with them from 1990-1997 and made an encore appearance in 2000. Over the course of his 11-year career, Morandini hit .268 with 32 HRs. Somehow at the All-Star break in 1995, Morandini's .282 average allowed him to be named as a backup starter for Craig Biggio. Morandini struck out in his only All-Star at bat and he quickly went back to being a "nice player".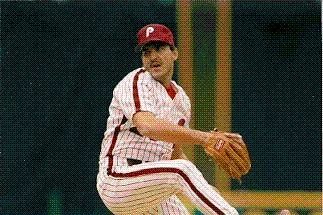 Rawley did not appear in the '86 All Star game.
Shane Rawley had some solid seasons with the Phillies.
In 1987, Rawley won 17 games and led the NL with 36 games started. At the All-Star break in 1986, Rawley was 11-5 with a 2.96 ERA. He would not win another game for the rest of the season. He was hurt when he finished the season with an 11-7 record.
It was Rawley's only All-Star game in 12 major league seasons.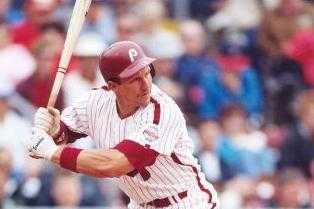 Parrish was a bust in a Phillies' uniform.
Talk about someone who must have made the game on name recognition.
Parrish was hitting just .229 at the break and was not voted in by the fans. He was an actual manager's selection.
Everyone thought Parrish's first season in Philly was a disappointment because he hit just .245 with 17 HRs, but it was even worse in 1988. Parrish finished the season hitting .215 with just 15 HRs.
So in 1988, Gary Carter was voted in as the All-Star starter behind the dish, and Parrish was named as the backup by manager Whitey Herzog. He went 0-1 in the game and although he was named to seven other All-Star teams, he had no business being named to the team in 1988.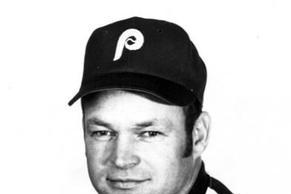 Hoerner was a "closer" before closers were used exclusively
Like Carlos Ruiz, Joe Hoerner was in his first (and only) All Star game at 33 years old. He actually pitched in 493 big league games but never as a starter.
The Phillies were not a good team in 1970, and Hoerner, who was sometimes a closer but mainly a middle reliever, went into the break with a 6-3 record and a 2.86 ERA. He was the best of a pretty bad lot.
Hoerner went on to pitch in seven more seasons, but he never saw another All-Star game nor did he pitch in the one he was named to.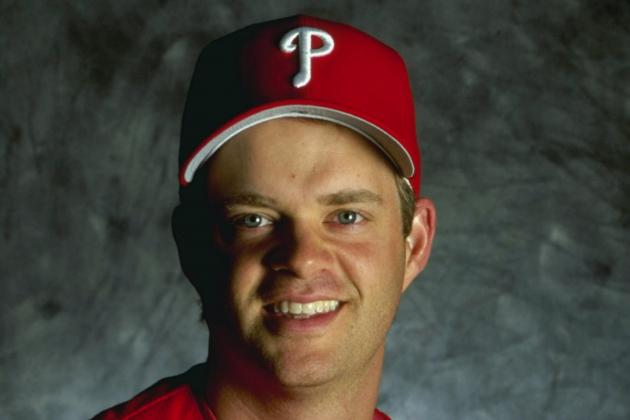 Scott Halleran/Getty Images
Byrd didn't pitch in the '99 All Star game.
Byrd was the opposite of the 2012 Cliff Lee.
He didn't pitch too effectively but still racked up 15 wins during the season. At the All-Star break, Paul was 1-5 with a 3.94 ERA. He finished 1999 with a 15-11 record and a 4.60 ERA.
The next season, the tides turned for Byrd as he went 2-9 with a bloated 6.51 ERA, and he was all but done in Philly.
Byrd did make a nice comeback for the Kansas City Royals in 2002 going 17-11 with a 3.90 ERA and then bounced around between six other organizations.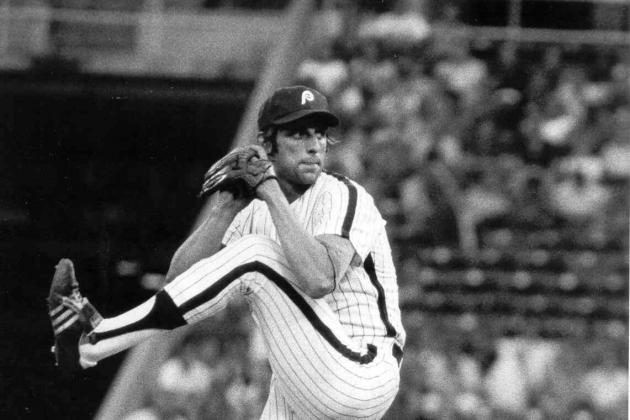 Twitchell tossed a shutout inning in the 1973 All Star classic.
During his career, over 10 seasons, Twitchell compiled a 48-65 record and a 3.98 ERA.
He had a sparkling 1.75 ERA out of the pen for the 101 win 1976 Phillies, but he never saw his ERA get below 4.20 for the rest of his career.
In 1973, the 25-year-old Twitchell was on a very young and talented Phillies team that was on the cusp of greatness.
Future Hall of Famer Steve Carlton, who was coming off his incredible 1972 season, was on his way to 20 losses so Cincinnati Reds manager Sparky Anderson named Twitchell to represent the Phillies. In one inning of All-Star work, Twitchell shut down the AL stars. He allowed a leadoff double to John Mayberry Sr. but then struck out Reggie Jackson, and retired Lee May and Bobby Murcer.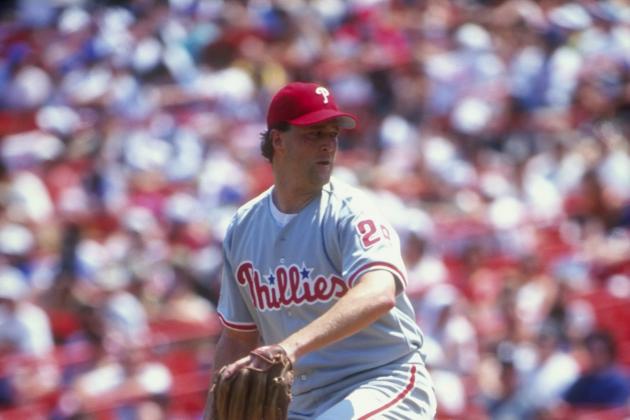 Ezra Shaw/Getty Images

Tyler Green was the Phillies' No. 1 draft pick (10th overall) in the 1991 draft out of Wichita State. At the All-Star break in 1995, Green was 8-4 with a 2.81 ERA. It appeared that the Phillies had a young arm to pair with Curt Schilling for years to come.
He pitched the fifth inning of the All-Star game and didn't allow any runs while recording a strikeout.
Tyler Green would not win another game for the remainder of the 1995 season, and he would only win 10 games for the remainder of his career. 1998 was his final season and he went 6-12 with a 5.03 ERA.
It's always been a mystery whether something happened during that one inning in Arlington, Texas. But, either Green didn't disclose it or the Phillies didn't mention it. Regardless, Green was on the top of the world that night, and it was all down hill from there.