Top 10 Fantasy Football Players in the NFC North for 2012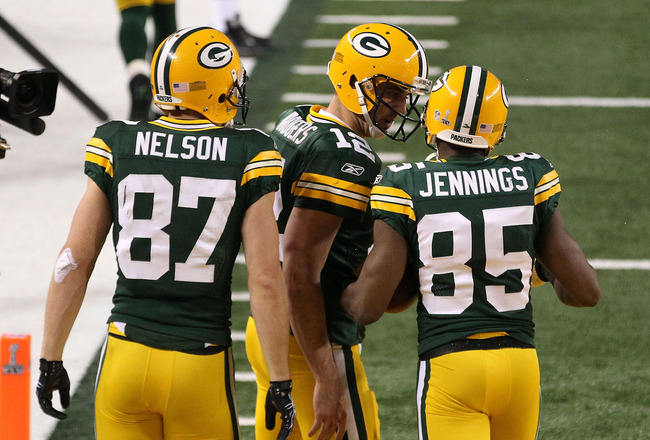 Streeter Lecka/Getty Images
When it comes to fantasy football, there is not another NFL division that has more depth than the NFC North.
Whether they have the best quarterback or wide receiver in the NFL, or a Green Bay Packers No. 2 receiver that caught 15 touchdown passes, the NFC North is stacked with fantasy talent.
See where each of these NFC North fantasy studs rank heading into the 2012 season.
10. Jay Cutler, Chicago Bears, QB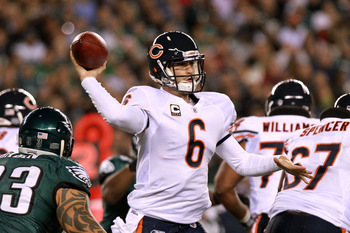 Nick Laham/Getty Images
Since he has been the quarterback for the Chicago Bears, Jay Cutler has had no legit wide receivers to throw to.
Whether it has been Johnny Knox, Devin Hester or Earl Bennett, none of these receivers have been able to help Cutler out.
Heading into 2012 though, things should be much different for Cutler.
This offseason, the Bears went out and got Brandon Marshall. Cutler and Marshall were great together when they were with the Denver Broncos in 2007-2008.
Cutler should make a great No. 2 fantasy quarterback, now that he finally has a legit receiving target.
9. Percy Harvin, Minnesota Vikings, WR
Hannah Foslien/Getty Images
In his last eight games in 2011, Percy Harvin put up huge fantasy numbers. Harvin caught 56 passes for 633 yards, while also scoring seven touchdowns.
Sure, it may be a little misleading because Adrian Peterson got injured, but Harvin was catching passes from a rookie quarterback.
With another year to build chemistry with quarterback Christian Ponder, Harvin should continue to put up solid fantasy numbers.
Look to make Harvin your No. 2 fantasy receiver.
8. Jordy Nelson, Green Bay Packers, WR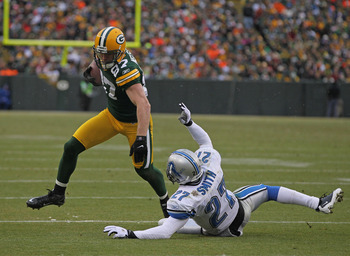 Jonathan Daniel/Getty Images
After recording 1268 receiving yards and six touchdowns in his first three seasons, Jordy Nelson was the ultimate breakout receiver in 2011.
He nearly matched his career receiving yards total, recording 1263 receiving yards, while scoring 15 touchdowns.
Heading into 2012, Nelson is definitely going to be targeted in the early rounds. He will not score 15 touchdowns again, but since he is catching passes from Aaron Rodgers, Nelson should record around 1100 receiving yards and eight touchdowns.
Nelson will make a terrific No. 2 fantasy receiver option.
7. Greg Jennings, Green Bay Packers, WR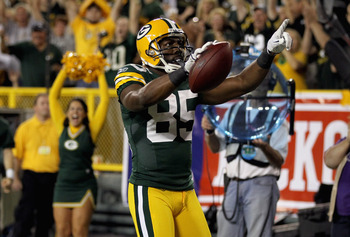 Jonathan Daniel/Getty Images
Being the No. 1 receiver for the Green Bay Packers, Greg Jennings is a very dangerous fantasy receiver.
I know Jordy Nelson had 15 touchdowns last season, but a lot of that has to do with the fact that Jennings missed three games due to injury.
Despite missing three games, Jennings still finished with one less reception than Nelson and finished with nine touchdowns.
In 2012, Jennings will be a top-10 fantasy receiver. Expect around 1200 receiving yards and 10 touchdowns.
6. Adrian Peterson, Minnesota Vikings, RB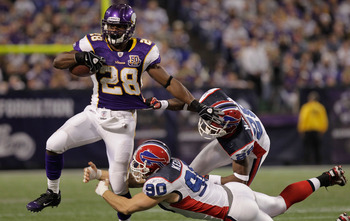 Nick Laham/Getty Images
Had Adrian Peterson not suffered a severe injury last season, there is a great chance he would be the No. 1 player on this list.
For the past couple seasons, Peterson has been considered the best running back in the league. I know he suffered a severe injury, but I am not ready to give up on him yet.
He will not be a top-five fantasy back, but Peterson is still one of the better running backs in the league.
Despite the injury, Peterson's fantasy stock has been on a slight decline because he does not catch any passes out of the backfield. In PPR leagues, Peterson does not provide much else besides 20 carries per a game.
I would take Peterson in the second round as either your No. 1 fantasy back or a terrific No. 2 back.
5. Matthew Stafford, Detroit Lions, QB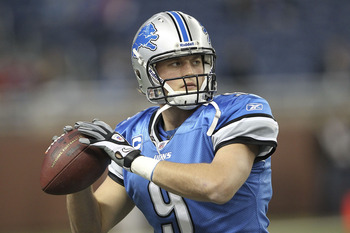 Leon Halip/Getty Images
Matthew Stafford finally stayed healthy for an entire season and showed everyone why he was the No. 1 pick in the 2009 NFL Draft.
Stafford finished the 2011 season with over 5000 passing yards and 41 touchdowns. In eight games last year, Stafford threw at least 40 passes.
Stafford not only benefits from being in a pass-happy offense, but he also has the best receiver in the league to throw to: Calvin Johnson.
If Stafford's health was not an issue, he would definitely be the next best fantasy quarterback after Aaron Rodgers, Drew Brees and Tom Brady.
4. Brandon Marshall, Chicago Bears, WR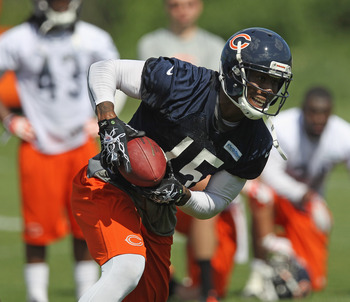 Jonathan Daniel/Getty Images
Despite playing for the Miami Dolphins the past two seasons, Brandon Marshall continued to keep his 1000 receiving-yard streak going for five consecutive seasons.
Before Marshall went to the Dolphins, he was one of the best fantasy receivers with the Denver Broncos.
Marshall is now with the Chicago Bears and he is reunited with his former Broncos quarterback, Jay Cutler.
With Marshall catching passes from a legit quarterback again, he will be a top-five fantasy receiver in 2012.
3. Matt Forte, Chicago Bears, RB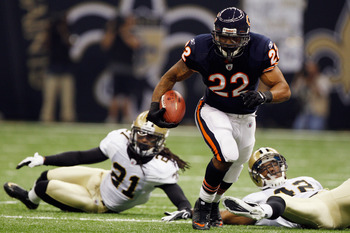 Chris Graythen/Getty Images
Although Matt Forte only played in 11 full games last year, he recorded at least 15 touches in every single one of them.
In PPR leagues, Forte is a must-have running back because of his pass-catching ability. In eight out of the 11 games in 2011, Forte had at least four receptions.
Look to draft Forte in the late first round or early second round in your fantasy drafts. There is no reason why he should not be able to rush for at least 1100 yards and record around 700 receiving yards.
2. Calvin Johnson, Detroit Lions, WR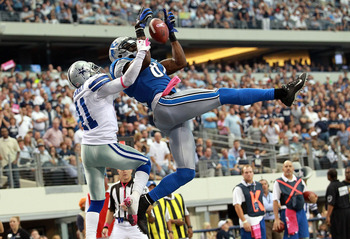 Ronald Martinez/Getty Images
Calvin Johnson is entering the 2012 season as the No. 1 fantasy wide receiver after having one of the best seasons in NFL history for a receiver.
In 2011, Johnson scored a touchdown in 11 games and had two games where he recorded over 200 receiving yards.
He most likely will not top 1600 receiving yards and 16 receiving touchdowns, but Johnson should definitely record around 1300 receiving yards and 12 touchdowns.
Johnson should be the first receiver taken in your fantasy drafts. Look to take him in the middle of the first round.
1. Aaron Rodgers, Green Bay Packers, QB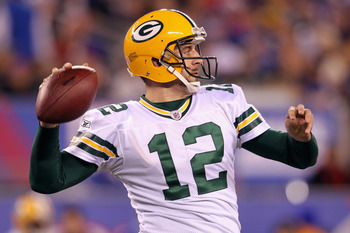 Nick Laham/Getty Images
Aaron Rodgers is the top fantasy football quarterback heading into the 2012 and there is no reason why he should not be.
Rodgers is the leader of the Green Bay Packers' dominant offense and he puts up great stats every week.
In the Packers' pass-happy offense, Rodgers is going to be able to throw for at least 250 yards and two touchdowns every week.
Depending on the scoring system in your fantasy league, I would look to take Rodgers in the first round with the No. 4 or No. 5 pick.
Keep Reading