MLB Midseason Awards: Top Performers of the First Half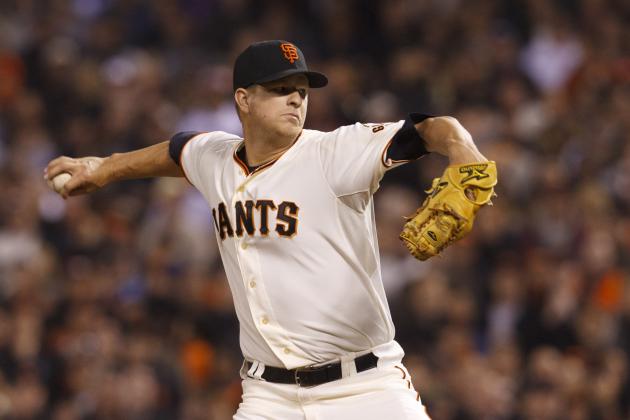 Jason O. Watson/Getty Images

The first half of the baseball season was filled with surprises and historic moments. Two perfect games, including one of the best-pitched games of all-time by Matt Cain, headline the events of the first half. The Nationals, White Sox and Pirates are among the surprising division leaders at the break, while the Tigers, Red Sox and Phillies continue to struggle.
Just past the midway point in the season, it's time to give out the awards to the best players and managers so far in 2012.
Begin Slideshow

»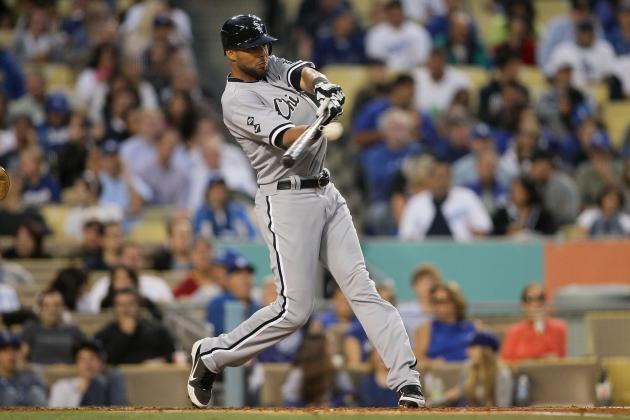 Victor Decolongon/Getty Images

Winner: Alex Rios, Chicago White Sox
Last season couldn't have been much worse for the White Sox outfielder. He hit just .227 and drove in 44 runs in 537 at-bats. He had the third-lowest on-base percentage among qualified players in the majors, and his OPS was dead last. It was a year to forget for Alex Rios.
This year, Rios looks like a completely different hitter. He's hitting .318 with 12 home runs and 49 RBI. He's also been much better on the basepaths, swiping 13 so far on his way to a possible 20/20 season. The White Sox are in first place in the AL Central, and Rios has been a big part of that.
Honorable Mention: Adam Dunn, Chicago White Sox
Like Rios, Dunn had a terrible 2011, but he has bounced back admirably so far this year. He has 25 home runs and 61 RBI, both among the top five totals in the American League. Dunn, however, is still hitting just .208 and is on pace to shatter the strikeout record of 223 set by Mark Reynolds back in 2009. Dunn has 134 whiffs through 84 games.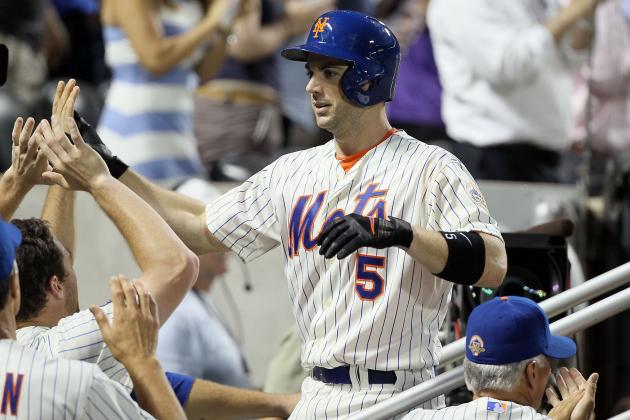 Jim McIsaac/Getty Images

Winner: David Wright, New York Mets
Injuries derailed Wright's 2011 campaign, limiting his season to just 102 games because of a stress fracture in his lower back. But when Wright was healthy and on the field, he still wasn't producing. He ended the year hitting .254, the worst mark of his career.
This season, Wright is on an absolute tear. He comes into the break hitting .351 with a .441 on-base percentage and is one of the main reasons for the early success of the Mets. If he can continue his torrid pace, the Mets could fight for a playoff spot in the National League.
Honorable Mention: A.J. Burnett, Pittsburgh Pirates
After two consecutive years sporting an ERA over five, Burnett was traded from the Yankees to the Pirates prior to this year. He has flourished in Pittsburgh, going 10-2 with a 3.68 ERA. He has allowed three runs or less in 13 of his 15 starts and has helped the Pirates take the lead in the NL Central.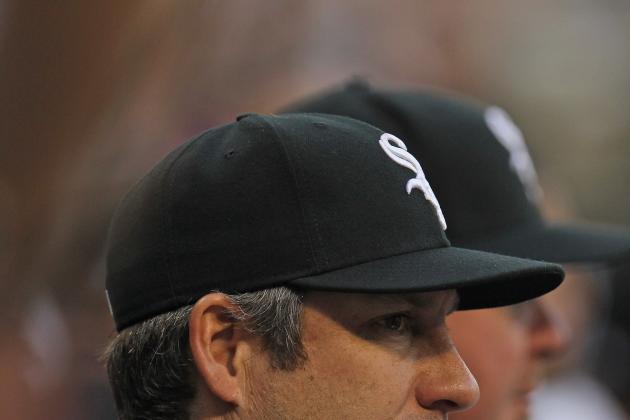 Jonathan Daniel/Getty Images

Winner: Robin Ventura, Chicago White Sox
Coming into the season, it was widely accepted that the Detroit Tigers would run away with the AL Central division. Instead, the Chicago White Sox have assumed control, even after losing Mark Buehrle and Carlos Quentin from last year's team.
First-year manager Robin Ventura has picked up where Ozzie Guillen left off and has done a tremendous job. He has a handful of guys playing their best ball and the team fighting for a division title. Paul Konerko, Alex Rios, Adam Dunn, Jake Peavy and Chris Sale have all played valuable roles in the first half, and Ventura has put it all together to make the Sox contenders.
Honorable Mention: Buck Showalter, Baltimore Orioles
The Orioles of 2012 are nearly identical to the Cleveland Indians of 2011. They both started out hot and took the league by surprise, but like Cleveland last season, the Orioles just can't keep it up. Showalter has done a tremendous job keeping the Orioles relevant in the AL East, but there's not enough talent to keep them competing at this level.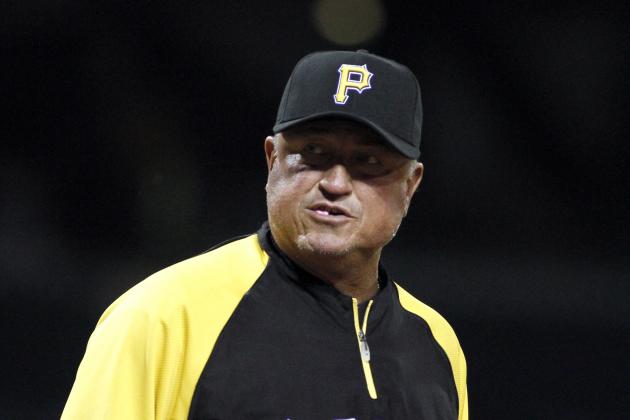 Justin K. Aller/Getty Images

Winner: Clint Hurdle, Pittsburgh Pirates
The Pittsburgh Pirates last made the playoffs in 1992, the same year Andrew McCutchen turned six years old. It was also the last time the team had a winning season.
Clint Hurdle and the Pirates are well on their way to ending both droughts in 2012.
Heading into the break, the Pirates has the NL Central's best record at 48-37. They're in a three-team race with the Reds and Cardinals for the top spot, and it should go down to the wire. Their pitching is the difference, as the Pirates have given up the second-fewest runs in baseball. Hurdle has the ballclub set to finally bring a winning season to Pittsburgh.
Honorable Mention: Davey Johnson, Washington Nationals
The Washington Nationals are atop the National League at the midway point with an astounding 49-34 record. Bryce Harper and Ian Desmond lead the offense, while the trio of Stephen Strasburg, Gio Gonzalez and Jordan Zimmermann head the league's best pitching staff. They are serious contenders for the NL pennant and show no signs of slowing down.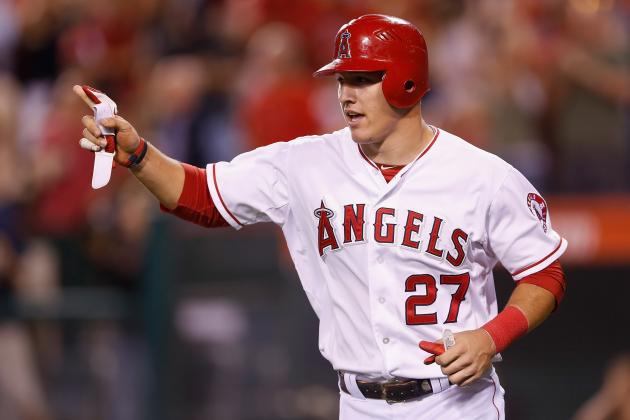 Jeff Gross/Getty Images

Winner: Mike Trout, Los Angeles Angels
The only no-doubter on this list, Trout has been one of the best players in baseball since his call-up to the majors in late April. He hits for average, for power, has great speed and is one of the best defensive center fielders in the game.
Trout leads the American league with a .341 average and in stolen bases, taking 26 bags in just 64 games. If we put his current season statistics and laid it out over a 162-game span, he would have around 30 homers and 65 steals. Though he won't touch those in 2012, a 25/40 season is well within reach—something only Matt Kemp accomplished last season.
Honorable Mention: Yu Darvish, Texas Rangers
Nobody has been near Trout on the rookie radar, but Darvish is definitely the closest. At 10-5 with a 3.59 ERA, he provides the Rangers with some much-needed consistency. Just staying healthy is a huge help for the injury-riddled staff.
The most impressive number of Yu's first half is his strikeout total. He has 117 in just 102.2 innings.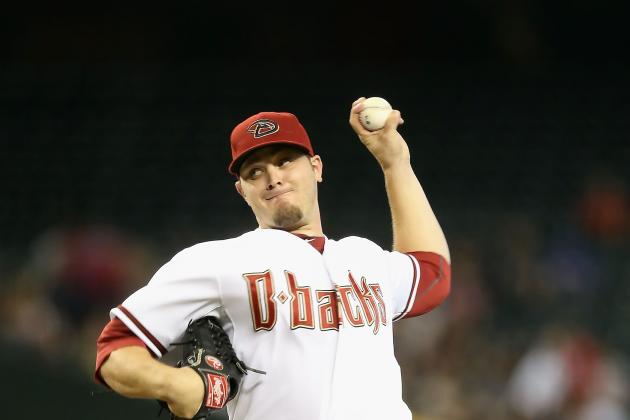 Christian Petersen/Getty Images

Winner: Wade Miley, Arizona Diamondbacks
Apologies to those caught up in Bryce-mania, but Wade Miley is the best rookie of the first half. He boasts a 9-5 record with a 3.04 ERA and has played a large role in keeping the D-Backs afloat in the NL West. He will take part in his first All-Star game Tuesday.
He has given up one or zero runs in eight of his 14 starts and is dominant at home. At the hitter-friendly Chase Field, he's 6-2 with a 2.72 ERA. With Ian Kennedy and Daniel Hudson both having trouble in 2012, Miley has stepped up to give Arizona a chance in the East.
Honorable Mention: Bryce Harper
Bryce Harper is having a great year for the first-place Nationals, hitting .282 with eight homers and 10 stolen bases. If he can pick up the power just a little bit, a 20/20 season is a definite possibility.
Harper is still young and may start getting more comfortable as the year progresses. Expect him to take home the ROY honors at the end of the season.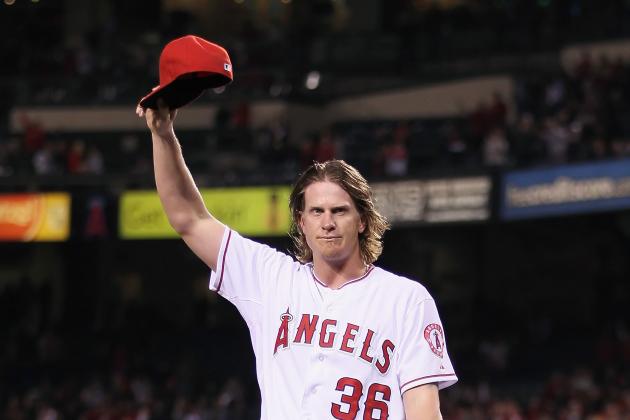 Jeff Gross/Getty Images

Winner: Jered Weaver, Los Angeles Angels
Justin Verlander and Chris Sale are also in the mix, but Weaver should win it hands down. Not only does he have the best ERA in the majors at 1.96, as well as the best WHIP at 0.90, but his last four starts have been dominant. He's 4-0 with a 0.33 ERA over that span.
Verlander may look more flashy with his high strikeout numbers, but Weaver is the best pitcher in baseball right now. He pitched a no-hitter on May 2 against the Twins and hasn't looked back. If you take away his one hiccup against Texas where he gave up eight runs, his ERA in his other 14 starts is an unbelievable 1.25.
Honorable Mention: Chris Sale, Chicago White Sox
Chris Sale performed better than anyone expected this season to help the White Sox to a great first half. He has won his last seven decisions and sports a 2.19 ERA heading into the All-Star break. The 23-year-old has struck out 98 batters in 102.2 innings and is turning into one of the most dominant pitchers in the game.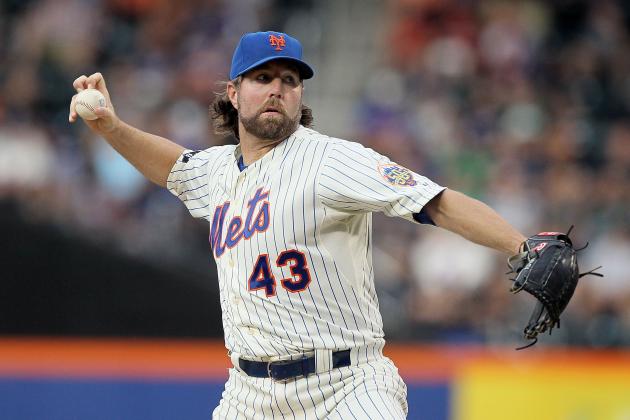 Jim McIsaac/Getty Images

Winner: R.A. Dickey, New York Mets
At 37 years of age, R.A. Dickey has blossomed into an elite pitcher. The knuckleballer leads the majors with a 12-1 record and has a 2.40 ERA to go along with a 0.93 WHIP. He's fanned 123 batters in 120 innings and is only 11 strikeouts away from his career high.
In the middle of June, Dickey pitched two consecutive one-hitters against the Rays and Orioles in a remarkable stretch where he didn't give up an earned run for five consecutive starts. Dickey hasn't lost since April 18, but he has gotten into trouble recently, giving up five runs in two of his last three starts.
Honorable Mention: Matt Cain, San Francisco Giants
Matt Cain turned in one of the most impressive pitching performances in baseball history with his perfect game on June 13 against the Houston Astros. He's been a little inconsistent thus far, but he has a 2.62 ERA and a 0.96 WHIP with his 9-3 record. Cain is pitching the Giants to an NL West title with Lincecum continuing to struggle.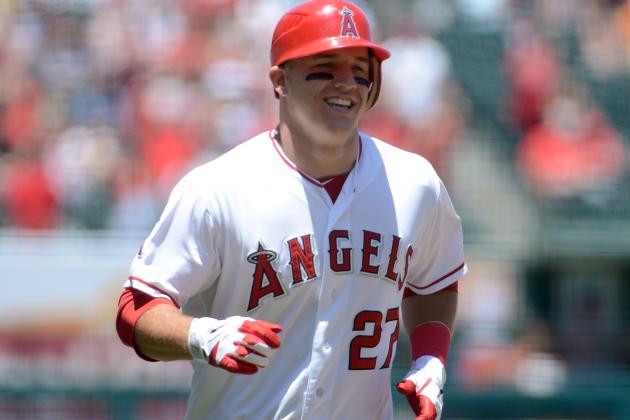 Harry How/Getty Images

Winner: Mike Trout, Los Angeles Angels
Josh Hamilton is a worthy recipient of this award, and he had a huge first half, but Mike Trout single-handedly saved the Angels season.
Angels before Trout: 6-14
Angels with Trout: 42-24
Ever since he was put at the top of the lineup, Mike Trout has been a difference-maker. He has 57 runs in 64 games. Ian Kinsler is the league leader with 63—in 84 games. Trout gets on base, gets into scoring position and makes it easy for the guys behind him.
Honorable Mention: Josh Hamilton, Texas Rangers
The Texas Rangers slugger started off on a blistering pace, hitting 21 home runs in the first two months of the season. Since then, he has cooled off considerably, hitting .214 with six home runs in 32 games. That didn't seem to matter to Texas.
Rangers April/May: 31-20 (.608)
Rangers June/July: 21-14 (.600)
The Rangers can win the division without Hamilton; the Angels can't without Trout.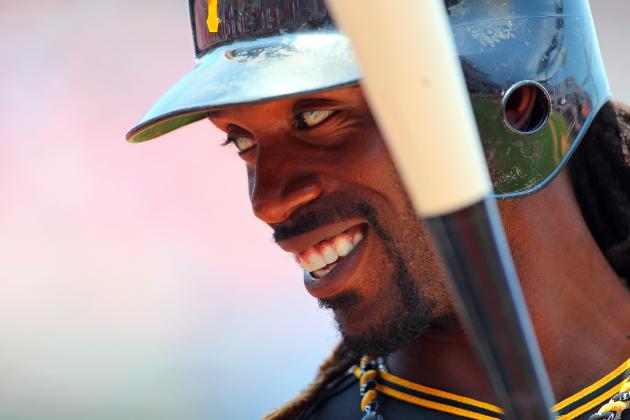 Rich Schultz/Getty Images

Winner: Andrew McCutchen, Pittsburgh Pirates
This is another tightly-contested matchup between McCutchen and Joey Votto. McCutchen leads the league with a .362 average and is in the top five in both home runs and RBI. The decision comes down to who means the most to his team, and that's the Pirates outfielder without a doubt.
Andrew McCutchen is the Pirates offense. He leads the team in runs, hits, home runs, RBI, average, OBP, slugging and stolen bases. He's also the hottest hitter in baseball, going 21-for-38 in his last nine games. Oh, and his team is in first place.
Honorable Mention: Joey Votto, Cincinnati Reds
Joey Votto does have an eye-popping .471 on-base percentage, but there's a lot more to the lineup in Cincinnati than just Votto. Jay Bruce leads the team in both home runs and RBI, and Brandon Phillips is putting up numbers as well. It may just come down to who finishes first in the division to decide this race at the end of the year.