NFL in Los Angeles: 5 Reasons There's No Excuse for LA to Be Shut out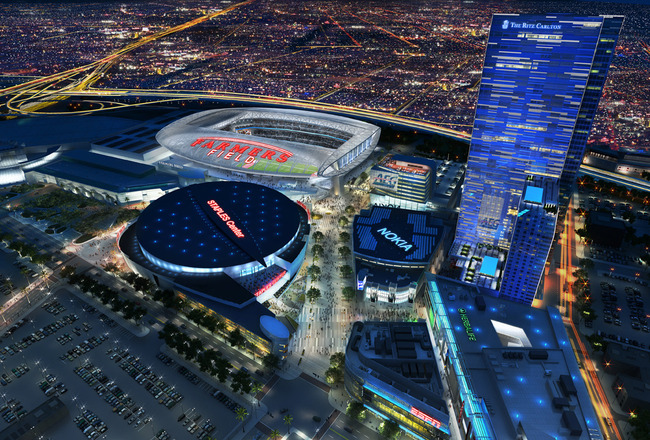 Handout/Getty Images
Since 1994, the NFL has been absent in Los Angeles, California. With two stadium proposals nearing their final stages, there is some reason for optimism.
NFL Commissioner Roger Goodell recently sent a memo to all 32 teams about potentially relocating to L.A.
It's imperative that the NFL acts on this opportunity, because it may not come around again. Many teams lock themselves into long-term stadium commitments.
That being said, there are five main reasons the NFL would be wise to act on this opportunity. Now is the time to bring an NFL franchise back to Los Angeles—there is simply no excuse not to.
NFL Is Missing out on the Second-Biggest Media Market in America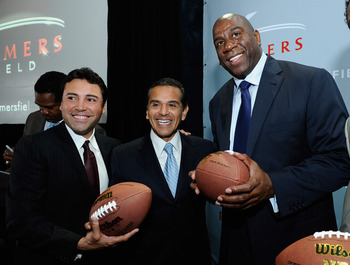 Kevork Djansezian/Getty Images
The NFL is all about selling its brand, and the league is certainly missing out on a huge media market in Los Angeles.
L.A. is the second-largest media market in America.
The city supports a professional hockey team, two professional baseball teams and two professional basketball teams, and it has an immense support for its local college athletics.
Still, L.A. has no professional football team.
It simply doesn't add up when you think about how much money the NFL is missing out on. Also, the NFL Network holds its headquarters in Culver City, California, which happens to be in western Los Angeles County.
With a professional team in L.A. and the NFL Network's headquarters at its disposal, the amount of media coverage for the NFL would be even more astronomical than it already is.
Sports Are Thriving in L.A.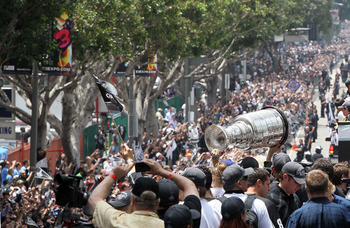 Victor Decolongon/Getty Images
The popularity of sports in L.A. is at an all-time high.
The Lakers and Clippers are both very good basketball teams that will likely excite downtown Los Angeles for many years to come.
The Kings recently won their first Stanley Cup championship, adding to the growing support of L.A.'s professional sports teams.
Magic Johnson's investment group recently purchased the Dodgers for $2 billion, likely making them competitive for many years to come.
Adding a professional football team will only gain more momentum from the growing fanbase. It could help make L.A. the sports capital of America.
Economic Impact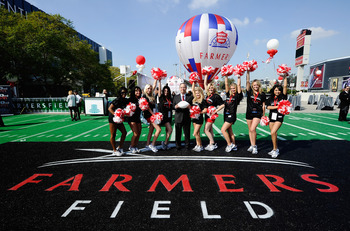 Kevork Djansezian/Getty Images
The economic boost that an NFL franchise would provide to Los Angeles would be a great service.
These kinds of projects go beyond sports, in a sense. They bring jobs and money back to America.
One of the proposed stadiums estimates that it would create more than 18,000 new jobs and generate millions of dollars in revenue for Southern California.
These are the kinds of numbers the NFL would be foolish to ignore—for the sake of the league and one of the biggest cities in America.
Several NFL Teams Struggle with Attendance and Blackouts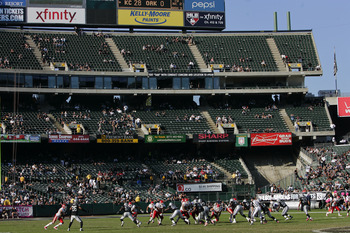 Brian Bahr/Getty Images
Over the last few years, multiple NFL franchises have struggled with attendance and television blackouts.
The Bills, Chargers, Raiders, Buccaneers, Jaguars, Dolphins and Rams are all teams that have been affected by this dilemma.
The NFL has decided to relax its old rule on blackouts, but it's unlikely this will completely solve the problem at hand.
Putting a team in Los Angeles would guarantee that one fewer NFL franchise will struggle to sell tickets and fill the stadium.
Fans Already Exist in L.A.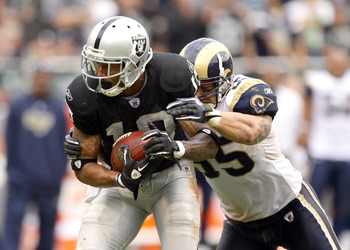 Ezra Shaw/Getty Images
Many fans from the days of the L.A. Raiders and L.A. Rams still exist in the city today.
Putting a team back in Los Angeles, regardless if it were the Raiders, the Rams or a completely different franchise, would instantly bring these fans back from the dead.
This would help generate a younger generation of fans that could still connect with the older generation.
It could help make L.A. one of the most popular professional football teams in the NFL.
The NFL knows that if they put a team back in L.A., it's going to be a permanent relocation.
Now, it's just a matter of letting the business people finish the details and hope they don't miss a major opportunity to grow the popularity of the league.
Keep Reading