5 Biggest Shocks from Baseball America's Latest Top 50 Prospect Rankings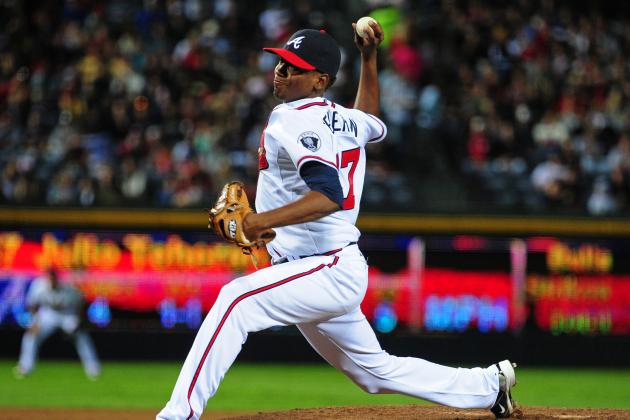 Scott Cunningham/Getty Images

With the midpoint in the season having come and gone, Baseball America released their midseason Top 50 prospect rankings list on Thursday.
Their criteria for the rankings were that a player had to still have rookie eligibility and be in the minor leagues at the time of the July 1 deadline. They also did not include any picks from this year's draft.
A quick look at the rankings brought about a few surprises, and here is a look at the five biggest shocks from the prospect rankings update.
Begin Slideshow

»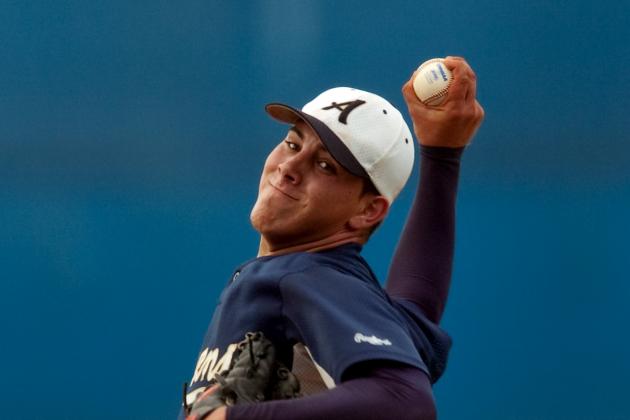 Photo Credit: Tampa Bay Times
Previous Ranking: N/A
Current Ranking: 8
2012 Stats: 16 GS, 8-0, 2.12 ERA, 108 Ks, 89 IP at Single-A and High Single-A
Why It's Surprising
Taken with the 14th overall pick in last year's draft, Fernandez gave up five runs in four innings over two starts after signing last year and entered the season as someone who was viewed as a project.
Ranked as the team's No. 3 prospect entering the season, he tore through Single-A with a 7-0 record and 1.59 ERA through 14 starts before earning a call-up to High Single-A.
In two starts there, he has struggled in allowing ten runs over seven innings of work. While he has tremendous upside, the spike from out of the Top 100 entering the season to No. 8 is a shocking one.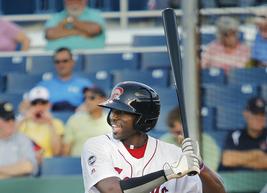 Photo Credit: The Portland Press Herald
Previous Ranking: N/A
Current Ranking: 32
2012 Stats: .361/.471/.515, 3 HR, 42 RBI, 65 R, 19 SB at Single-A and Double-A
Why It's Surprising
One of the top college hitters going into the 2011 season, Bradley suffered a wrist injury that caused him to fall to the Supplemental Round, where the Red Sox selected him with the No. 40 pick.
He played just 10 games last season after signing and entered the year ranked as the No. 10 prospect in the Red Sox organization.
He's been very good this year, but he is already 22, and while he has held his own since being promoted to Double-A, he'll need to continue to progress quickly.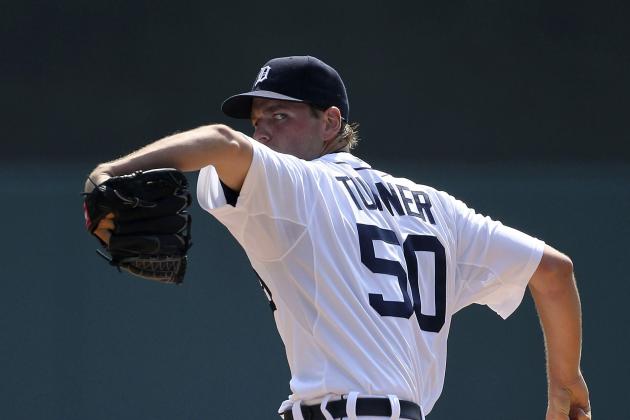 Leon Halip/Getty Images

Previous Ranking: 22
Current Ranking: N/A
2012 Stats: 13 GS, 4-4, 3.11 ERA, 51 Ks, 75.1 at High Single-A and Triple-A
Why It's Surprising
One of baseball's top pitching prospects since being taken with the ninth-overall pick in the 2009 draft, many expected Turner to capture the No. 5 rotation spot for Detroit this spring.
Instead, Drew Smyly earned that spot and he's been solid, going 4-4 with a 4.54 ERA through his first 14 starts this season.
While Turner did not win the spot, he is pitching well in the minors and is just 21 years old in his second taste of Triple-A. However, he was dropped out of the Top 50 all together for some reason.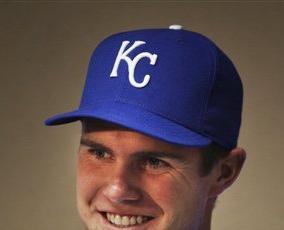 Photo Credit: Husker Extra
Previous Ranking: 24
Current Ranking: 46
2012 Stats: .321/.472/.607, 2 HR, 9 RBI, 8 R at Rookie League
Why It's Surprising
One of the most hyped high school athletes of all time, Starling was a two-sport star and a legend at Gardner-Edgerton High School in Kansas.
Slated to play quarterback at the University of Nebraska, the Royals signed him away from that commitment with a $7.5 million signing bonus.
He was ranked as the No. 24 prospect coming in, and playing in the Appalachian League, his season is just seven games old. He's been impressive thus far, yet he fell over 20 spots in the rankings. Not sure how that's justified.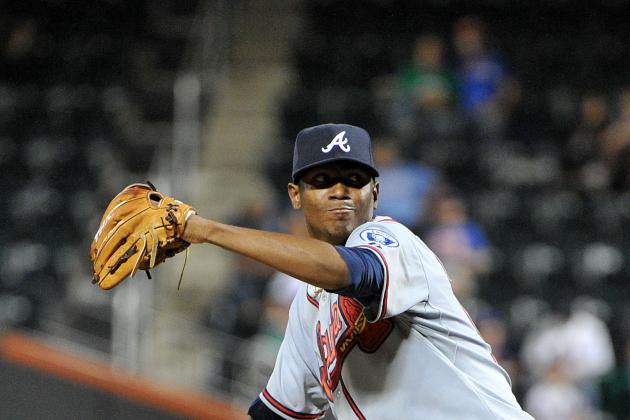 Christopher Pasatieri/Getty Images

Previous Ranking: 5
Current Ranking: 24
2012 Stats: 15 GS, 5-5, 4.37 ERA, 51 Ks, 70 IP at Triple-A
Why It's Surprising
Coming off of a 15-3, 2.55 ERA, 122 Ks season at Triple-A last year as a 20-year-old, Teheran entered 2012 as one of the most highly touted pitching prospects in baseball and was expected to make a run at a rotation spot this spring.
However, he has not pitched as well in his second go-around of Triple-A this year, and he struggled in his lone start at the big league level.
While a drop was to be expected, it is puzzling why he fell from 5 to 24 when Shelby Miller (4-7, 6.00 ERA at Triple-A), who is the same age and struggling even more, only dropped from 8 to 20.