Fantasy Baseball 2012: Midseason Awards for Major League Hitters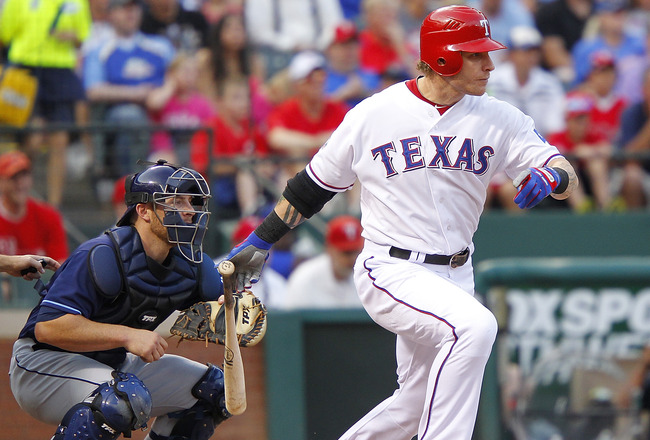 Rangers outfielder Josh Hamilton (26 HR, 74 RBI, 53 Runs, 6 Steals, .316 BA) is the only MLB hitter with at least 25 homers, 60 RBI and an OPS rate above 1.000.
Rick Yeatts/Getty Images
The following countdown touts nine midseason awards involving major-league batters.

To clarify, this listing stays true to the stats from April 4-July 5 and doesn't really focus on projections for July, August and September.

To view the work reflecting the fantasy midseason awards for starting pitchers and relievers, click here.

Enjoy the show!
Best Combination of Runs/Batting Average: Carlos Gonzalez, Colorado Rockies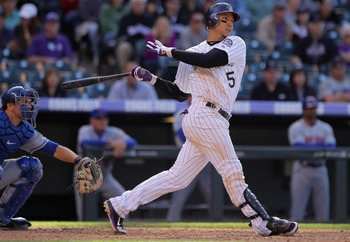 Doug Pensinger/Getty Images
2012 Stats: 17 HR, 58 RBI, 59 Runs, 10 Steals, .336 BA

It's not a shock that Carlos Gonzalez leads the Troy Tulowitzki-less Rockies in runs, hits, homers, RBI, batting average, on-base percentage, OPS and steals (tied with Eric Young Jr.).

But the separation between CarGo and the runner-up in each category (excluding steals) is quite profound.

Here's another absurd factoid: Gonzalez's 30-day run of three homers, 13 RBI, 14 runs and .362 batting is actually on the low end of a prodigious hitting bubble that's been mushrooming in size since April 24.

2. David Wright, Mets
3. Melky Cabrera, Giants
4. Mike Trout, Angels
5. Matt Holliday, Cardinals
6. Mike Bourn, Braves
7. Ian Kinsler, Rangers
Best Combination of HR/RBI/OPS: Josh Hamilton, Texas Rangers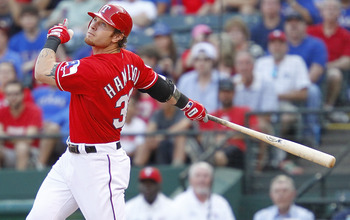 Rick Yeatts/Getty Images
2012 Stats: 26 HR, 74 RBI, 53 Runs, .316 BA, 1.032 OPS

Of the three players with at least 25 homers and 60 RBI—Josh Hamilton, Jose Bautista, Adam Dunn—Hamilton is the only one with a 1.000 OPS.

As a result, his selection for this award was an absolute no-brainer.

Unfortunately for Dunn, though, his .880 OPS prompted a noticeable dip here, allowing some of baseball's most prolific four- and five-category studs to leapfrog the White Sox slugger at the last minute.

2. Ryan Braun, Brewers
3. Jose Bautista, Blue Jays
4. David Ortiz, Red Sox
5. Miguel Cabrera, Tigers
6. Carlos Beltran, Cardinals
7. Adam Dunn, White Sox
Best Combo of Steals/Slugging: Mike Trout, Los Angeles Angels of Anaheim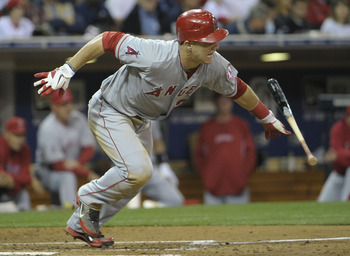 Denis Poroy/Getty Images
2012 Stats: 10 HR, 38 RBI, 54 Runs, 26 Steals, .348 BA, .555 SLG

Of the top-25 steals leaders (through July 5), Mike Trout is the only speed demon with a slugging rate above .500, so, this crossover pick was an easy call.

It also opened the door for double-digit base thieves like Andrew McCutchen (14 steals), Ryan Braun (13) and Carlos Gonzalez (10) to eclipse a power-deficient crew at the top of steals (excluding Trout).

Speaking of McCutchen and Trout, I wonder if the sports books in Vegas are taking bets (or laying odds) on the next MLB star to rack up 40 homers and 40 steals in one season.

Trout and McCutchen have to be the prohibitive favorites to pull off the feat...in 2013.

2. Andrew McCutchen, Pirates
3. Ryan Braun, Brewers
4. Carlos Gonzalez, Rockies
5. Adam Jones, Orioles
6. Alex Rios, White Sox
7. Michael Bourn, Braves
Most Pleasant Fantasy Surprise: Carlos Ruiz, Philadelphia Phillies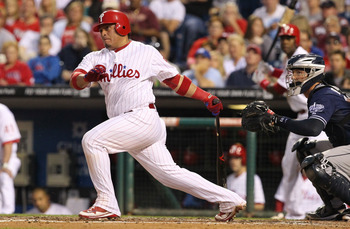 Hunter Martin/Getty Images
2012 Stats: 13 HR, 46 RBI, 40 Runs, 3 Steals, .355 BA, 1.015 OPS

This may be Exhibit A as to why it's never wise to invest a high draft pick in a catcher in March.

Among backstops, Carlos Ruiz ranks first in doubles, batting average and OPS, second in runs, hits, RBI and OBP and fourth in homers. And yet, he likely didn't rate any higher than the No. 8 catcher heading into spring training.

Even with Philly's star power up and down the roster, it wouldn't be a stretch to say that Ruiz, Hunter Pence and Cole Hamels are the ones keeping Philly's flickering playoff hopes afloat.

2. Edwin Encarnacion, Blue Jays
3. Josh Reddick, Athletics
4. Adam Dunn, White Sox
5. Colby Rasmus, Blue Jays
6. Juan Pierre, Phillies
7. A.J. Pierzynski, White Sox
Biggest Fantasy Disappointment: Rickie Weeks, Milwaukee Brewers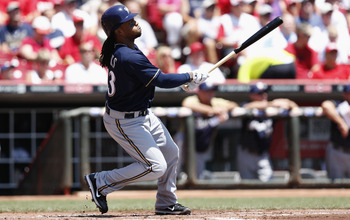 Joe Robbins/Getty Images
2012 Stats: 6 HR, 24 RBI, 32 Runs, 6 Steals, .193 BA, .323 SLG

The Upton brothers, Justin and B.J., might have had the highest preseason rankings of the seven assets listed here, but Rickie Weeks takes honors for four reasons:

1. His .193 batting average and .312 on-base percentage are easily the worst of his career (the seven-game MLB stint from 2003 doesn't count).

2. Weeks (99 strikeouts) is well ahead of the pace for breaking his personal, uh, best in strikeouts (184 in 2010).

3. With only six steals to date, Weeks resembles nothing of the speed demon who averaged 19.5 steals from 2005-08.

4. Weeks has come dangerously close to having his deflating .312 OBP stand above his depressing .323 slugging rate.

One last note: Players who were injured for most of the season are exempt from "disappointment" status, but if that wasn't the case, Royals outfielder Lorenzo Cain would be near the top of the list.

In the scope of hotshot outfielders seeking breakthrough seasons, I had Cain just a notch below Mike Trout, Bryce Harper and Ben Revere back in March.

2. B.J. Upton, Rays
3. Ike Davis, Mets
4. Justin Upton, Diamondbacks
5. Mark Reynolds, Orioles
6. Drew Stubbs, Reds
7. Ryan Raburn, Tigers
Greatest Five-Category Producer: Andrew McCutchen, Pittsburgh Pirates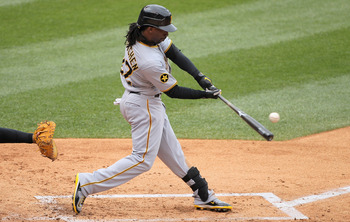 Doug Pensinger/Getty Images
2012 Stats: 16 HR, 54 RBI, 53 Runs, 14 Steals, .356 BA

Any of the top-five players listed could have won this competition.

Heck, even Alex Rios (11 HR, 45 RBI, 47 Runs, 13 Steals, .316 BA) and Matt Holliday (14 HR, 56 RBI, 56 Runs, 4 Steals, .318 BA) make strong cases in the most prolific of fantasy battles.

But in the end, it was impossible to overtake the elite balance of Andrew McCutchen and his near mirror images of RBI/runs and homers/steals.

For good measure, McCutchen also boasts baseball's highest batting average (.356) among hitters with at least 100 at-bats.

2. Ryan Braun, Brewers
3. Mike Trout, Angels
4. Carlos Gonzalez, Rockies
5. Melky Cabrera, Giants
6. Alex Rios, White Sox
7. Adam Jones, Orioles
8. Jason Kipnis, Indians
9. Matt Holliday, Cardinals
10. Josh Hamilton, Rangers
Greatest Four-Category Producer: Carlos Gonzalez, Colorado Rockies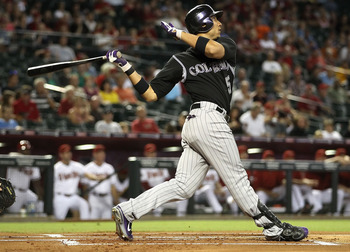 Christian Petersen/Getty Images
2012 Stats: 17 HR, 58 RBI, 59 Runs, .336 BA

I felt compelled to extend this category to 16 stars, given the collective absurdity of their first-half numbers.

Alex Rios, Adam Jones and Edwin Encarnacion should be celebrated for posting monster numbers before the All-Star break, yet their stats still cannot touch the balanced brilliance of Gonzalez, McCutchen, Hamilton, Braun and Miggy Cabrera.

2. Andrew McCutchen, Pirates
3. Josh Hamilton, Rangers
4. Ryan Braun, Brewers
5. Miguel Cabrera, Tigers
6. Matt Holliday, Cardinals
7. David Wright, Mets
8. Joey Votto, Reds
9. Mike Trout, Angels
10. David Ortiz, Red Sox
11. Robinson Cano, Yankees
12. Melky Cabrera, Giants
13. Jason Kipnis, Indians
14. Edwin Encarnacion, Blue Jays
15. Adam Jones, Orioles
16. Alex Rios, White Sox
AL Fantasy MVP: Josh Hamilton, Texas Rangers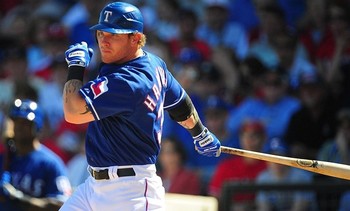 Photo Credit: US PRESSWIRE
2012 Stats: 26 HR, 74 RBI, 53 Runs, 6 Steals, .316 BA

Leave it to Hamilton to slog through a 30-day malaise (five homers, .247 batting) and still comfortably grab the MVP plaque among his American League brethren.

It also helped that Hamilton had a four-homer, 10-RBI surge from June 25-July 4, just hours before I started researching the numbers for this countdown.

Even during periods of hitting lethargy, Hamilton's penchant for signature streaks at the right time has become the stuff of legend.

Which brings us to the downside and upside of Hamilton's nine-homer, 18-RBI explosion from May 7-13 (spanning seven games):

The downside: Since that stellar run, Hamilton has collected only eight homers and 29 RBI, passable numbers for an elite bat.

The upside: Hamilton strikes fear into opposing pitchers like no other hitter in fantasy, ahead of Miguel Cabrera, Andrew McCutchen, Carlos Gonzalez, Ryan Braun, Joey Votto and Matt Kemp, when healthy.

2. Miguel Cabrera, Tigers
3. Mike Trout, Angels
4. David Ortiz, Red Sox
5. Robinson Cano, Yankees
6. Jose Bautista, Blue Jays
7. Jason Kipnis, Indians
8. Edwin Encarnacion, Blue Jays
9. Adam Jones, Orioles
10. Alex Rios, White Sox
NL Fantasy MVP: Andrew McCutchen, Pittsburgh Pirates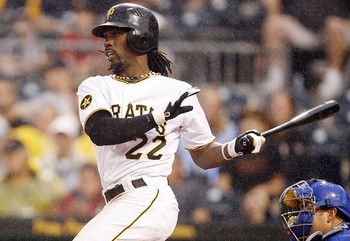 Photo Credit: US PRESSWIRE
2012 Stats: 16 HR, 54 RBI, 53 Runs, 14 Steals, .356 BA

From an individual standpoint, McCutchen is having one of the most remarkably balanced seasons of any hitter, morphing from viable All-Star to no-brainer superstar in just one season's time.

From a team prism, it's a mini miracle the Pirates are in first place in the National League Central (46-36) and cruising toward a playoff berth 20 years in the making. After all, the club featured just three other hitters with on-base percentages above .300 back in mid-May.

But just like the Indians from Major League: The Movie, these Pirates are contenders now thanks to a real-world and fantasy MVP who's a healthy bet for 33 homers, 107 RBI, 110 runs, 30 steals and a .345 batting average by season's end.

2. Ryan Braun, Brewers
3. Carlos Gonzalez, Rockies
4. David Wright, Mets
5. Joey Votto, Reds
6. Matt Holliday, Cardinals
7. Carlos Beltran, Cardinals
8. Michael Bourn, Braves
9. Melky Cabrera, Giants
10. Paul Goldschmidt, Diamondbacks
Keep Reading