New England Patriots: Which Pats Rookies Can Make Immediate Impacts in 2012-13?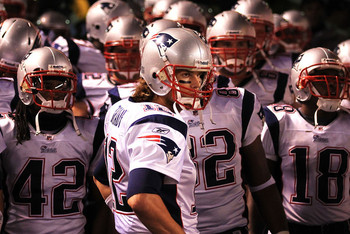 Bill Belichick and the New England Patriots are known for being reluctant and trading down in the NFL draft to stockpile future picks. This April's draft, Belichick and the Pats took a different approach, trading up twice in the first round to select two defensive players, and with good reason. The Patriots traded up to get DE Chandler Jones at No. 21 and LB Dont'a Hightower at No. 25, who they expect can step in right away and make an immediate contribution.
Belichick also picked up some gems later in the draft, selecting Arkansas DE Jake Bequette with the 90th pick and Nebraska CB Alfonzo Dennard 224th overall. Dennard was slated as a second or third-round pick prior to his arrest, and if he can keep his head on straight and play up to his talent, he could very well turn out to be one of the biggest steals in the draft.
1. Dont'a Hightower, LB, 1st Round, 25th Overall: 6'4", 270 Pounds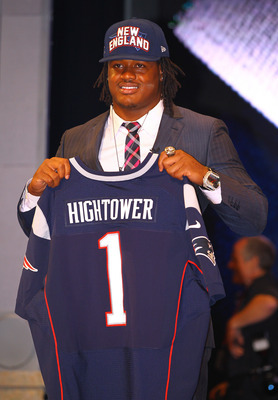 Al Bello/Getty Images
If there were ever a player born and bred to run Bill Belichick's defensive system, it's first-round pick Dont'a Hightower. Hightower, selected 25th overall, started all four years under Nick Saban at Alabama, who also happens to be a close personal friend of Belichick's. Hightower had no problem running the Alabama defense where Saban is known for running a complex NFL-style defense. Hightower started 42 games for the Crimson Tide, where he was the defensive field general, making the all the calls and checks.
Hightower is reminiscent of the Patriots' 2010 second-round pick, Brandon Spikes. Hightower is physical at the point of attack, like Spikes, but is bigger, faster and stronger. Hightower brings a combination of size (6'4", 270 pounds) and speed (4.68 40-yard-dash) the Patriots have been missing at the linebacker position.
That combination of size and speed also allows Hightower to be versatile, where from day one, he can come in and play either on the inside or the outside. In the Patriots' 3-4 scheme, Hightower will most likely play opposite Rob Ninkovich on the outside, freeing up Spikes and Jerod Mayo on the inside.
In the 4-3 package, Belichick may use Hightower as the inside linebacker and move Mayo to the outside, where he will be free to roam and make plays. Hightower lacks some of the big game-changing ability of other defenders, but he will be a constant in shooting the gaps and making life miserable for quarterbacks and running backs.
2. Jake Bequette, DE, 3rd Round, 90th Overall: 6'5", 270 Pounds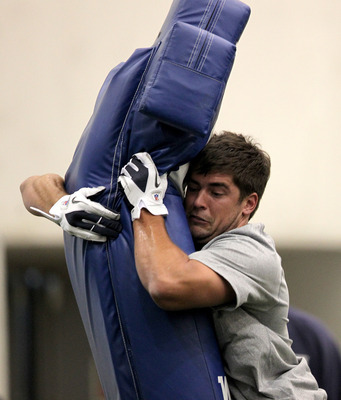 Jim Rogash/Getty Images
I may be in the minority on this one, as Bequette wasn't even the first defensive lineman drafted by the Patriots, but hear me out on this one. Bequette was a four-year starter at Arkansas, where he racked up 23.5 career sacks in easily the toughest conference in America.
There is no doubt over the course of their careers, Chandler Jones will most likely have the better career, but Bequette is more NFL-ready at the moment. I don't expect either Jones or Bequette to have big rookie campaigns, but the Patriots defense has a bright future ahead with these two rushing from the outside.
At 6'5" and 270 pounds, Bequette is ready to come in immediately and help out the second-worst defense from a year ago. Now, don't expect Bequette to come in and rack up double-digit sacks, but he can step in and put pressure on the quarterback, something the Patriots have lacked recently.
Unlike Jones, Bequette probably won't run down ball carriers or run by any lineman, but his quickness (second-best 20-yard shuttle among linemen at the combine, 4.07) along with his size and strength, will be tough to match.
3. Chandler Jones, DE, 1st Round, 21st Overall: 6'5", 260 Pounds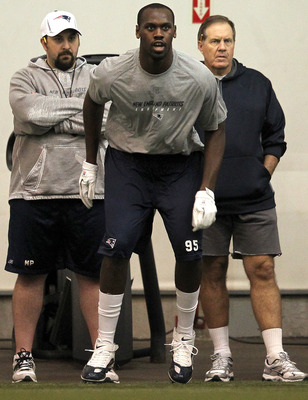 Jim Rogash/Getty Images
Jones saw his stock shoot up the draft boards during the months leading up to draft night, even ranking in the top 10 on some experts boards. Luckily for the Patriots, Jones fell to No. 21, where they traded up to select him.
He is an absolute freak of nature. Standing 6'5", Jones runs a 4.8 40 with a 35-inch vertical leap. Eventually, Jones will need to add some bulk to his 260-pound frame, but his speed and motor should balance that out during his first season in Foxborough.
It may take Jones a few months to get acclimated to bigger, faster and stronger offensive linemen, but he can be a franchise changing-type defensive player. Jones, who has drawn comparisons to former Miami Dolphin Jason Taylor for his slender physique and playing style, missed four games last season due to a knee injury, but still managed 4.5 sacks for an underachieving Syracuse team.
If Jones can live up to his potential, along with his Energizer bunny-like motor, Patriots fans can look to a bright future filled with tons of sacks.
4. Alfonzo Dennard, CB, 7th Round, 224th Overall: 5'10", 200 Pounds
Joe Robbins/Getty Images
Seventh-round draft pick Alfonzo Dennard is the ultimate wildcard. Last season, the Patriots ranked second to last in total defense and pass yards allowed, so any help in the defensive backfield will be an upgrade.
Dennard is a talented cornerback whose stock plummeted five days before the draft due to an arrest for allegedly assaulting an officer back in Lincoln. Before the arrest, Dennard was projected to be a second or third-round pick.
Dennard is a big cornerback at 200 pounds who has great speed and clocked a 4.55 40 at the combine. His size and speed will be an asset in the slot, as veterans Devin McCourty and Kyle Arrington seem to have the starting corner spots locked up.
NFL teams don't usually expect much production from seventh-round picks, so any contribution he can provide will be a positive. He is physical in man-to-man coverage and is an instinctive player who tackles well for his position.
Dennard will need to improve his ball skills, as he has struggled attacking the ball in the air and is prone to drop some interceptions. If he can keep his head on straight and learn how to conform to the "Patriot Way," he can be a key contributor in the future seasons.
Keep Reading

New England Patriots: Like this team?