Top 10 Fantasy Football Players in the AFC North for 2012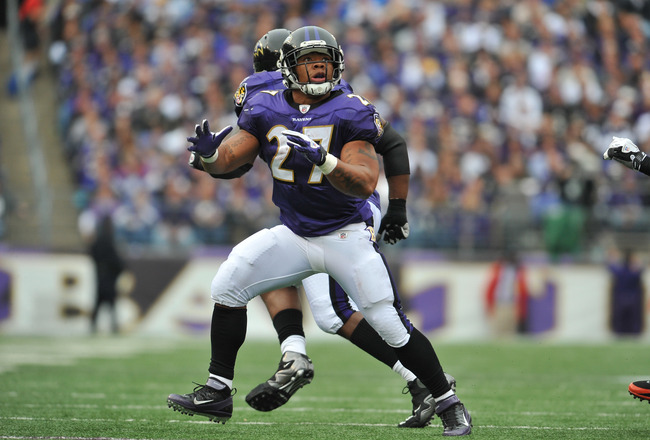 Larry French/Getty Images
Though the AFC North sent three teams to the NFL playoffs in 2011, when it came to fantasy football, they were not loaded with too many studs.
Heading into the 2012 season, the AFC North has a bunch of players who could potentially break out and make this one of the better fantasy football divisions.
Here are the top 10 fantasy football players in the AFC North for the 2012 season.
10. Anquan Boldin, Baltimore Ravens, WR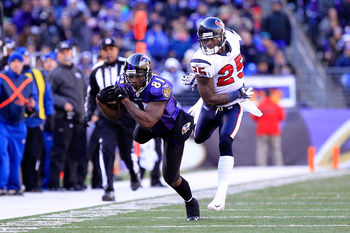 Chris Trotman/Getty Images
Anquan Boldin is nothing like the player he once was with the Arizona Cardinals, but he still shows some flashes of it with the Baltimore Ravens.
In 2011, Boldin had two games with over 130 receiving yards, while also being targeted 105 times.
Being the Ravens' starting wide receiver, Boldin has good fantasy value as a No. 3 fantasy option.
9. Torrey Smith, Baltimore Ravens, WR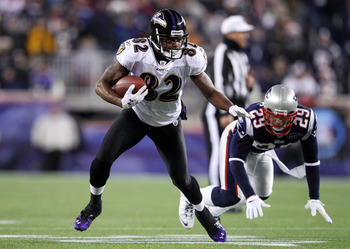 Elsa/Getty Images
Going into the 2011 season, no one thought Torrey Smith was going to even play after his horrendous preseason.
Instead, Smith shocked everyone and made a ton of huge plays for the Baltimore Ravens.
Entering his second season, Smith is the Ravens' go-to vertical threat and has a good shot of recording 1,000 receiving yards.
8. Ben Roethlisberger, Pittsburgh Steelers, QB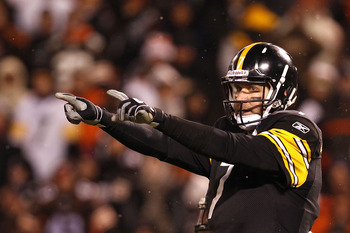 Matt Sullivan/Getty Images
Ben Roethlisberger is one of the best quarterbacks in the NFL, but when it comes to fantasy football, he is in the middle of the pack.
Roethlisberger is a solid No. 2 fantasy quarterback and consistently puts up solid numbers, but he never will put up huge numbers.
I would expect him to throw for around 4,000 yards and 25 touchdowns.
7. Antonio Brown, Pittsburgh Steelers, WR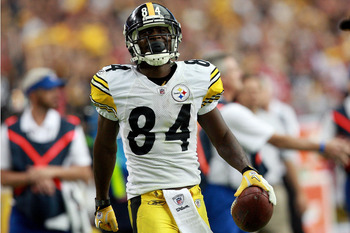 Karl Walter/Getty Images
Antonio Brown had a breakout season last year, recording over 1,100 receiving yards.
Despite the impressive performance, Brown was a bit of a letdown considering he only caught two touchdown passes.
In 2012, Brown's touchdown total should definitely increase, and he should make a nice No. 2 or No. 3 fantasy receiver.
6. Isaac Redman, Pittsburgh Steelers, RB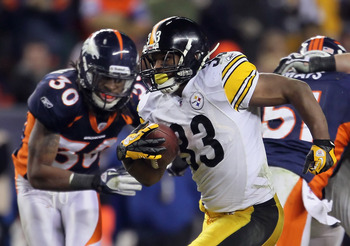 Jeff Gross/Getty Images
With Rashard Mendenhall out with an injury, the Pittsburgh Steelers will be relying on Isaac Redman to carry the load in the backfield.
Redman was very impressive in his two starts last season, running for a total of 213 yards.
I would look to take Redman in the middle rounds of your fantasy drafts, making him your No. 3 fantasy back.
5. BenJarvus Green-Ellis, Cincinnati Bengals, RB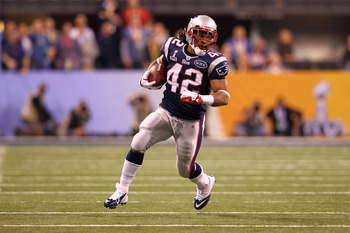 Al Bello/Getty Images
In his last two seasons, BenJarvus Green-Ellis has been a touchdown machine, scoring 24 touchdowns.
Now that he is with the Cincinnati Bengals, Green-Ellis is going to get many more carries than he ever did with the New England Patriots.
In New England, Green-Ellis was splitting carries with Danny Woodhead and Stevan Ridley. However, with the Bengals, Green-Ellis will be the outright starter.
This is the same system that made Cedric Benson a 1,000-yard rusher for three consecutive seasons. Look to make Green-Ellis your No. 2 fantasy back.
4. Trent Richardson, Cleveland Browns, RB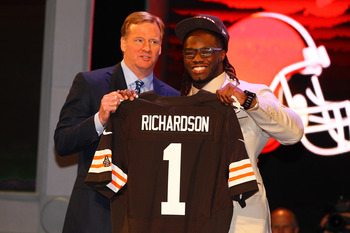 Al Bello/Getty Images
It may seem a little high for a running back who has never taken a snap in the NFL, but Trent Richardson is a physical specimen and should have a solid rookie season.
Being the starting running back for the Cleveland Browns, Richardson will be the team's entire offense. Not only will he be getting at least 20 carries per game, but he can also catch passes out of the backfield.
Richardson should be drafted by the fifth round in your fantasy drafts.
3. A.J. Green, Cincinnati Bengals, WR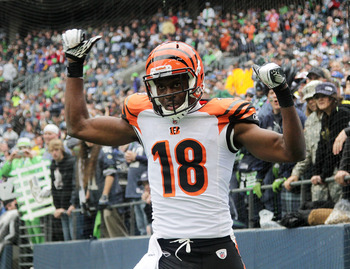 Otto Greule Jr/Getty Images
In his rookie season, A.J. Green showed everyone that he is going to be one of the top wide receivers in the NFL for a while.
Not only did he record over 1,000 receiving yards, but he was also selected to the Pro Bowl.
Entering his second season, Green should make huge strides and become a top-10 fantasy receiver.
2. Mike Wallace, Pittsburgh Steelers, WR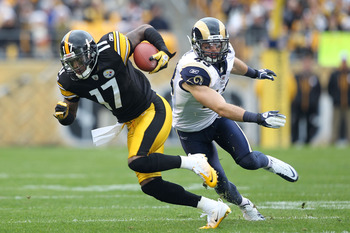 Karl Walter/Getty Images
The past two seasons, Mike Wallace has been a top-10 fantasy receiver, recording over 2,400 receiving yards and 18 touchdowns.
He may be unhappy with his contract, but Wallace is still going to be one of the best wide receivers in the NFL. He has freakish speed, and Ben Roethlisberger will continue to target him very often.
Wallace is on the lower end of the No. 1 fantasy receiver options but would make a terrific No. 2 fantasy receiver.
1. Ray Rice, Baltimore Ravens, RB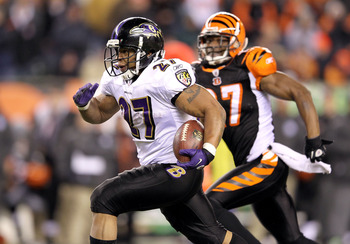 Andy Lyons/Getty Images
Arguably the best fantasy football player, Ray Rice not only dominates on the ground, but with his receiving ability also.
In 2011, Rice led the entire NFL in yards from scrimmage, totaling 2,068 yards.
Rice is the Baltimore Ravens' entire offense. Not only did he rush for over 1,300 yards, but he also caught 76 passes for over 700 yards.
In 2012, Rice will be a top-three pick in your fantasy drafts. If you are in a PPR league, I would take him with the No. 1 pick because there is no other running back who is going to get as many touches as Rice.
Keep Reading